UWW Technical Courses for Coaches
-Course Overview-

Level 1 – Introduction to Coaching and Safety
For coaches to be successful, they must have a good foundation of skills.  This course is designed to help the participants improve those basic and important coaching skills.  Those topics will include best practices for introducing skills, breaking down those skills into teachable learning points, and providing feedback and reinforcement when coaching athletes.  This course will also focus on improving communication skills and how to improve comprehension through questioning.  Another important topic discussed and practiced will be how to implement discovery games in training.  These are based on the approach of Teaching Games for Understanding.  This concept along with others will be practiced by the coach through interactive activities.
This course will also cover the concept of risk assessment. The coach's number one responsibility is to ensure the safety of the athletes.  Participants will learn how to identify, assess, and manage risk before, during, and after training.  The course will help them to provide strategies on how to reduce risk and help maintain a safe and healthy environment.
Level 2 – Introduction to Practice Planning
Coaches often have limited time with their athletes, and it is important to maximize their training.  An important skill for coaches is the ability to plan effective practices.
This course will provide a foundation on how to create practice plans.  Topics will include the theoretical framework needed for all plans, different activities that can be used at practice, and how to reduce risk with proper planning.  This course will allow the participants to plan actual practices and implement them through microteaching sessions.
Participants will not only learn how to plan out wrestling training but will also develop plans for strength and conditioning.  This course will also discuss and provide examples of the 7 basic skills of wrestling and how those can be implemented into training sessions.
This course will also look at other training topics.
One area discussed will be on weight management the correct process for weight reduction and the importance of a proper diet.  Another topic will include an introduction to the mental training of the athletes.  For wrestlers to grow and develop as individuals, coaches must provide proper training of the growth mindset.
Level 3 – Periodization and Coaching Philosophies
This course is a more advanced course that will focus on two main areas.  The first area will be on the implementation of periodization in training.  The course will look at different training phases that occur during a training cycle.  The participants will learn the different ways periodization can be implemented into training and will work on training plans that meet the goals of each training phase.  Coaches will not only plan but will implement those training plans during microteaching sessions.
The second focus of the course will be on developing a coaching philosophy statement.  The participants will examine how their core values, purpose, and coaching style can be integrated into their written statements.  Their coaching philosophy they develop during the course will help guide them in their conducting and planning of practices and the development of leadership skills.
Also, this course will investigate how video analysis can be used to establish goals and integrated them into practice plans.  The participants will also learn strategies for coaching at a competition.  This will include tactics to us before, during, and after matches.  This course will also examine ways in which to get athletes to believe in the overall training program.
Level 4 – Program and Athlete Development
This a more advanced course that will focus on two main areas.  The first topic will be on program development.  The participants will learn how the training cycle loop can be implemented in the development of overall training plans.  This course will also cover how to establish goals, develop a competition and training calendar, basic budget strategies, risk management plans, and marketing techniques through social media.
The second area will focus on athlete development.
This will be broken into two areas.
First, the participants will learn how to improve the mental skills of their athletes.  This course will provide strategies and information on how to build confidence, resiliency, and dealing with anxiety.  Second, the participants will learn the importance of nutrition and how it affects performance.  This course will provide information on nutrient timing during training sessions and relative nutrient groups during different training phases.
A 3-day Introduction to Refereeing (non-certification) course is also available for experienced coaches at national level to further advancing their understanding of the latest wrestling rules. 
This brochure provides detailed information about the United World Wrestling Technical Course for Coaches.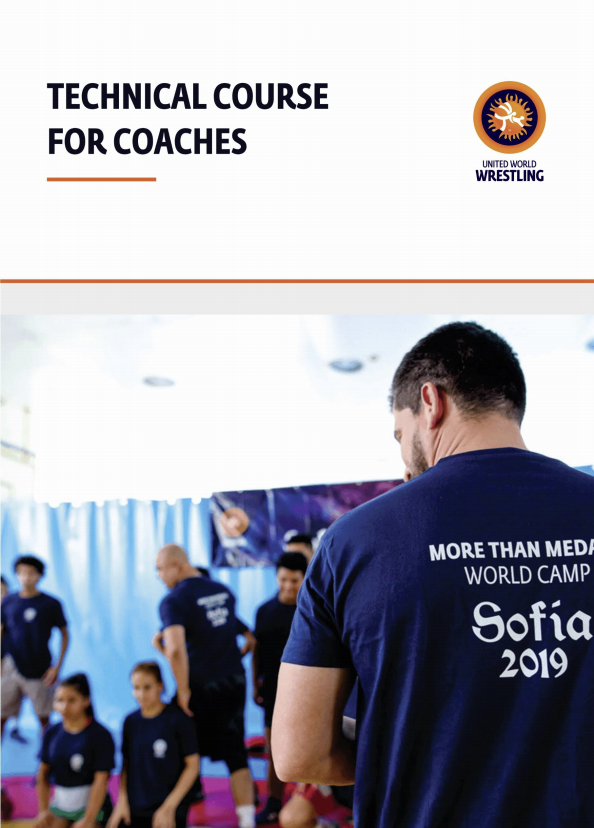 Organization of the Technical Courses for Coaches
Technical Courses for Coaches in Wrestling can be organized upon request by a National Federation or financially supported by Olympic Solidarity via our National Olympic Committee.
Please refer to Olympic Solidarity's Technical Course for Coaches for more information on how to access this fund or contact the Regional Development Officer of your continent for more information.