Zagreb Open Rosters Released
Monday, February 4, 2019 - 18:11 By Eric Olanowski
ZAGREB, Croatia (February 4) - The Zagreb Open, United World Wrestlings first Greco-Roman Ranking Series event, starts this Saturday in Zagreb, Croatia. Nearly 40 age-group and senior-level world medalists, along with London Olympic champion KIM Hyeonwoo (KOR) and Rio Olympic bronze medalist Elmurat TASMURADOV (UZB) are set to compete for the all-important Ranking Series points.  
This will be the first Greco-Roman Ranking Series event where the revamped point structure will be used. This tournament is especially important because the seeding process at the 2019 Astana World Championships takes into account the number of points competitors accumulate from last year's World Championships, along with the Continental Championships and the Ranking Series events.  
The number of points awarded at a competition will also be impacted by the number of wrestlers entered in each bracket. For weight categories with 10 or fewer entries, an additional six (6) points will be added. For categories with 11-20 wrestlers entered an additional eight (8) points will be added. Ten (10) points will be added to any weight category with more than 20 entries.
The three remaining Greco-Roman Ranking Series events are the Hungarian Grand Prix (February 23), the Sassari (May 24), and the Oleg Karavaev (July 26). 
2019 Ranking Series Point Structure
GOLD - 8 points  
SILVER - 6 points 
BRONZE - 4 points
Fifth - 2 points 
*Please note that these are unofficial entries and are subject to change. Entry will not be official until 24 hours before the competition starts. This goes for every pre-entry list released by United World Wrestling. 
55kg 
Jozsef ANDRASI (HUN)
Poya Soulat DAD MARZ (IRI)
Alexandru Vasile BOTEZ (ROU)
Cihat Ahmet LIMAN (TUR)
Ekrem OZTURK (TUR)
Dogus AYAZCI (TUR)
60kg 
Avgustin Boyanov SPASOV (BUL)
Sandro FRANKOL (CRO)
Tony BRALA (CRO)
Ivan LIZATOVIC (CRO)
Mikkel LASSEN (DEN)
Daniel BOBILLO VIGIL (ESP)
Erik TORBA (HUN)
Milad Ali REZANEZHAD HOSSEINVAND (IRI)
LEE Jungbaik (KOR)
CHUNG Hanjae (KOR)
KIM Seunghak (KOR)
Ardit FAZLJIJA (SWE)
Kerem KAMAL (TUR)
Dalton James ROBERTS (USA)
Xavier Tramain JOHNSON (USA)
Ildar HAFIZOV (USA)
Javokhir MIRAKHMEDOV (UZB)
Islomjon BAKHRAMOV (UZB)
Ilkhom BAKHROMOV (UZB)
63kg 
Nikolay Ivanov VICHEV (BUL)
Luka PRIHISTAL (CRO)
Mohsen Fathollah MADHANI (IRI)
Michal Jacek TRACZ (POL)
Dawid Andrzej ERSETIC (POL)
Przemyslaw PIATEK (POL)
Virgil MUNTEANU (ROU)
Virgil Alexander BICA (SWE)
Rahman BILICI (TUR)
Abdullah TOPRAK (TUR)
Erhan KARAKUS (TUR)
Travis Michael RICE (USA)
Firuz TUKHTAEV (UZB)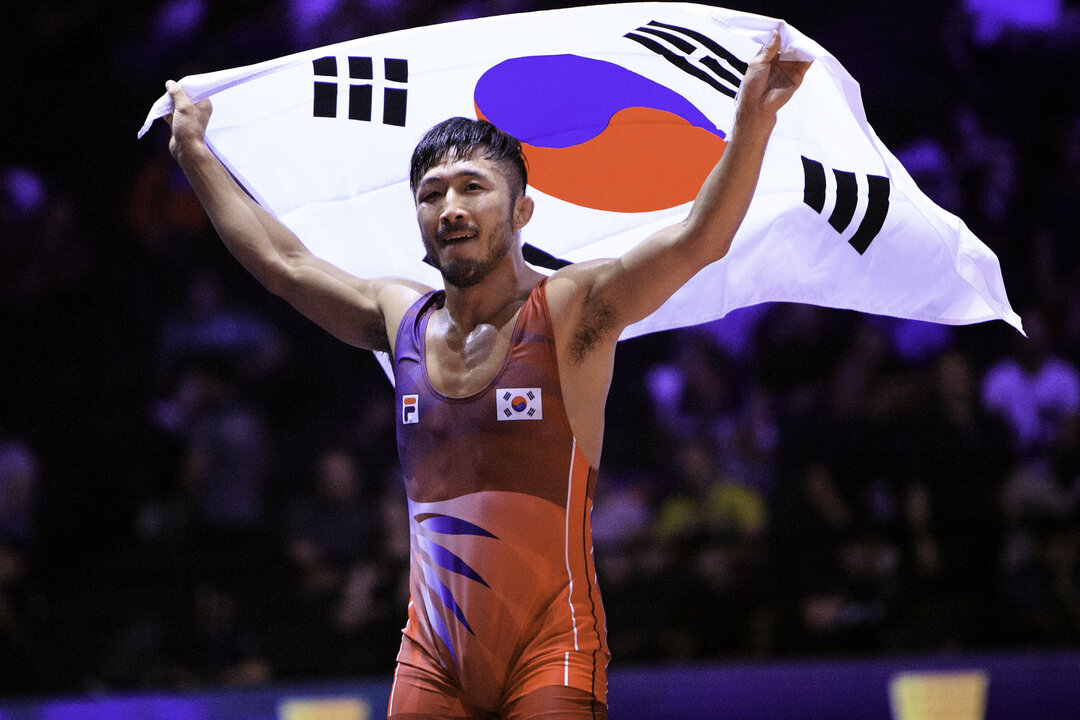 Korea's two-time world champion RYU Hansu (KOR) will wrestle at 67kg. (Photo: Tony Rotundo)  
67kg 
Cristobal Alonso TORRES NUNEZ (CHI)
Danijel JANECIC (CRO)
Luka MALOBABIC (CRO)
Alejandro Ruslan CONCEPCION CASTILLO (ESP)
Otto LOSONCZI (HUN)
Mate KRASZNAI (HUN)
Krisztian Istvan VANCZA (HUN)
Mohammad Reza Hojatollah MOKHTARI (IRI)
RYU Hansu (KOR)
KIM Dohyeong (KOR)
Haavard JOERGENSEN (NOR)
Morten THORESEN (NOR)
Mihai Radu MIHUT (ROU)
Tamas NAD (SRB)
Danielo Giuseppe DI FEOLA (SWE)
Abdul Samet BASAR (TUR)
Enes BASAR (TUR)
Volkan CAKIL (TUR)
Elmurat TASMURADOV (UZB)
Mirzobek RAKHMATOV (UZB)
72kg 
Stoyan Stoychev KUBATOV (BUL)
Aik MNATSAKANIAN (BUL)
Dominik ETLINGER (CRO)
Pavel PUKLAVEC (CRO)
Fran SACIC (CRO)
Fredrik Holmquist BJERREHUUS (DEN)
Robert Attila FRITSCH (HUN)
Martin TOTH (HUN)
Yousef Hajiali HOSSEINVAND FATHI (IRI)
Vegard JOERGENSEN (NOR)
Gevorg SAHAKYAN (POL)
Dawid KARECINSKI (POL)
Mateusz Lucjan BERNATEK (POL)
Aleksandr PAIVIN (RUS)
Mate NEMES (SRB)
Oskar Simon ERLANDSSON (SWE)
Selcuk CAN (TUR)
Murat DAG (TUR)
Cengiz ARSLAN (TUR)
Aram VARDANYAN (UZB)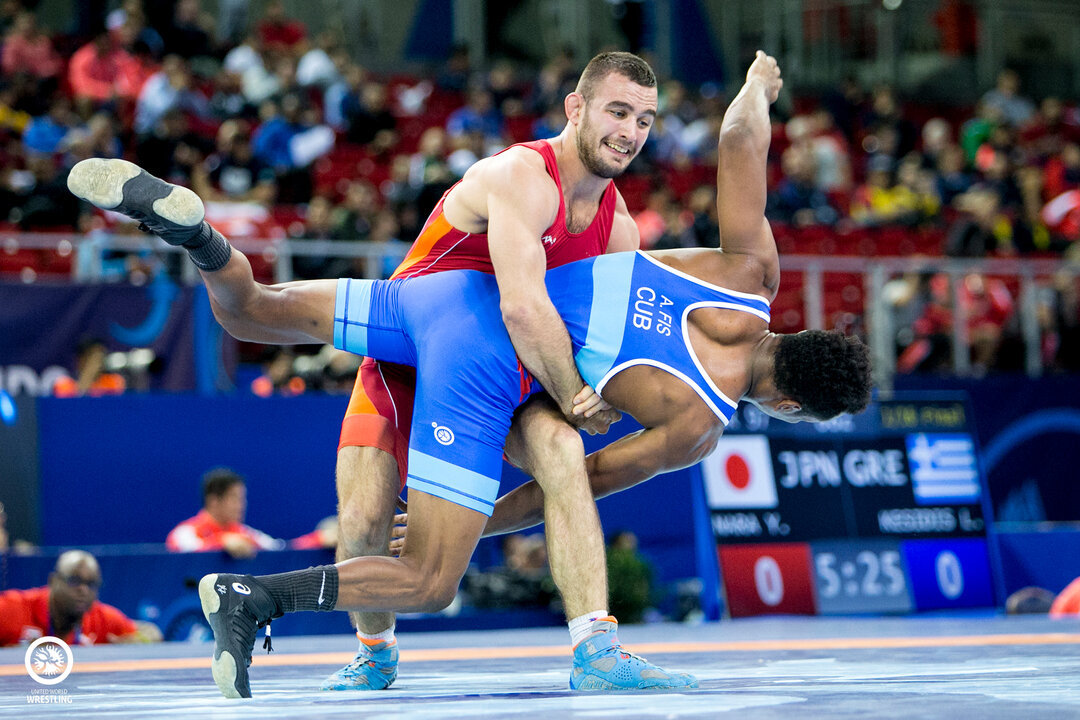 Serbia's 2017 world champion Viktor NEMES is registered to compete at 77kg. (Photo: Gabor Martin)
77kg
Bozo STARCEVIC (CRO)
Antonio KAMENJASEVIC (CRO)
Laszlo SZABO (HUN)
Martin SZABO (HUN)
Zotlan LEVAI (HUN)
Mohammad Aziz NAGHOUSI (IRI)
Igor PETRISHIN (ISR)
KIM Hyeonwoo (KOR)
Per Anders KURE (NOR)
Ilie COJOCARI (ROU)
Rafael IUNUSOV (RUS)
Viktor NEMES (SRB)
Khalid KERCHIYEV (SWE)
Alex Michel BJURBERG KESSIDIS (SWE)
Serkan AKKOYUN (TUR)
Furkan BAYRAK (TUR)
Yunus Emre BASAR (TUR)
Ravaughn Richard Ravelle PERKINS (USA)
Peyton Burke WALSH (USA)
Kamal Ameer BEY (USA)
Bilan NALGIEV (UZB)
82kg 
Daniel Tihomirov ALEKSANDROV (BUL)
Filip SACIC (CRO)
Filip SMETKO (CRO)
Karlo KODRIC (CRO)
Rajbek Alvievich BISULTANOV (DEN)
Daniel TOLLAR (HUN)
Hosein Jahanbakhsh FOROUZANDEH GHOJEHBEIGLOU (IRI)
Timotej TRBULIN (SLO)
Burhan AKBUDAK (TUR)
Emrah KUS (TUR)
John Walter STEFANOWICZ JR (USA)
Jalgasbay BERDIMURATOV (UZB)
87kg 
Yoan Danielov DIMITROV (BUL)
Ivan HUKLEK (CRO)
Vjekoslav LUBURIC (CRO)
Ivan RATKOVIC (CRO)
Pedro Jacinto GARCIA PEREZ (ESP)
Viktor LORINCZ (HUN)
Erik SZILVASSY (HUN)
Bertalan PAPP (HUN)
Hasan Jahanbakhsh FOROUZANDEH GHOJEHBEIGLOU (IRI)
PARK Heageun (KOR)
KIM Junehyoung (KOR)
Tadeusz MICHALIK (POL)
Arkadiusz Marcin KULYNYCZ (POL)
Valentin CABI (SRB)
Vladimir STANKIC (SRB)
Nikolaj Georgiev DOBREV (SRB)
Aleksandar Georgije STJEPANETIC (SWE)
Kristoffer Zakarias BERG (SWE)
Ali CENGIZ (TUR)
Dogan GOKTAS (TUR)
Patrick Anthony MARTINEZ (USA)
Kevin Dewayne RADFORD JR (USA)
Muhammadali SHAMSIDDINOV (UZB)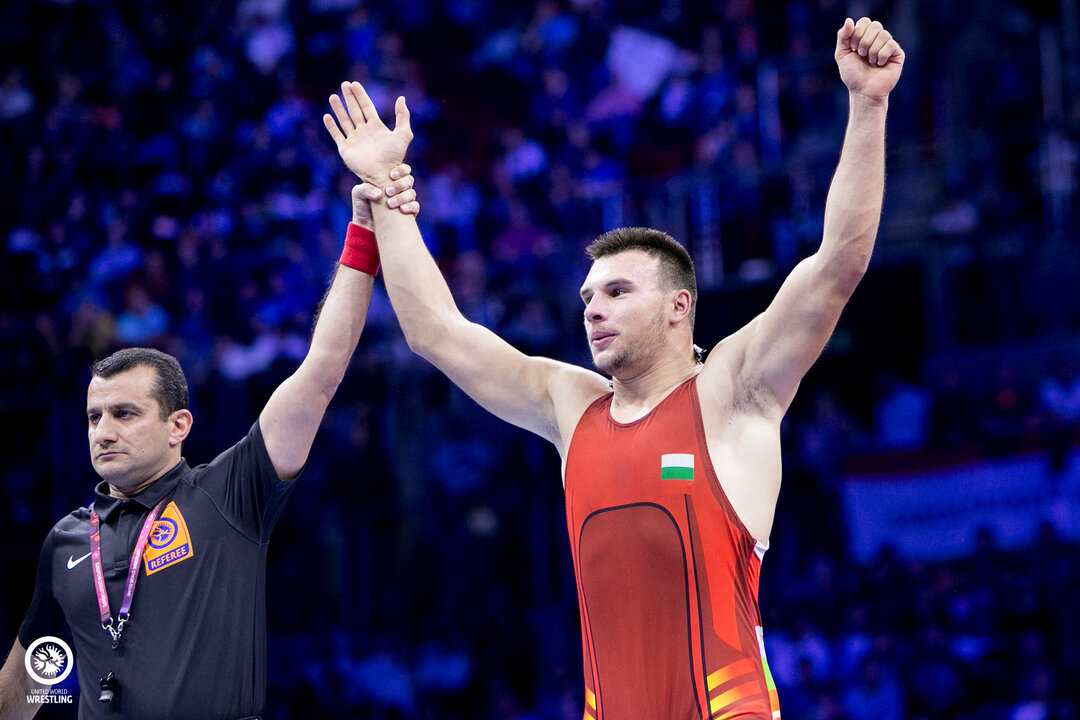 Bulgaria's 2018 world runner-up Kiril MILOV (BUL) is expected to compete at 97kg. (Photo: Max Rose-Fyne) 
97kg
Kiril Milenov MILOV (BUL)
Adam VARGA (HUN)
Zsolt TOEROEK (HUN)
Robert ERSEK (HUN)
Abolfazl Naser SEYEDMAHDAVI (IRI)
LEE Seyeol (KOR) 
KIM Seungjun (KOR)
Ilia BORISOV (RUS)
Pontus Johan LUND (SWE)
Fatih BASKOY (TUR) 
Abdul Kadir CEBITUR)
Suleyman DEMIRCI (TUR)
Nicholas Allen BOYKIN (USA)
Daniel Collett MILLER (USA)
Tracy Gangelo HANCOCK (USA)
Jahongir TURDIEV (UZB)
130kg 
Miloslav Yuriev METODIEV (BUL)
Yasmani ACOSTA FERNANDEZ (CHI)
Marko KOSCEVIC (CRO)
Ante MILKOVIC (CRO)
Balint LAM (HUN)
Armin Mozes MAJOROS (HUN)
Aliakbar YOUSOFIAHMADCHALI (IRI)
KIM Minseok (KOR)
LEE Seungchan (KOR)
Oskar MARVIK (NOR)
Alin ALEXUC CIURARIU (ROU)
Osman YILDIRIM (TUR)
Muminjon ABDULLAEV (UZB)