Yazdani Captures 86kg Asiad Gold with Victory Over Breakout Lebanese
Monday, August 20, 2018 - 03:45 By United World Wrestling Press
The way that world and Olympic champion Hassan YAZDANI (IRI) stormed to the gold medal at the Asian Games was hardly a surprise. But what might have turned some heads was the opponent on the wrong end of his fourth technical fall of the day.

Yazdani added the Asian Games title to his growing collection with a one-sided victory in the freestyle 86kg final over American-born Domenic ABOUNADER (LBN), who gave Lebanon its first-ever continental medal.

Yazdani was one of two Iranian winners of the five gold medals at stake on the opening day of four-day competition in the quadrennial event at the Jakarta Convention Center. Mongolia, Uzbekistan and India also came away with golds as 10 countries in total earned medals.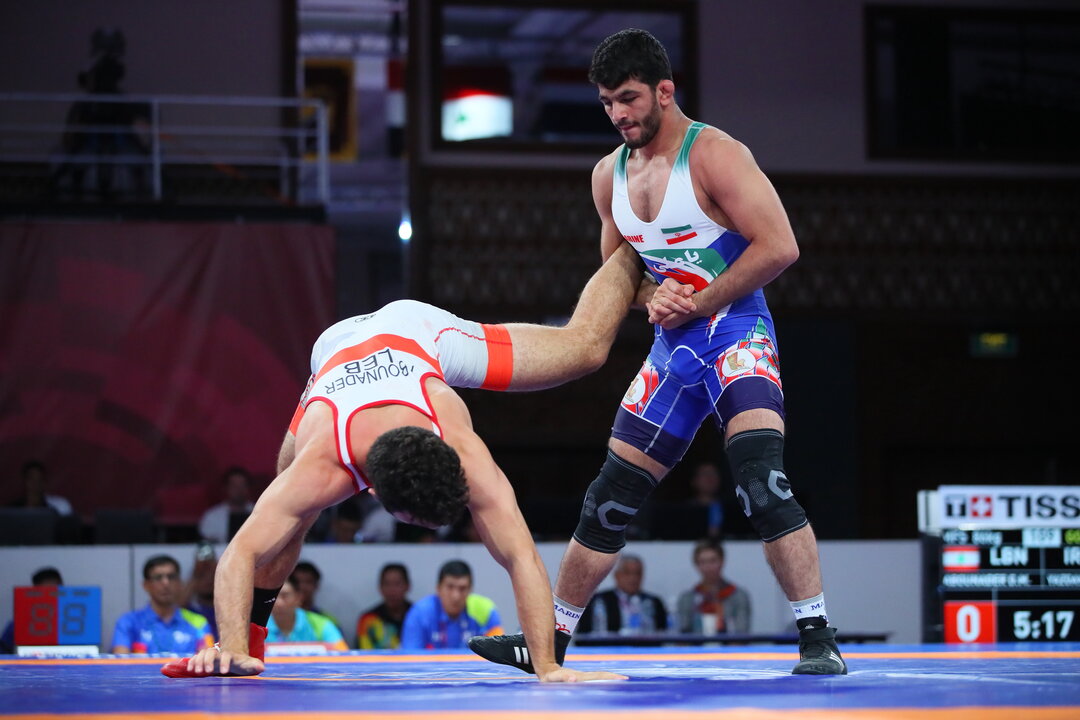 Hassan YAZDANI CHARATI (IRI) (Photo: Sachiko Hotaka)

Yazdani, who earned his first career title at the Asian Championships in Bishkek earlier this year, completely overwhelmed the 23-year-old Abounader, taking just 1:29 to score a 10-0 technical fall. 

In contrast to the world-renowned Yazdani, Abounader's name recognition may be limited to U.S. college wrestling fans. A four-time qualifier for the NCAA tournament at Michigan University who placed fifth this year, he was competing in his first major international tournament. 

Abounader showed he could handle the added pressure as two of his victories came by one point---an 8-7 decision over Aligadzhi GAMIDGADZHIEV (KGZ) in the quarterfinals and a 10-9 thriller over Adilet DAVLUMBAYEV (KAZ). 

Adilet DAVLUMBAYEV (KAZ) and Uitumen ORGODOL (MGL),  earned the bronze medals. Both won silvers in Bishke, Orgodol at 86kg and Davlumbaev at 92kg, which is not on the Asia Games program because only the Olympic weights are in use.

Prior to Abounader's arrival in the final, the best previous finish by a Lebanese wrestler at an Asian tournament was Khodr BCHARA's sixth place in Greco-Roman 130kg in the 1990 Asian Games in Beijing.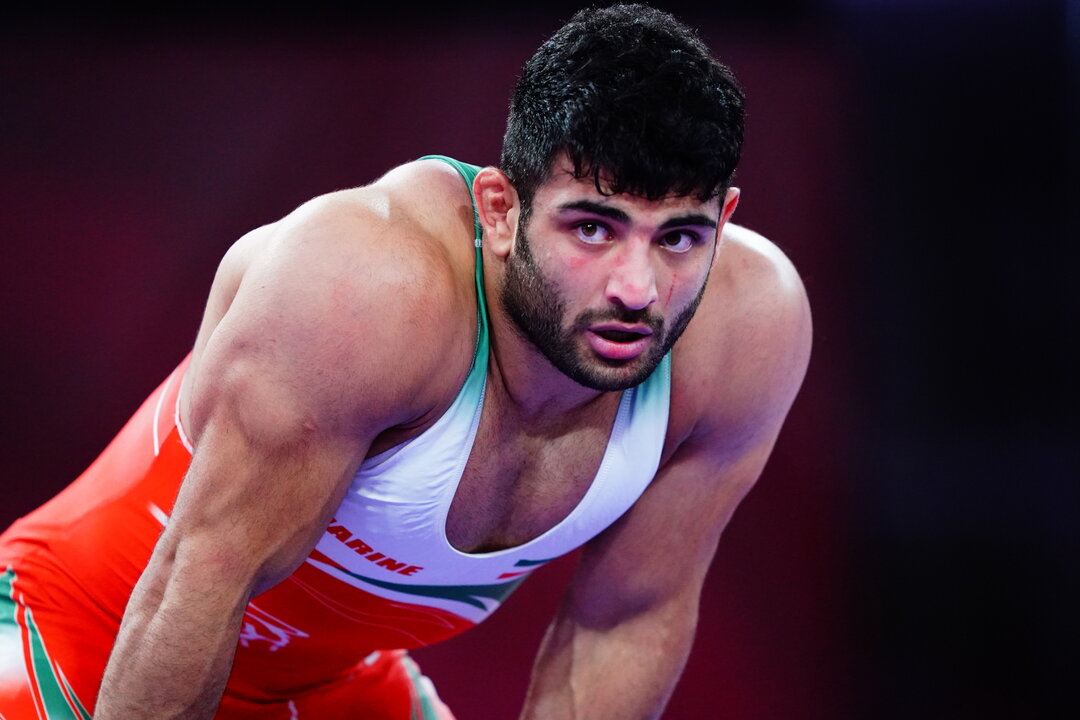 Ali KARIMI (IRI) (Photo: Sachiko Hotaka)

Iran picked up its second gold when Ali KARIMI (IRI) scored with a 4-point move in the first period and cruised to a 6-0 victory in the 97kg final over five-time Asian medalist Magomed MUSAEV (KGZ). 

Karimi, the 2017 Asian champion in New Delhi, has returned from a six-month suspension meted out after he purposely lost a match at the Under-23 World Championships last November to avoid facing an Israeli opponent in the next round. 

In the semifinals, Karimi scored a first-period fall over Rio 2016 Olympic bronze medalist and two-time Asian champion Magomed IBRAGIMOV (UZB). 

Ibragimov came back to take the bronze medal by injury default over Takeshi YAMAGUCHI (JPN). The other bronze was won by KIM Jaegang (KOR).

In other action, Asian champion KANG Kum Song (PRK) pulled off the shock of the day when he knocked off Paris 2017 world champion Yuki TAKAHASHI (JPN) in the first round at 57kg---only to fall short of the gold medal himself. 

Bekhbayar ERDENEBAT (MGL) scored a 5-point throw in the first period of the final before dealing Kang an 8-2 defeat to make his first continental medal a gold one.  

Erdenebat, winner of the Mongolian Open in June, was a world bronze medalist at both Paris 2017 and Las Vegas 2015. In Paris, he lost a nail-biting 4-4 decision on big point in the third round to Takahashi.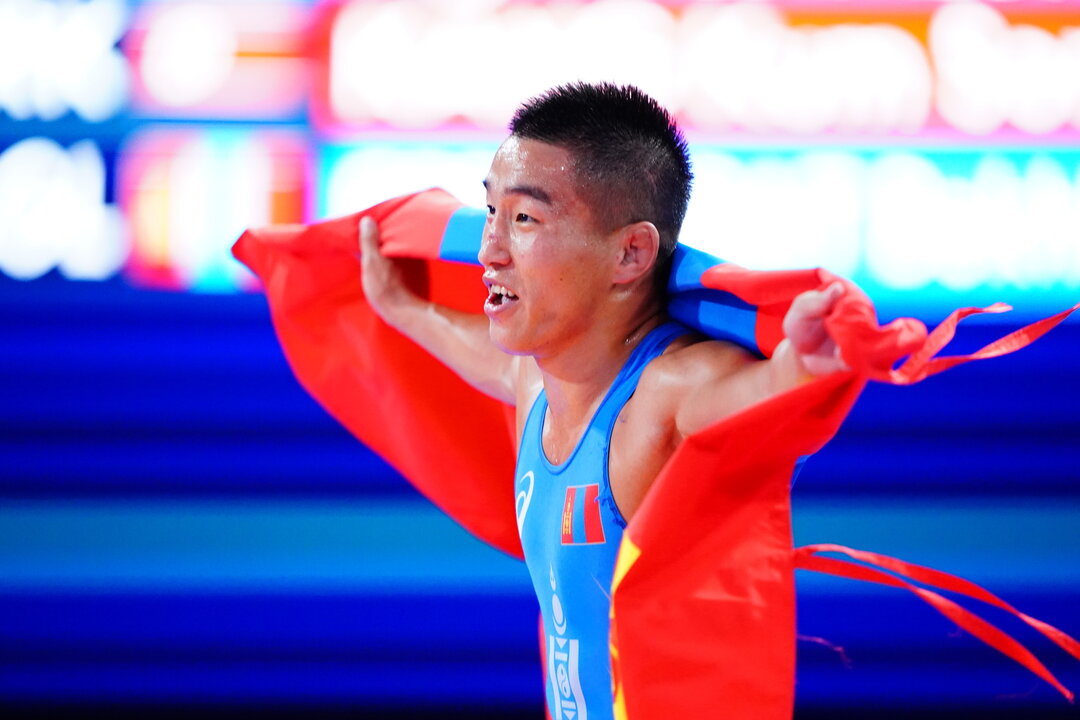 Bekhbayar ERDENEBAT (MGL) (Photo: Sachiko Hotaka)

Takahashi, the 2017 Asian champion, shook off his 9-5 loss to Kang and came back to take home a bronze with a tough 3-3 victory over LIU Minghu (CHN), scoring the decisive and lone point of the second period for the win.

The match against Kang was marred by a scoreboard malfunction that caused a 15-minute delay between the periods. Takahashi told the Japanese press that he felt that allowed Kang to regain his stamina.

Reza ATRINAGHARCHI (IRI), third at the 2017 Asian Championships, captured the other bronze, scoring eight second-period points in a 9-4 win over KIM Sunggwon (KOR). 

Bajrang BAJRANG (IND), a silver medalist at 61kg four years ago in Incheon, made it to the top step of the podium this time with an action-packed 11-8 victory over Bishkek 2018 silver medalist Daichi TAKATANI (JPN) in the 65kg final.

Bajrang avenged a second-round loss to Takatani in Bishkek, where he went in as the defending champion but had to settle for a bronze medal.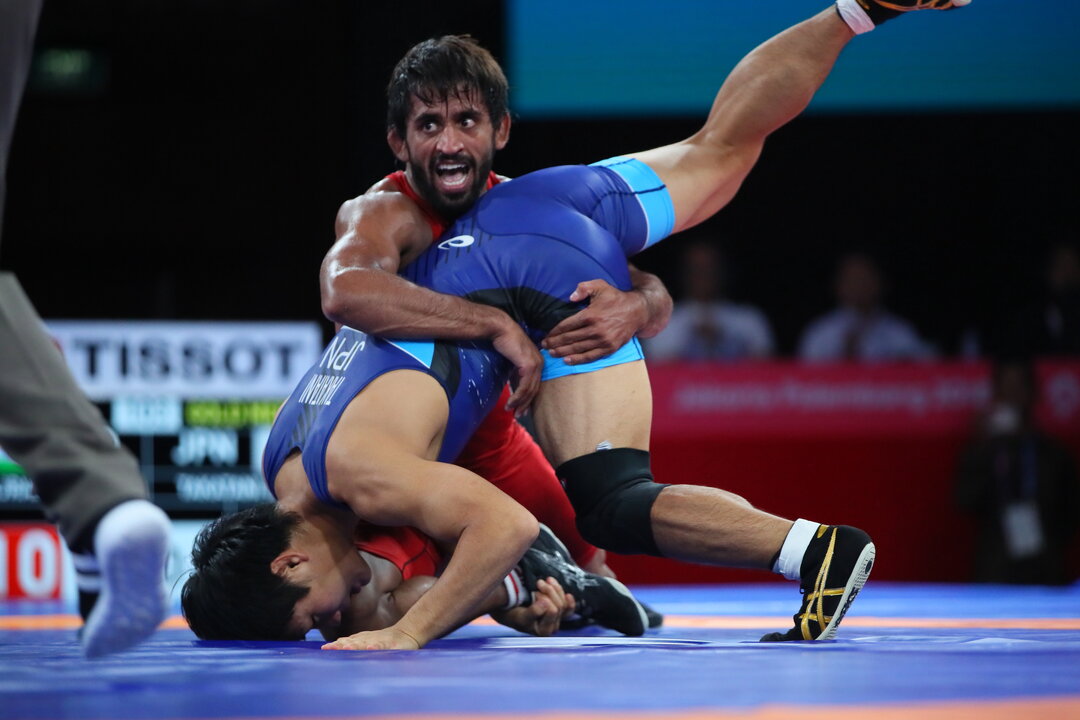 Bajrang BAJRANG (IND) (Photo: Sachiko Hotaka)

Bajrang, who became a national hero when he won the gold at the 2017 Asian Championships in New Delhi, caught Takatani off guard early to take a 6-0 lead, but the Japanese came back with a pair of takedowns to make it 6-4 going into the second period. 

There was more exchanges of points in the second period, but the Indian was able to maintain his lead and hold on for the victory that gave India its 10th wrestling gold medal in the 34-year history of the Asian Games. It follows the victory by Yogeshwar DUTT---Bajrang's mentor---in the same weight class in 2014, which ended a 28-year gold medal drought.

"I have taken revenge of my Asian Championship loss," Bajrang told the Indian press. "My next aim is the World Championships."

Taking home the bronzes were Sirojiddin KHASANOV (UZB) and Sayatbek OKASSOV (KAZ).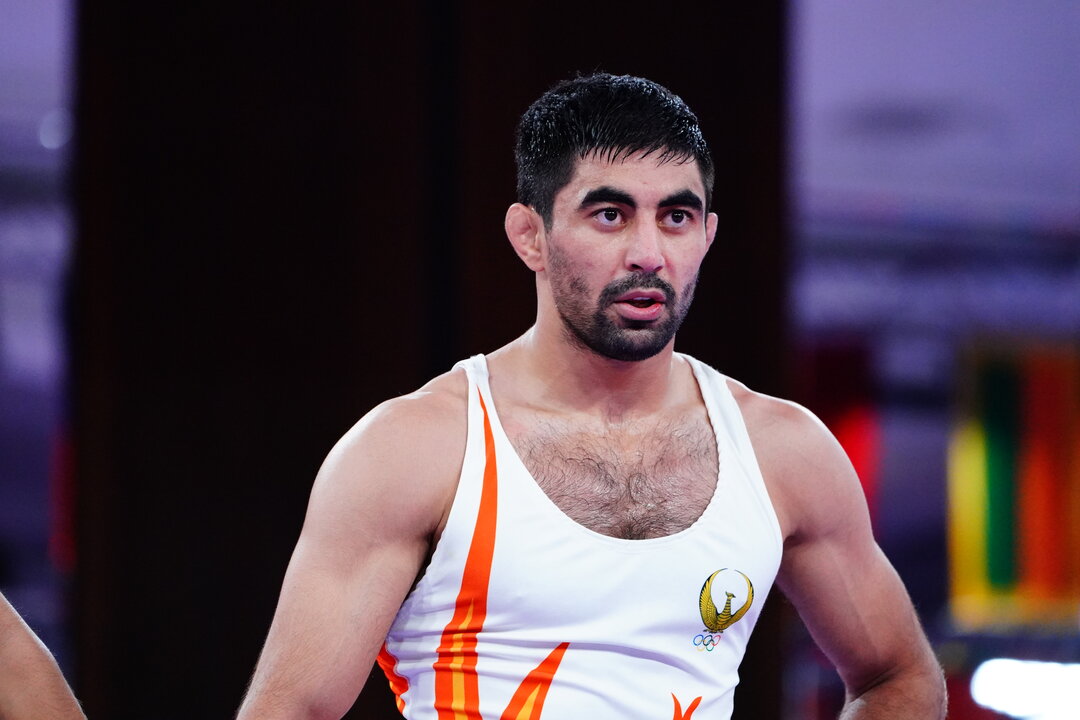 Bekzod ABDURAKHMONOV (UZB) (Photo: Sachiko Hotaka)

At 74kg, Bekzod ABDURAKHMONOV (UZB) won a second straight Asia Games gold and made amends for failing to defend his Asian Championships title when he eked out a 3-2 victory in the final over Daniyar KAISANOV (KAZ). 

Abdurakhmonov, who won at 70kg four years ago, scored all of his points in the second period to edge Kaisanov, who finished third at Bishkek 2018. Abdurakhmonov advanced to the final with a comprehensive technical fall victory in the semifinals over Paris 2017 bronze medalist Yuhi FUJINAMI. 

Fujinami bounced back to take a bronze medal, building up a 7-0 lead then holding off 2016 world bronze medalist Mostafa HOSSEINKHANI (IRI), 10-8, in the third-place playoff. That was a near repeat of Fujinami's 7-6 nail-biter over the Iranian in the third round at the world championships. 

The other bronze went to GONG Byungmin (KOR), who rolled to a 10-0 technical fall victory over 37-year-old Abdullrahman IBRAHIM (QAT). 

Earlier, veteran Sushil KUMAR (IND), the two-time Olympic medalist looking for Asian glory at 35, lost 5-3 in the first round to Adam BATIROV (BRN), then saw his day end when Batirov fell to Fujinami in the quarterfinals. 

"I was also not expecting this result," Kumar told the Indian press. "I had prepared, but wins and losses are all part and parcel of sport."

The competition continues Monday with the final freestyle weight class, 130kg, and the first four in women's wrestling, 50kg, 53kg, 57kg and 62kg. 

Freestyle

57kg (19 entries)
Gold - Bekhbayar ERDENEBAT (MGL) df. KANG Kum Song (PRK), 8-2 
Bronze - Yuki TAKAHASHI (JPN) df. LIU Minghu (CHN), 3-3
Bronze - Reza ATRINAGHARCHI (IRI) df. KIM Sunggwon (KOR), 9-4

SF - Kang df. Liu by TF, 10-0, 4:18
SF - Erdenebat df. Atrinagharchi, 8-2

65kg (21 entries)
Gold - Bajrang BAJRANG (IND) df. Daichi TAKATANI (JPN), 11-8
Bronze - Sirojiddin KHASANOV (UZB) df. Batmagnai BATCHULUUN (MGL), 10-6
Bronze - Sayatbek OKASSOV (KAZ) df. Batyr BORJAKOV (TKM), 5-2

SF - Bajrang df. Batchuluun by TF, 10-0, 3:56
SF - Takatani df. Okassov, 4-4

74kg (21 entries)
Gold - Bekzod ABDURAKHMONOV (UZB) df. Daniyar KAISANOV (KAZ), 3-2
Bronze - GONG Byungmin (KOR) df. Abdullrahman IBRAHIM (QAT) by TF, 10-0, 3:24 
Bronze - Yuhi FUJINAMI (JPN) df. Mostafa HOSSEINKHANI (IRI), 10-8 

SF - Kaisanov df. Gong, 12-8
SF - Abdurakhmonov df. Fujinami by TF, 11-1, 3:53

86kg (19 entries)
Gold - Hassan YAZDANI (IRI) df. Domenic ABOUNADER (LBN) by TF, 10-0, 1:29 
Bronze - Adilet DAVLUMBAYEV (KAZ) df. Aligadzhi GAMIDGADZHIEV (KGZ), 3-0
Bronze - Uitumen ORGODOL (MGL) df. Pawan KUMAR (IND), 8-1

SF - Abou Nader df. Davlumbayev, 10-9
SF - Yazdani df. Orgodol by TF, 12-2, 4:57

97kg (13 entries)
Gold - Alireza KARIMI (IRI) df. Magomed MUSAEV (KGZ), 6-0
Bronze - Magomed IBRAGIMOV (UZB) df. Takeshi YAMAGUCHI (JPN) by Injury Default, 3:28 (6-0) 
Bronze - KIM Jaegang (KOR) df. Noor Ahmad AHMADI (AFG), 3-0

SF - Karimi df. Ibragimov by Fall, 1:27 (4-2)
SF - Musaev df. Kim, 1-1