#WrestleOslo Day One Preview: Freestyle 61kg, 74kg, 86kg and 125kg
Friday, September 17, 2021 - 17:27 By Eric Olanowski
CORSIER-SUR-VEVEY, Switzerland (September 17) – Superstars David TAYLOR (USA) and Hasan YAZDANI (IRI), and Geno PETRIASHVILI (GEO) and Taha AKGUL (TUR) could see their rivalries renewed after the first day of wrestling at the 2021 World Championships.
Three Olympic gold medalists and 11 world titleholders headline the fully loaded opening day of wrestling in Oslo, Norway. 
Taylor, Yazdani and Akgul are the three Olympic gold medalists that'll wrestle on October 2. They'll share the limelight with three-time world champ Geno PETRIASHVILI (GEO) and two-time world champ Kyle DAKE (USA).
Wrestling fans will be hard-pressed to find an opening where a star isn't on the mat on October 2, but the conversation will indeed be on the potential fourth meeting between Olympic champions Taylor and Yazdani 86kg.
The pair of superstars are seeded first and second, respectively, at 86kg. If the seeds hold true, they two are on a collision course for a second blockbuster meeting in the last two months. 
Taylor and Yazdani met on August 5 in the 86kg Tokyo Olympic gold-medal match. 'The Magic Man' trailed 'The Greatest' for the entirety of the match before he caught the Iranian on his heels with less than 10 seconds left and scored the match-deciding takedown. Taylor's win in Tokyo was his third consecutive win over the two-time world champ and Rio Olympic gold medalist.
Taylor's latest victory came four years after securing his first win over the then-reigning Olympic champion. He pinned Yazdani at the '17 World Cup in Kermanshah, Iran. He extended his win streak to 2-0 with a five-point win over Yazdani in their first-round match at the '18 Budapest World Championships.
Another guy to pay attention to at 86kg that rarely gets the credit he deserves is Artur NAIFONOV (RWF). 
Since '19, Naifonov has competed in 11 competitions and finished atop the podium eight times. During his impressive stretch, he's only dropped three matches en route to claiming golds at the European and Russian Wrestling Federation Championships twice, a bronze medal at the Tokyo Olympic Games and '19 World Championships, and a silver medal at the Russian Wrestling Federation Nationals. His losses came at the hands of Taylor at the Olympic Games, Yazdani at the World Championships and Dauren KURUGLIEV (RWF) in the '20 Russian Wrestling Federation National finals.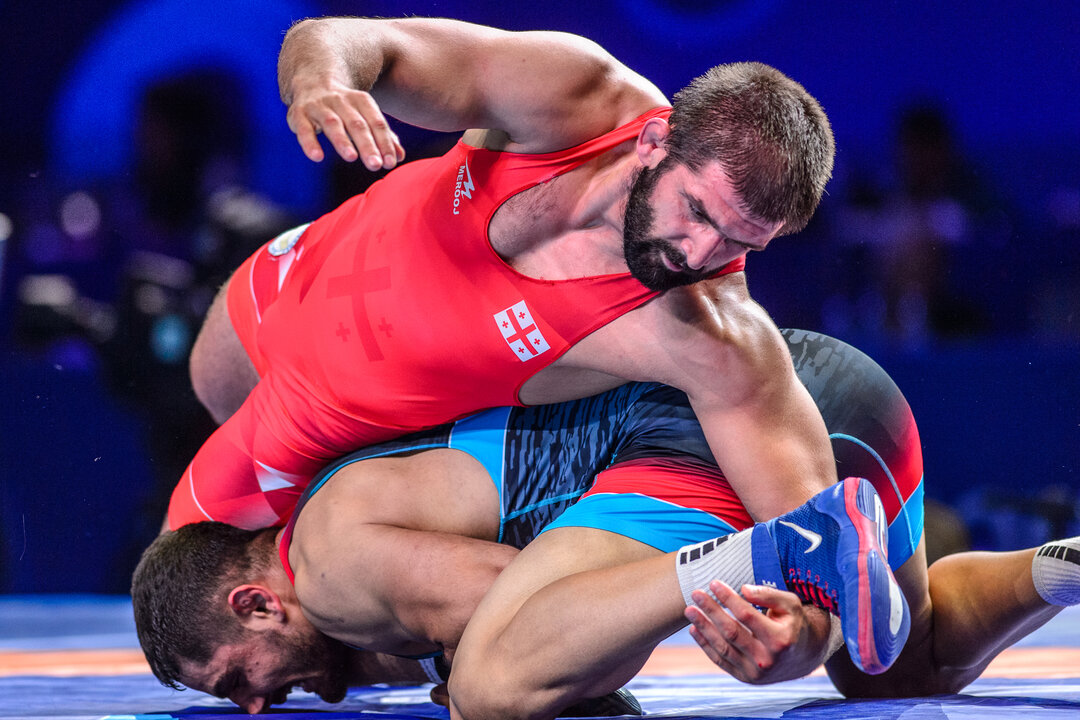 Taha AKGUL (TUR) looks to finish a shot on Geno PETRIASHVILI (GEO) during their meeting in the world finals. (Photo: Tony Rotundo)
The second can't-miss October 2 rivalry to spotlight is between Petriashvili and Akul. They are seeded first and second, respectively, at 125kg.
Collectively, their trophy cases include four Olympic medals -- including a Rio Olympic gold -- five world titles and eight European golds.
Petriashvili, of course, is coming off his heartbreaking last-second loss in the Olympic finals to the young American upstart Gable STEVESON (USA), while Akgul is coming off closing his Tokyo campaign on the winning end of the bronze-medal match.
 "It was so difficult for me to lose the Olympic finals in such a dramatic way," said Petriashvili. "I came back from Tokyo disappointed because I wanted to win a gold medal, and unfortunately, I could not make that happen. After losing in the finals of the Olympic Games, I set a new plan with a new goal: become the world champ in Oslo."
After a month off, Geno's biggest rival Akgul said he's also ready to put the Olympic in his rear-view mirror and has his sights on winning another world title, too. 
 "I took a month off and rested. I got rid of the stress of the Olympics. Now, I feel good," said Akgul. "I want to forget the defeat at the Olympics. I'll have good opponents at the World Championship, but I can win if I am ready and concentrate. It will be tough to become a world champion again, but I will try my best."
He'll undoubtedly have to put his best foot forward when he squares off against No. 3 Amir ZARE (IRI) in a likely semifinal meeting between 125kg Tokyo Olympic bronze medalists. It'd be the first meeting between the two. 
"Outside of Geno, Zare, who was third at the Olympics, is an outstanding athlete. He is a very good and young athlete -- just like Gable Steveson," said the Turkish giant. "I have never wrestled him before, but I think it will be a really good competition. It takes a lot of conditioning and strength to beat Zare, and it's necessary to wrestle until the last minute of the match."
The 21-year-old Iranian, backed by his impressive gas tank and signature underhook, is fresh off winning Olympic bronze after securing three imposing wins in Tokyo. Similar to his fellow Tokyo medalists, Zare moved on from his Tokyo success and readjusted his sights to Oslo. 
His goal heading into Norway is to win a world title – even if that means going through Akgul first.
"Taha is a great wrestler and has become a world and Olympic champion many times! First of all, I am happy that I will wrestle against him for the first time. But, my goal in Norway is  to win a gold medal and I am following my training because of this."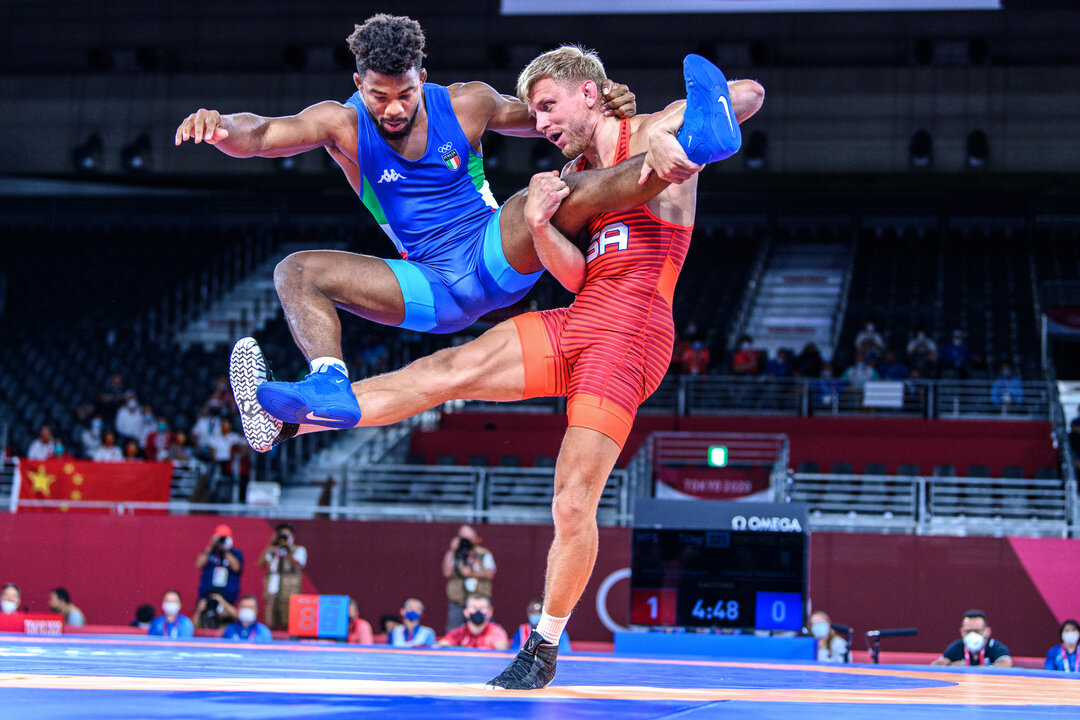 Kyle DAKE (USA) finishes a shot on Frank CHAMIZO (ITA) during their meeting in the Olympic bronze-medal match. (Photo: Tony Rotundo)
At 74kg, two-time 79kg world champ Kyle Dake will make his world debut at the Olympic weight of 74kg. Despite being Oslo's lone Tokyo Olympic medalist entered at 74kg, Dake will still have his hands full with the rest of the field. 
In addition to fellow Tokyo Olympians Yones Aliakbar EMAMICHOGHAEI (IRI), Avtandil KENTCHADZE (GEO), Kamil RYBICKI (POL), other credible threats that'll compete in the weight are Razambek ZHAMALOV (RWF), Tajmuraz Mairbekovic SALKAZANOV (SVK) and Nurkozha KAIPANOV (KAZ).
Zhamalov, a U23 world champion and '20 Russian Wrestling Federation National gold medalist, will compete in his first competition since he underwent shoulder surgery. He suffered the injury at the European Championships and had surgery in May. 
Despite falling one match short of reaching the Olympic Games, Salkazanov will look to rebuild the hype around his name that stemmed from his improbable April run to a European. During that Warsaw run, Salkazanov threw two-time world champion Frank CHAMIZO (ITA) to his back with less than 10 seconds left and won, 6-2. That set up a quarterfinals match against '18 world silver medalist Avtandil KENTCHADZE (GEO). With a spot in the semifinals on the line, Salkazanov trailed Kentchadze, 5-0, but scored six unanswered points in the second period and upset the Georgian Tokyo Olympian, 6-5. He then erased a five-point deficit for a second consecutive match and moved into the finals with a surprising 6-5 win over tournament-favorite and Individual World Cup champion Zhamalov. In the finals, the Slovakian only needed five minutes to uproot Miroslav KIROV (BUL), 10-0.
After his European title run, Salkazanov finished with bronze medals at the World Olympic Qualifier and Aleksandr Medved.
Also of note at 74kg, former Russian world champion Hetik CABOLOV (SRB) will compete under the Serbian flag for the third time. He finished in tenth and 14th place at the European Championships and European Olympic Qualifier, respectively. 
At 61kg, the two favorites to vie for gold are world champ Beka LOMTADZE (GEO) and European gold medalist Arsen HARUYUNYAN (ARM), but Iran's rising star Rahman AMOUZADKHALILI (IRI) is a guy who could blow up the bracket.
Three weeks ago, the lengthy youngster dominated his way to a third age-group world title. Next, he'll make his third appearance on the senior level. He reached the podium in his two previous senior showings. Most recently, he won 61kg gold at the Yasar Dogu. He also won a bronze at the '20 Individual World Cup, but that was down at 57kg.
The action on October 2 kicks off at 10:30 am (local time) and can be followed live on www.uww.org.