World Champs Susaki, Larroque Lead #Trnava2018 Field
Sunday, September 2, 2018 - 13:54 By Eric Olanowski
TRNAVA, Slovakia (September 2) - The final women's wrestling entries for the #Trnava2018 World Championships have been submitted and the most surprising entry comes from reigning senior-level world champion, Yui SUSAKI (JPN).
Susaki, Japan's 19-year-old superstar won three straight Cadet World Championships before heading to Paris last year to claim her first senior-level World Championship, defeating current world No.1 Alina VUC (ROU), 14-4. 
The 2018 Junior World Championships will be Susaki's first junior-level competition ever. 
Another surprising entry comes from France's U23 world champion and 2017 world bronze medalist, Koumba LARROQUE. Larroque enters her first junior-level competition since winning the 2016 Junior World Championship gold medal. 
Reigning champions Sae NANJO (JPN) and Khanum VELIEVA (RUS) also make their return to the Junior World Championships with hopes of winning back-to-back gold medals.
ROSTERS
AZE
50kg - Yasaman MAJIDLI         
53kg - Tatyana VARANSOVA  
65kg - Jeyla NAGHIZADE  
BLR
50kg - Viktoryia APALONIK    
53kg - Yuliya ZHAUNERYK      
55kg - Darya SINKAVETS        
59kg - Maryia HULIDA
62kg - Krystsina SAZYKINA     
65kg - Hanna SADCHANKA     
68kg - Yauheniya ANDREICHYKAVA   
72kg - Anastasiya ZIMIANKOVA         
BRA
72kg - Thais DE LUCAS DE OLIVEIRA  
BUL
50kg - Raymyal ZIBEROVA   
53kg - Kremena PETROVA          
55kg - Sezen BELBEROVA           
57kg - Aleksandrina KASHINOVA  
62kg - Yuliana YANEVA        
68kg - Siyka IVANOVA        
CAN
50kg - Samantha ROMANO           
53kg - Jayd DAVIS
57kg - Hannah TAYLOR    
59kg - Sara BRINKAC   
62kg - Xiao LIU    
65kg - Megan FENDELET            
68kg - Dejah SLATER   
CHN
50kg - Yumei ZHONGCHN
53kg - Yuhong ZHONG          
55kg - Jiajing HOU     
57kg - Qi ZHANG       
59kg - Xiuyun CHEN   
62kg - Xinyuan SUN   
65kg - Yue ZHANG     
68kg - Man ZHANG    
76kg - Yuanyuan HUANG      
EGY
50kg - Nada MOHAMED     
65kg - Mona AHMED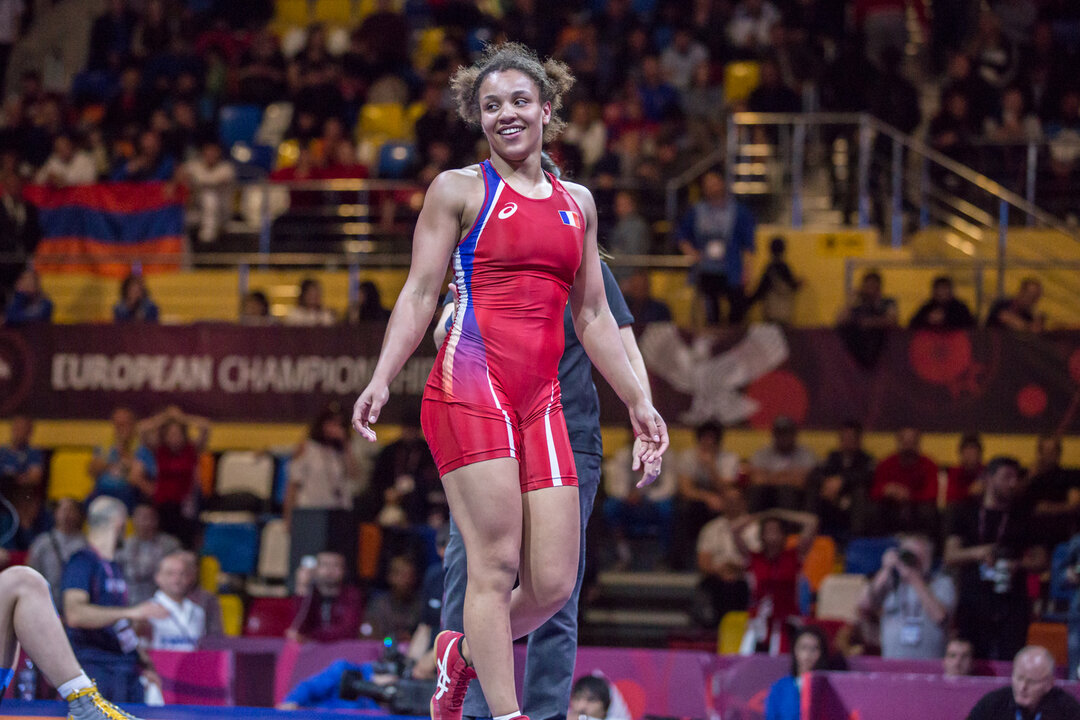 France's U23 World Champion, Koumba LARROQUE. (Photo by Max Rose-Fyne.)
FRA
72kg - Koumba LARROQUE     
GER
50kg - Ellen RIESTERER          
55kg - Anne NUERNBERGER
57kg - Serena BOELKE
59kg - Debora LAWNITZAK     
62kg - Janny SOMMERMEYER
65kg - Eyleen SEWINA
HUN
55kg - Szimonetta SZEKER      
57kg - Tamara DOLLAK          
59kg - Erika BOGNAR
62kg - Viktoria FELHO
76kg - Bernadett NAGY         
IND
50kg - Shivani PAWAR
53kg - Swati SHINDE   
55kg - Reena REENA   
57kg - Mansi MANSI   
59kg - Sangeeta SANGEETA   
62kg - Anshu ANSHU  
65kg - Tina TINA         
68kg - Divya KAKRAN  
72kg - Sonika HOODA
76kg - Karuna KARUNA         
ITA
50kg - Emanuela LIUZZI         
53kg - Carmen DI DIO
55kg - Teresa LUMIA 
59kg - Morena DE VITA         
62kg - Aurora CAMPAGNA    
65kg - Elena ESPOSITO          
72kg - Enrica RINALDI
76kg - Eleni PJOLLAJ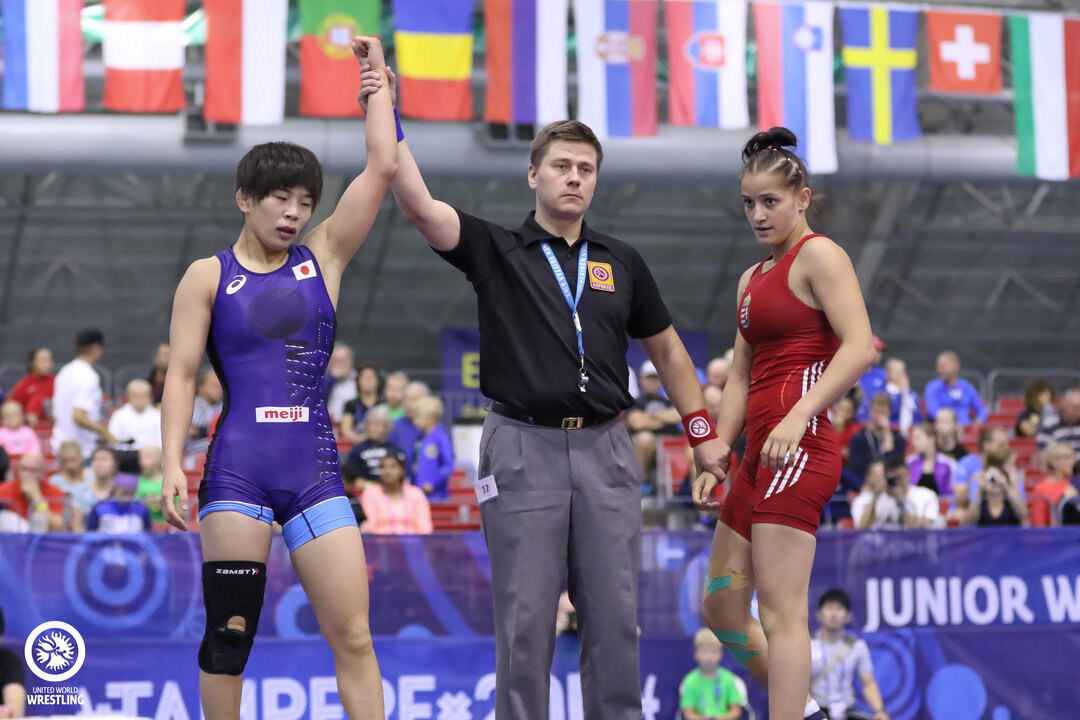 Reigning Junior World Champion, Sae NANJO (JPN). (Photo by Marion Stein)
JPN
50kg - Yui SUSAKI      
53kg - Umi IMAI         
55kg - Saki IGARASHI
57kg - Andoriahanako SAWA
59kg - Sae NANJO      
62kg - Rin KONDO      
62kg - Atena KODAMA           
65kg - Miyu IMAI       
68kg - Miwa MORIKAWA       
72kg - Naruha MATSUYUKI   
76kg - Yasuha MATSUYUKI    
KAZ
50kg - Marina ZAKSHEVSKAYA          
53kg - Ellada MAKHYADDINOVA       
55kg - Aigerim IBRASHEVA   
57kg - Zhanerke ASSANOVA 
59kg - Yekaterina FIRSTOVA 
62kg - Irina KUZNETSOVA     
65kg - Albina KAIRGELDINOVA          
68kg - Valeriya GONCHAROVA         
72kg - Gulnaz ZHAPPAROVA 
76kg - Inkara ZHANATAYEVA
KOR
50kg - Miran CHEON  
53kg - Haeyeong IM   
55kg - Eunyoung PARK          
57kg - Jeongae BARK 
59kg - Hwa Young SUNG       
62kg - Ohyoung HA    
65kg - Hyerim YUN    
68kg - Hyeonyeong PARK      
72kg - Jisu KIM           
LTU
72kg - Kamile GAUCAITE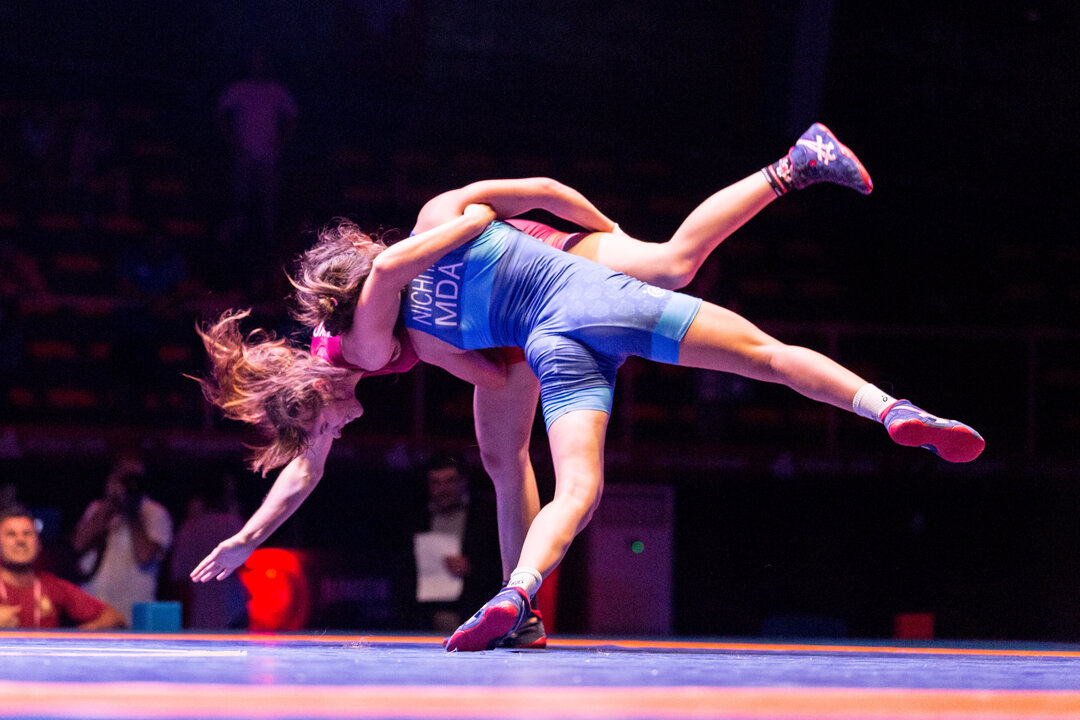 Anastasia NICHITA, 2018 Junior European Champion. (Photo by Max Rose-Fyne)
MDA
53kg - Mariana DRAGUTAN  
59kg - Anastasia NICHITA      
MGL
50kg - Anudari NANDINTSETSEG      
53kg - Enkhtsetseg BATBAATAR       
55kg - Khaliunaa BAYARAA   
57kg - Enkhtuvshin BALJINNYAM      
65kg - Delgermaa ENKHSAIKHAN     
68kg - Davaanasan ENKH AMAR       
72kg - Namuunzaya BATBOLD          
76kg - Ariunjargal GANBAT   
NOR
59kg - Laura AAK           
62kg - Hedda STRAND  
POL
50kg - Magdalena MAJOS       
53kg - Alicja CZYZOWICZ       
55kg - Patrycja GIL     
57kg - Magdalena GLODEK   
65kg - Wiktoria CHOLUJ        
72kg - Kamila KULWICKA   
PUR
55kg - Gabriela RAMOS DIAZ  
59kg - Andribeth RIVERA BELLIARD  
ROU
50kg - Stefania PRICEPUTU   
53kg - Andreea ANA
72kg - Maria NITU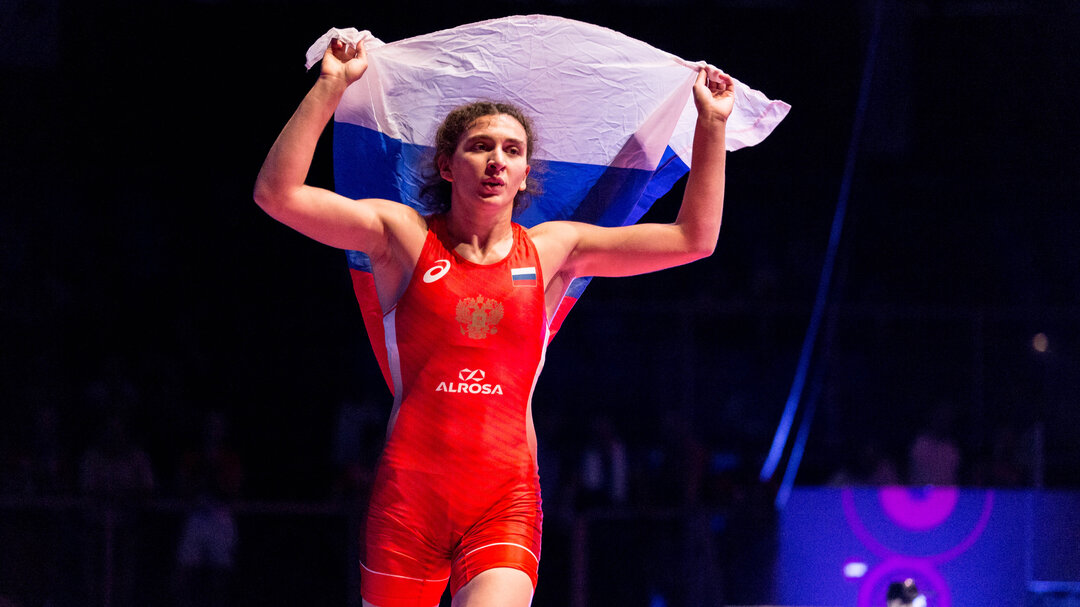 Reigning Junior World Champion, Khanum VELIEVA (RUS). (Photo by Max Rose-Fyne) 
RUS
50kg - Veronika GURSKAYA  
53kg - Mariia TIUMEREKOVA
55kg - Aleksandra NITSENKO
57kg - Viktoriia VAULINA       
59kg - Alina KAZYMOVA        
62kg - Daria BOBRULKO        
65kg - Alena TIMOFEEVA      
68kg - Khanum VELIEVA        
72kg - Evgeniia ZAKHARCHENKO      
76kg - Elmira KHALAEVA       
SVK
53kg - Nina KOLLAROVA        
59kg - Reka BACSFAIOVA      
62kg - Kristina OROSZOVA    
72kg - Zsuzsanna MOLNAR    
SWE
57kg - Sara LINDBORG        
62kg - Linnea SVENSSON     
68kg - Tindra SJOEBERG        
76kg - Denise MAKOTA STROEM       
TPE
50kg - Meng HSIEH    
53kg - Ya Ling PENG   
59kg - Yu Han CHENG
72kg - Hui Tsz CHANG
 
TUN
50kg - Sarra HAMDI   
55kg - Siwar BOUSETTA        
57kg - Khouloud EL OUNI       
62kg - Fatma INOUBLI
68kg - Rihem AYARI   
TUR
50kg - Aynur ERGE     
53kg - Zeynep YETGIL
55kg - Nurife DUMAN
57kg - Ozge FINDIKCI 
59kg - Sule KABAK     
62kg - Gamze Nur ADAKAN   
65kg - Asli DEMIR       
68kg - Kadriye AKSOY
72kg - Tugba KILIC      
76kg - Aysegul OZBEGE         
UKR
50kg - Mariia VYNNYK
53kg - Veronika RYABOVOLOVA       
55kg - Khrystyna Zoryana DEMKO     
57kg - Alina AKOBIIA  
59kg - Tetiana RIZHKO           
62kg - Anhelina LYSAK
65kg - Iryna KOLIADENKO      
68kg - Alina RUDNYTSKA LEVYTSKA  
72kg - Romana VOVCHAK      
76kg - Anna TISLICHENKO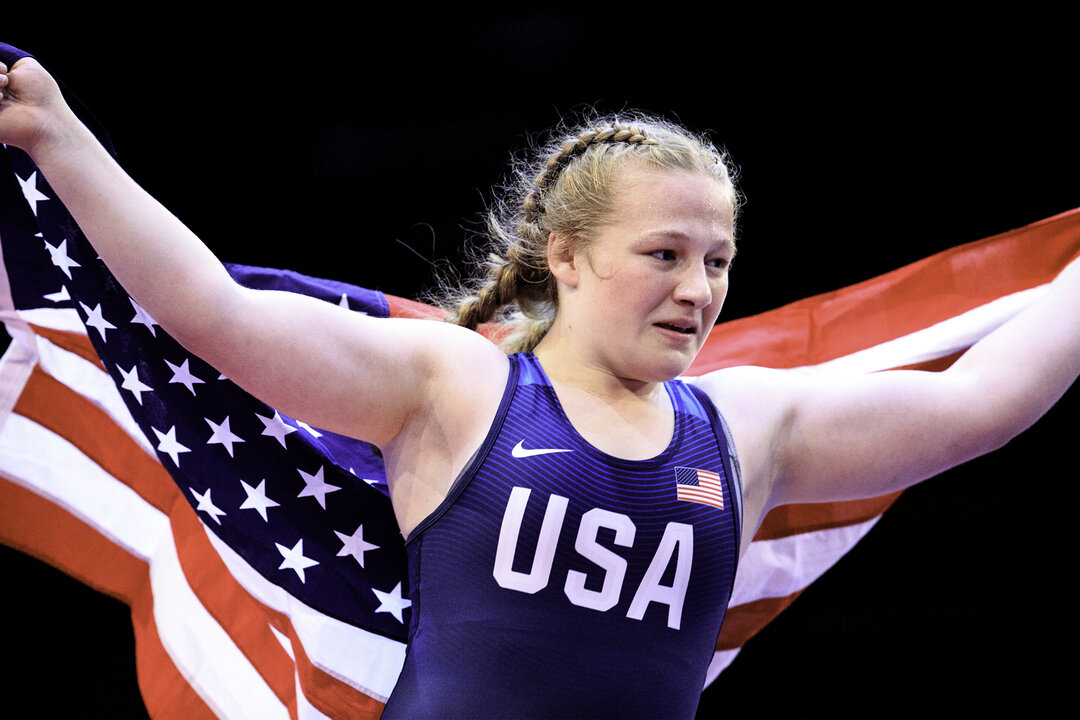 Reigning Cadet World Champion, Macey KILTY (USA). (Photo by Max Rose-Fyne) 
USA
50kg - Alleida MARTINEZ       
53kg - Alisha HOWK        
55kg - Ronna HEATON
57kg - Alexandra HEDRICK       
59kg - Brenda REYNA  
62kg - Alexandria LILES          
65kg - Jayden LAURENT
68kg - Macey KILTY       
72kg - Alyvia FISKE     
UZB
50kg - Aktenge KEUNIMJAEVA          
55kg - Khodicha NAJIMOVA  
59kg - Nabira ESENBAEVA    
65kg - Bakhtigul BALTANIYAZOVA