World Champion Azizli Headlines Hungarian Grand Prix Entry List
Thursday, February 14, 2019 - 14:57 By Eric Olanowski
GYOR, Hungary (February 14) - Azerbaijan's reigning world champion Eldaniz AZIZLI headlines a Hungarian Grand Prix field of 175 wrestlers from 25 different nations which boasts an impressive eight returning world medalists (listed in bold below).
Though they only enter three wrestlers, Azerbaijan has arguably the most successful team in the tournament. Their three entries are Azizli, Rasul CHUNAYEV, and Sabah SHARIATI. 
Azizli is coming off a run to his first world title and is the No. 1 ranked wrestler in the world at 55kg, while Chunayev and Shariati both hold Rio Olympic bronze medals. 
Chunayev, who's 25 points is good enough for the No. 4-ranking in the world at 72kg, has three world medals to go along with his Rio bronze-medal finish. In 2015, he won the world title and grabbed bronze medals at the 2014 and 2018 world championships.
The last Azeri entry is Sabah Shariati, who will be making his 2019 season debut at 130kg. 
Korea and Serbia are two other nations that enter stacked squads into the second Ranking Series event of the year.
Korea's team features Olympic champion KIM Hyeonwoo, two-time world champion RYU Hansu, and reigning 130kg world bronze medalist KIM Minseok. 
Kim Hyeonwoo brings 25 Ranking Series points into the Hungarian Grand Prix and is ranked third in the world after a bronze-medal finish at last weekend's Zagreb Open. 
Kim Minseok, the fifth-ranked wrestler in the world at 130kg, is looking to bounce back after failing to medal at the Zagreb Open, and two-time world champion Ryu Hansu will make his season debut at 67kg. 
Serbia's team will be led by 2017 world champion Viktor NEMES and reigning world bronze medalist Mihail KAJALA. Both wrestlers are ranked fourth in the world at 77kg and 97kg respectively. 
The Hungarian Grand Prix begins on February 23 at the Olimpiai Sportpark in Gyor, Hungary. 

Early Entries
Algeria 
55kg - Abdelkarim FERGAT
60kg - Abdennour LAOUNI
67kg - Ishak GHAIOU
72kg - Tarek Aziz BENAISSA
77kg - Akrem BOUDJEMLINE
87kg - Bachir SID AZARA
87kg - Adem BOUDJEMLINE
97kg - Hemza HALOUI
Azerbaijan
60kg - Eldaniz AZIZLI
72kg - Rasul CHUNAYEV
130kg - Sabah SHARIATI
Belarus
60kg - Maksim KAZHARSKI
67kg - Soslan DAUROV
77kg - Pavel LIAKH
77kg - Tsimur BERDYIEU
82kg - Viktar SASUNOUSKI
87kg - Mikalai STADUB
87kg - Radzik KULIYEU
97kg - Aliaksandr HRABOVIK
130kg - Kiryl HRYSHCHANKA
130kg - Georgi CHUGOSHVILI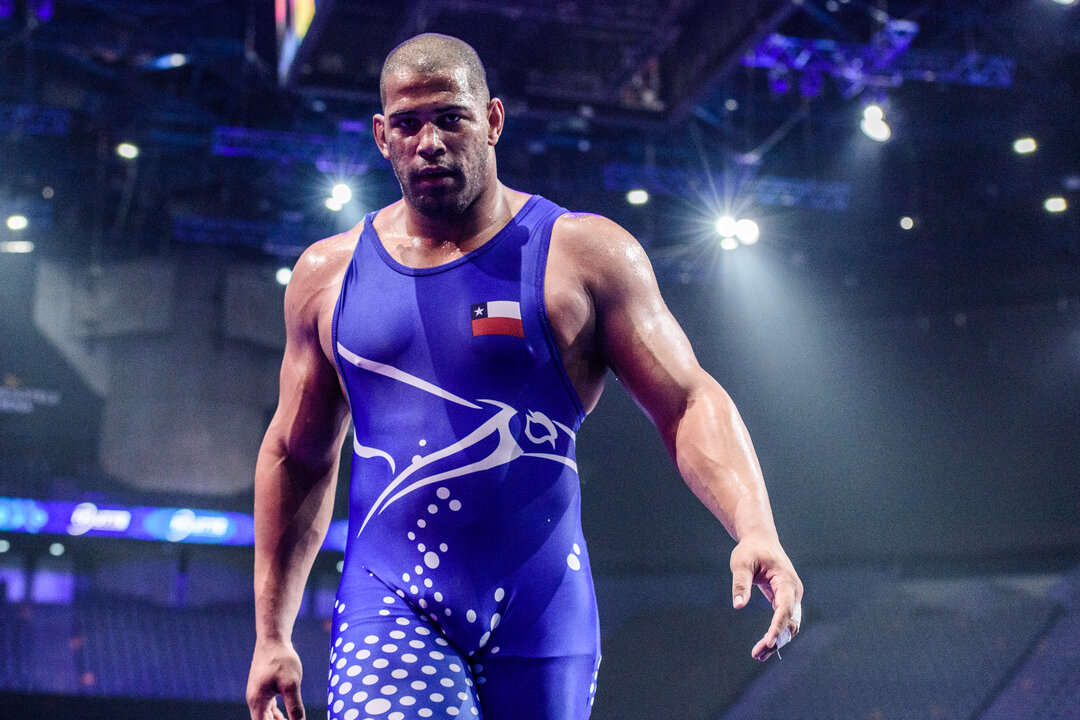 Yasmani ACOSTA FERNANDEZ, the 2017 world bronze medalists, moved up to No. 3 in this months world rankings after his bronze-medal performance at the first Greco-Roman Ranking Series event, the Zagreb Open. (Photo: Tony Rotundo )
Chile
67kg - Cristobal Alonso TORRES NUNEZ
130kg - Yasmani ACOSTA FERNANDEZ
China
60kg - WALIHAN Sailike
63kg - TUO Erbatu 
63kg - HU Di 
67kg - ZHANG Gaoquan
67kg - TIAN Qiye
72kg - ZHANG Hujun
77kg - ZHANG Ridong
82kg - QIAN Haitao
87kg - NA Junjie 
87kg - PENG Fei
97kg - ALIMUJIANG Abudourexiti
97kg - XIAO Di
97kg - ZHANG Gang
130kg - MENG Lingzhe
Czech Republic
72kg - Daniel VARGA
77kg - Petr NOVAK
77kg - Oldrich VARGA
97kg - Artur OMAROV
97kg - Ondrej DADAK
130kg - Stepan DAVID
Denmark
67kg - Fredrik Holmquist BJERREHUUS
82kg - Rajbek BISULTANOV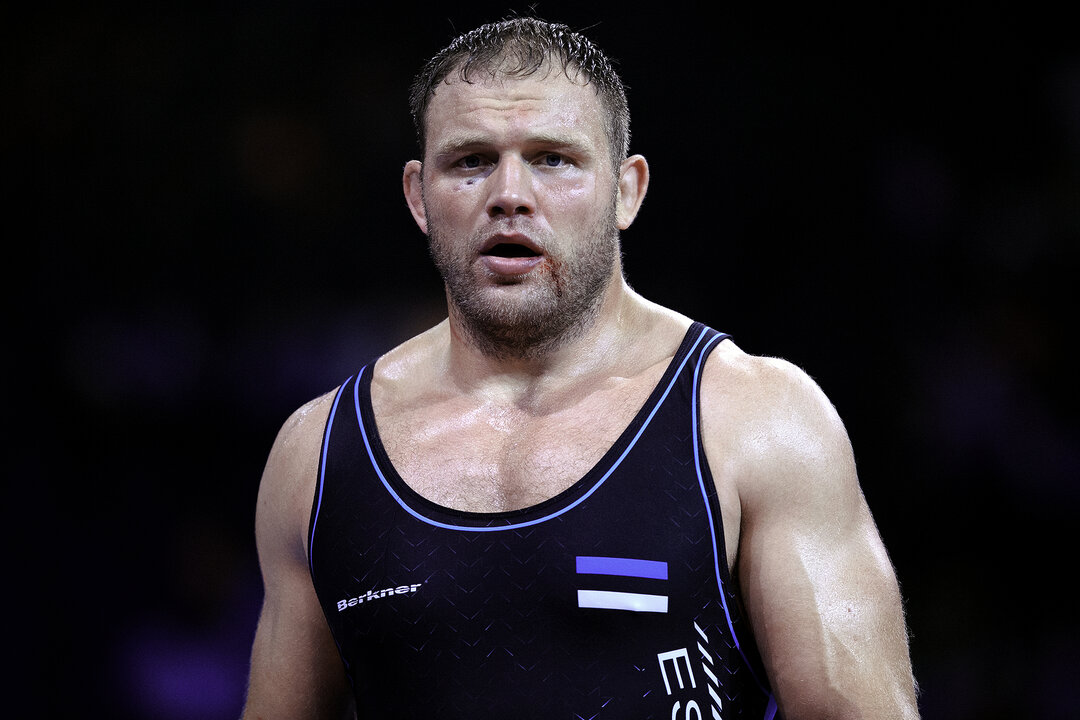 Heiki NABI, the two-time world champion is set to make his 2019 Ranking Series debut at the Hungarian Grand Prix. (Photo: Martin Gabor )
Estonia 
60kg - Helary MAEGISALU
67kg - Denis BOLUNOV
130kg - Heiki NABI
Finland
60kg - Lauri Johannes MAEHOENEN
77kg - Niko Olavi Oskari ERKKOLA
77kg - Tero Antero Matias HALMESMAEKI
82kg - Jarno Krister AALANDER
87kg - Rami Antero HIETANIEMI
97kg - Antti Matias MAEKINEN
130kg - Tuomas Heikki Juhani LAHTI
Georgia
60kg - Ramaz SURMANIDZE
60kg - Gizo MELADZE
72kg - Sachino DAVITAIA
77kg - Demuri KAVTARADZE
82kg - Lasha GOBADZE
82kg - Gela BOLKVADZE
Germany
72kg - Michael Felix WIDMAYER
82kg - Marius BRAUN
130kg - Jello KRAHMER
Iran
55kg - Reza Kheirollah KHEDRI
60kg - Shirzad Ali BEHESHTITALA
63kg - Meysam Karamali DALKHANI
63kg - Mohammad Naser NOURBAKHSH
67kg - Mohammad Hossein ELYASI
72kg - Mohammadreza Alireza AGHANIACHARI
77kg - Payam Abdeh Saleh BOVEYRI PAYANI
82kg - Jamal Yadollah ESMAEILIKHATOONABAD
87kg - Yousef Ahmad GHADERIAN
97kg - Hassan Ali ARYANEZHAD
130kg - Shahab Morteza GHOUREHJILI
Italy
60kg - Jacopo SANDRON
67kg - Ignazio SANFILIPPO
77kg - Riccardo Vito ABBRESCIA
87kg - Fabio PARISI
87kg - Mirco MINGUZZI
97kg - Daigoro TIMONCINI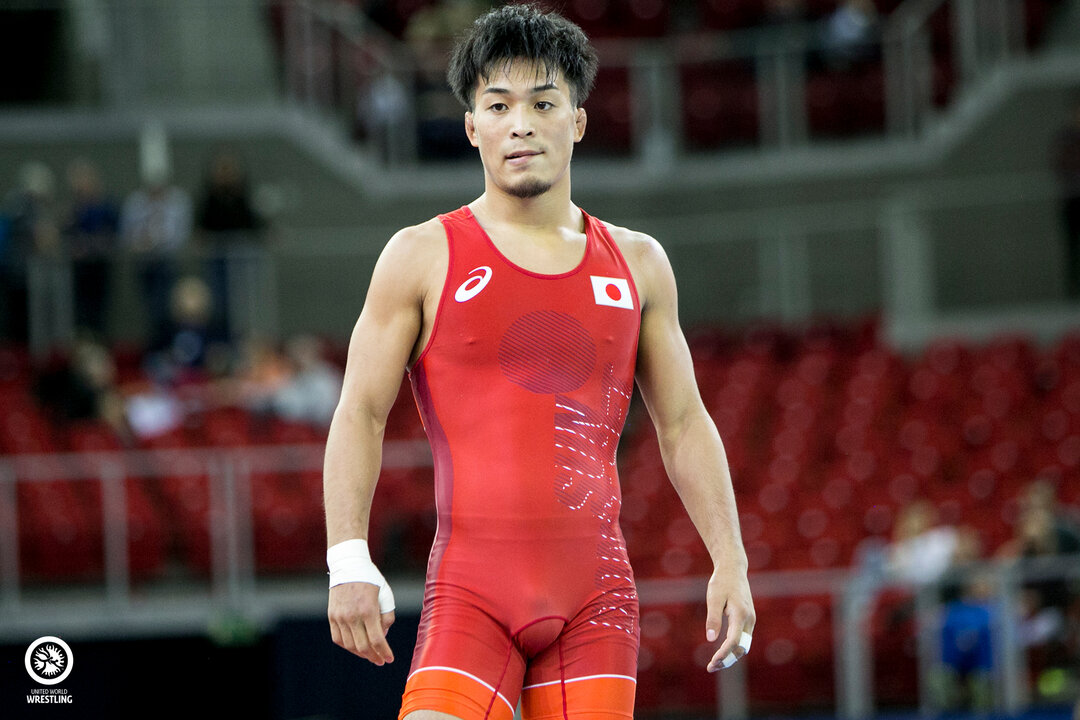 Rio Olympic silver medalist Shinobu OTA (JPN) will compete at 63kg at the Hungarian Grand Prix. (Photo: Martin Gabor )
Japan
63kg - Shinobu OTA
67kg - Katsuaki ENDO
67kg - Shogo TAKAHASHI
67kg - Tsuchika SHIMOYAMADA
72kg - Tomohiro INOUE
77kg - Naotsugu SHOJI
77kg - Masato SUMI
77kg - Kodai SAKURABA
87kg - Takahiro TSURUDA
97kg - Masaaki SHIKIYA
130kg - Arata SONODA

Korea
60kg - KIM Seunghak
60kg - LEE Jungbaik
67kg - KIM Dohyeong
67kg - RYU Hansu
77kg - KIM Hyeonwoo
87kg - PARK Heageun
97kg - LEE Seyeol
130kg - KIM Seungjun
130kg - KIM Minseok
Moldova 
63kg - Alexandru BICIU
63kg - Donior ISLAMOV
77kg - Daniel CATARAGA
77kg - Igor BESLEAGA

Nowary
63kg - Stig-Andre BERGE
67kg - Haavard JOERGENSEN
130kg - Oskar MARVIK
Romania
55kg - Alexandru Vasile BOTEZ
60kg - Virgil MUNTEANU
63kg - Mihai Radu MIHUT
72kg - Ilie COJOCARI
130kg - Alin ALEXUC CIURARIU
130kg - Constantin HUTULEAC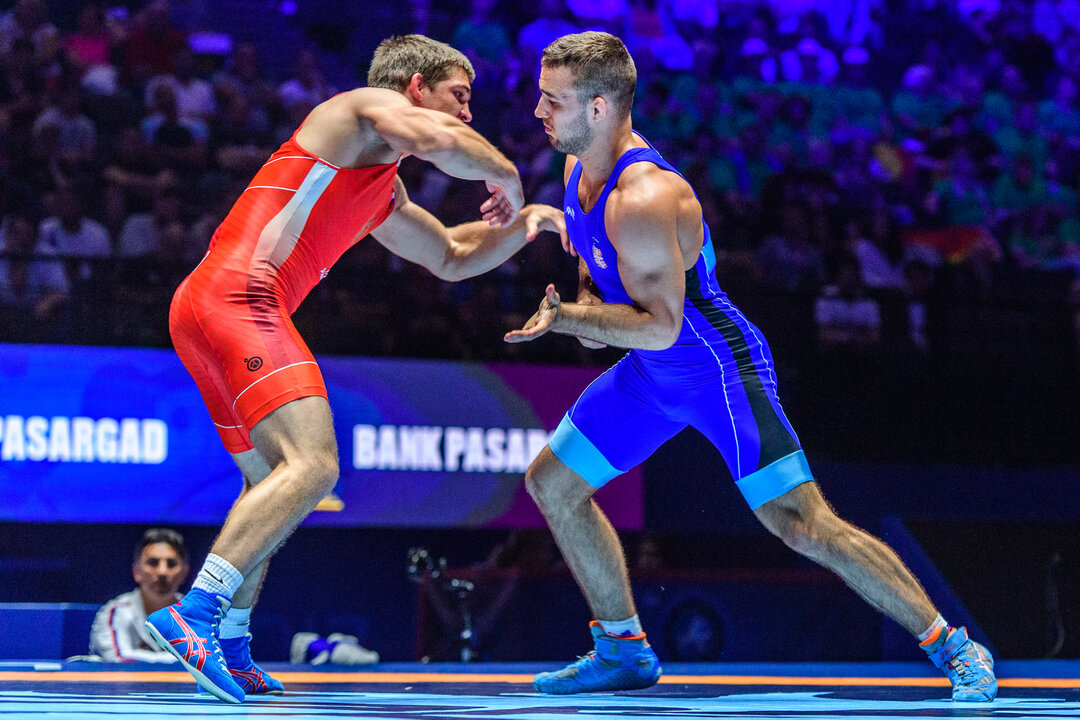 Viktor NEMES, the 2017 world champion confirmed that he'll be wrestling in Hungary next weekend. (Photo: Tony Rotundo) 

Serbia
63kg - Tamas NAD
67kg - Mate NEMES
77kg - Viktor NEMES
87kg - Nikolaj Georgiev DOBREV
87kg - Vladimir STANKIC
97kg - Mihail KAJALA
Slovakia
77kg - Leos DRMOLA
97kg - Tamas SOOS

Sweden
67kg - Danielo Giuseppe DI FEOLA
72kg - Oskar Simon ERLANDSSON
77kg - Alex Michel BJURBERG KESSIDIS
97kg - Pontus Johan LUND
97kg - Kristoffer Zakarias BERG
Ukraine
60kg - Viktor PETRYK
67kg - Ruslan KUDRYNETS
67kg - Bohdan KOVERNYUK
72kg - Artur POLITAIEV
77kg - Volodymyr YAKOVLIEV
77kg - Dmytro PYSHKOV
82kg - Yaroslav FILCHAKOV
82kg - Oleksandr BELOTSKYI
87kg - Andrii ANTONIUK
87kg - Iurii SHKRIUBA
97kg - Yevhenii SAVETA
97kg - Mykola KRYSOV
97kg - Zielimkhan DZIHASOV
130kg - Vladyslav VORONYI
130kg - Mykola KUCHMII
Kamal BEY, the United States' 2017 junior world champion, is looking to rebound after being disqualified from the Zagreb Open. (Photo: Kadir Kaliskan) 
USA
60kg - Dalton ROBERTS
63kg - Travis RICE
72kg - Patrick SMITH
77kg - Ravaughn PERKINS
77kg - Kamal BEY
87kg - Patrick MARTINEZ
87kg - Kevin RADFORD JR
87kg - Benjamin PROVISOR
97kg - Nicholas BOYKIN
97kg - Tracy HANCOCK
130kg - Robert SMITH

SCHEDULE

Friday (February 22) 
Till 12:00 - Final entries for GR cat. 55, 63, 72, 82, 97 kg
15:00 - Referee meeting
16:00 - Technical conference – all teams 
17:00 - Draw – GR cat. 55, 63, 72, 82, 97 kg
Saturday (February 23) 
08:00 - Medical examination & Weigh-in for GR cat. 55, 63, 72, 82, 97kg
10:00 - Qualification rounds and repechage for GR cat. 55, 63, 72, 82, 97kg
Till 12:00 - Final entries/ Inscriptions définitives pour GR cat. 60, 67, 77, 87, 130kg
16:30 - Draw – GR cat. 60, 67, 77, 87, 130kg
17:00 - Opening Ceremony 
18:00 - Finals for GR cat. 55, 63, 72, 82, 97kg Award ceremonies 
Sunday (February 24) 
8.30- Medical examination & Weigh-in for GR cat. 60, 67, 77, 87, 130kg
10.00-15.00- Qualification rounds and repechage for GR cat. 60, 67, 77, 87, 130kg
16.00-19.15- Finals for GR cat. 60, 67, 77, 87, 130kg and Award ceremonies
Monday (February 25) 
Departure of the delegations