Weekly Five! November 26, 2019
Tuesday, November 26, 2019 - 12:43 By Eric Olanowski
Reviewing Sweden's trio of newly-named Olympians, and previewing the upcoming Alrosa Cup and Canadian Wrestling Trails. 
1. Three Swedish Wrestlers Olympic Spots Confirmed
Sweden confirmed that Jenny FRANSSON, Henna JOHANSSON and Alexandros KESSIDIS earned their spot on the Tokyo 2020 Olympic team. Fransson and Kessidis were world silver medalists this year, and Johansson was a bronze-medal finisher. 
Fransson, this year's 68kg world runner-up, announced on her Instagram, saying, "I'm so proud that today we were officially selected to represent Sweden in the Tokyo 2020 Olympics."
The 32-year-old's confirmation on the Tokyo Olympic team means she's now a four-time Olympian. The world runner-up finished in ninth place at the Beijing and London Olympic Games before finding the podium with a bronze-medal finish at the 2016 Olympic Games in Rio de Janeiro. 
On a side note, Fransson has a career Olympic Games record of 4-5, but three of those losses came against two eventual champions and a silver medalist. Wang JIAO (CHN) and Sara DOSHO (JPN) went on to win gold medals at the 2008 and 2016 Olympic Games, respectively, while Stanka HRISTOVA (BUL) was a runner-up at the 2012 Olympics.
Henna Johansson, the 62kg women's wrestling world bronze medalist, will be making her third appearance at the Olympic Games. She;s finished in tenth place at the London and Rio Olympic Games.
Kessidis, who dropped the 77kg Greco-Roman world finals, will make his first trip to the Olympic Games next August. The 24-year-old will be Sweden's leading candidate to win their 21st Greco-Roman Olympic title, but first since Mikael LJUNGBERG's did so at the 2000 Sydney Olympic Games. 
Bilyal MAKHOV (RUS) will wrestle this weekend at the Alrosa Cup in Moscow, Russia. This is only the fourth time the Olympic silver medalist has wrestled since the 2016 Rio Olympic Games. (Photo: United World Wrestling)

2. Makhov Set to Compete at Alrosa Cup (November 28-30) 
Bilyal MAKHOV (RUS) continues his quest to improve his Olympic silver medal on November 28 when he'll lace up at the Alrosa Cup in Moscow, Russia. 
The Alrosa Cup will be Makhov's fourth competition since the 2016 Rio Olympic Games and the second time he's competed in 2019. Most recently, Makhov returned to the mat after a 21-month hiatus at the Poland Open, where he finished in second place. 
After August's Poland Open silver-medal finish, Makhov was rumored to be one-of-two replacement candidates for the 2019 World Championships after Russia's starting heavyweight Anzor KHIZRIEV (RUS) suffered an arm injury during a training camp leading up to Nur-Sultan. Instead, Russia ultimately inserted Alan KHUGAEV, who finished in 11th place in Kazakhstan.
Earlier this year, the three-time world champion and former London Olympic bronze medalist had his medal upgraded. Makhov was awarded the silver medal after Artur TAYMAZOV (UZB) was stripped of his 2012 London Olympic gold medal by the IOC Disciplinary Commission (DC) after a reanalysis of his anti-doping test at the 2012 Olympic Games.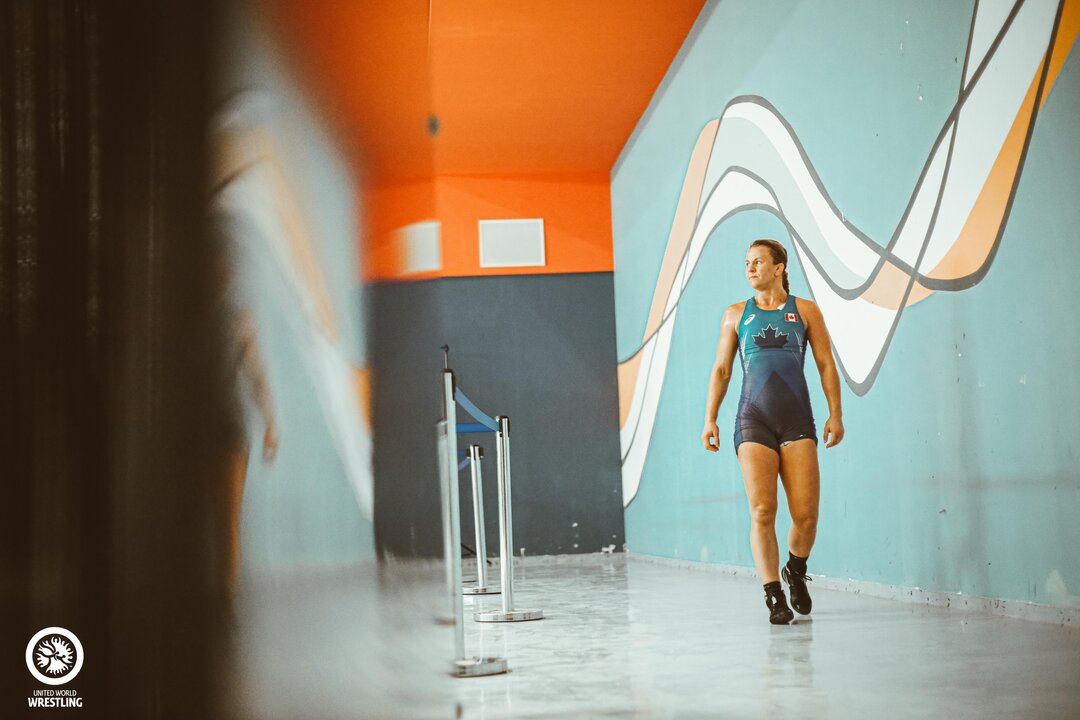 Olympic Erica WIEBE (CAN) could square off with world champion Justina Di STASIO (CAN) for a potential opportunity to wrestle at the 2020 Tokyo Olympic Games. (Photo: Kadir Caliskan)
3. Canadian Wrestling Trials Begin December 5-7
The Canadian Wrestling Team trials kick off December 5-7 in Niagara, Ontario, Canada, and Erica WIEBE and Justina Di STASIO highlight the premier weight-to-watch, 76kg. 
Wiebe, a Rio Olympic champion, is looking to become the first-ever non-Japanese women's wrestler to win a pair of Olympic titles. But to do so, she'll first have to get through 2018 world champion, Justina Di Stasio, in a best two-of-three match. That is, of course, if they both make the finals. 
Though official seeds won't be released until a few days before the competition begins, Wiebe and Di Stasio are expected to be the first and second-seeded wrestlers, respectively. If the colossal match were to happen, it'd take place Saturday night.
The pair of stars met earlier this year in the finals of Canada Cup in Calgary, where Wiebe scored the 7-5 come-from-behind win. In that June meeting, Wiebe trailed 3-2 heading into the closing period, but the Olympic champion outscored the world champion, 5-2, and secured the gold medal with the 7-5 victory. 
Other notable Canadian stars that'll be in action at the Canadian Wrestling Team Trials are Danielle LAPPAGE, Linda MORAIS, Alex TOWN and Diana WEICKER.  
Morais, who is coming off winning a world title at the non-Olympic weight of 59kg, is set to move down to 57kg, where Hannah TAYLOR and Alexandra TOWN will challenge her. Taylor is fresh off a bronze-medal finish at the U23 World Championships, while Town is a year removed from handing Canada their first-ever women's wrestling U23 world gold medal. 
Lappage and Weicker, the pair of 2018 world medalists, will also be in action in Ontario. Lappage, the 2018 world runner-up, will wrestle at 68kg, while Weicker, the Budapest bronze medalist, will wrestle at 53kg. 
The winners of the Canadian Wrestling Team Trails cement their spot on Canada's Pan-American Championship/Qualifier teams. Furthermore, they'll lock up their place on Canada's 2020 Tokyo Olympic team if they qualify Canada for the Olympic Games at the world or continental qualifier. 
Event Page
Trials Clarification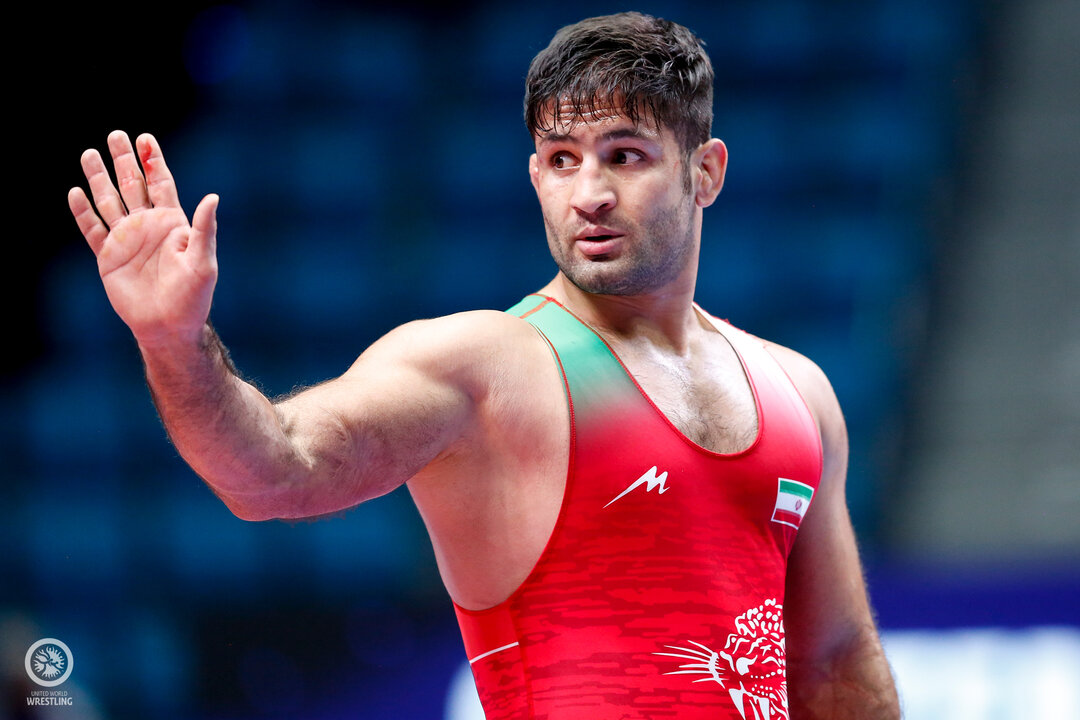 Said ABDVALI (IRI) was expected to lead Iran's team at the 2019 Greco-Roman World Cup. The tournament has since been postponed. (Photo: Gabor Martin)
4. Greco-Roman World Cup Postponed
In response to the current instability in Iran, the 2019 Greco-Roman World Cup, originally slated to be held next weekend in Tehran, has been postponed. 
The UWW Executive Committee held a meeting yesterday in Istanbul and assessed a variety of sources including the associated Foreign Ministries recommendations to travellers in Iran and the recent decision of other sports. It was also acknowledged by the Executive Committee that two teams had already withdrawn their participation due to the recommendations of their nations. 
"Considering its responsibility towards athletes and teams; and that the situation has not reached a satisfactory degree of stability for the holding of such an international event; and with a concern for avoiding any risk on our athletes, the Executive Committee has decided to postpone the holding of the World Cup GR until further notice," wrote United World Wrestling general secretary Micheal DUSSON, in a letter to concerned national federations.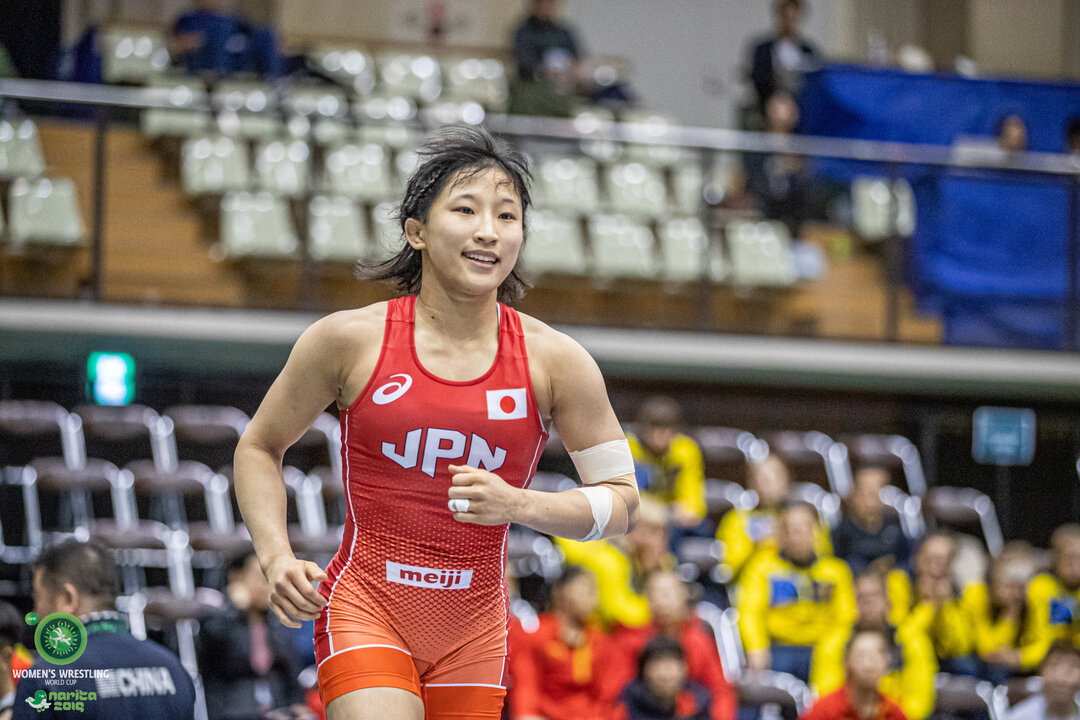 Two-time world champion Yui SUSAKI (JPN) has to win the Emperor's Cup in order to lock up her spot on Japan's Asian Olympic qualifier team. (Photo: Sachiko Hotaka)
5. Japan's 50kg Asian Olympic Qualifier Spot to be Determined at Emperor's Cup
Shortly after winning her second consecutive senior world title a season ago in Budapest, Yui SUSAKI (JPN) was looked at by many as one of the best pound-for-pound wrestlers in the world. Through her first two senior World Championships, Susaki was a perfect 9-0 and scored an impressive seven technical superiority victories and a fall en route to her pair of world titles. 
But the seven-time world champion (three cadet, two junior and two senior) was dealt a stunning loss to Yuki IRIE (JPN) and failed to make Japan's Nur-Sultan world team. Susaki was in danger of missing the 2020 Tokyo Olympic Games, but her rival Irie dropped her quarterfinals match in Nur-Sultan to SUN Yanan (CHN), who ended up falling to eventual champion Mariya STADNIK (AZE) in the semifinals, and left the door wide open for Susaki to return to Japan's lineup prior to the Olympic Games. 
Japan's focus at 50kg moves to December 19-22 Emperor's Cup. The winner of the 50kg weight class, which will feature Irie, Susaki and Rio Olympic champion Erie TOSAKA (JPN), will travel to Xi'an, China, to try to secure Japan's spot at the 2020 Olympic Games.
Weekly FIVE! In Social Media 
1. Big Move Monday -- Euren J. (SWE) -- Greco-Roman World Cup 2015
2. Wrestle Like A Girl 🤼‍♀️ #uww #unitedworldwrestling#wrestlelikeagirl
3. Rashidov Wins Long-Awaited World Title
4. Akgul, Burroughs, Sadulaev and Yazdani are among the freestyle superstars who already have an Olympic title on their resume. Which medalist do you think will medal at the #Tokyo2020 Olympic Games?
5. On the Line: Match Winners