USA Sweeps Gold Medals at Day Two of #WrestleGuatemala as Honduras' Mejia Earns OW
Saturday, May 29, 2021 - 01:24 By Taylor Miller
GUATEMALA CITY, Guatemala – The USA won gold medals in all seven weights contested on Friday, including three titles in Greco-Roman and four titles in women's freestyle at the 2021 Pan American Championships in Guatemala City.
Providing an outstanding performance that outshone the rest, Kevin MEJIA CASTILLO (HON) was named awarded the Golden Boot as the Greco-Roman Outstanding Wrestler for his Thursday-night gold-medal win at 97 kg. 
Winning in Greco-Roman was Peyton WALSH (USA), Ben PROVISOR (USA) and John STEFANOWICZ (USA).
At 77kg, Walsh defeated two-time Senior Pan Am finalist Joilson DE BRITO RAMOS JUNIOR (BRA) in a hotly contested match. Walsh led 5-0 at the break, but de Brito Ramos Junior fought back hard in the second period, scoring five points. Ultimately, Walsh held on for a 5-5 win on criteria as de Brito Ramos Junior had a caution against him.
Two-time Olympian Provisor recorded two technical superiority wins, 9-0 and 8-0, in his three-man round robin to claim the 82kg title. This is Provisor's third Pan Am gold medal with his first coming in 2017 in Greco-Roman and his second coming in 2018 in men's freestyle.
Tokyo Olympian Stefanowicz took home the gold after a dramatic finals match at 87kg. Wrestling against Ariel ALFONSO RODRIGUEZ (HON), Stefanowicz trailed 1-0 at the break. To start the second period, Stefanowicz scored a step out and in the flurry of action, Alfonso Rodriguez exhibited unsportsmanlike conduct and was disqualified from the match.
USA won the Greco-Roman team title, earning 205 points. Brazil placed second with 95 points and Mexico rounded out the top-three with 94 points.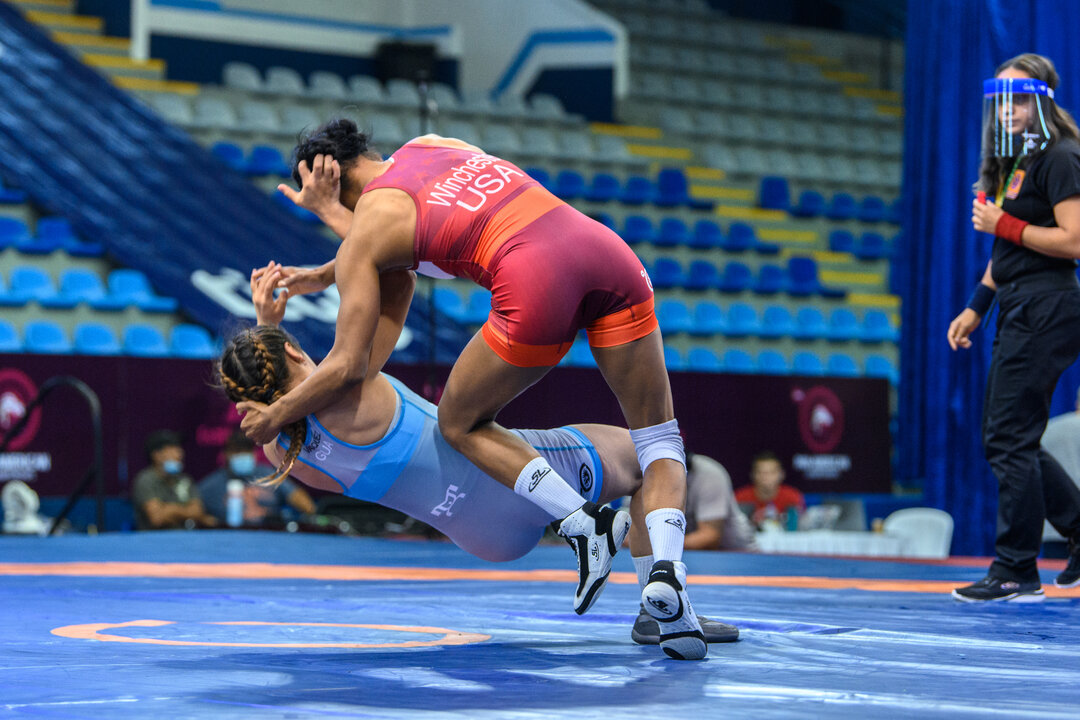 Jacarra WINCHESTER (USA) finishes a shot on Neidy Lizeth VASQUEZ GOMEZ (GUA) on her way to the 10-0 shutout opening-round win. (Photo: Tony Rotundo)
The U.S. women's freestyle champions were Jacarra WINCHESTER (USA), Maya NELSON (USA), Jennifer ROGERS PAGE (USA) and Alexandria GLAUDE (USA).
2019 World champion and Tokyo Olympian Winchester absolutely dominated the 55kg bracket, collecting a 4-0 record, including three technical superiorities and one pin. This marks her first Pan American gold medal, but she also owns a bronze medal from the 2018 Pan Am Championships.
At 59kg, 2017 Junior World champion Nelson clinched the title with two wins on the day, including an impressive win in which she knocked off 2019 Senior World champion Linda MORAIS (CAN), 5-5. To secure the title, Nelson dominated Karoline SILVA DE SANTANA (BRA) with a 12-2 victory.
Rogers Page earned her second Pan Am title, winning four matches in a Nordic bracket. In the final, she took on Ashley ZARATE CAMPBELL (PAN), who she defeated earlier in the day. For gold, Rogers Page dominated the Panamanian with pin in 52 seconds. She adds to her 2015 Pan Am gold medal.
To win gold at 72kg, U23 World bronze medalist Glaude went 2-0 on the day. To start her tournament, Glaude dominated 2020 Pan Am champion Yanet SOVERO NINO (PER) with a fall in only 25 seconds. To secure the title, Glaude beat Brenda AGUIAR DOS SANTOS (BRA), 10-0.
The competition continues tomorrow with the remaining women's freestyle weights and the beginning of men's freestyle. Wrestling begins at 12 p.m. local time. Fans can watch all the action live at uww.org.
En español
CIUDAD DE GUATEMALA – Los Estados Unidos ganó medallas de oro en los siete categorías  disputadas el viernes, incluyendo tres títulos en grecorromano y cuatro títulos en estilo libre femenino en el Campeonato Panamericano 2021 en la Ciudad de Guatemala. 
El ganador del botín de oro fue Kevin MEJIA CASTILLO (HON), el campeón de la categoría 97 kg, quien compitio el jueves. 
Los ganadores en grecorromano fueron Peyton WALSH (USA), Ben PROVISOR (USA) y John STEFANOWICZ (USA).
En la categoría 77 kg, Peyton WALSH (USA) tuvo un combate cerrado con dos veces finalista panamericana Joilson DE BRITO RAMOS JUNIOR (BRA) para el oro. Walsh estaba ganando 5-0 en el periodo del descanso, pero en el segundo periodo, de Brito Ramos Junior marcó cinco puntos para poner el combate en un empate. Walsh ganó por criterio, 5-5.
Ben PROVISOR (USA), el dos veces olímpico, ganó dos combates para hacerse con el título en 82 kg. Ambos fueron victorias por superioridad técnica, 9-0 y 8-0. Es la tercera medalla de oro panamericana para él. También ganó el oro en grecorromano en 2017 y el oro en estilo libre masculino en 2018.
Olimpico Stefanowicz ganó el oro después de un final dramático en 87 kg. Luchando contra Ariel ALFONSO RODRIGUEZ (HON), Stefanowicz estaba perdiendo 1-0. En el segundo periodo, entre un momento de acción, Alfonso Rodriguez mostró conducta antideportiva y fue descalificado.
USA ganó el título del equipo con 205 puntos. Brasil produjo la medalla de plata con 95 puntos y asegurando el bronce fue México con 94 puntos.
Las luchadoras estadounidenses ganaron cada categoría en el estilo libre femenino. Las campeonas fueron Jacarra WINCHESTER (USA), Maya NELSON (USA), Jennifer ROGERS PAGE (USA) y Alexandria GLAUDE (USA).
La campeona mundial de 2019 y olímpica Winchester dominó a la categoría 55 kg. Ella recogió un record de 4-0, ganando tres con superioridades técnicas y el otro combate por puestaespalda. Esta es su primera medalla de oro panamericana. También tiene una medalla de bronce del campeonato panamericano de 2018.
En 59 kg, Nelson, una campeona mundial juvenil de 2017, aseguró el título con una victoria impresionante contra la campeona mundial de 2019, Linda MORAIS (CAN) en su primera pelea, 5-5. Más tarde en el día, derrotó a Karoline SILVA DE SANTANA (BRA), 12-2.
Rogers Page ganó cuatro peleas en la categoría de 65 kg para llevar el oro. En el final, derrotó a Ashley ZARATE CAMPBELL (PAN) por la segunda vez hoy con una puestaespalda en 52 segundos. En una competencia Nordic, Rogers Page venció a Zarate Campbell, 11-1, en su primer combate del dia. Es su segunda medalla de oro panamericano. La primera vino en 2015.
Para ganar el oro en 72 kg, Glaude, una medallista mundial U23, se fue 2-0 en el día. Primero, Glaude derrotó a la campeona panamericana 2020 Yanet SOVERO NINO (PER) con un puestaespalda en solo 25 segundos. Esta noche, en su última combate, Glaude se enfrentó a Brenda AGUIAR DOS SANTOS (BRA) y venció con un triunfo 10-0.
La competencia sigue mañana con el estilo libre femenino y el estilo libre masculino. Empieza a las 12 p.m. hora local. Se puede ver toda la acción en uww.org.
GRECO-ROMAN RESULTS
77kg
GOLD – Peyton WALSH (USA) df. Joilson DE BRITO RAMOS JUNIOR (BRA), 5-5
BRONZE – Reinier JIMENEZ TERRY (GUA) df. Matias CABEZAS CORNEJO (CHI), 8-0
BRONZE – Marciano ALI (PUR) df. Enrique CUERO ORTIZ (ECU), 13-2
82kg
GOLD – Ben PROVISOR (USA)
SILVER –  David Elias CHOC HUOC (GUA)
BRONZE – Alexis MARTINEZ SANCHEZ (MEX)
87 kg
GOLD – John STEFANOWICZ (USA)
SILVER – Daniel VICENTE GOMEZ (MEX)
BRONZE – Ronisson BRANDAO SANTIAGO (BRA)
WOMEN'S FREESTYLE RESULTS
55kg
GOLD – Jacarra WINCHESTER (USA)
SILVER – Virginie KAZE GASCON (CAN)
BRONZE – Anny RAMIREZ PEREZ (DOM)
59kg
GOLD – Maya NELSON (USA)
SILVER – Linda MORAIS (CAN)
BRONZE – Karoline SILVA DE SANTANA (BRA)
65kg
GOLD – Jennifer ROGERS PAGE (USA) df. Ashley ZARATE CAMPBELL (PAN), fall 0:52
BRONZE – Amanda SAVARD (CAN) df. Diana CRUZ ARROYO (PER), 2-1
72kg
GOLD – Alexandria GLAUDE (USA)
SILVER – Yanet SOVERO NINO (PER)
BRONZE – Brenda AGUIAR DOS SANTOS (BRA)