Tokyo 2020 Venue to Get 1st Test Run with Women's Tournament Featuring 5 World Medalists.
Wednesday, October 2, 2019 - 15:39 By Ken Marantz
CHIBA, Japan (Oct. 2)---The wrestling venue for the Tokyo 2020 Olympics will get its first dry run with a three-day competition in the six women's Olympic weight classes, part of the organizing committee's "Ready Steady Tokyo" series of test events.
Makuhari Messe, an expansive international convention complex located down the coast from Tokyo in the western part of neighboring Chiba city, will host the Tokyo 2020 wrestling competition less than a year away. When a dedicated Olympic road is used during the Games, it is expected to be a 20-minute drive from the Olympic Village.
Coming so close to the World Championships in Kazakhstan and with a big domestic women's competition looming in a few weeks, the organizing committee had to scramble to fill the minimum eight places in each weight classes. But they managed to pull it off, as four of the weight classes have eight entries and two have nine.
And even under the circumstances, they have put together an impressive field, with no less than five medalists---all Chinese---and 11 wrestlers overall who participated at Nur-Sultan.
No members of the Japanese team, which won one gold and secured five of six places at Tokyo 2020 are entered, but there are a number of "next generation" wrestlers who have earned an abundance of world and continental laurels on the age-group level.
The objective of the tournament, of course, is to test technical and logistical aspects and work out any glitches before the Games. The Atos and Omega computer scoring systems will also be put to the test.
Makuhari Messe will be the host venue for the Tokyo 2020 Olympics. But first, it'll host this week's test event.
"The test event is mainly for technical operations and to have the staff operate and communicate with each other," said Akiko Takeda, a Japan Wrestling Federation spokesperson who is serving as the international service manager for the venue.
Takeda pointed out that at Japan's major national competitions, the Japan federation completely handles the organizing and execution. But in the case of the test event, the Tokyo 2020 Organizing Committee is the organizer, and must coordinate between various local and international entities.
"The people come from many positions, big companies, the Metropolitan Tokyo Government, other prefectures," Takeda said. "To communicate is difficult. The organizational structure is isolated, and we need horizontal communication [between everyone]."
The wrestling competition will be held in the International Exhibition Hall of Makuhari Messe, which has a total floor space of nearly 80,000 square meters. For the test event, only Hall 5 will be used; for the Olympics, the dividers will be taken out and the space expanded into the two adjacent halls, allowing for spectator seating with a capacity of 10,000.
While the layout of the three mats, on connected octagonal stages, will be the same as for the Olympic event, there will be no spectators. Which is somewhat of a shame, as the quality of the wrestling will be quite high.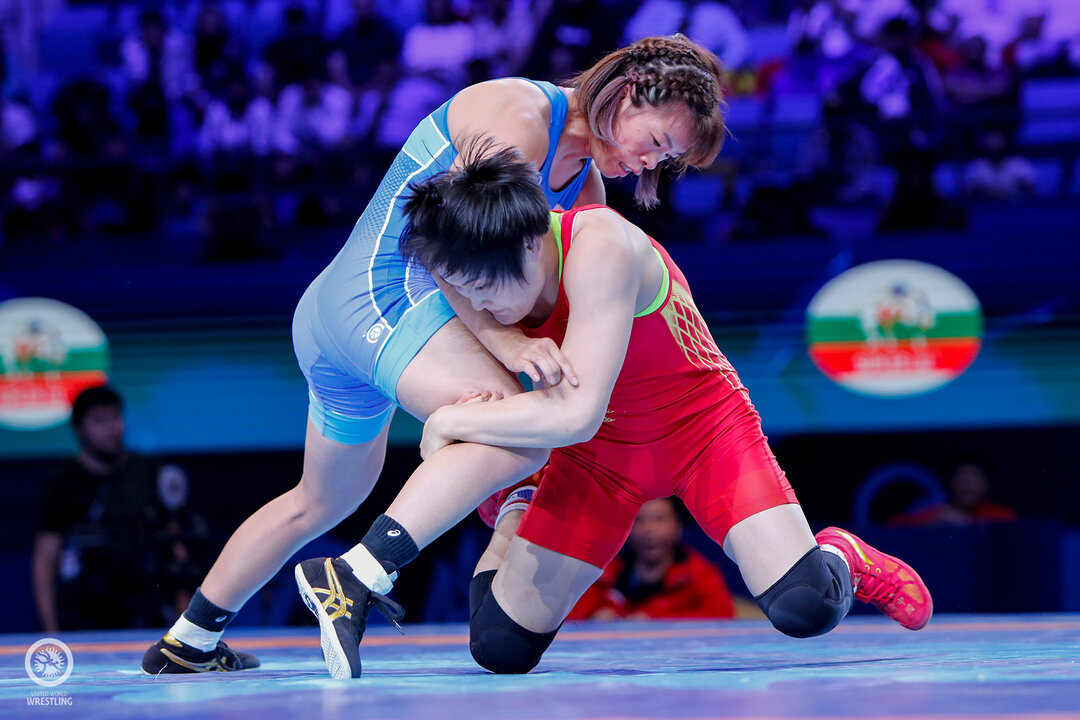 RONG Ningning (CHN) looks to finish a single-leg in the 57kg world finals against Risako KAWAI (JPN). (Photo: Gabor MARTIN) 
Heading the field will be RONG Ningning (CHN), a 2018 world champion who won the silver medal in Nur-Sultan after losing in the 57kg final to Risako KAWAI (JPN). The Asian champion's toughest test could come in a possible semifinal with compatriot ZHANG Qi (CHN), who was third at the Asian Championships at 59kg and was the 2018 world junior silver medalist.
On the other side of the draw are Hanako SAWA (JPN), the 2018 world junior champion, and Alina AKOBIIA (UKR), this year's world junior silver medalist.
At 53kg, Nur-Sultan bronze medalist PANG Qiangyu (CHN) could have a rematch of her Klippan Lady loss to 2018 world junior champion Umi IMAI (JPN). But Pang would first have to get past compatriot LUO Lannan (CHN), a 2018 Asian bronze medalist, and possibly Saki IGARASHI (JPN), the 2018 world junior and U23 champion at 55kg.
Also in the field are European champion Liliya HORISHNA (UKR) and 2018 European U23 gold medalist Nina MENKENOVA (RUS).
Olympic bronze medalist SUN Yanan (CHN), who deprived Japan an Tokyo 2020 berth at 50kg by topping Yuki IRIE (JPN) in a 13-12 second-round thriller in Nur-Sultan before finishing fifth, appears to be the one to beat in the lightest weight class.
Others entered include 2018 Asian champion LEI Chun (CHN), world junior bronze medalist Mariia VYNNYK (UKR) and up-and-coming Remina YOSHIMOTO (JPN), the Asian junior champion and Klippan Lady runner-up this year.
The 68kg division could feature a clash of current and former world bronze medalists in the semifinals, as WANG Xiaoqian (CHN), a third-place finisher in Nur-Sultan at 65kg, was drawn into the same half of the bracket at 2018 bronze medalist Feng ZHOU (CHN).
Naruha MATSUYUKI (JPN), a junior world champion, will wrestle at 68kg. (Photo: Kadir Caliskan)
World junior champion Naruha MATSUYUKI (JPN) is in the bottom half along with Alina RUDNYTSKA LEVYTSKA (UKR) and Alexandria GLAUDE (USA), who were world junior and U23 bronze medalists, respectively, in 2018.
At 62kg, another all-Chinese semifinal looms, this one between PEI Xingru (CHN), a world bronze medalist at 59kg, and LUO Xiaojuan (CHN), the Asian champion at 65kg. Pei will open against Mallory VELTE (USA), a 2018 world bronze medalist.
The other half of the draw features European U23 champion Ilona PROKOPEVNIUK (UKR) and a pair of 2018 world junior champions, Atena KODAMA (JPN) and Miyu IMAI (JPN).
The Chinese favorites at 76kg were drawn into separate brackets, making a gold-medal showdown possible between Paliha PALIHA (CHN), a bronze medalist at 72kg in Nur-Sultan, and ZHOU Qian (CHN), a two-time former world bronze medalist.
Looking to topple the great walls will be world junior bronze medalist Yasuha MATSUYUKI (JPN), who is Naruha's twin sister; Justina DI STASIO (CAN), the 2018 world champion at 72kg; and European junior bronze medalist Romana VOVCHAK (UKR).
For the tournament, there is a weight allowance of 2 kilograms.
Schedule
Thursday, October 3
11:00-13:00  Qualification rounds WW - 76-68-62kg
18:15-19:15    Semifinals WW - 76-68-62kg
Friday, October 4
11:00-11:20   Repechage WW - 76-68-62kg
11:20-13:20   Qualification rounds WW - 57-53-50kg
18:15-19:15    Semifinals WW - 57-53-50kg
19:15-21:45    Finals WW - 76-68-62kg
Saturday, October 5
10:30-10:50   Repechage WW - 57-53-50kg
11:20-13:50    Finals WW - 57-53-50kg