Steveson Still Improving After Three World Titles
Friday, September 21, 2018 - 09:32 By Eric Olanowski
TRNAVA, Slovakia (September 21) - It's hard to believe that Gable STEVESON (USA) is still improving after winning three world titles, but he stood outside Trnava's City Sports Hall and said it's possible. 
"I'm stronger, quicker and my endurance is better than ever, but I'm still growing," said Steveson. "I look at myself as the second-place guy, and that's how I'm approaching every practice. Even though I've reached the top, I still train like I'm behind somebody." 
With two years of junior eligibility left, Steveson's comes to Slovakia chasing his fourth age-level world title. 
No doubt that he enters the 2018 Junior World Championships with a target on his back and he knows it. "I love having the target on my back. A lot of people have tried to hit the target, but as of right now, everyone has missed."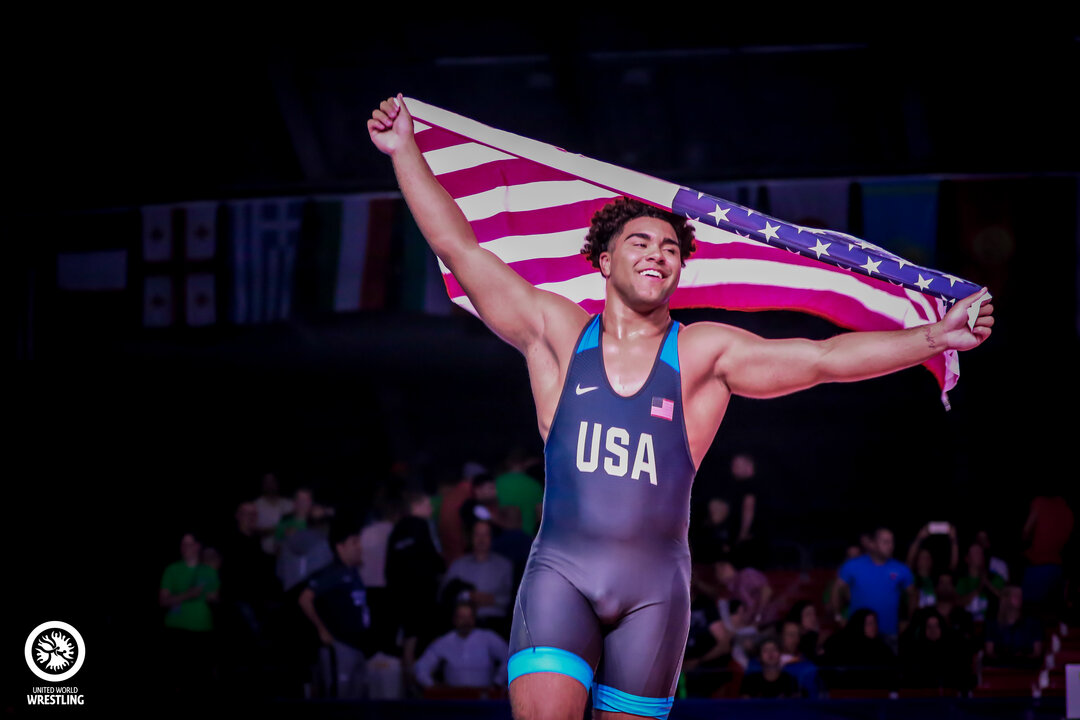 Gable STEVESON (USA) carries the American flag after winning the 2017 junior world title. (Photo by Marion Stein) 
The 18-year-old will wrestle Saturday, with the potential to wrestle in Sunday night's 125kg gold-medal bout, in what may be his last age-level match ever. 
"I'm shooting for six (world titles), but with Tokyo 2020 right around the corner, I plan on bumping up to the senior-level next year and making USA's world team," said Steveson. "I'm always looking ahead, and looking ahead means the 2020 Olympic Games. That's a big goal for me, an Olympic gold." 
Ending, on Wednesday night, Steveson stood behind the entry tunnel and watched Russia's Aleksanr KOMAROV win his fourth age-level world title. But that didn't change Steveson's mind as to who's the most dominant age-level wrestler in the world. When asked his thoughts regarding who holds the No. 1 spot for world dominance, Steveson's gave a one-word answer, "Me."