Starcevic Soars to Fifth Consecutive Zagreb Open Title
Sunday, February 10, 2019 - 19:09 By Eric Olanowski
ZAGREB, Croatia (February 10) – Bozo STARCEVIC remained patient in his hometown of Zagreb and waited until the last bout of the tournament, but the Croatian wrestler capped off his impressive run to a fifth consecutive Zagreb Open title with a tactical 2-1 victory over Turkey's Yunus BASAR in the 77kg finals. 
Starcevic, the hometown wrestler, grabbed the 1-0 lead after receiving a passivity point but found himself fighting back in the second period after Basar gained the 1-1 lead on criteria with a passivity point of his own. 
With just over a minute left, the Croatian wrestler continued to push the pace and broke the 1-1 tie after he was awarded a second passivity point. Starcevic remained composed in the final 30 seconds and closed out the match with the 2-1 victory, locking up his fifth consecutive Zagreb Open title. 
Starcevic's run to his fifth title also included a 6-1 quarterfinals win over Olympic champion KIM Hyeonwoo (KOR).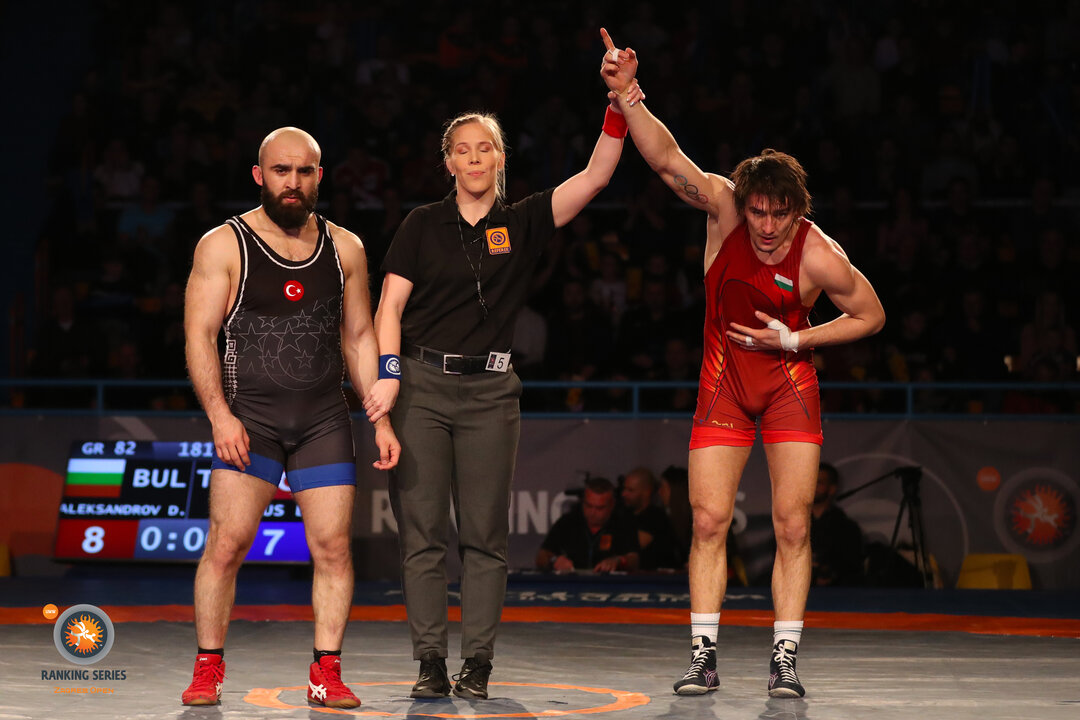 Bulgaria's Daniel ALEKSANDROV erased a 7-0 deficit to defeat reigning world silver medalist Emrah KUS (TUR) in the 82kg gold-medal bout. (Photo Kadir Caliskan) 

Two World Silver Medalists Go Down
Bulgaria's Daniel ALEKSANDROV and Russia's Ilia BORISOV knocked off reigning world runner-up's Emrah KUS (TUR) and Kiril MILOV (BUL) respectively to with their first Zagreb Open titles. 
Daniel Aleksandrov erased a 7-0 opening-period deficit and scored eight unanswered points in the final period to upend returning world runner-up Emrah KUS (TUR), 8-7, in the 82kg Zagreb Open gold-medal bout. 
Aleksandrov trailed 7-0 after the first two minutes of action. He was dinged for passivity and thrown in par terre position, where Kus grabbed four-points from a reverse lift to control the 5-0 advantage. Aleksandrov found himself down 7-0 after Kus grabbed another two for exposure, but got on the board with a step out point and trailed 7-1 heading into the second period. 
The Bulgarian exploded for seven points in the closing three minutes and hung on to the 8-7 lead to knock off the clearly deflated returning world runner-up, 8-7.
In the 97kg finals, Ilia Borisov also knocked off a returning Budapest world runner-up to win his Zagreb Open title. Borisov, the lone Russian finalist, tossed around returning world runner-up Kiril MILOV (BUL) with ease and scored the 9-0 technical superiority victory in the opening period. 
Borisov grabbed the 1-0 lead after Milov was hit for passivity. The Russian went to work in par terre, throwing Milov for four points,  then used a pair of gut wrenches to close out the 97kg gold-medal match with a 9-0 technical superiority victory. 
Kamal and Marvik Win Remaining Two Gold Medals 
There wasn't a 55kg gold-medal bout because it was a round-robin competition, so the final two gold medals went to Turkey's Kerem KAMAL  and Norway's Oskar MARVIK (NOR). 
In the 60kg gold-medal bout, two-time junior world champion Kerem Kamal handled Iran's Milad REZANEZHAD from whistle-to-whistle and scored his first senior-level gold medal with the 9-3 victory, while Oskar Marvik used a first-period passivity point to defeat Muminjon ABDULLAEV (UZB), 1-0, in the 130kg finals.  
Team Scores
GOLD - Turkey (132 points) 
SILVER - Uzbekistan (101 points) 
BRONZE - Croatia (91 points) 
Fourth - Bulgaria (85 points) 
Fifth - Hungary (83 points) 
55kg (Round-Robin) 
GOLD -   Poya Soulat DAD MARZ (IRI) 
SILVER - Ekrem OZTURK (TUR) 
BRONZE - Alexandru Vasile BOTEZ (ROU)
60kg 
GOLD - Kerem KAMAL (TUR) df. Milad Ali REZANEZHAD (IRI), 9-3
BRONZE - Erik TORBA (HUN) df. Virgil MUNTEANU (ROU), 3-3 
BRONZE -  Ivan LIZATOVIC (CRO) df. Seunghak KIM (KOR), 4-3 
63kg 
GOLD - Islomjon BAKHRAMOV (UZB) df. Xavier JOHNSON (USA), 10-2 
BRONZE -  Dawid Andrzej ERSETIC (POL) df. Irakli DZIMISTARISHVILI (GEO), 12-0 
BRONZE -  Firuz TUKHTAEV (UZB) df. Travis Michael RICE (USA), 9-0 
67kg
GOLD -  Elmurat TASMURADOV (UZB) df. Mihai Radu MIHUT (ROU), 4-1 
BRONZE - Enes BASAR (TUR) df. Morten THORESEN (NOR), 9-0
BRONZE - Ignazio SANFILIPPO (ITA) df. Danijel JANECIC (CRO), via injury default 
72kg
GOLD - Robert Attila FRITSCH (HUN)  df. Ramaz ZOIDZE (GEO), via injury default
BRONZE - Aik MNATSAKANIAN (BUL) df. Cengiz ARSLAN (TUR), 3-1 
BRONZE - Mateusz Lucjan BERNATEK (POL) df. Mate NEMES (SRB), 3-1 
77kg
GOLD - Bozo STARCEVIC (CRO) df. Yunus BASAR (TUR), 2-1 
BRONZE - Mohammad Aziz NAGHOUSI (IRI) df. Ilie COJOCARI (ROU), 7-4 
BRONZE - Hyeonwoo KIM (KOR) df. Rafael IUNUSOV (RUS), 10-0 
82kg
GOLD - Daniel ALEKSANDROV (BUL) df. Emrah KUS (TUR), 8-7
BRONZE - Burhan AKBUDAK (TUR) df. Jalgasbay BERDIMURATOV (UZB), 2-1 
BRONZE - Karlo KODRIC (CRO) df. Aivengo RIKADZE (GEO), via injury default 
87kg
GOLD - Viktor LORINCZ (HUN) df. Kristoffer Zakarias BERG (SWE), 3-1 
BRONZE - Tadeusz MICHALIK (POL) df. Yoan Danielov DIMITROV (BUL), 6-3 
BRONZE - Arkadiusz Marcin KULYNYCZ (POL) df. Erik SZILVASSY (HUN), 4-3 
97kg
GOLD - Ilia BORISOV (RUS) df.  Kiril Milenov MILOV (BUL), 9-0 
BRONZE - Jahongir TURDIEV (UZB) df. Zsolt TOEROEK (HUN), 11-0
BRONZE - Tracy Gangelo HANCOCK (USA) df. Adam VARGA (HUN), 4-0 
130kg 
GOLD - Oskar MARVIK (NOR) df. Muminjon ABDULLAEV (UZB) , 1-0 
BRONZE - Yasmani ACOSTA FERNANDEZ (CHI) df. Osman YILDIRIM (TUR), 5-1 
BRONZE - Miloslav Yuriev METODIEV (BUL) df. Marko KOSCEVIC (CRO), 5-1