Sassari City Matteo Pellicone Memorial Preview
Monday, May 20, 2019 - 17:34 By Eric Olanowski
SASSARI, Italy (May 20) -- The Palestra Comunale, located minutes away from the sandy beaches of the Italian island of Sardinia, will host United World Wrestling's third Ranking Series event of the year, the Sassari City Matteo Pellicone Memorial on May 23-25. The endless list of star-studded entries features four Olympic champions, 18 returning world medalists, and three wrestlers who sit atop of this month's world ranking.
The four wrestlers who've reached the top of the podium at the Olympic Games are Rio gold medalists Soslan RAMONOV (RUS) and Erica WIEBE (CAN), and London Olympic champions KIM Hyeonwoo (KOR) and Natalia VOROBEVA (RUS).  
There'll also be at least five returning medalists per style from last year's Budapest World Championships and three No. 1-ranked wrestlers in action starting on Thursday.  
Both freestyle and Greco-Roman will feature five returning world medalists, including a pair of world silver-medal finishers. There will also be a pair of Budapest silver medalists in women's wrestling, but women's wrestling boasts eight 2018 world podium finishers. 
The trio of top-ranked wrestlers that'll be in action in Sardinia are Suleyman ATLI (TUR), Fatih ERDIN (TUR), and Kim Hyeonwoo. Atli and Erdin are the No.1-ranked freestyle wrestlers at 57kg and 86kg, respectively, and Kim is ranked first in Greco-Roman at 77kg.
Freestyle

The freestyle entry list is littered with wrestlers who've reached the pinnacle of the sport on the world and Olympic stage, but with the tournament taking place in Italy, all eyes will be on Italian superstar Frank CHAMIZO. 
Chamzio, Italy's two-time world champion, is looking to follow up on his gold-medal performance from last month's European Championships. In Bucharest, Chamizo went a perfect 4-0 and picked up his third continental title since transferring from Cuba back in 2013. 
If the Cuban-born Italian can come out on top of the 74kg bracket, it'd be his second career Ranking Series title and first since defeating London Olympic champion Jordan BURROUGHS (USA) in the Yasar Dogu finals last year. More importantly, a podium finish for fourth-ranked Chamizo (56 points) would give him the upper hand on Burroughs for the world's second-ranking heading into the fourth and final Ranking Series event, the Yasar Dogu.  
For Chamizo to reach the podium this week, he'll have to navigate through three world-class competitors. His most significant threats at 74kg are 2017 world runner-up Khetik TSABOLOV (RUS), three-time European champion Soner DEMIRTAS (TUR) and two-time world bronze medalist Yakup GOR (TUR). 
Chamizo defeated both Tsabolov and Gor in their previous meetings and would be favored if they were to meet again this week. Chamizo beat Gor in Paris at the 2017 World Championships and pinned Tsabolov at the 2018 European Championships. 
But, if Chamzio were to take on Demirtas, he'd be the underdog. Demirtas stunned Chamzio by scoring a late stepout in last year's European semifinals before ultimately grabbing his third continental title.
Another massive storyline to follow at this weight is the placement of the Turkish wrestlers, Demirtas and Gor. 
Demirtas has represented Turkey at five consecutive World Championships and the Rio Olympic Games, where he was a bronze medalist, but his streak is in jeopardy. Gor, who bumped up to 74kg last season, stole Demirtas' spot at this year's European Championships but fell to a disappointing nine-place finish. 
It's not official, but my guess is the highest placing wrestler at this week's Sassari City Matteo Pellicone Memorial will have the upper hand at getting a shot to be Turkey's 74kg representative at the European Games in Minsk, Belarus, in June. 
Freestyle will also feature the Turkish pair of No.1-ranked wrestlers in Suleyman Atli and Fahti Erdin. 
Atli, who sits atop of the world rankings at 57kg, will be making his debut as the world's top-ranked wrestler after winning the European title last month in Bucharest, Romania. 
Atli will be chased by Italy's Givi DAVIDOVI. The Italian is the only other ranked wrestler competing at 57kg. Davidovi, who has 16 Ranking Series points, is ranked 18th coming into the Sassari, but a win would catapult him up the rankings to the eighth spot behind world fifth-place finisher Thomas GILMAN (USA).
Both wrestlers would hold 32 points, but Gilman would hold criteria because of his placement at last year's World Championships. 
Fatih Erdin is Turkey's second No.1-ranked wrestler.
Erdin holds a four-point advantage over returning world champion David TAYLOR (USA) and would have 100 if he were to win a the Sassari. If he's able to win the gold medal this week, Erdin could lock up the No. 1 seed at 86kg at the World Championships. Erdin would have a 20 point advantage over the American, and the most points Taylor would be able to earn with a Yargar Dogu title (in a weight with 20+ entries) would be 18 points. 
But, Erdin, who has fallen short in two Ranking Series gold-medal matches, will have a steep road to win his first Ranking Series title. The route will go through reigning European champion Vladislav VALIEV (RUS) or Olympic runner-up Selim YASAR (TUR). 
Valiev, who won the 86kg European title, is ranked sixth in the world with 34 points. A podium finish for the Russian would bump him up into the third spot in next month's rankings. If Valiev moves into the third spot, he'd be pitted against reigning world champion David Taylor in the semifinals of the Nur-Sultan World Championships. 
Selim Yasar is another wrestler at 86kg who is looking to dethrone top-ranked Erdin.
But, Yasar has struggled as of late. The three-time world and Olympic medalist finished outside of the top-10 once in his career (2013 Ali Aliev) before falling short of a top-10 finish in his last three tournament appearances. Yasar has placed 10th, 11th, and 14th at the Ivan Yariguin, Alexander Medved, and Dan Kolov, respectively.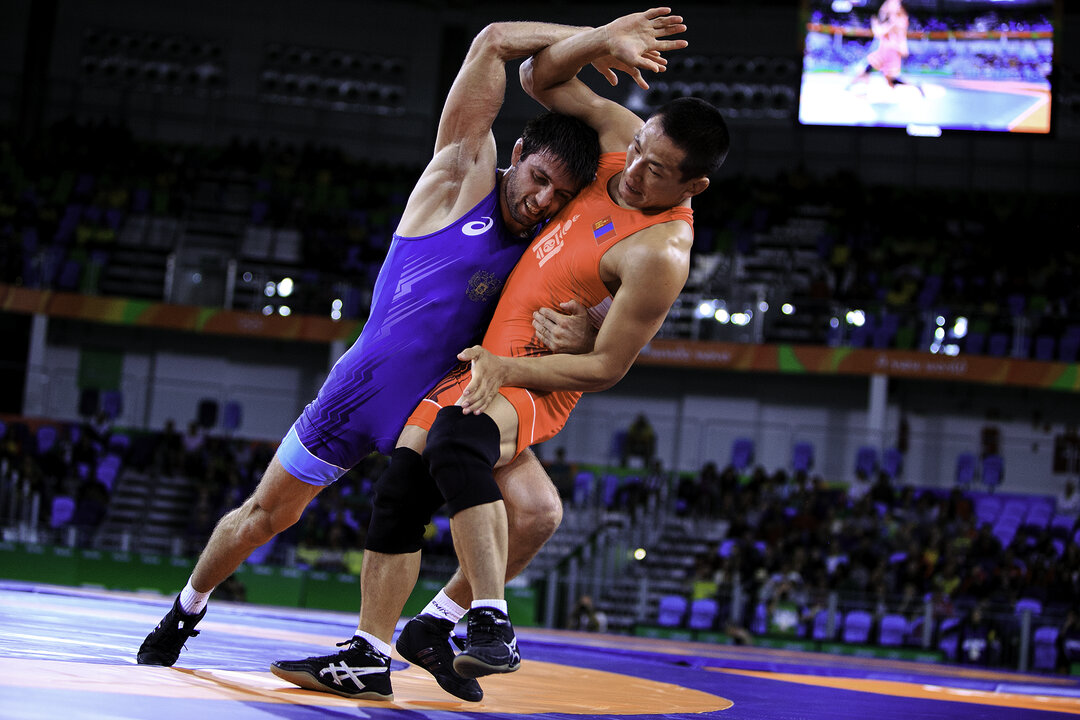 Rio Olympic champion Soslan RAMONOV (RUS) will be making his international return for the first time since having back surgery in November. (Photo: Gabor Martin)
Ramonov Returns to International Competition

Rio Olympic champion Soslan Ramonov will return to international competition for the first time since undergoing spinal surgery in early November to correct a back issue that has long troubled him. 
Ramonov told United World Wrestling, "I've returned to the mat. I'm going to wrestle at the Russian National Championships and possibly the World Championships." He also told UWW, "I expected to return to the mat in January, and hopefully enter a tournament at 65kg closer to the fall." But, Ramonov isn't wrestling at 65kg just yet. This week in Sardinia, the Russian will wrestle up 5kg as 70kg with hopes of moving down to 65kg closer to July's Rusian Nationals. 
For a healthy Ramonov to represent Russia in Nur-Sultan, he'll have to make a run in one of the countries deepest weight classes. The 65kg weight class in Russia houses returning 65kg world bronze medalist Akhmed Chakaev, returning two-time 61kg world runner-up Gazhimurad RASHIDOV (RUS) and Yariguin runner-up Nachyin KUULAR. 
Other Budapest World Medalist to Watch: 
92kg - Alireza KARIMIMACHIANI (IRI) 
125kg - Parviz HADIBASMANJ (IRI) 
Greco-Roman
In Greco-Roman, Korea's Olympic champion and No.1-ranked Kim Hyeonwoo tops the list of entries that features five returning Budapest world medalists. 
Kim is one of the only wrestlers across all styles who's medaled at the World and Continental Championships and the first two Ranking Series events.
Kim, the No. 1 ranked wrestler in the world at 77kg, was last year's world bronze medalist. The Korean tightened his stronghold on the rest of the Asian Greco-Roman competition at 77kg, winning his fifth continental title last month in Xi'an, China. He also owns a pair of Ranking Series bronze medals this season, finishing in third place at the Zagreb Open and Hungarian Grand Prix. 
Hungary's Loaded Squad, Head-Scratcher at 87kg 

Hungary, who elected to sit a majority of their first-teamers at the European Championships, is bringing a solid squad to Sardinia. Their team will feature 2018 world runner-ups Balint KORPASI and Tamas LORINCZ, U23 world champion Erik SZILVASSY, and two-time Ranking Series champion Viktor LORINCZ, among many others. 
Korpasi and Tamas Lorincz are entered at 72kg and 77kg, respectively, but Szilvassy and Viktor Lorincz will both compete at 87kg. 
Szilvassy and Lorincz being at the same weight leaves Hungary with a head-scratcher moving forward to the European Games and World Championships. 
Szilvassy, who is coming off a bronze-medal finish at the European Championships, is ranked third in the world at 87kg. Szilvassy has an eight-point advantage over Viktor Lorincz, who's currently ranked fifth with 36 points.
Although Szilvassy sits in front of Lorincz in the latest rankings, he fell to his fellow Hungarian teammate in the semifinals of the first two Ranking Series events, the Zagreb Open and Hungarian Grand Prix. 
Women's Wrestling 
The headlining women's wrestling weight class is 76kg. This weight will be home to Canada's Rio Olympic champion Erica Wiebe, Russia's London Olympic champion Natalia Vorobeva, and nine of the world's top-20 ranked wrestlers. Maybe more impressive, six of those wrestlers sit inside the top-ten of United World Wrestling's latest rankings. 
The highest ranked wrestler is Germany's 2017 world runner-up Aline ROTTER FOCKEN (GER). Rotter Focken is ranked fourth with 56 points and is coming off bronze-medal finishes at the European Championships, Dan Kolov, and the Ivan Yariguin. 
Kazakhstan's Elmira SYZDYKOVA is ranked fifth with 42 points after bronze-medalist finishes at the Dan Kolov and Ivan Yariguin. 
Olympic champion Erica Wiebe, who was a bronze medalist at last year's Budapest World Championships, fell to No. 1-ranked Adeline GRAY (USA) in the Pan-American Championships but fought back for a bronze medal. The Canadian is ranked sixth in the world with 39 points. 
Zsanett NEMETH (HUN) enters the Sassari as the seventh-ranked wrestler with 36 points. Nemeth is coming off a bronze-medal finish at the European Championships. Her continental third-place finish came month's after she was injured in the bronze-medal bout in the World Championships and had to settle for fifth place in front of her home crowd. 
Estonia's Epp MAE and Norway's Iselin SOLHEIM round out the top-10, where they're ranked eighth and tenth, respectively. 
Top-20 Ranked Wrestlers at 76kg 
No. 4 Aline ROTTER FOCKEN (GER) 
No. 5  Elmira SYZDYKOVA (KAZ) 
No. 6 Erica WIEBE (CAN) 
No. 7 Zsanett NEMETH (HUN) 
No. 8 Epp MAE (EST) 
No. 10 Iselin Maria Moen SOLHEIM (NOR)
No. 15 Genesis Rosangela REASCO VALDEZ (ECU) 
No. 19 Vasilisa MARZALIUK
No. 20  Eunju HWANG (KOR) 
Barka and Dhanda to Compete at 57kg 
At 57kg, world bronze medalists Emese BARKA (HUN) and Pooja DHANDA (IND) have entered their name into the Sassari. Barka comes into this week ranked fifth in the world at 57kg a month removed from winning the European title with a 4-2 win over Tetyana KIT (UKR). 
Dhanda's ranked just behind Barka in the sixth spot and has 37 points after her fifth-place finish at the Asian Championships. The Indian wrestler fell to returning world champion and No. 1- ranked RONG Ningning (CHN) in the semifinals, then dropped her match against eighth-ranked SUKHEE Tserenchimed (MGL) in the bronze-medal bout. 
Though they're not returning world medalists, two other dangerous wrestlers to keep an eye on at 57kg are U23 world champion Grace BULLEN (NOR) and 2017 world finalist Odunayo ADEKUOROYE (NGR). 
Bullen's ranked third in the world with 58 points, and Adekuoroye is ranked fourth with 46 points. 
Mensah Looking for Third Ranking Series Title of the Year 
Tamyra MENSAH (USA) heads into the third Ranking Series event of year undefeated, having won gold medals at the Ivan Yariguin, the Dan Kolov and the Pan-American Championships. Her pair of Ranking Series titles and continental gold medal came after she claimed a bronze medal at last year's World Championships. She's the second-ranked wrestler in the world at 68kg with 59 points.
For Mensah to win her third consecutive Ranking Series gold of the year, she'll have to stop Canada's title-contender Danielle LAPPAGE. 
Lappage, last year's world runner-up at 65kg, will be bumping up to 68kg for the second time since her run to the world finals last year. She also competed at the Grand Prix of Germany, where she finished with a silver medal. 
Trio of Other Olympic Medalists Competing 
Outside of the duo of Olympic champions competing at 76kg, three other Olympic medalists will be in action. They are Marwa AMRI (TUN), Jenny FRANSSON (SWE), and Sofia MATTSSON (SWE). 
Amri, who is ranked No. 12 in the world, will compete at 62kg. The Tunisian is coming off winning her tenth African title. 
Fransson, the No.13-ranked wrestler at 68kg, just finished with a bronze medal at the European Championships, But, Fransson will be bumping up and competing at 72kg. 
Mattsson, the tenth-ranked wrestler in the world, will be competing at 55kg. 
The Comeback of Koumba Larroque 
Koumba LARROQUE, France's four-time age-group world champion, and two-time senior level world medalist, will make her return to the mat for the first time since falling in the Budapest World finals to Ukraine's Alla CHERKASOVA. Larroque was leading the 68kg gold-medal bout 6-0 before falling into a leg lace that tore ligaments in her knee, forcing her to have surgery and sit out the last six months. 
Larroque will compete at 72kg, where she's ranked No. 5 in the world with 40 points. 
Other Budapest World Medalist to Watch: 
53kg - Diana WEICKER (CAN) 
62kg - Mallory VELTE (USA) 
The three-day Sassari City Matteo Pellicone Memorial, which starts on May 23, will begin with Greco-Roman. Women's wrestling takes over on the second day, and freestyle closes out the tournament on May 25. All the action can be followed live on www.unitedworldwrestling.org.