Russia Claims 4 More Gold Medals to Cap Dominant GR Performance
Monday, December 14, 2020 - 21:00 By Andrew Hipps
Links:
Day 3 Photos
Day 3 Final Highlights
Interview with Kristian FRIS (SRB)

BELGRADE, Serbia (December 14) -- Russia capped off a dominant Greco-Roman performance at the Individual World Cup Monday night in Belgrade, Serbia, by claiming four more gold medals to finish with seven of the 10 Greco-Roman gold medals.
Zhambolat LOKYAEV (63kg), Milad ALIRZAEV (82kg), Musa EVLOEV (97kg) and Sergey SEMENOV (130kg) won gold medals for Russia on Day 3 of the event.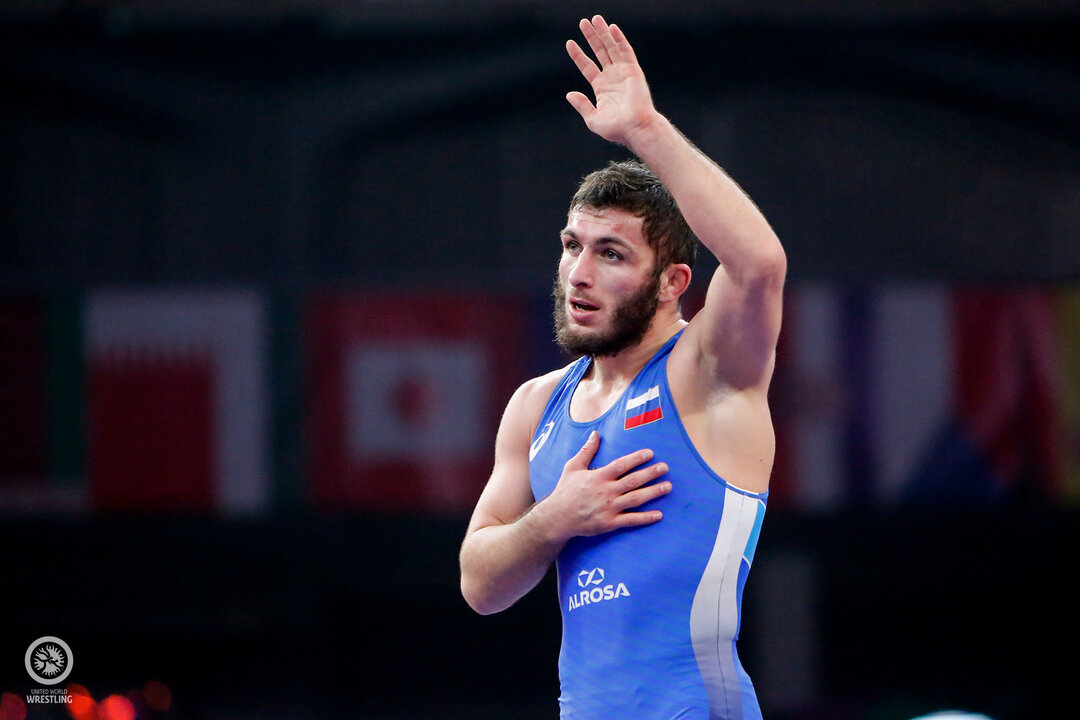 Zhambolat LOKYAEV (RUS) won gold at 63kg (Photo: Gabor MARTIN, UWW)

Lokyaev earned the gold medal at 63kg with a 4-1 victory over world No.5 Erik TORBA (HUN). Torba, a 2020 European bronze medalist, scored first off a step out before Lokyaev scored a point off passivity to take the criteria lead. Lokyaev added another point in the second period off passivity to go up 2-1 before scoring a takedown late in the match off a desperation attempt from Torba.
Alirzaev, a 2019 U23 world champion, was dominant in the 82kg final, winning by technical superiority over Salih AYDIN (TUR). The young Russian star scored first off a passivity and then used two turns to go up 5-0 at the break. Alirzaev extended his lead to 7-0 after Aydin was hit with a caution. Needing just one point to end the match, Alirzaev ended the match in style by executing a four-point throw to win 11-0.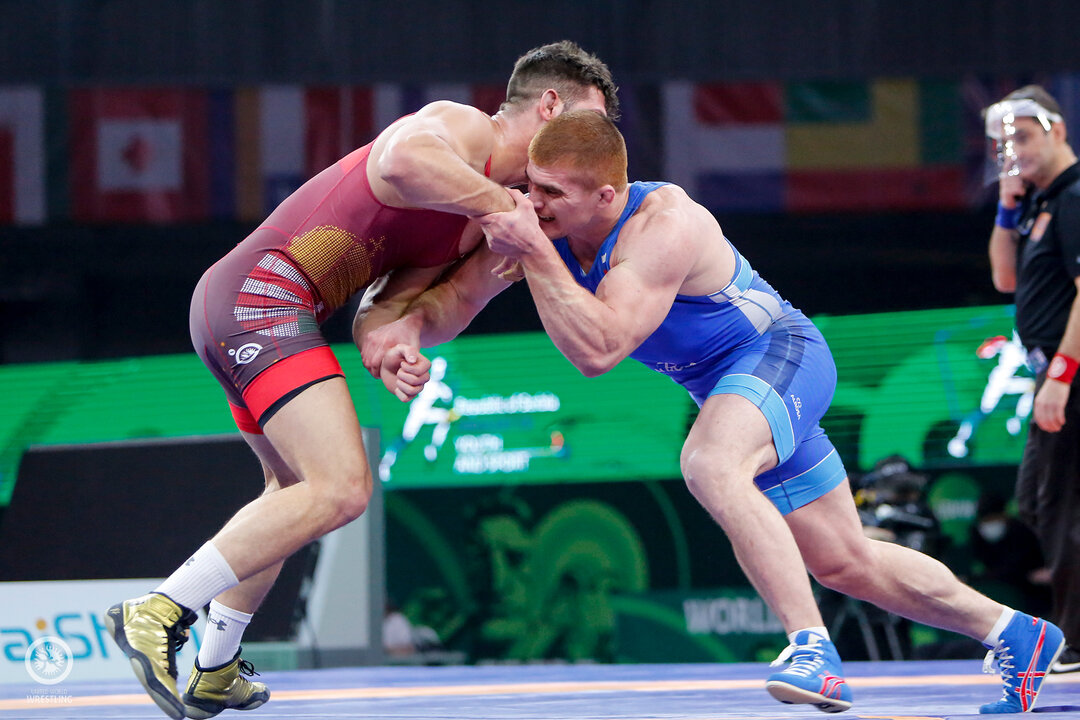 Musa EVLOEV shut out Alex SZOKE (HUN) to win gold at 97kg (Photo: Gabor MARTIN, UWW)

The two-time world champion Evloev blanked Alex SZOKE (HUN) 3-0 in the 97kg final. He scored his first point off a passivity and added a takedown in the final period.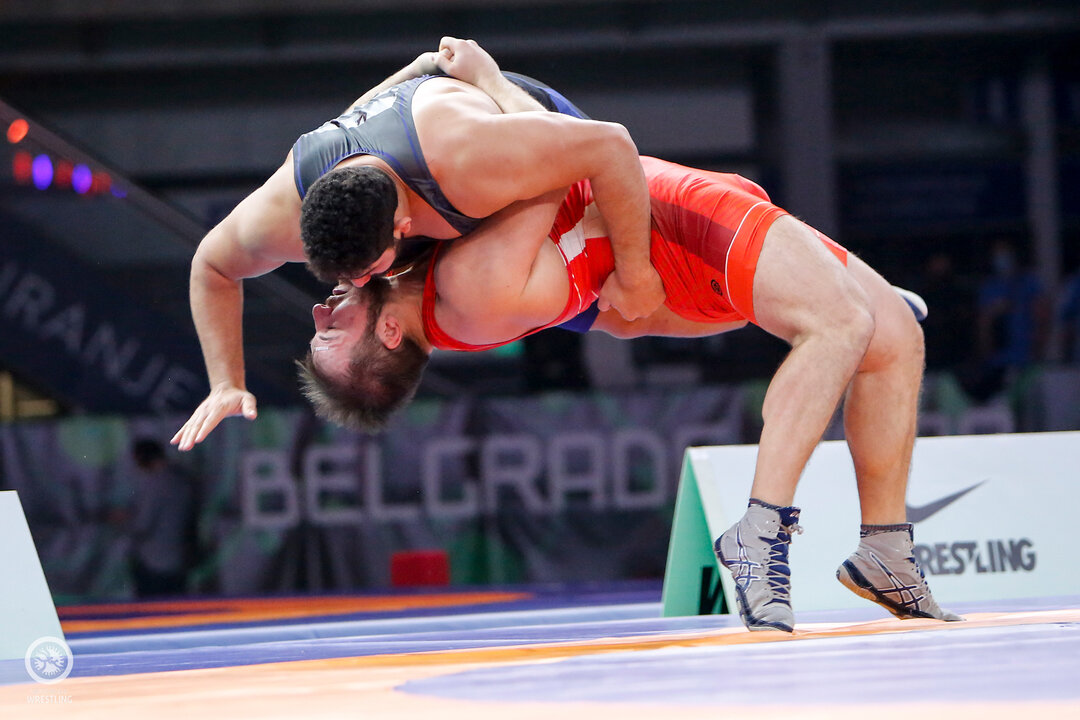 Sergey SEMENOV (RUS) scored with a big throw on his way to a victory at 130kg (Photo: Gabor MARTIN, UWW)

Semenov, a 2018 world champion and 2016 Olympic bronze medalist, topped Osman YILDIRIM (TUR) 7-1 to win the gold at 130kg. The Russian heavyweight used a big throw in the first period to build a 5-0 lead before adding an additional two points late in the match off a caution. 
World silver medalist Zholaman SHARSHENBEKOV (KGZ) prevented Russia from sweeping the gold medals on Monday night by coming from behind late to defeat 2018 world champion Stepan MARYANYAN (RUS) in the 60kg final.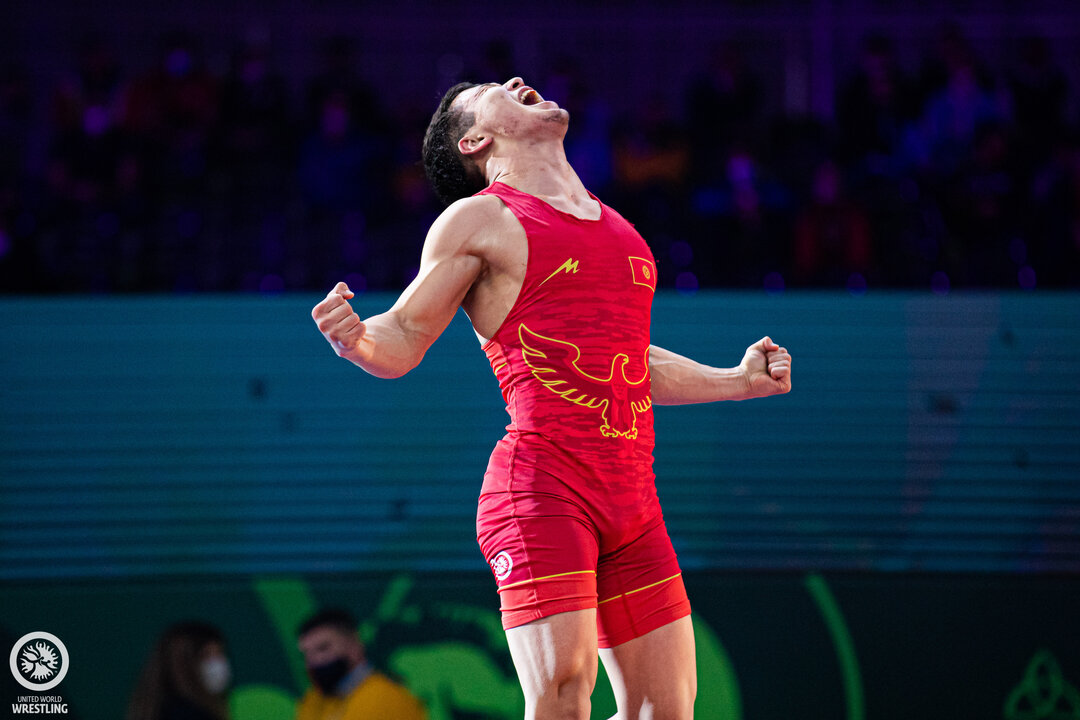 Zholaman SHARSHENBEKOV (KGZ) celebrates after winning gold at 60kg (Photo: Kadir CALISKAN, UWW)

Maryanyan looked strong early, going up 4-0 at the break. But Sharshenbekov battled back in the second period, scoring first with a step out and then getting a passivity point to make the score 4-2. But it was in the par terre position where Sharshenbekov won the match. After getting the passivity point, Sharshenbekov was able to lock up a gut wrench and turn Maryanyan with a minute and 20 seconds left to take the criteria lead and eventually hold on for the victory.
Host nation Serbia added another bronze medal when Kristian FRIS (SRB) shut out Krisztian KECSKEMETI (HUN) 2-0 at 60kg. 
Three Belarusians earned bronze medals on Tuesday: Maksim KAZHARSKI (60kg), Soslan DAUROV (63kg) and Radzik KULIYEU (82kg).
Kaly SULAIMANOV (KGZ) edged Taleh MAMMADOV (AZE) 7-6 to pick up a bronze at 63kg. 
Roland SCHWARZ (GER) was impressive in his bronze-medal match at 82kg, earning a 9-1 technical superiority over Oldrich VARGA (CZE).
Mohammadhadi SARAVI (IRI) and Artur OMAROV (CZE) won the bronze medals at 97kg.
Mykola KUCHMII (UKR) scored a takedown in the closing moments to edge David OVASAPYAN (ARM) 4-2 to earn a bronze medal at 130kg. The other bronze medal at 130kg went to Beka KANDELAKI (AZE), who won by technical superiority over Rafal Andrzej KRAJEWSKI (POL).
Greco-Roman Medal Match Results
60kg
GOLD: Zholaman SHARSHENBEKOV (KGZ) df. Stepan MARYANYAN (RUS) by VPO1, 4-4
BRONZE: Kristian FRIS (SRB) df. Krisztian KECSKEMETI (HUN) by VPO, 2-0
BRONZE: Maksim KAZHARSKI (BLR) df. Ahmet UYAR (TUR) by VPO1, 3-3
63kg
GOLD: Zhambolat LOKYAEV (RUS) df. Erik TORBA (HUN) by VPO1, 4-1
BRONZE: Kaly SULAIMANOV (KGZ) df. Taleh MAMMADOV (AZE) by VPO1, 7-6
BRONZE: Soslan DAUROV (BLR) df. Abdeldjebar DJEBBARI (ALG) by VPO1, 5-1
82kg
GOLD: Milad ALIRZAEV (RUS) df. Salih AYDIN (TUR) by VSU, 11-0
BRONZE: Roland SCHWARZ (GER) df. Oldrich VARGA (CZE) by VSU1, 9-1
BRONZE: Radzik KULIYEU (BLR) df. Mihail BRADU (MDA) by VPO1, 5-1
97kg
GOLD: Musa EVLOEV (RUS) df. Alex Gergo SZOKE (HUN) by VPO, 3-0
BRONZE: Mohammadhadi SARAVI (IRI) df. Kiril MILOV (BUL) by VPO, 3-0
BRONZE: Artur OMAROV (CZE) df. Uzur DZHUZUPBEKOV (KGZ) by VPO1, 4-1
130kg
GOLD: Sergey SEMENOV (RUS) df. Osman YILDIRIM (TUR) by VPO1, 7-1
BRONZE: Beka KANDELAKI (AZE) df. Rafal Andrzej KRAJEWSKI (POL) by VSU, 9-0
BRONZE: Mykola KUCHMII (UKR) df. David OVASAPYAN (ARM) by VPO1, 4-2