Returning Freestyle World Champs Steveson, Fix Enter #Trnanva2018 Field
Tuesday, September 4, 2018 - 10:58 By Eric Olanowski
TRNAVA, Slovakia (September 4) - Daton FIX (USA) and Gable STEVESON (USA), the duo of American returning champions lead a freestyle #Trnava2018 field that boasts 245 wrestlers from 40 different nations. 
Fix, the 55kg champion from a year ago enters the Junior World Championships at 57kg, while Steveson, the 120kg gold-medal winner enters at 125kg. 
Steveson will be looking for his fourth age-level world title. Since stepping on the international scene in 2015, Steveson has yet to drop a match on his way to claiming two Cadet World titles, and a Junior World gold medal. 
Fix, the three-time world medalist will be trying to win back-to-back Junior World titles while competing in his fifth age-level World Championship. Since taking tenth place at the 2014 Cadet World Championships, Fix has rallied to win two bronzes, and most recently, a gold medal. 
Freestyle action begins on Friday, September 21 and will close the Junior World Championships. 
ALB
65kg - Eriglent PRIZRENI 
125kg - Paris KAREPI 

ALG
57kg - Salah Eddine KATEB 
65kg - Fares LAKEL 
79kg - Oussama ABDELLAOUI 
97kg - Mohammed FARDJ 

ARM
57kg - Arsen HARUTYUNYAN
61kg - Vazgen TEVANYAN
65kg -  Gegham GALSTYAN
70kg -  Arman ANDREASYAN
74kg - Hrayr ALIKHANYAN 
79kg -  Arman AVAGYAN 
86kg -  Mher MARKOSYAN 
125kg - Hovhannes MAGHAKYAN 
AUT
74kg -Simon MARCHL
79kg -Benjamin GREIL
AZE
57kg -  Aliabbas RZAZADE 
61kg -  Intigam VALIZADA 
65kg -  Royal AGHAMALIYEV 
70kg -  Khadzhimurad GADZHIYEV 
74kg -  Ismail ABDULLAEV 
79kg -  Orkhan ABASOV 
86kg -  Magomed ASIYATILOV 
92kg -  Askhab HAMZATOV
97kg -  Alimagomed ALIKHMAEV 
125kg - Rahid HAMIDLI 
BLR
57kg -  Uladzislau KOIKA 
61kg -  Dzmitry HERASIMENKA 
65kg -  Mikita STRAKH 
70kg -  Aliaksandr KURYSHTA
86kg -  Arkadzi PAHASIAN 
92kg -  Vasil PAULIUCHENKA 
97kg -  Yaraslau SLAVIKOUSKI  
125kg - Uladzislau ASIPENKA
BUL 
61kg -  Alish Gyoksel ALISH 
65kg -  Nikola Delchev LEVENOV 
70kg -  Veselin Georgiev PETROV 
74kg -  Dzhemal Rushen ALI 
79kg -  Oktay Ruzhdi HASAN 
86kg -  Ivan Kostadinov STEFANOV
125kg - Daniel Milanov VESELINOV 
CAN 
57kg -  Brayden TODD 
61kg -  Marco PALERMO 
65kg -  Connor MCNEICE 
70kg -  Gunnar SALES
74kg - Ty BRIDGWATER 
86kg - Connor PATTISON 
92kg - Hunter LEE 
97kg -  Richard DESCHATELETS
125kg - Aly BARGHOUT 
CHN
57kg -  Wanhao ZOU 
61kg -  Minghu LIU 
65kg -  Chao ZHENG 
70kg -  Jun ZHAO 
74kg -  Yi LI 
79kg -  Gangsuhe GANGSUHE 
86kg -  Danan XU 
92kg -  Awusayiman HABILA 
97kg - Qirui BING 
125kg - Benxin DUAN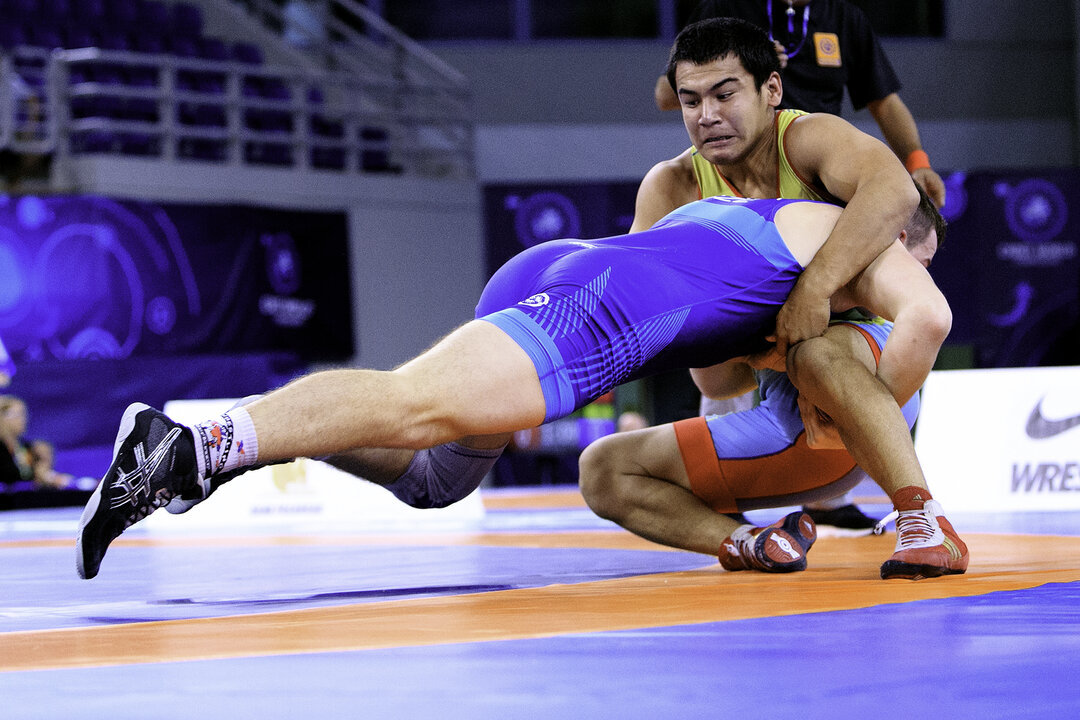 Vojtech PISKOR (CZE), two-time World Team represenative. 
CZE
61kg -  David KOPRIVA 
86kg -  Vojtech PISKOR 
92kg -  Matous VONDAL 
EGY
57kg -  Gamal MOHAMED 
74kg -  Samy MOUSTAFA 
86kg -  Hassan FOUAD 
EST
65kg -  Marek KUETT 
74kg -  Erik REINBOK
FRA
61kg -  Arman ELOYAN 
79kg -  Charles AFA 
GEO
57kg -  Teimuraz VANISHVILI
61kg -  Ramaz TURMANIDZE
65kg -  Giorgi ELBAKIDZE        
70kg -  Iveriko JULAKIDZE       
74kg -  Goga MAMIAURI        
79kg -  Tornike KVINIKADZE   
86kg -  Demur MEGENEISHVILI          
92kg -  Beka NADASHVILI       
97kg -  Zuriko URTASHVILI     
125kg - Aleksi ZHORZHOLIANI
GER
57kg -  Horst Junior LEHR       
70kg -  Tino RETTINGER         
74kg -  Kevin LUCHT   
86kg -  Johannes DEML           
92kg -  Ertugrul AGCA
HUN
57kg -  Rajmund FARKAS        
70kg -  Botond GULYAS          
74kg -  Botond LUKACS          
79kg -  Milan MESTER
86kg -  Patrik SZUROVSZKI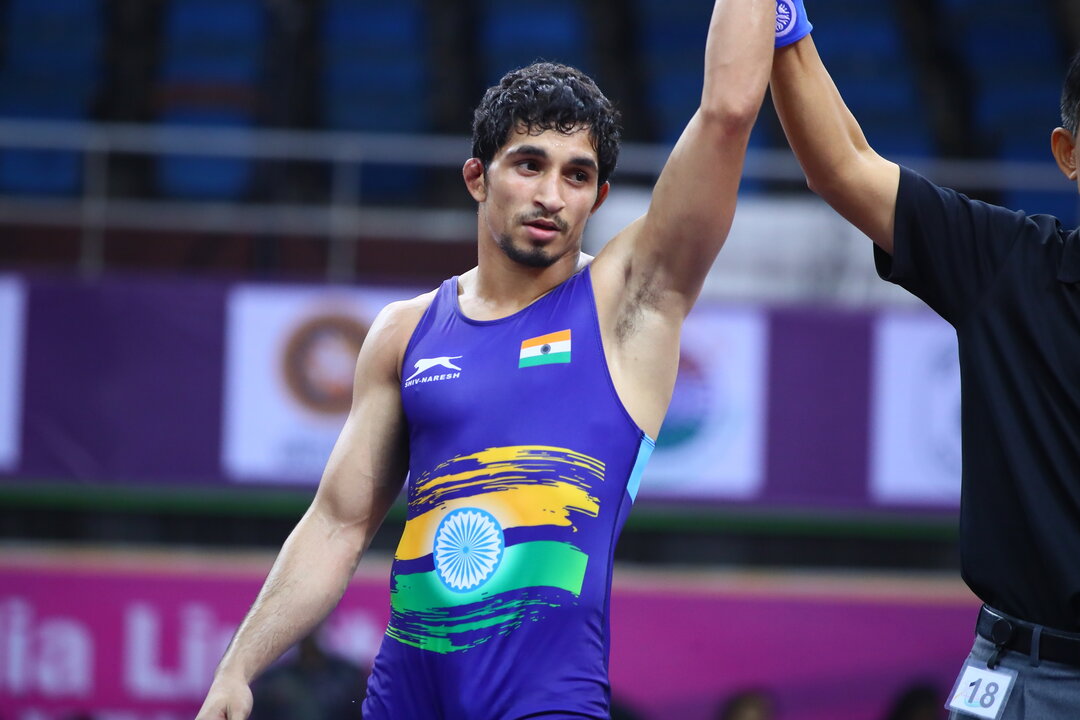 Naveen NAVEEN (IND), Junior Asian runner-up. Photo by Sachiko Hotaka.
IND
57kg -  Naveen NAVEEN         
61kg -  Suraj Rajkumar KOKATE          
65kg -  Karan KARAN  
70kg -  Vishal KALIRAMANA   
74kg -  Sachin RATHI  
79kg -  Sachin GIRI      
86kg -  Deepak PUNIA
92kg -  Somveer SOMVEER    
97kg -  Hussain NASIR
125kg - Mohit MOHIT  
IRI
57kg -  Reza ALIJANZADEHJOUYBARI
61kg -  Mehdi ESHGHIVASOUKOLAEI
65kg -  Amirhossein MAGHSOUDI     
70kg -  Amirhossein KAVOUSI
74kg -  Ali SAVADKOUHI         
79kg -  Sajjad GHOLAMI         
86kg -  Seyedabolfazl HASHEMIJOUYBARI    
92kg -  Abbas Ali FOROUTANRAMI
97kg -  Sajad AZIZI      
125kg - Amir YARI        
ISR
79kg - David LABKOVSKY        
86kg -  Uri KALASHNIKOV       
125kg - Lior ALTSHULER          
JPN
57kg -  Daiki ARAKI
61kg -  Kodai OGAWA
65kg -  Takuma TANIYAMA    
70kg -  Jintaro MOTOYAMA   
74kg -  Yuto MIWA     
79kg -  Hayato ISHIGURO      
86kg -  Shutaro YAMADA        
92kg -  Takuma OTSU
92kg -  Shohei YAMAZAKI       
97kg -  Hiroto NINOMIYA       
125kg - Akiho MORI / Kota TOYAMA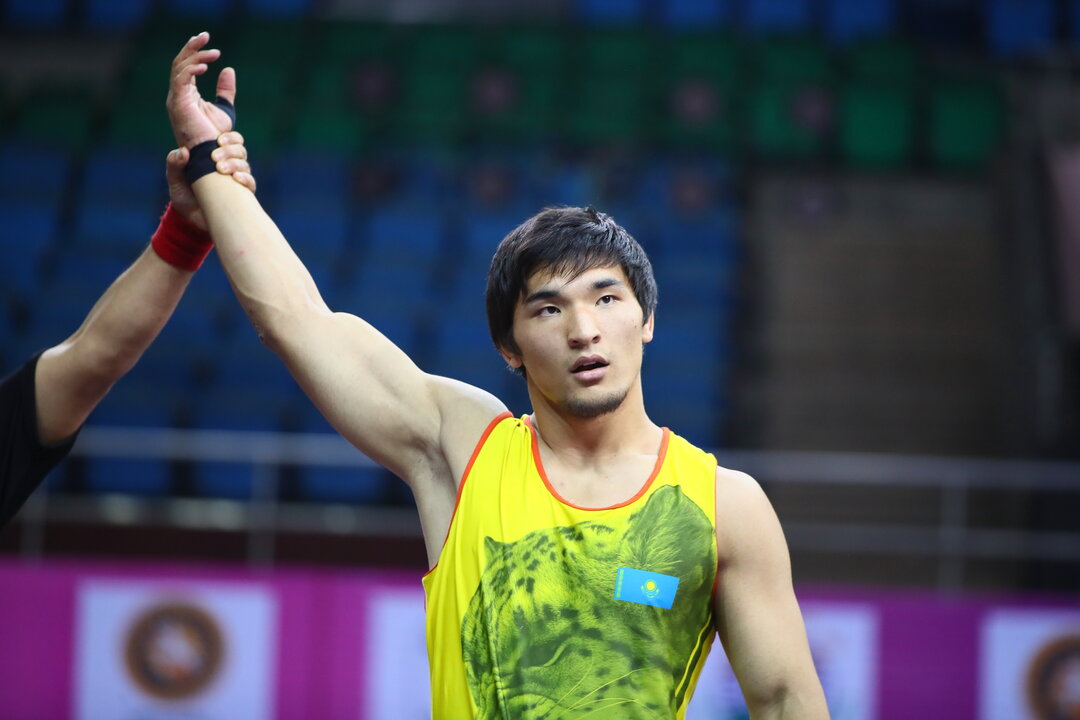 Serik BAKYTKHANOV (KAZ), Junior Asian runner-up. Photo by Sachiko Hotaka.
KAZ
57kg -  Rakhat KALZHAN        
61kg -  Syrbaz TALGAT           
65kg -  Kuanysh DUISENKUL  
70kg -  Nurkozha KAIPANOV  
74kg -  Aibar ZHYLKAIDAROV
79kg -  Daniyar MELDEBEK     
86kg -  Aslan DZICOEV            
92kg -  Alisher YERGALI          
97kg -  Serik BAKYTKHANOV  
125kg - Omar EYUBOV
KOR
57kg -  Hyeonsu CHO  
61kg -  Minsu CHO      
65kg -  Sangho HAN   
70kg -  Jinwoo MOON
74kg -  Gihwan LEE     
79kg -  Jaegyun GO     
86kg -  Jayong JIN       
92kg -  Myeongseok CHOO    
97kg -  Hyunsu HAN   
125kg - Ki Bum KIM     
KSA
57kg -  Tuorki HAZOAZI
61kg -  Hassan M WADDAN       
LTU
65kg -  Gytis JOVAISA
79kg -  Dominykas VILIUSIS    
MDA
57kg -  Ion BUTNARU
61kg -  Leomid COLESNIC       
65kg -  Nicolai GRAHMEZ       
70kg -  Vasile DIACON
74kg -  Piotr CARASENI
79kg -  Andrian GROSUL        
86kg -  Ivan NEDEALCO           
92kg -  Gheorghe ERHAN
125kg - Samhan JABRAILOV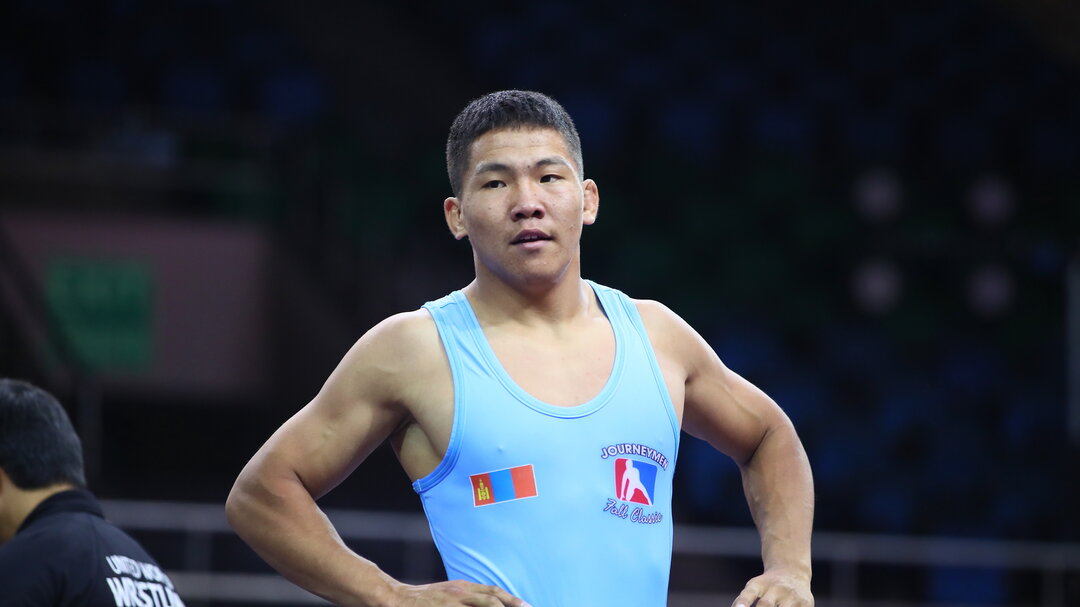 BYAMBASUREN Bat-Erdene (MGL), Junior Asian runner-up. Photo by Sachiko Hotaka.
MGL
57kg -  Tumentsogt BOLD       
61kg -  Jamsranjav DUGERKHOROL   
65kg -  Bud BATBAATAR        
70kg -  Tergel TUMURKHUYAG          
74kg -  Bat-Erdene BYAMBASUREN   
79kg -  Tserendash BAASANDORJ      
92kg -  Altangerel CHINBAT   
97kg -  Mungunshagai TUMURBAT   
125kg - Lkhagvagerel MUNKHTUR     
MKD
65kg -  Fati VEJSELI     
PAK
70kg -  Ghulam GHOUS          
97kg -  Haroon ABID   
POL
61kg -  Karol Jakub CZEGUS   
70kg -  Szymon WOJTKOWSKI           
74kg -  Pawel Tomasz MALICKI           
79kg -  Jakub SZYMULA          
86kg -  Michal Jan BIELAWSKI
92kg -  Matthew WROBLEWSKI         
125kg - Jakub BRYLEWSKI       
RSA
61kg -  Frederik NORTJE         
74kg -  Matthew BARTLETT   
RUS
57kg -  Akhmed IDRISOV        
61kg -  Abasgadzhi MAGOMEDOV     
65kg -  Saiyn KAZYRYK
70kg -  Razambek ZHAMALOV           
74kg -  Devid BETANOV         
79kg -  Aslanbek GVARAMIIA
86kg -  Alik SHEBZUKHOV      
92kg -  Khokh KHUGAEV
97kg -  Magomedkhan MAGOMEDOV           
125kg - Soslan KHINCHAGOV  
SUI
57kg -  Nino LEUTERT
70kg -  Tobias PORTMANN
SVK
61kg -  Pavol RAPCAN
65kg -  Balazs HAKSZER         
70kg -  Daniel CHOMANIC      
74kg -  Martin HORINEK         
79kg -  Christopher BEDNARIK           
92kg -  Dominik PECHA           
97kg -  Viliam OROSS
TKM
65kg -  Perman HOMMADOV
86kg -  Azat GAJYYEV
97kg -  Zyyamuhammet SAPAROV     
TPE
61kg -  Chia Hung CHANG      
74kg -  Hsiang-Wei WENG     
TUR
57kg -  Ahmet TAS      
61kg -  Ertugrul KAHVECI        
65kg -  Ahmet Salim YIGIT     
70kg -  Hasan KAYA    
74kg -  Isa DEMIR        
79kg -  Ramazan Ishak SARI   
86kg -  Arif OZEN        
92kg -  Erhan YAYLACI
97kg -  Feyzullah AKTURK       
125kg - Oktay GUNGOR          
UAE
125kg -Bader ALALI     
UKR
57kg -  Andrii DZHELEP           
61kg -  Ihor NYKYFORUK        
65kg -  Denys BOROHAN       
70kg -  Stepan LYLYK  
74kg -  Mahomed HADZHYMAHOMEDOV     
79kg -  Adlan BATAIEV           
86kg - Andrii HYKA      
92kg -  Oleksandr BYKANOV  
97kg -  Ruslan HEORHIIEV      
125kg - Yurii IDZINSKYI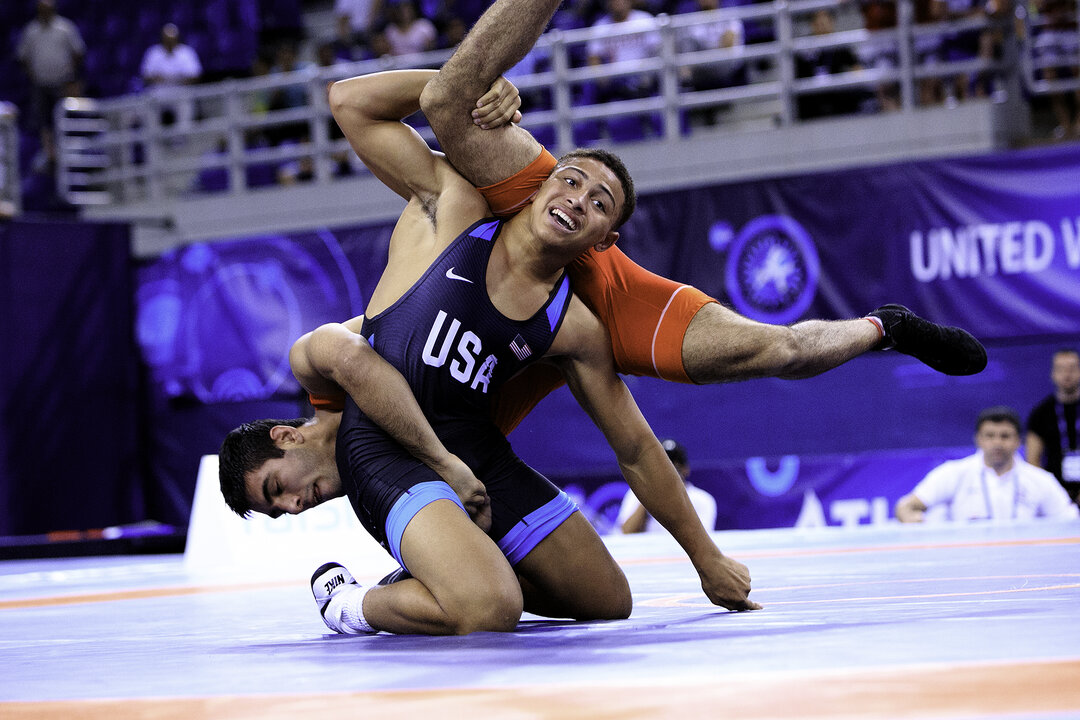 Aaron BROOKS (USA), 2017 Cadet World champion. Photo by Martin Gabor.
USA
57kg -  Brandon COURTNEY    
57kg -  Daton FIX          
61kg -  Josh SAUNDERS     
65kg -  Domonick DEMAS         
70kg -  Brady BERGE      
74kg -  Mekhi LEWIS     
79kg -  Aaron BROOKS
86kg -  Lou DEPREZ        
92kg -  Jacob WARNER     
97kg -  Daniel KERKVLIET JR
125kg - Gable STEVESON
UZB
57kg -  Gulomjon ABDULLAEV           
61kg -  Abbos RAKHMONOV 
65kg -  Ikhtiyor NORMURODOV         
86kg -  Davlatbek ASHUROV  
92kg -  Makhsud VEYSALOV   
125kg - Khasanboy RAKHIMOV