Mattsson, Sadulaev Look for Second Titles at European Games
Wednesday, June 26, 2019 - 18:53 By United World Wrestling Press
MINSK, Belarus (June 26) - Sofia MATTSSON (SWE) and Abdulrashid SADULAEV (RUS) claimed victories in the semifinals of the European Games on Wednesday and now stand one win away from winning their second titles. 
The 29-year-old Mattsson, a six-time world medalist and 2016 Olympic bronze-medal winner, reached the finals at 53kg by defeating Nina HEMMER (GER) 10-2. All the points scored came in the first period. Mattsson's first European Games title in 2015 came at 55kg. 
She will meet Yulia KHAVALDZHY (UKR) in the gold-medal match. Khavaldzhy stunned two-time European champion Stalvira ORSHUSH (RUS) 7-4 in the semifinals. Orshush led for most of the match until Ukrainian mounted a late comeback to pull out the victory. With Orshush leading 4-1, Khavaldzhy scored a takedown with 35 seconds remaining in the match before picking up multiple exposures to win by three.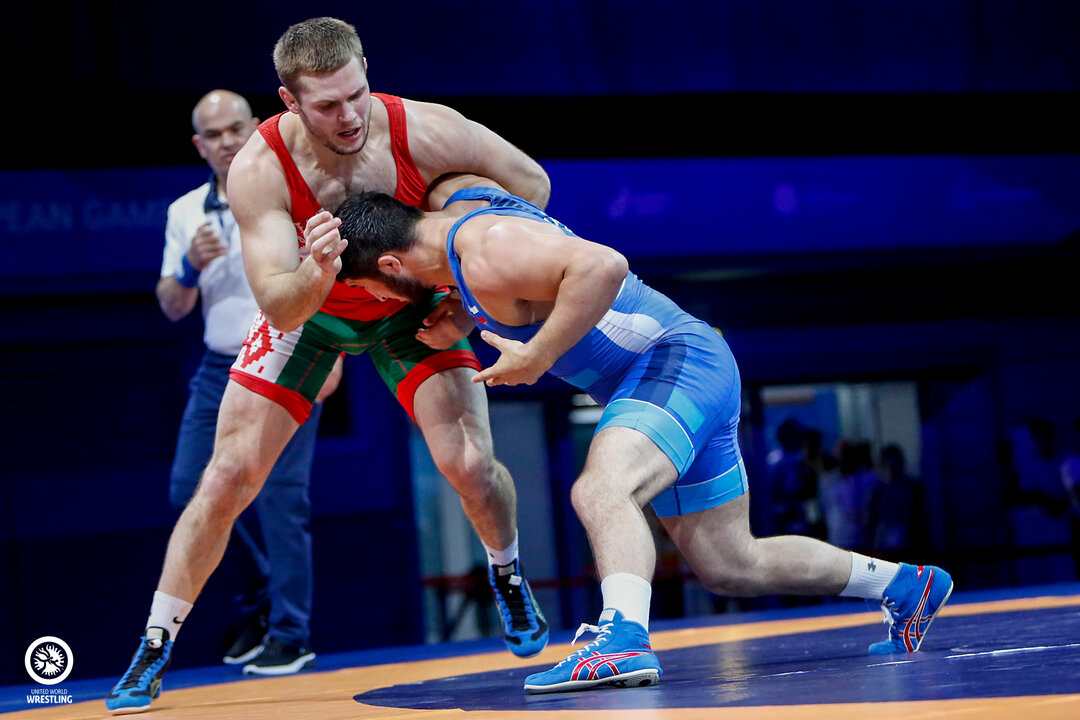 Sadulaev, a 2016 Olympic champion and three-time world champion, advanced to the finals at 97kg by earning his third straight shutout victory. He topped world No.8 Aliaksandr HUSHTYN (BLR) 6-0, with five of his points coming in the first period. He will meet Nurmagomed GADZHIYEV (AZE) for the gold medal. 
Gadzhiyev shut out Murazi MCHEDLIDZE (UKR) in the other semifinal at 97kg. Gadzhiyev, a European bronze medalist and past junior world champion, built a 3-0 lead in the first period and added two second-period takedowns while shutting down Mchedlidze's offense.
The 65kg gold-medal final will feature a pair of world champions, Haji ALIYEV (AZE) and Vladimer KHINCHEGASHVILI (GEO).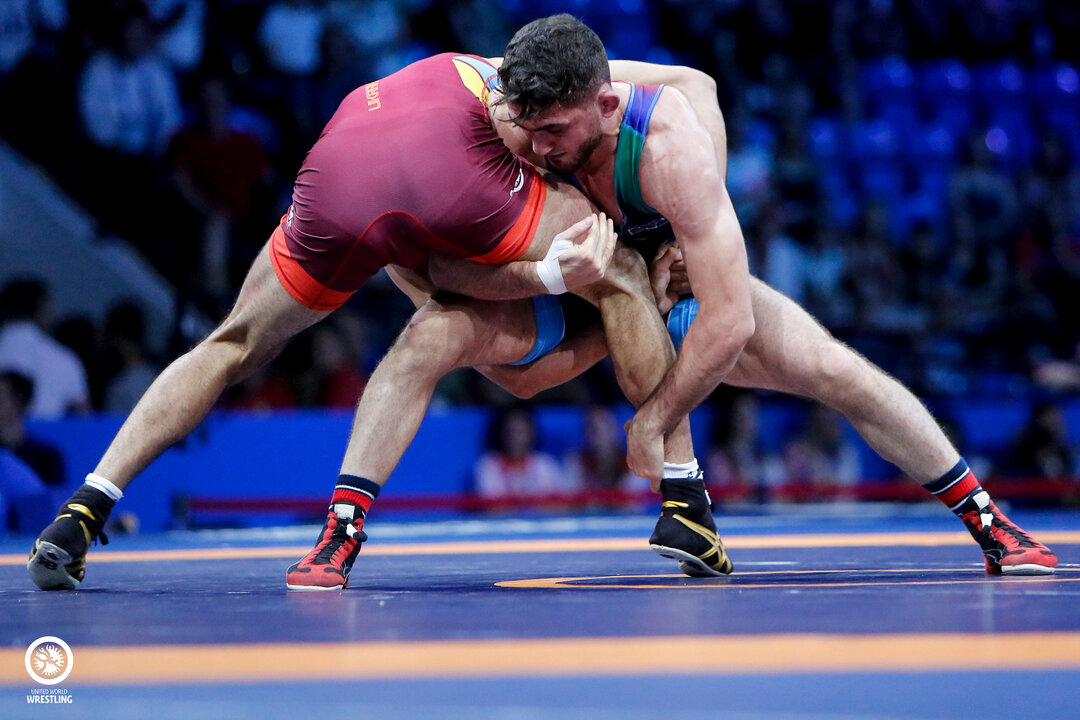 Aliyev, a three-time world champion, overcame a slow start to defeat Hor OHANNESIAN (UKR) 4-4 on criteria. Ohannesian controlled the first period, scoring off a passivity and then securing a takedown to grab a 3-0 lead at the break. Aliyev came out strong in the second period, picking up a takedown to cut the deficit to 3-2. With 22 seconds left, Aliyev scored a takedown to go ahead and held on for the criteria win.
Khinchegashvili, a 2016 Olympic champion, trailed 1-0 at the break in his semifinal match against two-time world bronze medalist Akhmed CHAKAEV (RUS), but came back to win 8-2 to reach the gold-medal match.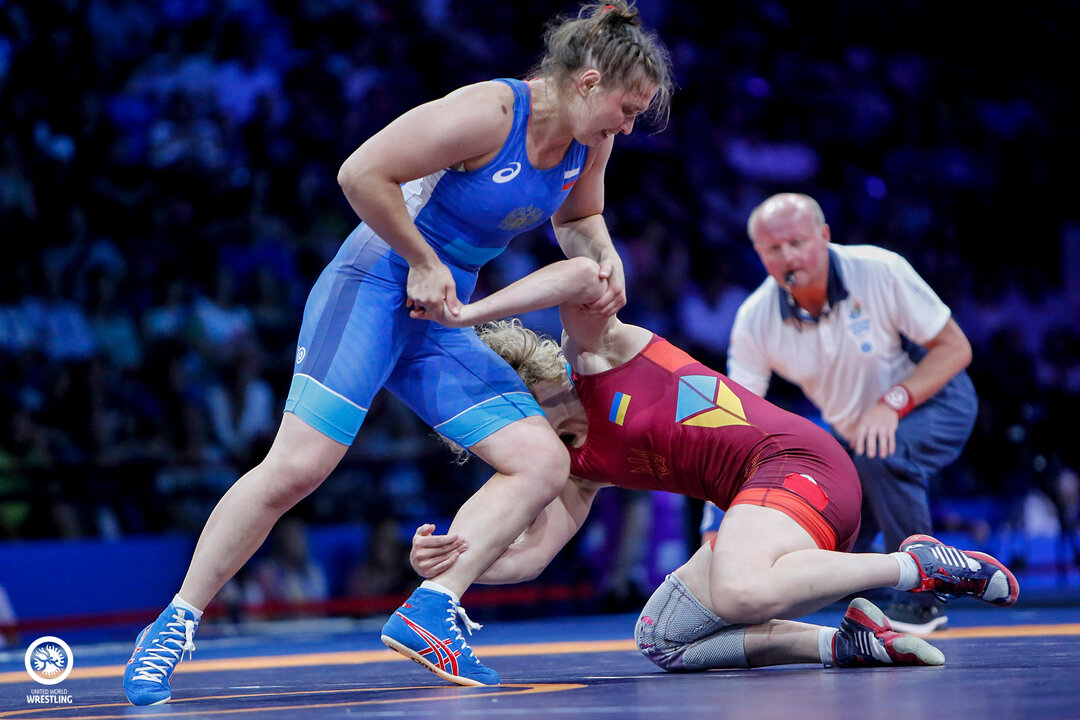 In women's wrestling at 68kg, two-time European champion Anastasiia BRATCHIKOVA (RUS) knocked off world No.1 and returning world champion Alla CHERKASOVA (UKR) 4-2. Bratchikova scored first with a step out and then countered an attack for a takedown to build a 3-0 lead. Cherkasova inched closer with a takedown in the first minute of the second period to cut the deficit to 3-2. With 14 seconds remaining Bratchikova, extended her lead with a step out and held on for the victory.
Bratchikova will face Anastasija GRIGORJEVA (LAT) for the gold medal. Grigorjeva defeated Danute DOMIKAITYTE (LTU) 10-3 in the semifinals. 
RESULTS
Freestyle 
65kg
GOLD - Vladimer KHINCHEGASHVILI (GEO) vs. Haji ALIYEV (AZE)
SEMIFINAL - Vladimer KHINCHEGASHVILI (GEO) df. Akhmed CHAKAEV (RUS), 8-2
SEMIFINAL - Haji ALIYEV (AZE) df. Hor OHANNESIAN (UKR), 4-4
97kg
GOLD - Abdulrashid SADULAEV (RUS) vs. Nurmagomed GADZHIYEV (AZE)
SEMIFINAL - Abdulrashid SADULAEV (RUS) df. Aliaksandr HUSHTYN (BLR), 6-0
SEMIFINAL - Nurmagomed GADZHIYEV (AZE) df. Murazi MCHEDLIDZE (UKR), 7-0
Women's Wrestling
53kg
GOLD - Sofia MATTSSON (SWE) vs. Yulia KHAVALDZHY (UKR)
SEMIFINAL - Sofia MATTSSON (SWE) df. Nina HEMMER (GER), 10-2
SEMIFINAL - Yulia KHAVALDZHY (UKR) df. Stalvira ORSHUSH (RUS), 7-4
68kg
GOLD - Anastasija GRIGORJEVA (LAT) vs. Anastasiia BRATCHIKOVA (RUS)
SEMIFINAL - Anastasija GRIGORJEVA (LAT) df. Danute DOMIKAITYTE (LTU), 10-3
SEMIFINAL - Anastasiia BRATCHIKOVA (RUS) df. Alla CHERKASOVA (UKR), 4-2