Iran Wins Three Greco-Roman Golds, Leads Russia by Three Points
Tuesday, September 18, 2018 - 21:33 By Eric Olanowski
TRNAVA, Slovakia (September 18) – Iran went three-for-three in Greco-Roman gold medal bouts on Tuesday capturing a three-point team lead heading into the third and final day of Greco-Roman competition at the 2018 Junior World Championships in Trnava, Slovakia.
The trio of Amin MIRZAZADEH (IRI), Pouya NASERPOUR (IRI), and Mohammadhadi SARAVI (IRI) had the opportunity to carry their country's flag around the mat after winning their first world titles. 
 In the 55kg gold-medal bout Naserpour, the junior Asian champion, gave up an early head pinch and trailed Tigran MINASYAN (ARM), 4-0 before going on a 9-0 run to claim his first junior world gold medal. 
Naserpour improved on his third-place finish from the 2017 Cadet World Championships with the 9-4 victory.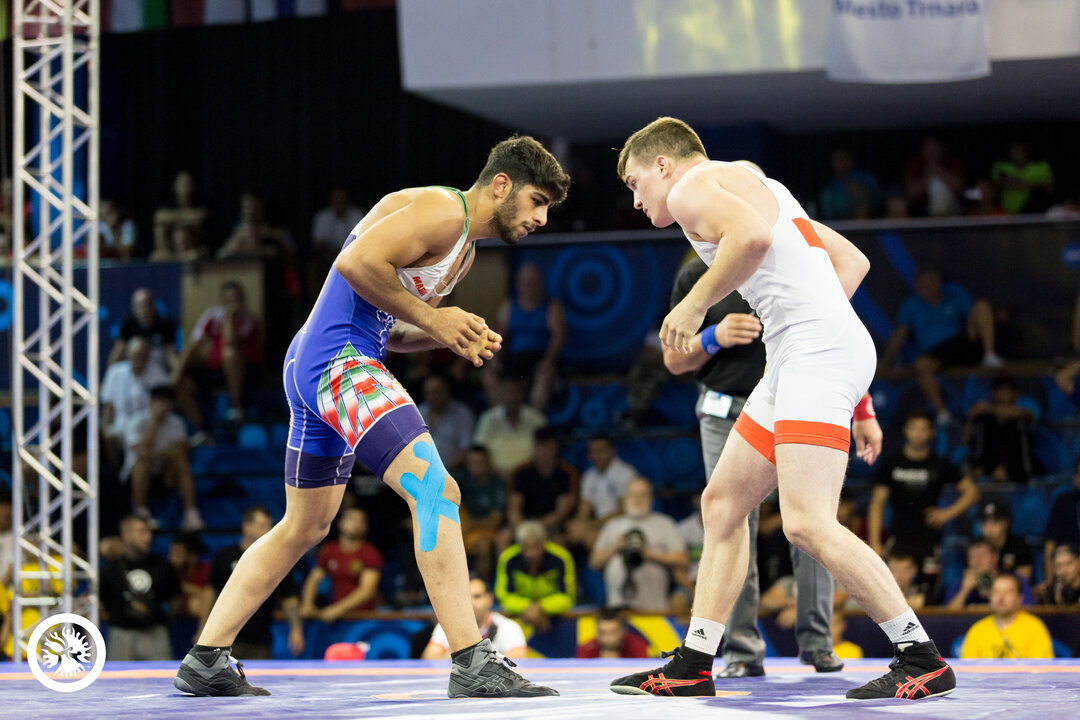 Mohammadhadi SARAVI (IRI), 2018 junior world champion at 87kg. (Photo by Max Rose-Fyne) 
Saravi, this year's junior Asian champion neutralized Ramon Rainer BETSCHART (SUI) in the 87kg finals, stopping Switzerland from winning its first-ever junior-level world gold. Saravi, who also won his first Junior world gold medal scored his five points from a passivity call and two gut wrenches. 
The third and final Iranian Asian champion to claim a world title on the second day of competition was Amin Mirzazadeh who shutout Armenia's David OVASAPYAN, 5-0 in the 130kg gold medal match.  
Islam OPIEV (RUS) knocked off three world medalists on his way to the 77kg gold medal. (Photo by Max Rose-Fyne)
At 77kg, Russia's Islam OPIEV capped off his improbable run to a junior world gold medal with three straight wins over a returning Tampere junior world medalists.  
Opiev had knocked off last year's junior world silver medalist, Akzhol MAKHMUDOV (KGZ), 1-1 to make the semifinals where he stunned returning world champion Kamal BEY (USA), 7-1 to set up a finals date with India's returning bronze medalist, Sajan SAJAN (IND). 
In his first world finals appearance, Opiev scored the first-period technical superiority victory, thumping Sajan, 8-0. 
In the opening 90 seconds, Sajan was hit with passivity and was thrown from the par terre position. With Sajan down, Opiev went to work, scoring six additional points from a pair of back-arches, followed by a feet over back exposure to take the 7-0 lead. 
The action was blown dead, and both wrestlers were brought up to their feet. In the standing position, Opeiv charged Sajan near the edge of the mat and picked up the match-ending eighth point, and the 77kg gold medal.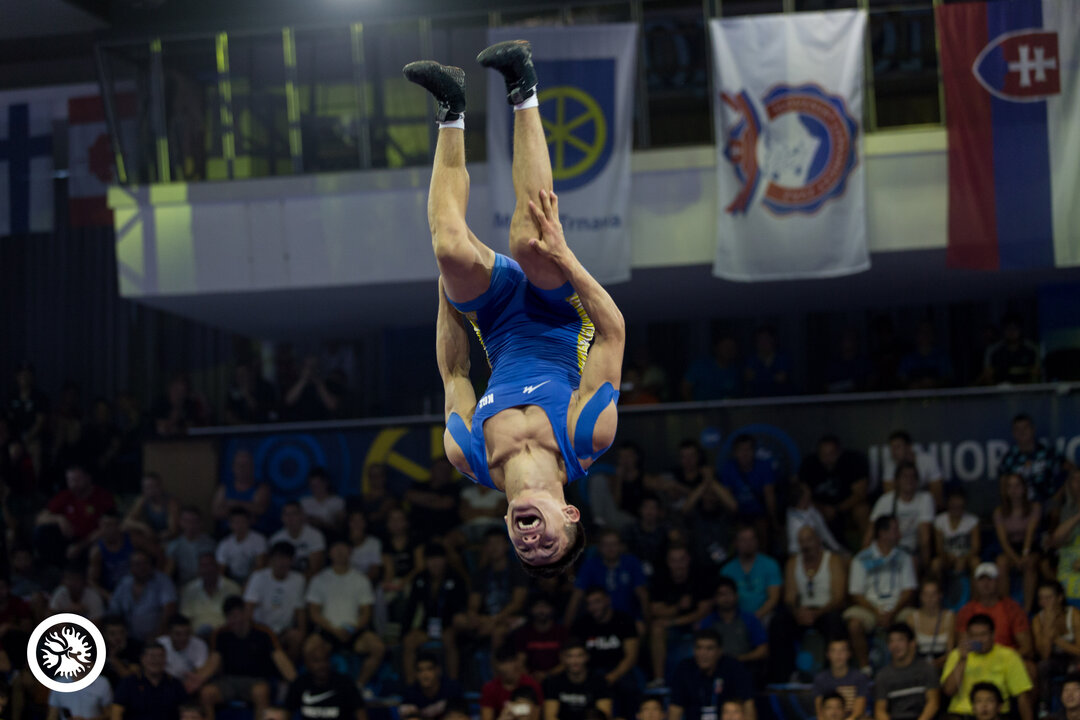 Erbol BAKIROV (KGZ) does a backflip after winning the 63kg gold medal. (Photo by Max Rose-Fyne)
The final gold medal of the night went to Erbol BAKIROV (KGZ). After trailing 1-0, Bakirov put a sudden stop to the 63kg gold-medal bout, throwing Egypt's Hassan Hassan MOHAMED to his back with a massive head-lock to win the gold medal. 
The final day of Greco-Roman action, along with the start of women's wrestling, begins tomorrow morning at 10:30 AM local time. 
RESULTS
Team Scores
GOLD – Iran (75 points)
SILVER – Russia (72 points)
BRONZE – Kyrgyzstan (50 points)
Fourth – Armenia (50 points)
Fifth – India (47 points)
GR 55kg 
GOLD – Pouya Mohammad NASERPOUR (IRI) df. Tigran MINASYAN (ARM), 9-4
BRONZE - Emin SEFERSHAEV (RUS) df. Nurtazin KERIMBERDI UULU (KGZ), 6-1
BRONZE - Vijay VIJAY (IND) df. Cihat LIMAN (TUR), via fall
GR 63kg  
GOLD - Erbol BAKIROV (KGZ) df. Hassan Hassan Ahmed MOHAMED (EGY), via fall. 
BRONZE - Azamat KAIROV (RUS) df. Hrachya POGHOSYAN (ARM), 3-1 
BRONZE Krisztian VANCZA (HUN) vs. Sagar SAGAR (IND), 9-0 
GR 77kg 
GOLD - Islam OPIEV (RUS) df. Sajan SAJAN (IND), 8-0 
BRONZE - Akzhol MAKHMUDOV (KGZ) df. Kamal Ameer BEY (USA), 8-1
BRONZE - Per KURE (NOR) df. Dmytro GARDUBEI (UKR), 4-1
GR 87kg
GOLD - Mohammadhadi SARAVI (IRI) df. Ramon BETSCHART (SUI)
BRONZE - Ilia ERMOLENKO (RUS) df. Temuri TCHKUASELIDZE (GEO), 4-2 
BRONZE - Nazarshah FATULLAYEV (AZE) df. Maimaiti KAISAIER (CHN), 5-1 
130kg 
GOLD - Amin Mohammadzaman MIRZAZADEH (IRI) df. David OVASAPYAN (ARM), 5-0  
BRONZE - Franz RICHTER (GER) df. Beka MAKARIDZE (GEO), 10-0 
BRONZE - Cohlton SCHULTZ (USA) df. Ante MILKOVIC (CRO), 7-1