Individual World Cup Entries
Wednesday, December 9, 2020 - 15:58 By Eric Olanowski
CORSIER-SUR-VEVEY, Switzerland (December 9) -- Abdulrashid "The Tank" SADULAEV (RUS), the four-time world champion and Rio Olympic gold medalist, headlines the entry list for the Individual World Cup (December 12-18) that will feature 505 wrestlers from 51 different countries.
Sadulaev is one of 31 returning world medalists -- including five world champions from 2019 -- who will take the mat in Serbia next week. Freestyle and Greco-Roman each include 11 medal winners from Nur-Sultan, while women's wrestling welcomes 9 from the last world championships.
World Medalist By Style
Freestyle: 3 gold, 2 silver and 6 bronze = 11
Greco-Roman: 1 gold, 3 silver and 7 bronze = 11
Women's Wrestling: 1 gold, 3 silver and 5 bronze = 9
Freestyle ('19 world champions listed in BOLD)
57kg
Abdelhak KHERBACHE (ALG)
Arsen HARUTYUNYAN (ARM)
Islam BAZARGANOV (AZE)
Uladzislau ANDREYEU (BLR)
Mikyay Salim NAIM (BUL)
Levan METREVELI VARTANOV (ESP)
Adam Visrailovitch BIBOULATOV (FRA)
Diamantino IUNA FAFE (GBS)
Niklas STECHELE (GER)
Gamzatgadzsi HALIDOV (HUN)
Kumar RAVI (IND)
Rahman Mousa AMOUZADKHALILI (IRI)
Givi DAVIDOVI (ITA)
Bekbolot MYRZANAZAR UULU (KGZ)
Chakir ANSARI (MAR)
Anatolii BURUIAN (MDA)
Petru CRACIUN (MDA)
Minir REDJEPI (MKD)
Richard Antonio GARCIA ANDRADE (PAN)
Razvan Marian KOVACS (ROU)
Zavur UGUEV (RUS)
Stevan Andria MICIC (SRB)
Saban KIZILTAS (TUR)
Andrii YATSENKO (UKR)
Gamal Mohammed Yahya ALSABRI (YEM)
61kg
Abdelghani BENATALLAH (ALG)
Agustin Alejandro DESTRIBATS (ARG)
Razmik PAPIKYAN (ARM)
Akhmednabi GVARZATILOV (AZE)
Ayub Muratovitch MUSAEV (BEL)
Georgi Valentinov VANGELOV (BUL)
Arman ELOYAN (FRA)
Nico MEGERLE (GER)
Georgios PILIDIS (GRE)
Richard VILHELM (HUN)
Rahul Balasaheb AWARE (IND)
Ulukbek ZHOLDOSHBEKOV (KGZ)
Leomid COLESNIC (MDA)
Vladimir EGOROV (MKD)
Eduard GRIGOREV (POL)
Ivan GUIDEA (ROU)
Abasgadzhi MAGOMEDOV (RUS)
Nino LEUTERT (SUI)
Muhamad IKROMOV (TJK)
Recep TOPAL (TUR)
Volodymyr BURUKOV (UKR)

65kg
Isa MERKJA (ALB)
Vazgen TEVANYAN (ARM)
Haji ALIYEV (AZE)
Niurgun SKRIABIN (BLR)
Haji Mohamad ALI( BRN)
Vladimir Vladimirov DUBOV (BUL)
Juan Pablo GONZALEZ CRESPO (ESP)
Ilman MUKHTAROV (FRA)
Mbunde CUMBA MBALI (GBS)
Iszmail MUSZUKAJEV (HUN)
Amirmohammad Babak YAZDANICHERATI (IRI)
Abdellatif MANSOUR (ITA)
Ernazar AKMATALIEV (KGZ)
Andrei PERPELITA (MDA)
Nicolai GRAHMEZ (MDA)
Elmedin SEJFULAU (MKD)
Sixto Miguel AUCCAPINA PEDRAGAS (PER)
Krzysztof BIENKOWSKI (POL)
Nikolai OKHLOPKOV (ROU)
Gadzhimurad RASHIDOV (RUS)
Ahmet DUMAN(TUR)
Gor OGANNESYAN(UKR)
Hussein Abdullah Hussein Abdullah AL AZZANI(YEM)

70kg
Eriglent PRIZRENI (ALB)
Arman ANDREASYAN (ARM)
Gitinomagomed GADZHIYEV (AZE)
Dzianis SALAVEI (BLR)
Nicolae COJOCARU (GBR)
Shamil USTAEV (GER)
Daniel ANTAL (HUN)
Naveen NAVEEN (IND)
Islambek OROZBEKOV (KGZ)
Mihail SAVA (MDA)
Valentin BORZIN (MDA)
Fati VEJSELI(MKD)
Magomedmurad GADZHIEV (POL)
George BUCUR (ROU)
Chermen VALIEV (RUS)
Daniel CHOMANIC (SVK)
Mustafo AKHMEDOV (TJK)
Haithem DAKHLAOUI (TUN)
Haydar YAVUZ (TUR)
Ihor NYKYFORUK (UKR)

74kg
Orges LILA (ALB)
Hrayr ALIKHANYAN (ARM)
Khadzhimurad GADZHIYEV (AZE)
Azamat NURYKAU (BLR)
Ali Pasha Ruslanovich UMARPASHAEV (BUL)
Leon Juan Carlos PERALTA LANAS (CHI)
Jonatan ALVAREZ DIAZ (ESP)
Aimar ANDRUSE (EST)
Charles André AFA (FRA)
Augusto MIDANA (GBS)
Osman Kubilay CAKICI (GER)
Murad KURAMAGOMEDOV (HUN)
Narsingh Pancham YADAV (IND)
Mitchell Louis FINESILVER (ISR)
Frank CHAMIZO MARQUEZ (ITA)
Saiakbai USUPOV (KGZ)
Mohammed J M Th A ABDULKAREEM (KUW)
Vasile DIACON (MDA)
Evgheni NEDEALCO (MDA)
Riad REDJEPI (MKD)
Andrzej Piotr SOKALSKI (POL)
Maxim VASILIOGLO (ROU)
Razambek ZHAMALOV (RUS)
Malik Michael AMINE (SMR)
Zaur EFENDIEV (SRB)
Marc DIETSCHE (SUI)
Tajmuraz Mairbekovic SALKAZANOV (SVK)
Fazli ERYILMAZ (TUR)
Denys PAVLOV (UKR)

79kg
Arman AVAGYAN (ARM)
Rashad YUSIFLI (AZE)
Mahamedkhabib KADZIMAHAMEDAU (BLR)
Dzhemal Rushen ALI (BUL)
Erik REINBOK (EST)
Saifedine ALEKMA (FRA)
Eduard TATARINOV (GER)
Csaba VIDA (HUN)
Baliyan GOURAV (IND)
Aron CANEVA (ITA)
Arsalan BUDAZHAPOV (KGZ)
Alans AMIROVS (LAT)
Stanislav NOVAC (MDA)
Astrit ISMAILI (MKD)
Vasile Madalin MINZALA (ROU)
Akhmed USMANOV (RUS)
Akhsarbek GULAEV (SVK)
Ayoub BARRAJ (TUN)
Muhammet Nuri KOTANOGLU (TUR)
Vasyl MYKHAILOV (UKR)
Rashid KURBANOV (UZB)
86kg
Hovhannes MKHITARYAN (ARM)
Abubakr ABAKAROV (AZE)
Rasul TSIKHAYEU (BLR)
Akhmed Adamovitch MAGAMAEV (BUL)
Taimuraz FRIEV NASKIDAEVA (ESP)
Akhmed AIBUEV (FRA)
Bedopassa BUASSAT DJONDE (GBS)
Ahmed Ruslanovic DUDAROV (GER)
Deepak PUNIA (IND)
Uri KALASHNIKOV (ISR)
Ivars SAMUSONOKS (LAT)
Roman MANITRA RAHARISON (MAD)
Rachid OURIBI (MAR)
Piotr IANULOV (MDA)
Stole EFTIMOV (MKD)
Pool Edinson AMBROCIO GREIFO (PER)
Zbigniew Mateusz BARANOWSKI (POL)
Dauren KURUGLIEV (RUS)
Myles Nazem AMINE (SMR)
Boris MAKOEV (SVK)
Osman GOCEN (TUR)
Mraz DZHAFARIAN (UKR)

92kg
Gadzhimurad MAGOMEDSAIDOV(AZE)
Arkadzi PAHASIAN(BLR)
Alejandro CANADA PANCORBO(ESP)
Ilja MATUHIN(GER)
Georgii RUBAEV(MDA)
Redjep HAJDARI(MKD)
Mihai Nicolae PALAGHIA(ROU)
Alikhan ZHABRAILOV(RUS)
Strahinja DESPIC(SRB)
Samuel SCHERRER(SUI)
Erhan YAYLACI(TUR)
Vasyl SOVA(UKR)

97kg
Shamil ZUBAIROV (AZE)
Aliaksandr HUSHTYN (BLR)
Ahmed Sultanovich BATAEV (BUL)
Ertugrul AGCA (GER)
Satywart KADIAN (IND)
Abraham de Jesus CONYEDO RUANO (ITA)
Edon SHALA (KOS)
Nicolai CEBAN (MDA)
Samhan JABRAILOV (MDA)
Magomedgadji Omardibirovich NUROV (MKD)
Radoslaw BARAN (POL)
Michael MANEA (ROU)
Abdulrashid SADULAE V(RUS)
Suleyman KARADENIZ (TUR)
Valerii ANDRIITSEV (UKR)

125kg
Paris KAREPI (ALB)
Catriel Pehuen MURIEL (ARG)
Hovhannes MAGHAKYAN (ARM)
Jamaladdin MAGOMEDOV (AZE)
Dzianis KHRAMIANKOU (BLR)
Islam Timurovich ADIZOV (BUL)
Amarveer DHESI (CAN)
Daniel LIGETI (HUN)
Sumit SUMIT (IND)
Aiaal LAZAREV (KGZ)
Radu LEFTER (MDA)
Egor OLAR (MDA)
Boban DANOV (MKD)
Robert BARAN (POL)
Shamil SHARIPOV (RUS)
Oktay GUNGOR (TUR)
Oleksandr KHOTSIANIVSKYI (UKR)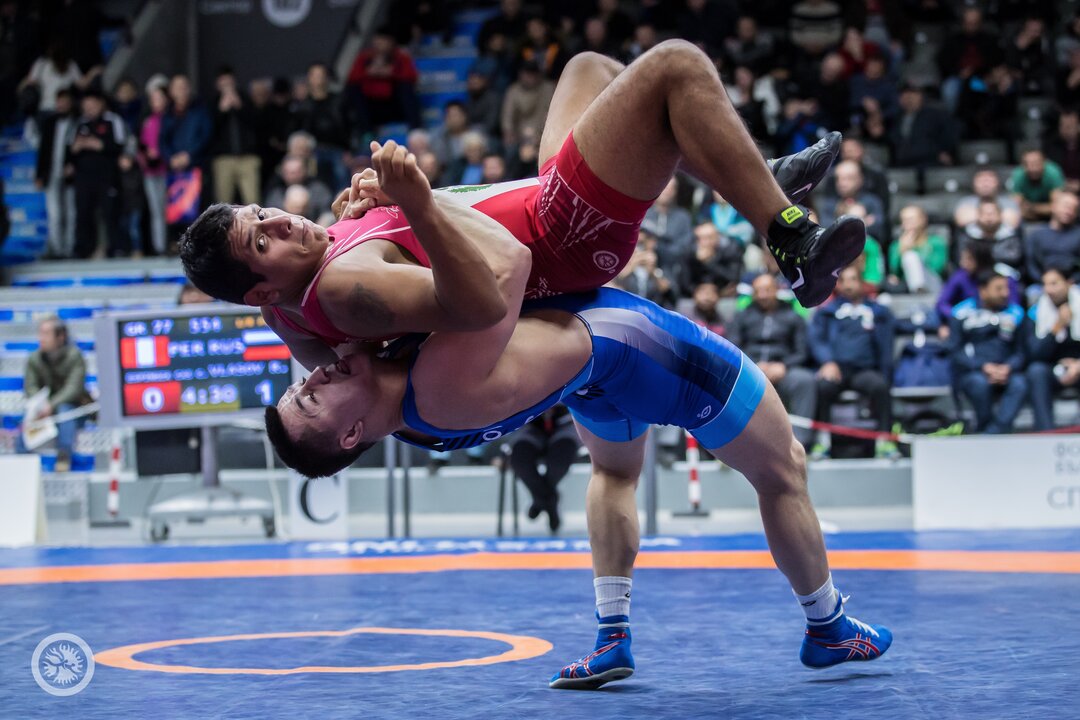 Roman VLASOV (RUS), a two-time Olympic champion, will wrestle at 77kg. (Photo: Gabor Martin)
Greco-Roman ('19 world champion listed in BOLD)
55kg
Abdelkarim FERGAT (ALG)
Rudik MKRTCHYAN (ARM)
Eldaniz AZIZLI (AZE)
Nedyalko Petrov PETROV (BUL)
Fabian Bernhard SCHMITT (GER)
Arjun HALAKURKI (IND)
Balbai DORDOKOV (KGZ)
Artiom DELEANU (MDA)
Leonid MOROZ (MDA)
Andre Ricardo CARDOSO OLIVEIRA SILVA (POR)
Cristian Vasile VAGIUNIC (ROU)
Emin Narimanovitch SEFERSHAEV (RUS)
Sebastian KOLOMPAR(SRB)
Serif KILIC (TUR)
Vladyslav KUZKO (UKR)

60kg
Abdennour LAOUNI (ALG)
Armen MELIKYAN (ARM)
Nihat Zahid MAMMADLI (AZE)
Maksim KAZHARSKI (BLR)
Tsvetan Metodiev SIRASHKI (BUL)
Helary MAEGISALU (EST)
Etienne KINSINGER (GER)
Krisztian KECSKEMETI (HUN)
Gyanender GYANENDER (IND)
Abere FETENE (ISR)
Jacopo SANDRON (ITA)
Zholaman SHARSHENBEKOV (KGZ)
Fouad FAJAR I(MAR)
Victor CIOBANU (MDA)
Joao Marco BENAVIDES ROCHABRUN (PER)
Razvan ARNAUT(ROU)
Stepan MARYANYAN (RUS)
Kristian FRIS (SRB)
Ahmet UYAR (TUR)
Viktor PETRYK (UKR)

63kg
Abdeldjebar DJEBBARI (ALG)
Gevorg GHARIBYAN (ARM)
Taleh MAMMADOV (AZE)
Soslan DAUROV (BLR)
Nikalas Petrov SULEV (BUL)
Erik TORBA (HUN)
Sachin RANA (IND)
Kaly SULAIMANOV (KGZ)
Mohammad F Kh M J ALAJMI (KUW)
Mateusz Radoslaw SZEWCZUK (POL)
Julinho Benjamim CORREIA DJU (POR)
Mihai Radu MIHUT (ROU)
Zhambolat LOKYAEV (RUS)
Perica DIMITRIJEVIC (SRB)
Abdurrahman ALTAN (TUR)
Oleksii MASYK (UKR)

67kg
Slavik GALSTYAN (ARM)
Islambek DADOV (AZE)
Konstantin Ivanovich STAS (BUL)
Cristobal Alonso TORRES NUNEZ (CHI)
Gagik Mishai SNJOYAN (FRA)
Witalis LAZOVSKI (GER)
Krisztian Istvan VANCZA (HUN)
Ashu ASHU (IND)
Ruben MARVICE (ITA)
Khalmurat IBRAGIMOV (KGZ)
Donior ISLAMOV (MDA)
Alex Salomon PINEDA MARIN (PAN)
Nilton Gonzalo Marcos SOTO GARCIA (PER)
Roman PACURKOWSKI (POL)
Nazir Rachidovitch ABDULLAEV (RUS)
Davor STEFANEK (SRB)
Atakan YUKSEL (TUR)
Artur POLITAIEV (UKR)

72kg
Malkhas AMOYAN (ARM)
Ulvu GANIZADE (AZE)
Aik MNATSAKANIAN (BUL)
Luka MALOBABIC (CRO)
Ibrahim Mahmoud Hamed Hassan GHANEM (FRA)
Idris IBAEV (GER)
Balint KORPAS I(HUN)
Aditya KUNDU (IND)
Ruslan TSAREV (KGZ)
Valentin PETI C(MDA)
Mihai PETIC (MDA)
Narek OGANIAN (RUS)
Mate NEMES (SRB)
Aleksandar MAKSIMOVIC (SRB)
Andreas VETSCH (SUI)
Leos DRMOLA (SVK)
Cengiz ARSLAN (TUR)
Maksym YEVTUSHENKO (UKR)

77kg
Abd Elkrim OUAKALI (ALG)
Karapet CHALYAN (ARM)
Sanan SULEYMANOV (AZE)
Pavel LIAKH (BLR)
Rosian Ognyanov DERMANSKI (BUL)
Antonio KAMENJASEVIC (CRO)
Jakub BIELESZ (CZE)
Evrik NIKOGHOSYAN (FRA)
Pascal EISELE (GER)
Georgios PREVOLARAKIS (GRE)
Zoltan LEVAI (HUN)
Sajan SAJAN (IND)
Roman ZHERNOVETSKI (ISR)
Matteo MAFFEZZOLI (ITA)
Akzhol MAKHMUDOV (KGZ)
Daniel CATARAGA (MDA)
Igor BESLEAGA (MDA)
Alexandrin GUTU (MDA)
Iwan NYLYPIUK (POL)
Ilie COJOCARI (ROU)
Roman VLASOV (RUS)
Viktor NEMES (SRB)
Denis HORVATH (SVK)
Furkan BAYRAK (TUR)
Yasaf ZEINALOV (UKR)

82kg
Chawki DOULACHE (ALG)
Maksim MANUKYAN (ARM)
Rafig HUSEYNOV (AZE)
Radzik KULIYEU (BLR)
Daniel Tihomirov ALEKSANDROV (BUL)
Filip SACIC (CRO)
Oldrich VARGA (CZE)
Ranet KALJOLA (EST)
Roland SCHWARZ (GER)
Tamas LEVAI (HUN)
Igor PETRISHIN (ISR)
Kairatbek TUGOLBAEV (KGZ)
Zied AIT OUAGRAM (MAR)
Mihail BRADU (MDA)
Gabriel LUPASCO (MDA)
Alvis Albino ALMENDRA JIMENEZ (PAN)
George Vlad MARIEA (ROU)
Milad Valerikovitch ALIRZAEV (RUS)
Branko KOVACEVIC (SRB)
Salih AYDIN (TUR)
Yaroslav FILCHAKOV (UKR)

87kg
Bachir SID AZARA (ALG)
Artur SHAHINYAN (ARM)
Islam ABBASOV (AZE)
Kiryl MASKEVICH (BLR)
Yoan Danielov DIMITROV (BUL)
Vjekoslav LUBURIC (CRO)
Ilias PAGKALIDIS (GRE)
Istvan TAKACS (HUN)
Kumar SUNIL (IND)
Hossein Ahmad NOURI (IRI)
Fabio PARISI (ITA)
Atabek AZISBEKOV (KGZ)
Szymon SZYMONOWICZ (POL)
Davit CHAKVETADZE (RUS)
Zurabi DATUNASHVILI (SRB)
Dogan GOKTAS (TUR)
Semen NOVIKOV (UKR)
Luis Eduardo AVENDANO ROJAS (VEN)

97kg
Adem BOUDJEMLINE (ALG)
Artur ALEKSANYAN (ARM)
Aliaksandr HRABOVIK (BLR)
Kiril Milenov MILOV (BUL)
Artur OMAROV (CZE)
Melonin NOUMONVI (FRA)
Michail IOSIFIDIS (GRE)
Alex Gergo SZOKE (HUN)
Hardeep HARDEEP (IND)
Mohammadhadi Abdollah SARAVI (IRI)
Nikoloz KAKHELASHVILI (ITA)
Uzur DZHUZUPBEKOV (KGZ)
Choucri ATAFI(MAR)
Musa EVLOEV (RUS)
Mihail KAJAIA (SRB)
Damian VON EUW (SUI)
Suleyman DEMIRCI (TUR)
Vladlen KOZLIUK (UKR)
Luillys Jose PEREZ MORA (VEN)

130kg
Hemza HALOUI (ALG)
David OVASAPYAN (ARM)
Beka KANDELAKI (AZE)
Radoslav Plamenov GEORGIEV (BUL)
Yasmani ACOSTA FERNANDEZ (CHI)
Stepan DAVID (CZE)
Eduard POPP (GER)
Nikolaos NTOUNIAS (GRE)
Naveen NAVEEN (IND)
Rafal Andrzej KRAJEWSKI (POL)
Alin ALEXUC CIURARIU (ROU)
Sergey SEMENOV (RUS)
Boban ZIVANOVIC (SRB)
Osman YILDIRIM (TUR)
Mykola KUCHMII (UKR)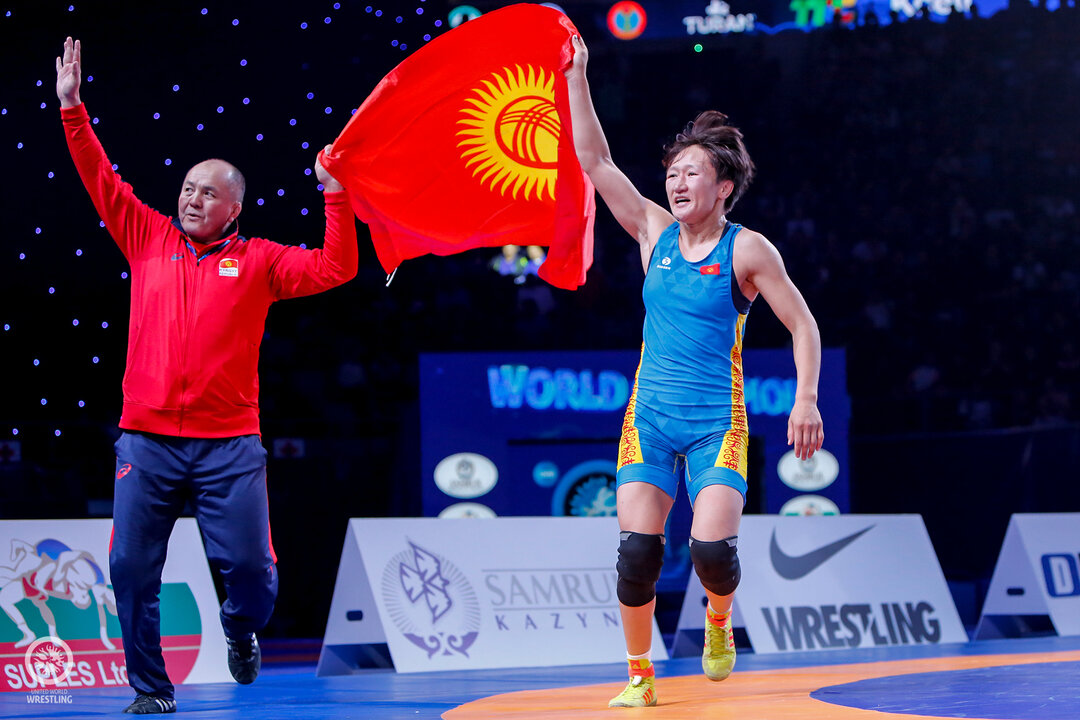 Aisuulu TYNYBEKOVA (KGZ) is the lone returning world champion entered in women's wrestling. (Photo: Gabor Martin)
Women's Wrestling ('19 world champion listed in BOLD)
50kg
Turkan NASIROVA (AZE)
Miglena Georgieva SELISHKA (BUL)
Julie Martine SABATIE (FRA)
Debora Valeria TURE (GBS)
Lisa ERSEL (GER)
Devi NIRMALA (IND)
Maria LEORDA (MDA)
Emilia CIRICU BUDEANU (MDA)
Gloria Estefanny ASCA VILCAPOMA (PER)
Anna LUKASIAK (POL)
Emilia Alina VUC (ROU)
Ekaterina POLESHCHUK (RUS)
Evin DEMIRHAN (TUR)
Liliia MALANCHUK (UKR)

53kg
Tatyana VARANSOVA (AZE)
Zalina SIDAKOVA (BLR)
Sezen Behchetova BELBEROVA (BUL)
Marina RUEDA FLORES (ESP)
Hilary Ysaline HONORINE (FRA)
Nina HEMMER (GER)
Maria PREVOLARAKI (GRE)
Emanuela LIUZZI (ITA)
Iulia LEORDA (MDA)
Thalia Jihann MALLQUI PECHE (PER)
Roksana Marta ZASINA (POL)
Andreea Beatrice ANA (ROU)
Anzhelika VETOSHKINA (RUS)
Zeynep YETGIL (TUR)
Khrystyna Zoryana DEMKO (UKR)

55kg
Iryna KURACHKINA (BLR)
Annika WENDLE (GER)
Pinki PINKI (IND)
Mariana DRAGUTAN (MDA)
Katarzyna KRAWCZYK (POL)
Olga KHOROSHAVTSEVA (RUS)
Bediha GUN (TUR)
Tetyana KIT (UKR)

57kg
Alyona KOLESNIK (AZE)
Evelina Georgieva NIKOLOVA (BUL)
Maria Victoria BAEZ DILONE (ESP)
Mathilde Hélène RIVIERE (FRA)
Laura MERTENS (GER)
Emese BARKA (HUN)
Anshu ANSHU (IND)
Arianna CARIERI (ITA)
Nuraida ANARKULOVA (KGZ)
Anastasia NICHITA (MDA)
Patrycja GIL (POL)
Veronika CHUMIKOVA (RUS)
Mehlika OZTURK (TUR)
Antonyna KULAHINA (UKR)

59kg
Bilyana Zhivkova DUDOVA (BUL)
Sandra PARUSZEWSKI (GER)
Sarita SARITA (IND)
Mariana CHERDIVARA ESANU (MDA)
Magdalena Urszula GLODEK (POL)
Svetlana LIPATOVA (RUS)
Anna FABIAN (SRB)
Elif YANIK (TUR)
Kateryna ZELENYKH (UKR)

62kg
Tetiana OMELCHENKO (AZE)
Lydia PEREZ TOURINO (ESP)
Ameline DOUARRE (FRA)
Luisa Helga Gerda NIEMESCH (GER)
Anna Hella SZEL (HUN)
Sonam SONAM (IND)
Aurora CAMPAGNA (ITA)
Aisuluu TYNYBEKOVA (KGZ)
Kriszta Tunde INCZE (ROU)
Liubov OVCHAROVA(RUS)
Cansu AKSOY (TUR)
Ilona PROKOPEVNIUK (UKR)

65kg
Elis MANOLOVA (AZE)
Mimi Nikolova HRISTOVA (BUL)
Debora LAWNITZAK (GER)
Sakshi MALIK (IND)
Anastasija GRIGORJEVA (LAT)
Irina RINGACI (MDA)
Mariia KUZNETSOVA (RUS)
Asli DEMIR (TUR)
Tetiana RIZHKO (UKR)

68kg
IrIna  Petrovna NETREBA (AZE)
Hanna SADCHANKA (BLR)
Sofiya Hristova GEORGIEVA (BUL)
Adela HANZLICKOVA (CZE)
Dalma CANEVA (ITA)
Meerim ZHUMANAZAROVA (KGZ)
Khanum VELIEVA (RUS)
Nesrin BAS (TUR)
Alina BEREZHNA STADNIK MAKHYNIA (UKR)

72kg
Gozal ZUTOVA (AZE)
Yuliana Vasileva YANEVA (BUL)
Koumba Selene Fanta LARROQUE (FRA)
Maria SELMAIER (GER)
Preet Kaur GURSHARAN (IND)
Yanet Ursula SOVERO NINO (PER)
Alexandra Nicoleta ANGHEL (ROU)
Evgeniia ZAKHARCHENKO (RUS)
Zsuzsanna MOLNAR (SVK)
Buse TOSUN (TUR)
Alla BELINSKA (UKR)

76kg
Sabira ALIYEVA (AZE)
Vasilisa MARZALIUK (BLR)
Mariya Gerginova ORYASHKOVA (BUL)
Erica Elizabeth WIEBE (CAN)
Pauline Denise LECARPENTIER (FRA)
Aline ROTTER FOCKEN (GER)
Zsanett NEMETH (HUN)
Kiran KIRAN (IND)
Aiperi MEDET KYZY (KGZ)
Catalina AXENTE (ROU)
Ekaterina BUKINA (RUS)
Yasemin ADAR (TUR)
Anastasiia OSNIACH SHUSTOVA (UKR)
*Please note that this list is an unoffical list and is subject to change.