Freestyle and Women's Wrestling Entries for Dan Kolov-Nikola Petrov
Thursday, February 21, 2019 - 20:25 By Eric Olanowski
RUSE, Bulgaria (February 22) - Four Olympic gold medalists and four world champions have entered next week's Dan Kolov-Nikola Petrov tournament, United World Wrestling's second freestyle and women's wrestling Ranking Series event of the 2019 season.
Two-time defending world champion Geno PETRIASHVILI (GEO) and Olympic champions Taha AKGUL (TUR), Jordan BURROUGHS (USA), Kyle Frederick SNYDER (USA), and Hassan YAZDANICHARATI (IRI) have each signed up to compete in Ruse.
While on the women's side defending world champions Petra OLLI (FIN), RONG Ningning (CHN), and Taybe Mustafa YUSEIN (BUL) are all scheduled to wrestle.
Winner of the Dan Kolov-Nikola Petrov will be awarded eight (8) points, with second, third and fifth place grabbing six (6), four (4), and two (2) points respectively.
In addition to the placement points, wrestlers will receive additional points based on the number of participants in their bracket. For weight categories with 10 or fewer entries, an additional six (6) points will be added. For categories with 11-20 wrestlers entered an additional eight (8) points will be added. Ten (10) points will be added to any weight category with more than 20 entries.
The two remaining freestyle and women's wrestling Rankings Series events are the Sassari (May 24), and the Yasar Dogu (July 12).
If you missed the first Ranking Series event, the Ivan Yariguin, click here to view the event hub. 
Freestyle 
57kg 
Salah Eddine KATEB (ALG)
Abdelhak KHERBACHE (ALG)
Uladzislau ANDREYEU (BLR)
Dzimchyk RYNCHYNAU (BLR)
Georgi Valentinov VANGELOV (BUL)
ZOU Wanhao (CHN)
LIU Minghu (CHN)
Zoheir EL OUARRAQE (FRA)
Giorgi GONIASHVILI (GEO)
Sandeep TOMAR (IND)
Kumar RAVI (IND)
KIM Sunggwon (KOR)
ERDENEBAT Bekhbayar (MGL)
TUMENBILEG Tuvshintulga (MGL)
Vladimir EGOROV (MKD)
Andrei DUKOV (ROU)
Egor POTAPOV (RUS)
Mikhail IVANOV (RUS)
Firas KHALIFA (TUN)
Ahmet DUMAN (TUR)
Suleyman ATLI (TUR)|
Taras MARKOVYCH (UKR)
Armen ARAKELIAN (UKR)
Joshua Andrew RODRIGUEZ (USA)
Thomas Patrick GILMAN (USA)
Makhmudjon SHAVKATOV (UZB)
Gulomjon ABDULLAEV (UZB)
61kg
Stefan Ganchev IVANOV (BUL)
Otari GOGAVA (GEO)
Hassan Sabzali RAHIMI (IRI)
Tsogbadrakh TSEVEENSUREN (MGL)
Nikolai OKHLOPKOV (ROU)
Aryian TIUTRIN (RUS)
Randy Adrian VOCK (SUI)
Chedli METHLOUTHI (TUN)
Recep TOPAL (TUR)
Munir Recep AKTAS (TUR)
Petro BILEICHUK (UKR)
Yaroslav HURSKYY (UKR)
Volodymyr BURUKOV (UKR)
Joseph Daniel COLON (USA)
Jahongirmirza TUROBOV (UZB)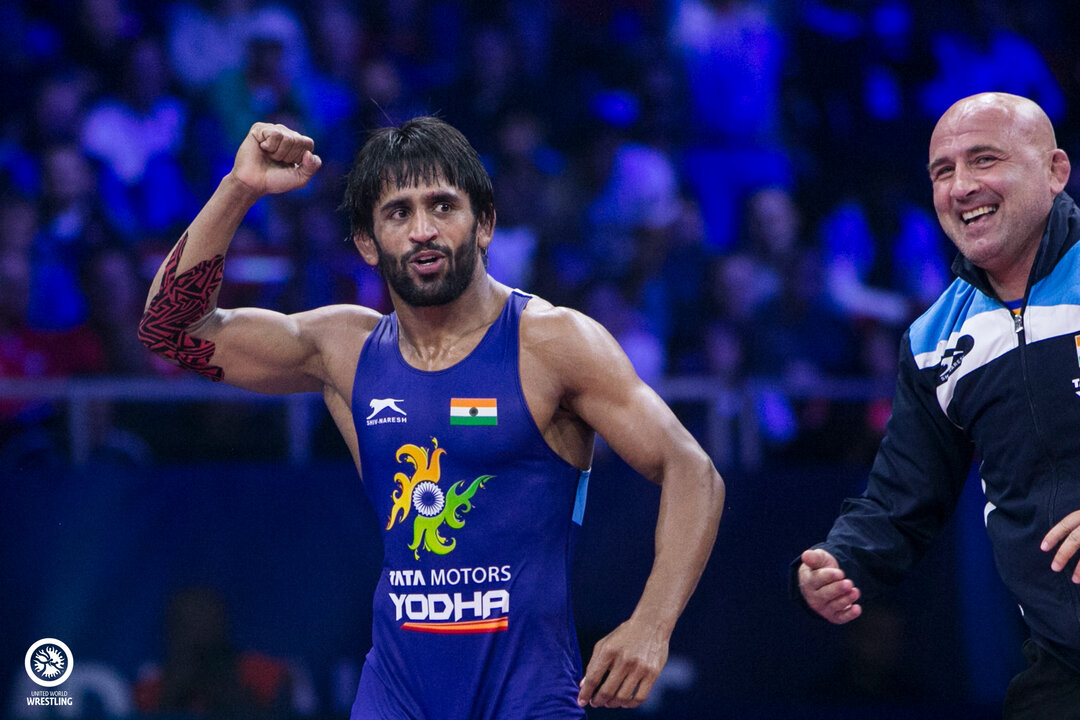 India's 2018 world finalist Bajrang BAJRANG will make his 2019 Ranking Series debut at the Dan Kolov-Nikola Petrov, where he'll wrestle at 65kg. (Photo: Gabor Martin) 
65kg
Agustin Alejandro DESTRIBATS (ARG)
George KOLIEV (BLR)
Niurhun SKRABIN (BLR)
Dimitar Lyubomirov IVANOV (BUL)
Vladimir Vladimirov DUBOV (BUL)
LIN Zushen (CHN)
YUAN Shaohua (CHN)
Giorgi REVAZISHVILI (GEO)
Niklas Dietmar DORN (GER)
Bajrang BAJRANG (IND)
Junsik YUN (KOR)
Dmitrii MALENCOV (MDA)
Tulga TUMUR OCHIR (MGL)
Krzysztof BIENKOWSKI (POL)
Ivan GUIDEA (ROU)
Evghenii VOLCOV (ROU)
George BUCUR (ROU)
Eduard GRIGOREV (RUS)
Iulian GERGENOV (RUS)
Murad Abdusalamovitch NUKHKADIEV (RUS)
Kaireddine BEN TELILI (TUN)
Mehmet Emin OGUT (TUR)
Selahattin KILICSALLAYAN (TUR)
Vasyl SHUPTAR (UKR)
Erik ARUSHANIAN (UKR)
Gor OGANNESYAN (UKR)
Evan Richard HENDERSON (USA)
Bernard Walter FUTRELL (USA)
Jordan Michael OLIVER (USA)
Abbos RAKHMONOV (UZB)
Sirojiddin KHASANOV (UZB)
70kg 
Fares LAKEL (ALG)
Zurabi IAKOBISHVILI (GEO)
Kevin Christopher HENKEL (GER)
Mihail SAVA (MDA)
Byambadorj BAT ERDENE (MGL)
Maxim VASILIOGLO (ROU)
Anzor ZAKUEV (RUS)
Haithem DAKHLAOUI (TUN)
Mustafa KAYA (TUR)
Mehmet KARACA(TUR)
Andriy KVYATKOVSKYY (UKR)
Semen RADULOV (UKR)
Frank Aniello MOLINARO (USA)
James Malcolm GREEN (USA)
Ikhtiyor NAVRUZOV (UZB)
Mirzo KHAYITOV (UZB)
Ramazon IBODOV (UZB)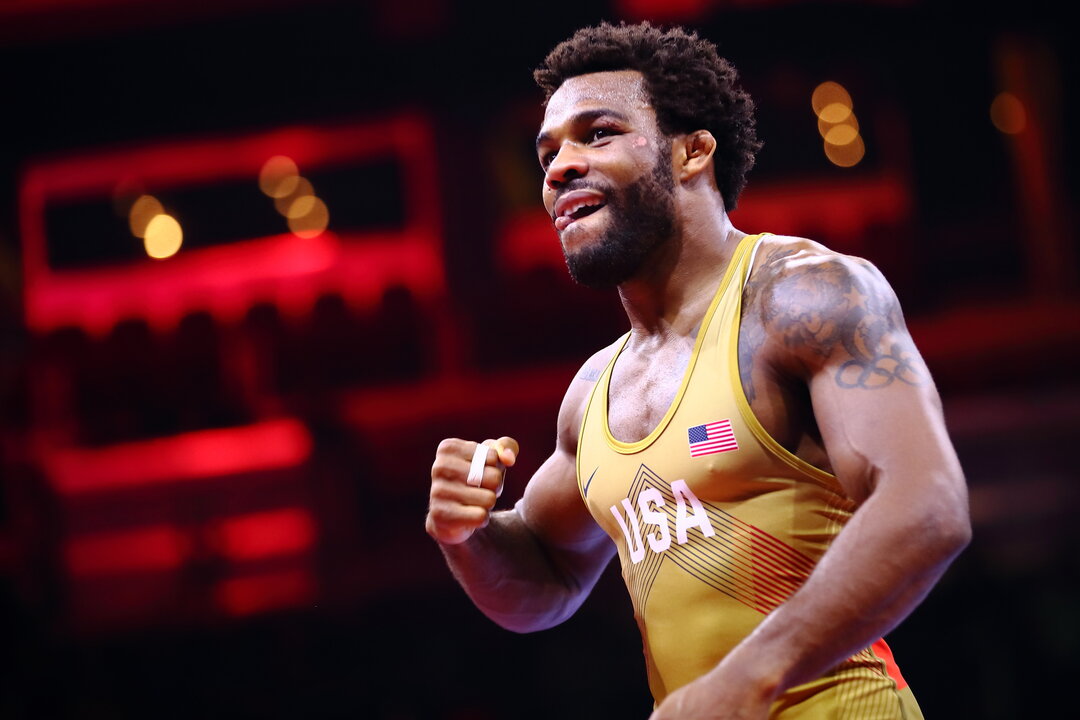 Jordan BURROUGHS (USA) begins his quest to get back to the top of the world stage after a bronze-medal finish in 2018. (Photo: Sachiko HOTAKA)
74kg
Ishak BOUKHORS (ALG)
Jorge Ivan LLANO (ARG)
Simon MARCHL (AUT)
Azamat NURYKAU (BLR)
Andrei KARPACH (BLR)
Mohamed Youssef Dzhalal BAKAR (BUL)
Ali Pasha Ruslanovich UMARPASHAEV (BUL)
Miroslav Stefanov KIROV (BUL)
Juan Pablo PERALTA LANAS (CHI)
Avtandil KENTCHADZE (GEO)
Johann Christoph STEINFORTH (GER)
Kumar Omprakash VINOD (IND)
Jitender JITENDER (IND)
Mostafa Mohabbali HOSSEINKHANI (IRI)
Frank CHAMIZO MARQUEZ (ITA)
LEE Seungchul (KOR)
GONG Byungmin (KOR)
LEE Yunhan (KOR)
Evgheni NEDEALCO (MDA)
BYAMBASUREN Bat-Erdene (MGL)
Magomedmurad GADZHIEV (POL)
Maher GHANMI (TUN)
Yakup GOR (TUR)
Soner DEMIRTAS (TUR)
Ivan KUSYAK (UKR)
Vasyl MYKHAILOV (UKR)
Ali ZAKARIIEV (UKR)
Jordan Ernest BURROUGHS (USA)
Bekzod ABDURAKHMONOV (UZB)
79kg 
Fateh BENFERDJALLAH (ALG)
Engin Rashid ISMAIL(BUL)
Miroslav Donchev HRISTOV (BUL)
Zelimkhan KHADJIEV (FRA)
Nika KENTCHADZE (GEO)
Unurbat PUREVJAV (MGL)
Andrzej Piotr SOKALSKI (POL)
Vasile Madalin MINZALA (ROU)
Omaraskhab NAZHMUDINOV (ROU)
Khalil AMINOV (RUS)
Ayoub BARRAJ (TUN)
Omar MAGHRAOUI (TUN)
Muhammet Nuri KOTANOGLU (TUR)
Ender COSKUN (TUR)
Oleksii DOMANYTSKYI (UKR)
Alexander David DIERINGER (USA)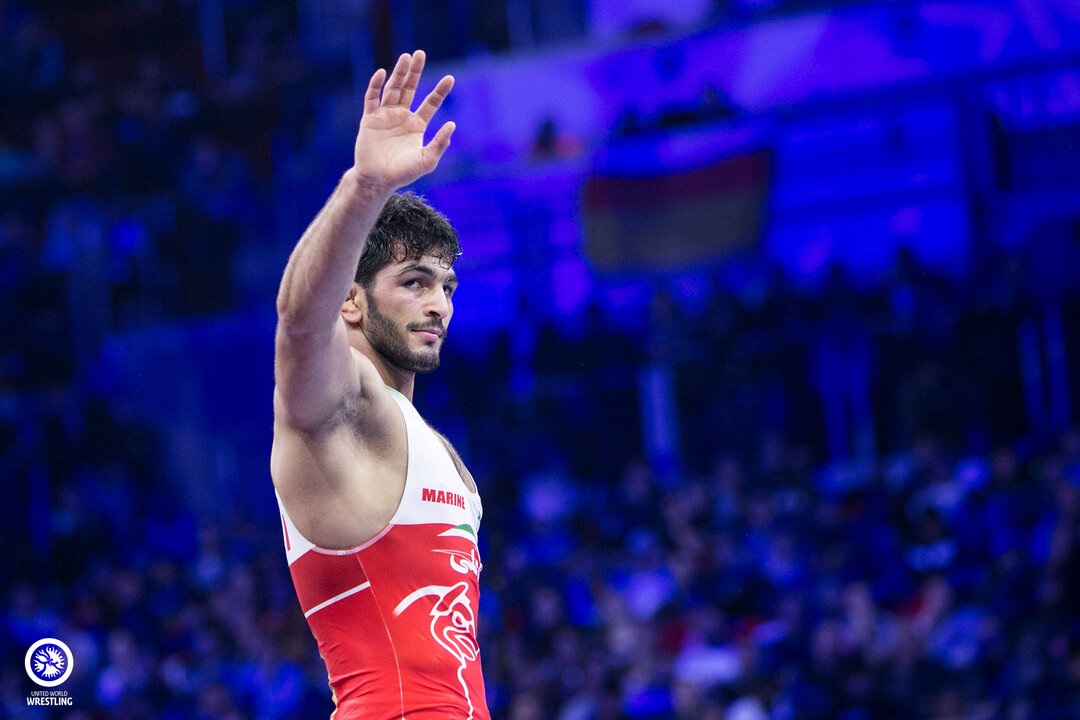 Olympic champion Hassan YAZDANICHARATI (IRI) will make his first career Ranking Series appearance next wekened in Bulgaria. (Photo: Martin Gábor) 
86kg
Meruzhan NIKOYAN (ARG)
Ali SHABANAU (BLR)
Akhmed Adamovitch MAGAMAEV (BUL)
Eduardo Ivan GAJARDO MENESES (CHI)
Ville Tapani HEINO (FIN)
Akhmed AIBUEV (FRA)
Sandro AMINASHVILI (GEO)
Ahmed Ruslanovic DUDAROV (GER)
Deepak PUNIA (IND)
Hassan Aliazam YAZDANICHARATI (IRI)
KIM Gwanuk (KOR)
LEE Yunseok (KOR)
ORGODOL Uitumen (MGL)
Halil ZUBAIROV (MKD)
Radoslaw MARCINKIEWICZ (POL)
Sebastian JEZIERZANSKI (POL)
Mihai Nicolae PALAGHIA (ROU)
Boris MAKOEV (SVK)
Osman GOCEN (TUR)
Selim YASAR (TUR)
Mraz DZHAFARIAN(UKR)
Viktor SOLOVIOV(UKR)
Nicholas Joseph HEFLIN(USA)
Abdurasul VAKHOBOV(UZB)
92kg  
Mohammed FARDJ (ALG)
Dominic Klaus PETER (AUT)
Irakli MTSITURI (GEO)
Turtogtokh LUVSANDORJ (MGL)
Michael MANEA (ROU)
Magomed Guseynovitch KURBANOV (RUS)
Ibrahim BOLUKBASI (TUR)
Suleyman KARADENIZ (TUR)
Bohdan HRYTSAY (UKR)
Riley Kent LEFEVER (USA)
Michael Justin MACCHIAVELLO (USA)
97kg 
Ricardo Adrian BAEZ (ARG)
Nikolay Simeonov CHTEREV (BUL)
Elizbar ODIKADZE (GEO)
Gennadij CUDINOVIC (GER)
Wladimir REMEL (GER)
Reza Mohammad Ali YAZDANI (IRI)
Abraham de Jesus CONYEDO RUANO (ITA)
LEE Jongku (KOR)
SEO Minwon (KOR)
Nicolai CEBAN (MDA)
ULZIISAIKHAN Batzul (MGL)
Magomedgadji Omardibirovich NUROV (MKD)
Albert SARITOV (ROU)
Igor Alekseevitch OVSIANNIKOV (RUS)
Fatih YASARLI (TUR)
Baki SAHIN (TUR)
Valerii ANDRIITSEV (UKR)
Murazi MCHEDLIDZE (UKR)
Kyle Frederick SNYDER (USA)
Ty Ryan Jack WALZ (USA)
Kevin Scott BEAZLEY (USA)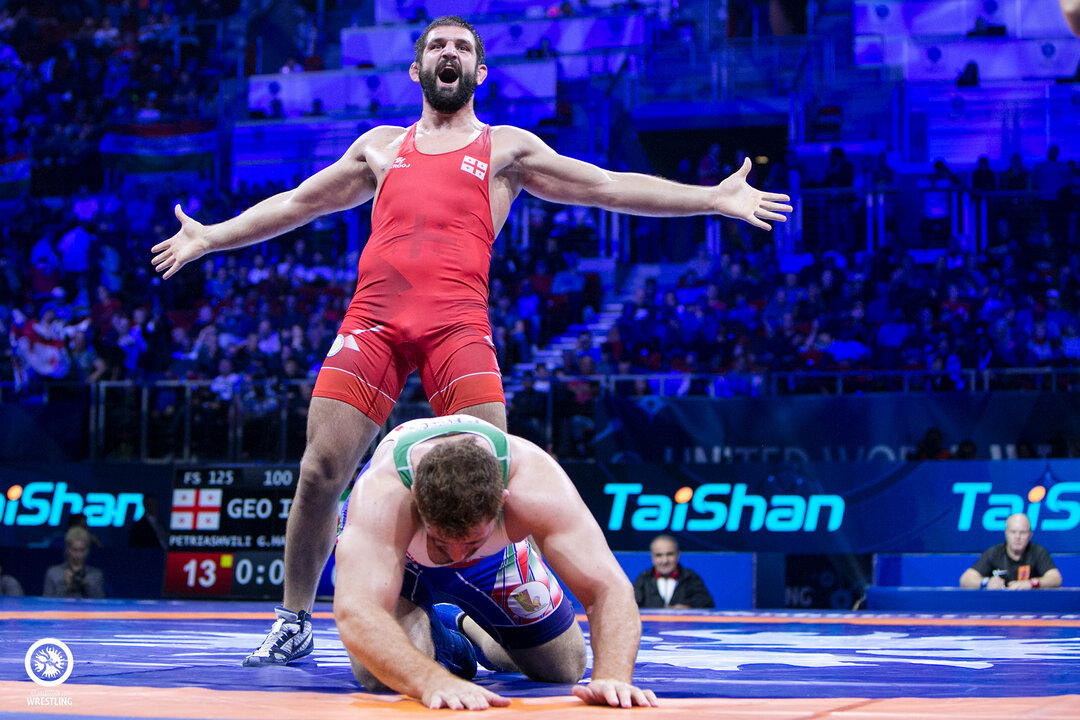 Geno PETRIASHVILI (GEO) is the lone returning world champion competing at the Dan Kolov-Nikola Petrov. He'll wrestle at 125kg. (Photo: Gábor Martin)
125kg 
Johannes LUDESCHER (AUT)
Ibrahim SAIDAU (BLR)
DENG Zhiwei (CHN)
Geno PETRIASHVILI (GEO)
Nick MATUHIN (GER)
Parviz Khodavirdi HADIBASMANJ (IRI)
KIM Donghwan (KOR)
NAM Koungjin (KOR)
NATSAGSUREN Zolboo (MGL)
MUNKHTUR Lkhagvagerel (MGL)
Robert BARAN (POL)
Vasile Vlad CARAS (ROU)
Said Gamidovitch GAMIDOV (RUS)
Zelimkhan KHIZRIEV (RUS)
Taha AKGUL (TUR)
Fatih CAKIROGLU (TUR)
Oleksandr KHOTSIANIVSKYI (UKR)
Michael Joseph KOSOY (USA)
Nicholas Edward GWIAZDOWSKI (USA)
Sardorbek KHOLMATOV (UZB)
Ibrokhim ILKHOMJONOV (UZB)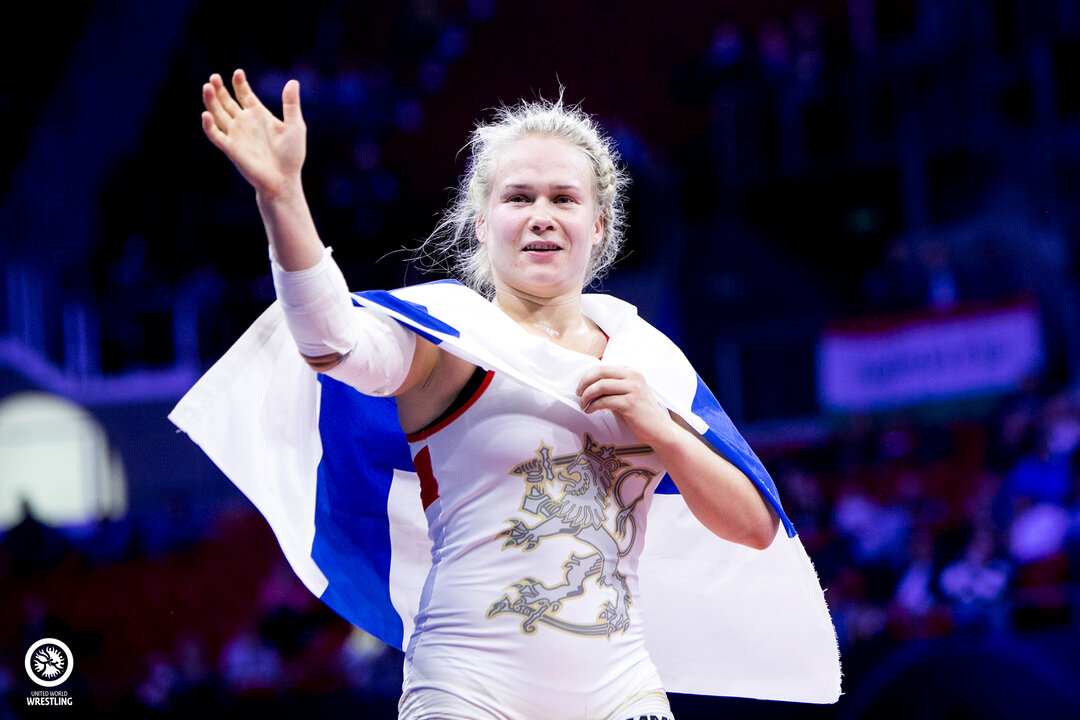 Finland's first women's wrestling world champion Petra Olli is one of three 2018 women's wrestling world champions who will be in action next weekend. (Photo: Gábor Martin)
Women's Wrestling 
50kg
Ibtissem DOUDOU (ALG)
Patricia Alejandra BERMUDEZ (ARG)
Ivana Kirilova DIMITROVA (BUL)
Elitsa Atanasova YANKOVA (BUL)
SUN Yanan (CHN)
ZHONG Yuhong (CHN)
Emanuela LIUZZI (ITA)
Miyu NAKAMURA (JPN)
OH Hyunyoung (KOR)
Emilia CIRICU-BUDEANU (MDA)
Anna LUKASIAK (POL)
Iwona Nina MATKOWSKA (POL)
Emilia Alina VUC (ROU)
Fredrika Ida PETERSSON (SWE)
Evin DEMIRHAN (TUR)
Erin Simone GOLSTON (USA)
Whitney CONDER (USA)
Victoria Lacey ANTHONY (USA)
Dauletbike YAKHSHIMURATOVA (UZB)
53kg 
Kheira Chaimaa YAHIAOUI (ALG)
Vanesa KALADZINSKAYA (BLR)
Raymyal Dzhihan ZIBEROVA (BUL)
PANG Qianyu (CHN)
DENG Juan (CHN)
Vinesh VINESH (IND)
LEE Shinhye (KOR)
Iulia LEORDA (MDA)
Silje Knutsen KIPPERNES (NOR)
Roksana Marta ZASINA (POL)
Katarzyna KRAWCZYK (POL)
Siwar BOUSETTA (TUN)
Aysun ERGE (TUR)
Lilya HORISHNA (UKR)
Iryna HUSYAK (UKR)
Amy Ann FEARNSIDE (USA)
Sarah Ann HILDEBRANDT (USA)
Aktenge KEUNIMJAEVA (UZB)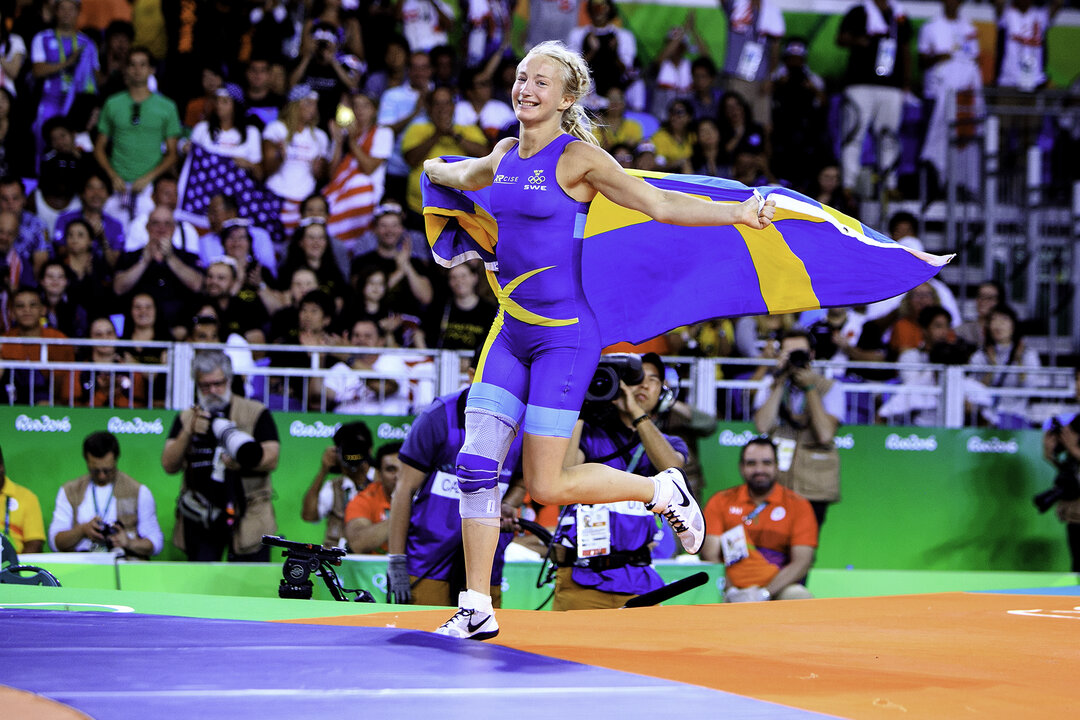 Rio bronze medalist Sofia MATTSSON (SWE) returned to world championships in Budapest after an 18-month layoff, while spending time with her newborn baby. She finished in seventh place at last year's world championships.  (Photo: Gabor Martin)
55kg
Zalina SIDAKOVA (BLR)
Evelina Georgieva NIKOLOVA (BUL)
Nina HEMMER (GER)
Maria PREVOLARAKI (GER)
Sofia Magdalena MATTSSON (SWE)
Dorssaf GHARSSI (TUN)
Faten HAMMAMI (TUN)
Eda TEKIN (TUR)
Bediha GUN (TUR)
Jacarra Gwenisha WINCHESTER (USA)
57kg 
Iryna KURACHKINA (BLR)
Katsiaryna HANCHAR YANUSHKEVICH (BLR)
Bilyana Zhivkova DUDOVA (BUL)
Mimi Nikolova HRISTOVA (BUL)
RONG Ningning (CHN)
PEI Xingru (CHN)
Lenka HOCKOVA MARTINAKOVA (CZE)
Mathilde Hélène RIVIERE (FRA)
Sandra PARUSZEWSKI (GER)
Pooja DHANDA (IND)
Sarita SARITA (IND)
Francesca INDELICATO (ITA)
Carola RAINERO (ITA)
UM Jieun (KOR)
Grace Jacob BULLEN (NOR)
Kateryna ZHYDACHEVSKA (ROU)
Sara Johanna LINDBORG (SWE)
Khouloud EL OUNI (TUN)
Tetyana KIT (UKR)
Iryna CHYKHRADZE KHARIV (UKR)
Kelsey Rene CAMPBELL (USA)
Sevara ESHMURATOVA (UZB)
59kg 
Aisuluu TYNYBEKOVA (KGZ)
Kornelija ZAICEVAITE (LTU)
Katarzyna MADROWSKA (POL)
Georgiana Narcisa FILIP (ROU)
Brenda Olivia REYNA (USA)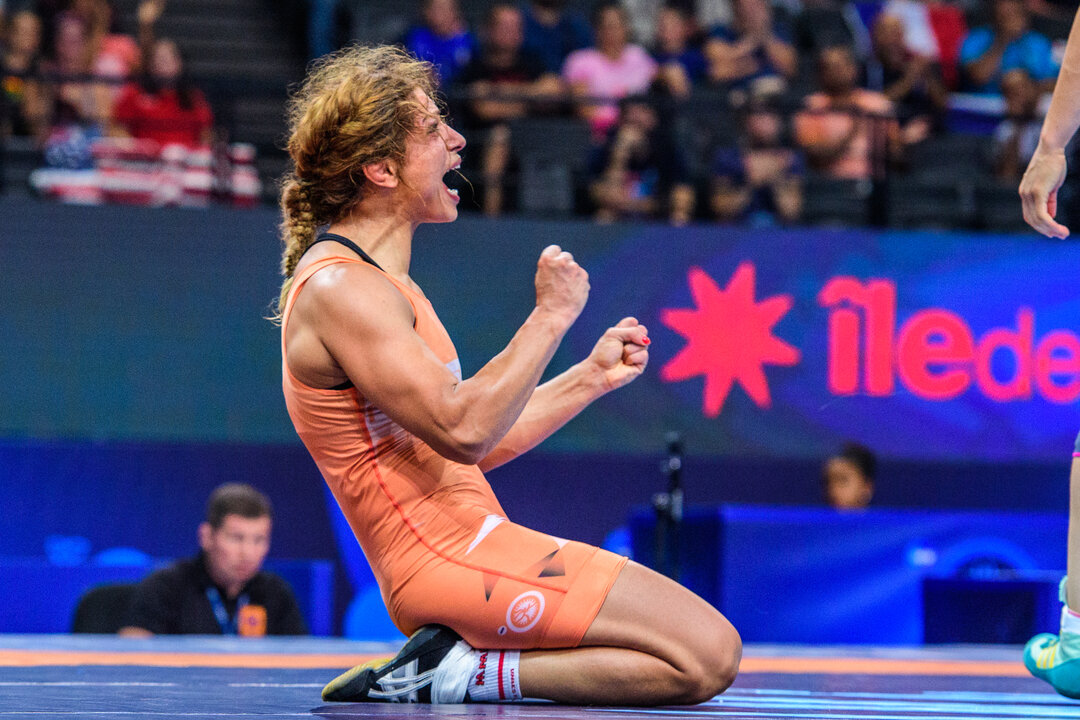 Rio Olympic bronze medalist and 2017 world runner-up Marwa AMRI (TUN) will wrestle at 62kg at the Dan Kolov-Nikola Petrov. (Photo: Tony Rotundo)
62kg 
Lina KHELLAL (ALG)
Chaimaa Fouzia AOUISSI (ALG)
Taybe Mustafa YUSEIN (BUL)
KANG Juan (CHN)
LU Na (CHN)
Luisa Helga Gerda NIEMESCH (GER)
Sakshi MALIK (IND)
Aurora CAMPAGNA (ITA)
Elena ESPOSITO (ITA)
Sara DA COL (ITA)
Jiae CHOI (KOR)
Mariana CHERDIVARA ESANU (MDA)
Jowita Maria WRZESIEN (POL)
Moa Lena Maria NYGREN (SWE)
Malin Johanna MATTSSON (SWE)
Marwa AMRI (TUN)
Derya BAYHAN (TUR)
Yuliia TKACH OSTAPCHUK (UKR)
Olena KREMZER (UKR)
Mallory Maxine VELTE (USA)
Kayla Colleen Kiyoko MIRACLE (USA)
Nabira ESENBAEVA (UZB)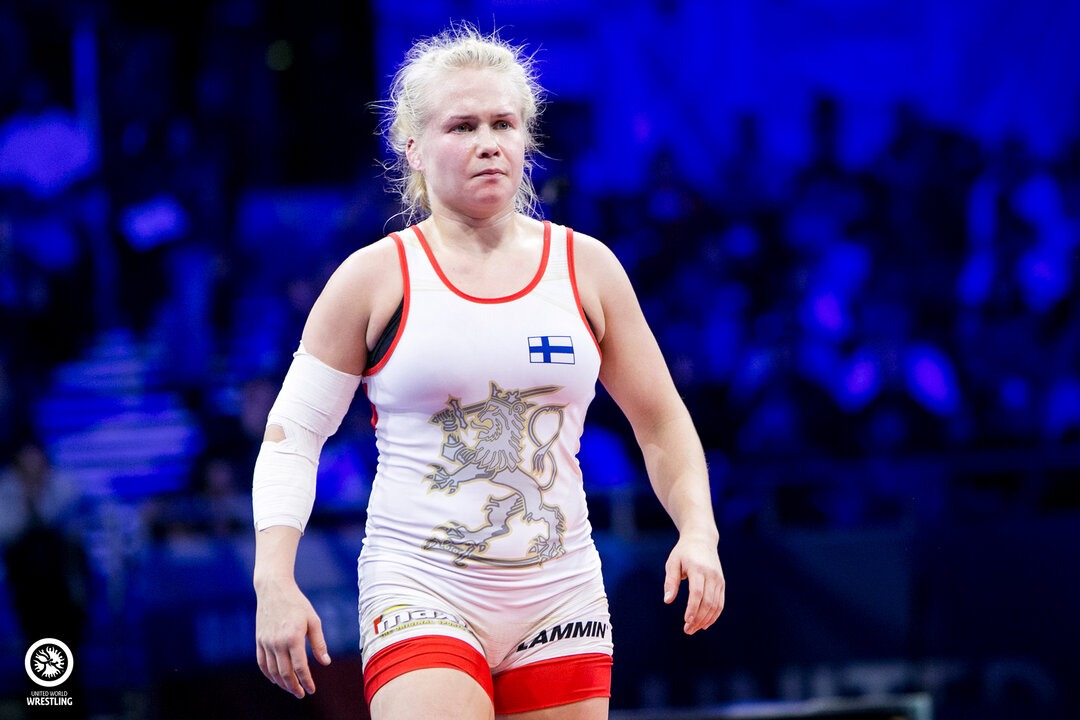 Petra OLLI (FIN) became Finland's first-ever women's wrestling world champion a year ago when she won the 65kg world title. She'll wrestle at 65kg at the Dan Kolov-Nikola Petrov. (Photo: Gábor Martin) 
65kg 
Dzhanan Filipova MANOLOVA (BUL)
Viktoria Ivanova BOBEVA (BUL)
Petra Maarit OLLI (FIN)
Adina Elena POPESCU (ROU)
Henna Katarina JOHANSSON (SWE)
Nour JELJELI (TUN)
Lilia MEJRI (TUN)
Asli TUGCU (TUR)
Tetiana RIZHKO (UKR)
Amanda Elise HENDEY (USA)
Maya Gabriella NELSON (USA)
Forrest Ann MOLINARI (USA)
68kg
Sofiya GEORGIEVA(BUL)
ZHOU Feng (CHN)
HAN Yue (CHN)
Adela HANZLICKOVA (CZE)
Eun Sun JEONG (KOR)
Danute DOMIKAITYTE (LTU)
Signe Marie Fidje STORE (NOR)
Agnieszka Jadwiga WIESZCZEK KORDUS (POL)
Rihem AYARI (TUN)
Alla CHERKASOVA (UKR)
Macey Ellen KILTY (USA)
Tamyra Mariama MENSAH (USA)
Alexandria Junis GLAUDE (USA)
Bakhtigul BALTANIYAZOVA (UZB)
72kg
Anna Carmen SCHELL (GER)
Maria SELMAIER (GER)
Meerim ZHUMANAZAROVA (KGZ)
Buse TOSUN (TUR)
Alina BEREZHNA STADNIK MAKHYNIA (UKR)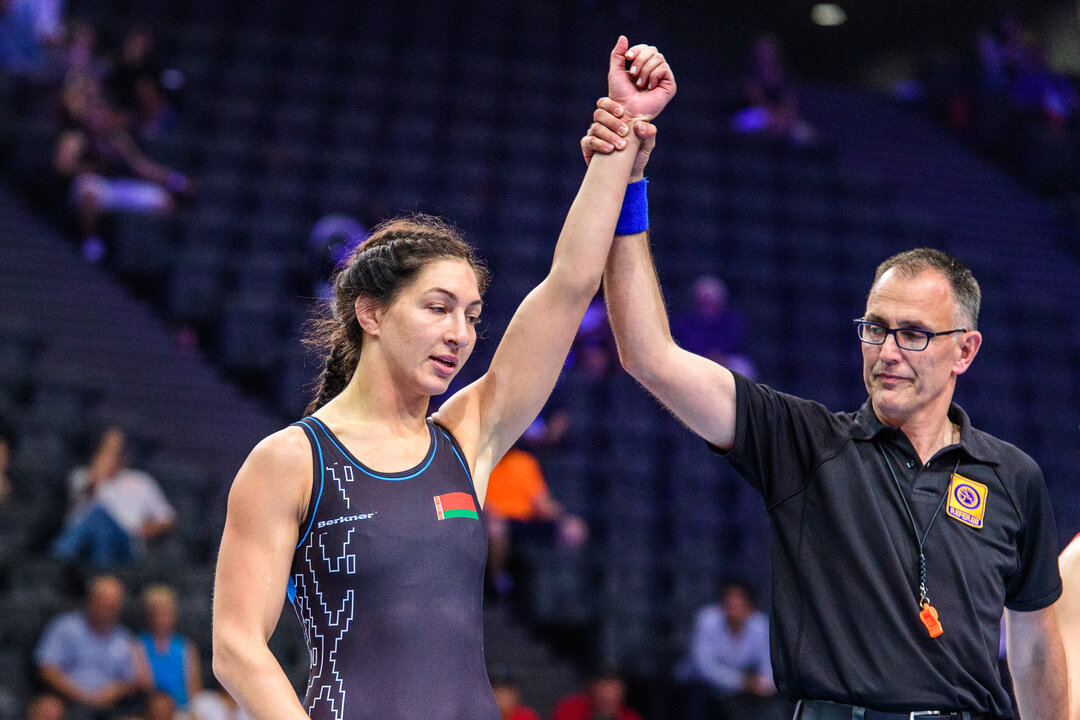 Belarus' 2017 world runner-up Vasilisa MARZALIUK is looking to get back on the podium after missing out on a medal at the Budapest World Championships. (Photo: Tony Rotundo) 
76kg 
Vasilisa MARZALIUK (BLR)
Mariya Gerginova ORYASHKOVA (BUL)
YAN Chuchu (CHN)
PALIHA Paliha (CHN)
WANG Juan (CHN)
Aline ROTTER FOCKEN (GER)
Aiperi MEDET KYZY (KGZ)
HWANG Eunju (KOR)
Greta CEPONYTE (LTU)
Kamile GAUCAITE (LTU)
Iselin Maria Moen SOLHEIM (NOR)
Daria Urszula OSOCKA (POL)
Denise Sabina MAKOTA STROEM (SWE)
Alla BELINSKA (UKR)
Shakhribonu ELLIEVA (UZB) 
February 27 (Wednesday) 
18:00 - Draw - FS - 61, 70, 79, 92kg; GR - 55, 63, 72, 82kg; WW - 55, 59, 65, 72kg
February 28 (Thursday) 
8:00 - Medical examination and weigh-in 1 - FS - 61, 70, 79, 92kg; GR (+2 kg) - 55, 63, 72, 82kg; WW - 55, 59, 65, 72kg
10:00 - Elimination rounds - FS - 61, 70, 79, 92kg; GR - 55, 63, 72, 82kg; WW - 55, 59, 65, 72kg
16:00 - Draw - FS - 57, 65, 74; GR-87 ,97, 130; WW - 62 ,68 ,76kg
16:30 - Opening ceremony
17:00 - Semifinals FS - 61, 70, 79, 92kg; GR - 55, 63, 72, 82kg; WW - 55, 59, 65, 72kg
March 1 (Friday) 
8:00 - Medical examination and weigh-in 1 - FS - 57, 65, 74; GR (+ 2 kg) - 87, 97, 130; WW - 62, 68, 76kg
8: 30 - Weigh-in 2 FS - 61,70,79, 92 kg; GR (+ 2 kg) - 55,63,72,82 kg; WW - 55,59,65, 72 kg Referee meeting
10: 00 - Elimination rounds FS - 57, 65, 74; GR - 87, 97, 130; WW - 62, 68, 76 kg
10: 00 - Repechages FS - 61, 70, 79, 92kg; GR - 55, 63, 72, 82kg; WW - 55, 59, 65, 72kg
16: 00 - Semi-finals FS - 57, 65, 74; GR - 87, 97, 130; WW - 62, 68, 76kg
17: 00 - Draw - FS - 86, 97, 125; GR - 60, 67, 77kg; WW - 50, 53, 57kg
17: 15 - Final matches and awarding ceremony - FS - 61,70,79, 92kg; GR - 55, 63, 72, 82kg; WW - 55, 59, 65, 72kg
March 2 (Satuday) 
8:00 - Medical examination and weigh-in 1 - FS - 86, 97, 125; GR (+ 2 kg) - 60, 67, 77 kg; WW - 50, 53, 57kg 
8:30: - Weigh-in 2 - FS - 57, 65, 74; GR (+ 2 kg) - 87, 97, 130; WW - 62, 68, 76kg 
10: 00 - Elimination rounds - FS - 86, 97, 125; GR - 60, 67, 77 kg; WW - 50, 53, 57kg
10:00 - Repechages - FS - 57, 65, 74; GR - 87, 97, 130; WW - 62, 68, 76kg
16:00 - Semifinals - FS 86, 97, 125kg;GR - 60, 67, 77 kg; WW - 50, 53, 57kg
17: 00 - Final matches and awarding ceremony - FS - 57, 65, 74; GR - 87, 97, 130; WW - 62, 68, 76kg
March 3 (Sunday) 
8:00 - Weigh-in 2 - FS - 86, 97, 125; GR (+ 2 kg) - 60, 67, 77kg; WW - 50, 53, 57kg
Repechages - FS - 86, 97, 125; GR (+ 2 kg) - 60, 67, 77 kg; WW - 50, 53, 57kg
Final matches and awarding ceremony - FS - 86, 97, 125; GR - 60, 67, 77 kg; WW - 50, 53, 57kg