China Grabs 2 of 3 Golds at Tokyo 2020 Test Event
Friday, October 4, 2019 - 15:19 By Ken Marantz
CHIBA, Japan (Oct.4) --- A pair of Chinese world medalists came away with two of the three golds on the second day of the Tokyo 2020 Olympics test event as organizers continued to work out the operational kinks at the Makuhari Messe venue.
WANG Xiaoqian (CHN) held on for a 2-1 victory over teenager Naruha MATSUYUKI (JPN) to take the 68kg title, while China was destined to win the 76kg gold, which went to Paliha PALIHA (CHN) when compatriot ZHOU Qian (CHN) defaulted the final. 
Rui SAKANO (JPN) took the other gold at stake on the second day of the three-day tournament by edging Atena KODAMA (JPN) 2-1 at 62kg, avenging a loss to her compatriot at last year's All-Japan Championships.
The women's tournament in the six Olympic weight classes is part of the "Ready Steady Tokyo" series of test events for all sports on the Tokyo 2020. Wrestling is one of four sports that will be held at Makuhari Messe, an international convention center located on the Tokyo Bay coast in neighboring Chiba city.
The event, which had drawn a limited number of entries coming so close to the World Championships in Kazakhstan, was open to the media for the first and only time on Friday. No spectators, other than invited guests, have been allowed, and the only sounds outside of the mat echoing in the cavernous hall are shouts from coaches and teammates.
In line with the first day of finals, medal ceremonies were held for the three weight classes on one of the three mats. The medalists stepped up to a single-level medal stand placed on a red carpet and bearing the "Ready Steady Tokyo" logo. Volunteers brought out the medals on cafeteria trays, and a wrestling dignitary placed them around the winners' necks. No national anthems were played.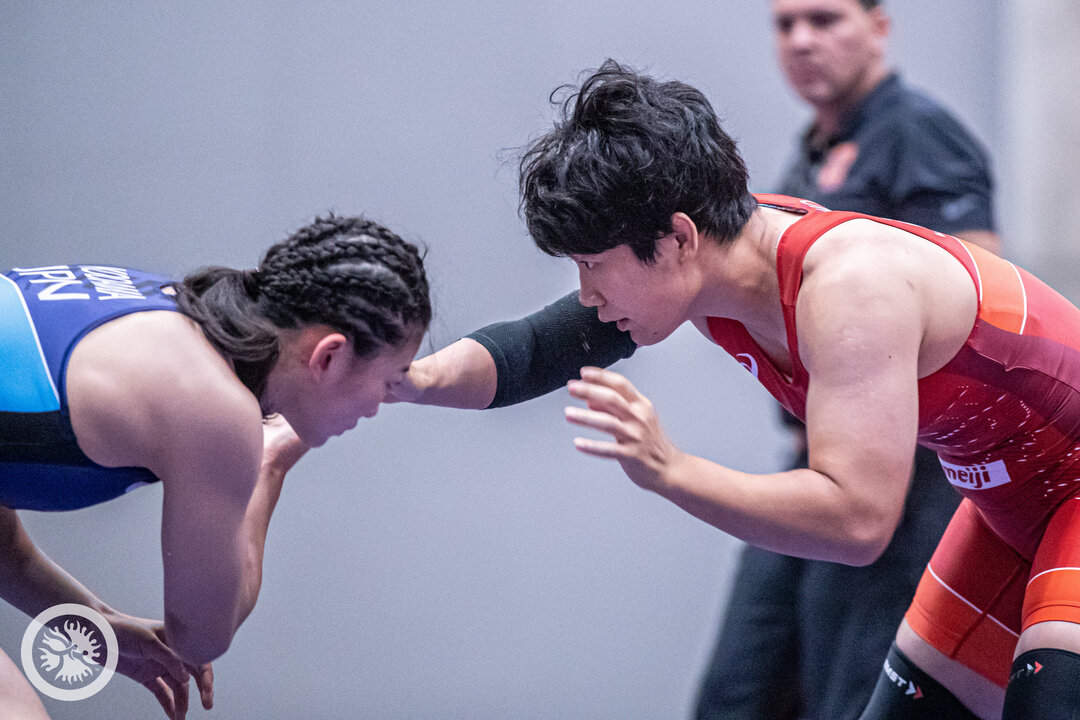 Rui SAKANO (JPN) edged Atena KODAMA (JPN), 2-1, in the 62kg finals. (Photo: Sachiko Hotaka)
Sakano, a 2017 world U23 champion, became the first gold recipient after her victory over 2018 world junior champion Kodama, in which she scored both of her points with Kodama on the activity clock. Kodama earned a point for fleeing in the final seconds.
"It's possible I'll face her again in a national competition this year," said Sakano, who defeated world 59kg bronze medalist PEI Xingru (CHN) in the semifinals on Thursday. "I'm just trying to put out on the mat what I work on practice."
With world bronze medalist Yukako KAWAI (JPN) having clinched a spot at Tokyo 2020 and almost surely planning to skip the Emperor's Cup All-Japan Championships in December, Sakano knows the door is open to reach her most immediate goal.
"I still haven't become the national champion at 62kg," said Sakano, who also won a gold at the Rio 2016 test event. "What I most regret [in the final] is that I wasn't aggressive. I'll work on fixing that heading toward the Bill Farrell [Memorial International] in New York and the Emperor's Cup in December, and hopefully that will bring me a national title." 
The bronze medals went to LUO Xiaojuan (CHN), who received a victory by default over Pei, and European U23 champion Ilona PROKOPEVNIUK (UKR), who stormed to a 10-0 technical fall over Anna SHCHERBAKOVA (RUS).
Wang, a bronze medalist in Nur-Sultan at 65kg, had eased into the 68kg final with victories by technical fall and fall, but was hampered by the onset of stomach cramps against world junior champion Matsuyuki and had to make a first-period takedown stand up for a 2-1 win.
"I was thinking to attack more and get more points," Wang said. "But because of [my condition] I couldn't really do that."
Wang said she felt fine about competing so soon after the World Championships. 
"There's no problem because it was so close, because I am ready for all competitions," she said. 
Taking home the bronzes were Alina RUDNYTSKA (UKR), who rode a 4-point first-period cradle to a 4-3 win over Alexandra GLAUDE (USA), and Rin MIYAJI (JPN), who rallied to defeat Alena STARODUBTSEVA (RUS), 9-6
While there was no match to decide the gold at 76kg, one bronze-medal playoff was an intriguing match-up of generations.
Justina DI STASIO (CAN), a 2018 world champion, defeated Yasuha MATSUYUKI (JPN) in one of the 76kg bronze-medal matches. (Photo: Sachiko Hotaka)
Justina DI STASIO (CAN), the 2018 world champion at 72kg, had her hands full with teenager and world junior bronze medalist Yasuha MATSUYUKI (JPN) before coming away with a 3-0 win.
Di Stasio gained a first-period point with Matsuyuki---Naruha's twin sister---on the activity clock, then scored a single-leg takedown in the second.
"I didn't know she was so young and then the match starts and you hear, 'a 26-year-old versus a 19-year-old' and I was like, 'Man, I hope I do good against the 19-year-old,'" Di Stasio said. "She's long, super long, so it was like trying to stay patient and not take bad, bad shots--which I did once--but I came out of it."
Di Stasio, who gave up a last-second takedown to lose 2-2 to Zhou in the semifinals, had missed out on a place at the World Championships to Rio 2016 Olympic champion Erica WIEBE (CAN). 
With two months to prepare to challenge Wiebe for the Tokyo 2020 spot at the Canadian trials in December, she sees making the trip to compete at the Olympic venue as invaluable. 
"It just makes it so real," Di Stasio said. "You come here and you see it all and you're competing in the place [for the Olympics]. It was pretty real before I came here, but to be here and know what it's like. You can very much visualize what you're training for.
"It is a long trip, and it's a quick trip. But it was important. I didn't go the World Championships….Watching all that stuff was a lot of emotions, too. Just trying to focus through stuff, which is something I don't get at practice all the time. The tournament environment is totally different so it was completely worth coming out here."
Winning the other 76kg bronze was Romana VOVCHAK (UKR), who defeated Mizuki NAGASHIMA (JPN) by fall in 3:19.
In the morning session, the qualification rounds (actually mainly quarterfinals as all weight classes have only eight or nine entries) were held for the remaining three divisions, which were more notable for who did not wrestle than who did. 
Two world medalists in Olympic weight classes in Nur-Sultan, RONG Ningning (CHN) and PANG Qianyu (CHN), as well former Olympic medalist SUN Yanan (CHN), all were entered in the tournament, but without the intention of actually taking part. As such, their opponents were awarded victories by default. 
"They were very tired and had some injuries," said a team spokesperson. "We didn't suppose they would participate."  
Venue manager Yasukazu Fujimori was sympathetic of the Chinese wrestlers.
"This is a test event, it's not a championship, it's not a ranking event," Fujimori said. "The Chinese athletes who were at the World Championships in Kazakhstan have fatigue, and this tournament doesn't really mean anything, so I understand their feelings about canceling." 
Still, there were enough good matches to go around, resulting in two Japan-China finals and one all-Japan clash to be held on the final day Saturday.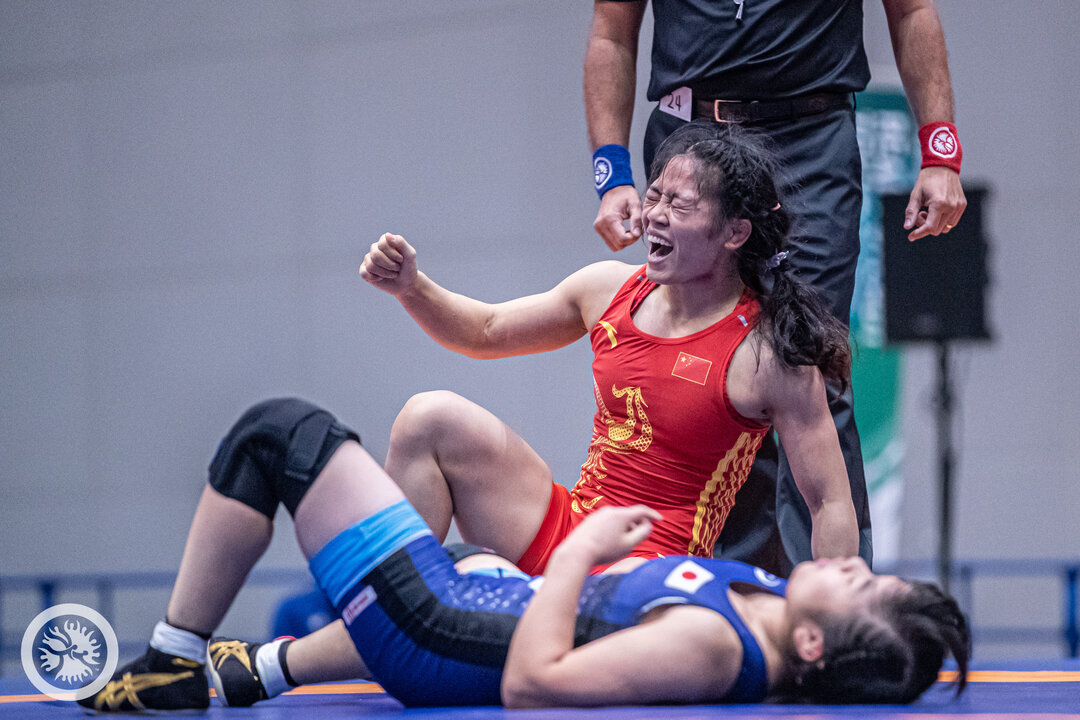 LEI Chun (CHN) secured her spot in the 50kg finals with a pair of technical superiority wins. She'll wrestle Miu SHIMIZU (JPN) in the gold-medal bout. (Photo: Sachiko Hotaka)
At 50kg, 2018 Asian champion LEI Chun (CHN) advanced to the gold-medal match with a pair of technical falls, beating Daria LEKSINA (RUS) 13-2 and Remina YOSHIMOTO (JPN) 14-4, the latter by scoring a takedown and six consecutive ankle-lock rolls. 
Lei will face Miu SHIMIZU (JPN), who won by fall over world junior bronze medalist Mariia VYNNYK (UKR) and 12-2 technical fall over Chihiro SAWADA (JPN). Sawada had received the default from Sun.
The 53kg final will pit LUO Lannuan (CHN) against Umi IMAI (JPN). Luo, a 2018 Asian bronze medalist, won by default over Pang, then ousted 2018 world U23 and junior champion Saki IGARASHI (JPN) 7-1. Imai, a 2018 world junior champion, topped Katherine SHAI (USA) 10-2 before edging Ibuki TAMURA (JPN) 5-4.
Compatriots Sena NAGAMOTO (JPN) and Yumeka TANABE (JPN) will duel for the 57kg title. Nagamoto, recipient of the default from Rong, knocked off Asian 59kg bronze medalist ZHANG Qi (CHN) 2-0 in the semifinals. Tanabe chalked up victories over Khadizhat MURTUZALIEVA (RUS) and 2018 world junior champion Hanako SAWA (JPN). 
Day 2 results
Women's Wrestling
50kg (8 entries)
Semifinal – LEI Chun (CHN) df. Remina YOSHIMOTO (JPN) by TF, 14-4, 4:16
Semifinal – Miu SHIMIZU (JPN) df. Chihiro SAWADA (JPN) by TF, 12-2, 5:24 
53kg (9 entries)
Semifinal – LUO Lannuan (CHN) df. Saki IGARASHI (JPN), 7-1
Semifinal – Umi IMAI (JPN) df. Ibuki TAMURA (JPN), 5-4 
57kg (8 entries)
Semifinal – Sena NAGAMOTO (JPN) df. ZHANG Qi (China), 2-0
Semifinal – Yumeka TANABE (JPN) df. Hanako SAWA (JPN) by TF, 14-4, 5:36 
62kg (8 entries)
Gold – Yui SAKANO (JPN) df. Atena KODAMA (JPN), 2-1
Bronze – LUO Xiaojuan (CHN) df. PEI Xingru (CHN) by Def.
Bronze – Ilona PROKOPEVNIUK (UKR) df. Anna SHCHERBAKOVA (RUS) by TF, 10-0, 4:04 
68kg (8 entries)
Gold – WANG Xiaoqian (CHN) df. Naruha MATSUYUKI (JPN), 2-1 
Bronze – Alina RUDNYTSKA (UKR) df. Alexandra GLAUDE (USA), 4-3
Bronze –Rin MIYAJI (JPN) df. Alena STARODUBTSEVA (RUS), 9-6
76kg (9 entries)
Gold – Paliha PALIHA (CHN) df. ZHOU Qian (CHN) by Def.
Bronze – Romana VOVCHAK (UKR) df. Mizuki NAGASHIMA (JPN) by Fall, 3:19 (3-0)
Bronze – Justina DI STASIO (CAN) df. Yasuha MATSUYUKI (JPN), 3-0