Chamizo Closes Out Sassari With Gold in Home Country
Saturday, May 25, 2019 - 19:18 By Eric Olanowski
SASSARI, Italy (May 25) – Frank CHAMIZO (ITA) capped off his run to a Sassari title in front of his home nation with a 6-4 come-from-behind win over tenth-ranked Daniyar KAISANOV (KAZ) in what was a battle of reigning 74kg continental champions. 
Chamizo used the support from the ruckus Italian crowd to push him past Kaisanov in the finals. "I'm so happy for (the fans). They support me; I needed that. I love the fans." 
The Italian, who won the European Championships last month in Bucharest, Romania, found himself in a four-point hole against the reigning Asian champion after he surrendered a takedown and a leg lace -- but closed the Kazakh wrester's lead to two points with a takedown of his own before the ending whistle of the first period sounded. 
In the second period, Chamizo picked up his offensive attack rate and gained the lead on criteria with an early two. The two-time world champion tacked on his second takedown of the period and third overall to take the 6-4 advantage into the final 30 seconds. The Italian fought off several attacks and hung on to win his first career Sassari gold medal, improving on his eighth-place finish from 2014. 
Chamizo also grabbed a massive come-from-behind win over 2014 world champion Khetik TSABOLOV (RUS) in the semifinals. The Italian erased a three-point second-period deficit by scoring a pair of takedowns to upend Russia's 2017 world runner-up, 5-4.
After the match, Chamizo said, "I'm focused. I'm not joking. That's it, guys. I don't want to talk about wins or loses. I want talk about training and staying focused." 
Chamizo entered the Sassari as the fourth-ranked wrestler in the world with 56 points and will jump Avtandil KENTCHADZE (GEO) and Jordan Ernest BURROUGHS (USA) after collecting 16 points for his gold-medal performance on Saturday. "I think competing is important. The reason for me competing is I need the points for the rankings," said Chamizo. The Italian superstar will be the No. 2-ranked wrestler at 74kg sits four points behind reigning world champion Zaurbek SIDKOV (RUS) who has 76 points. 
In his finals interview, Chamizo said he plans to wrestle at the final Ranking Series event of the year, the Yasar Dogu. Depending on if Sidakov shows up and Chamizo medals, the Italian could head into the World Championships as the No. 1 seeded wrestler in the world.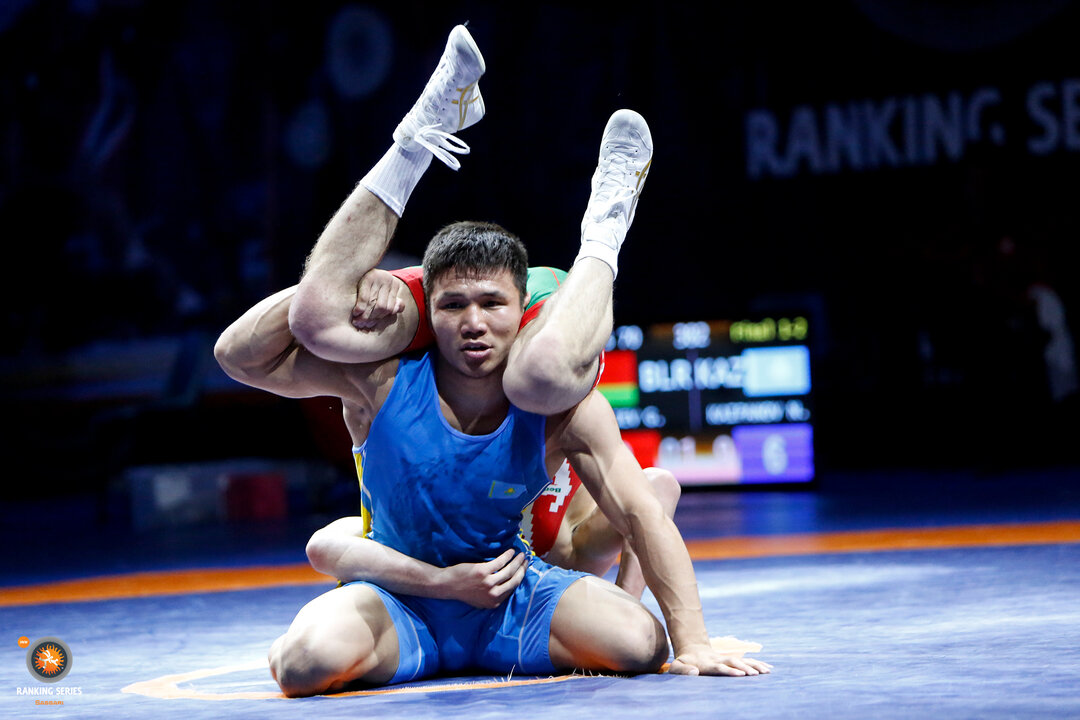 Nurkozha KAIPANOV (KAZ)  was one of two wrestlers from Kazakhstan who won a Sassari gold medal on Saturday night. (Photo: Gabor Martin) 
Kazakhstan Wins Team Titles with Seven Medalists 
Kazakhstan, who had seven medalists, won the team title 15 points ahead of second place Russia. Rassul KALIYEV and Nurkozha KAIPANOV were Kazakhstan's two champions. They also won two silvers and three bronzes. 
Though he lost in the 61kg gold-medal bout, Rassul Kalyev was named champion after Iran's Mohammadbagher YAKHKESHI got disqualified for failure to comply with United World Wrestling medal ceremony rules. In the 61kg Nordic-style bracket, Yakheshi closed out his day with a 4-1 record, including a 7-2 win over Rassul Kaliyev in the gold-medal bout – but the Iranian's gold medal got revoked during the medal presentation ceremony for failure to cooperate with United World Wrestling's medal ceremony procedures. 
Yakhkeshi took the podium not wearing the approved medal ceremony clothing. According to United World Wrestling's rule book, wrestlers have to wear their countries tracksuit on the podium to receive their medal. Yakhkeshi, who was wearing short sleeves, was asked several times to comply with the rules but failed to do so, among many other things, which resulted in disqualification.
Therefore, Kalyev, Uladzislau ANDREYEU (BLR), and Rahul AWARE (IND) received bumps and finished in first through third, respectively. 
Kazakhstan's second champion came at the 70kg, where Nurkozha Kaipanov blanked George KOLIEV (BLR), 6-0 in the gold-medal match. Kaipanov scored two takedowns and a pair of stepouts to win his first career Ranking Series gold medal.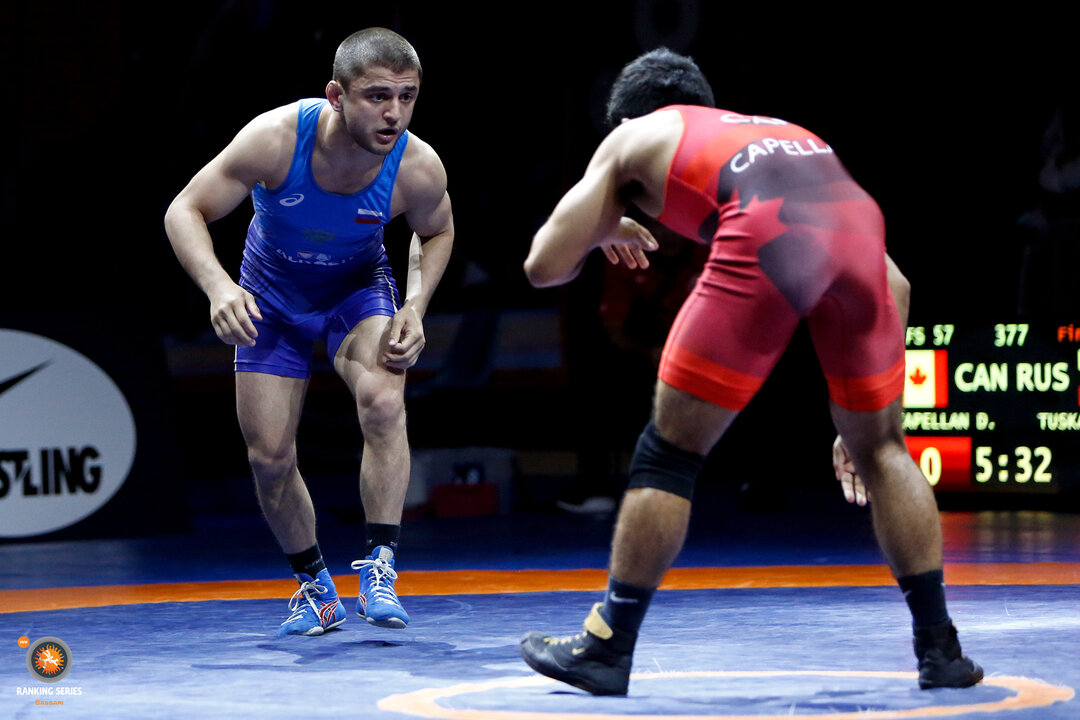 Azamat TUSKAEV (RUS) only needed 77 seconds to pick up the fall over Canada's Darthe CAPELLAN's (Photo: Gabor Martin)
Russia Wins Three Freestyle Golds; Finished Second in Team Race 
The Russian Federation finished in second place as a team with 147 points with three champions. Their three champions were Azamat TUSKAEV (RUS), Khalil AMINOV (RUS), and Pavel KRIVTSOV (RUS). 
The 57kg finals match was short lived and only lasted 77 seconds. Azamat Tuskaev scored a counter-offensive takedown off of Darthe CAPELLAN's (CAN) double leg attempt, then quickly locked up a cradle and stuck the Canadian wrestler. 
Khalil Aminov gave Russia their second gold medal of the night with a 6-2 win over Galymzhan USSERBAYEV (KAZ). Aminov scored a pair of one-point stepouts and picked up a four-point double leg to win the 79kg gold-medal bout, 6-2. 
Russia's third champion came at 125kg when Pavel Krivtsov scored a takedown with 1.7 seconds to defeat Daniel LIGETI (HUN). Krivtsov gained the 4-4 lead on criteria, then added a point for a failed Hungarian challenge and counter-offensive takedown as time expired to beat Ligeti, 7-4.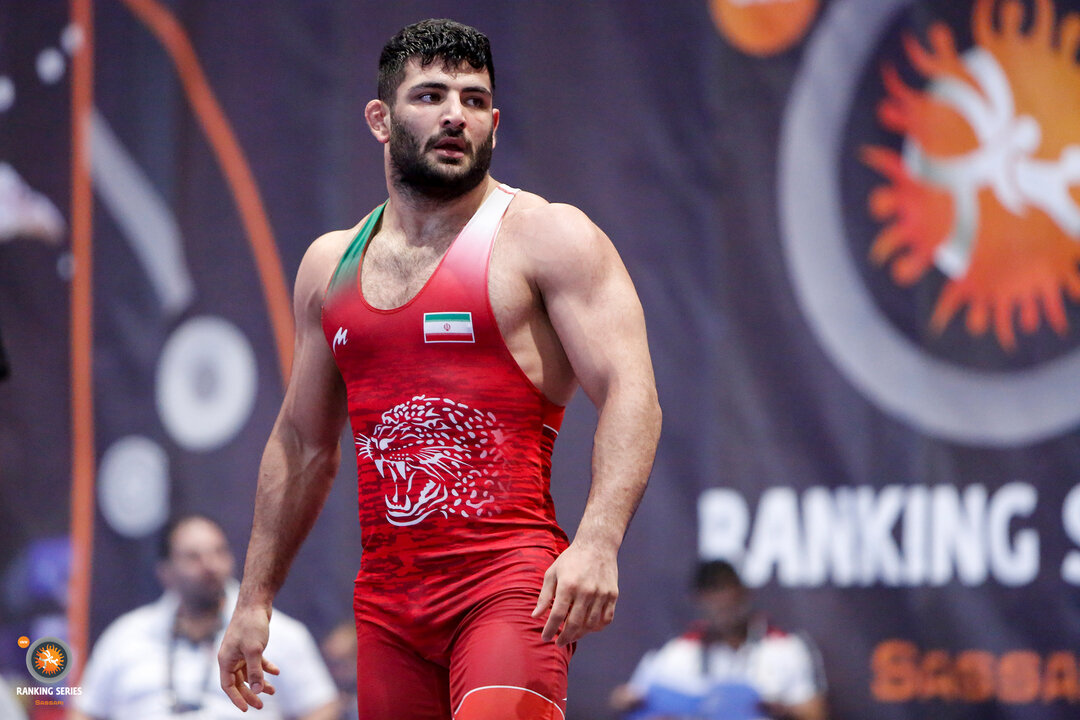 Alireza KARIMIMACHIANI (IRI) was one of the three Iranian champions. (Photo: Gabor Martin) 
Karami Leads Iran To Third-Place Finish  
Had it not been for Mohammadbagher Yakheshi's 61kg gold medal getting revoked while he was on the podium, Iran would have had won four gold medals on Saturday. Either way, Ahmad BAZRIGHALEH (IRI), Alireza KARIMIMACHIANI (IRI), Hamed TALEBIZARRINKAMAR (IRI), won back-to-back-to-back titles at 86kg, 92kg, and 97kg respectively and helped Iran finish third as a team. 
In the 86kg finals, Ahmad Bazrighaleh pulled off the most improbable comebacks of the tournament, defeating Kazakhstan's Azamat DAULETBEKOV in a 29-point shootout. Bazrighaleh was in danger of giving up a technical superiority win when his Kazakh opponent led 10-2 after the first period –- but the Iranian fought back and scored 17 unanswered points, outlasting Dauletbekov, 19-10.  
In the 92kg finals, returning world bronze medalist Alireza Karimimachiani muscled around Russia's Batyrbek TCAKULOV (RUS) and captured the gold medal with a 7-2 victory. Karimimachiani scored his seven points off an exposure, three stepouts and a pair of brutality points. 
Hamed Talebizarrinkamar efficiently handled fellow Iranian Abbas Ali FOROUTANRAMI (IRI), 8-0 in the 97kg finals and won his first international gold medals since the 2011 Junior World Championships.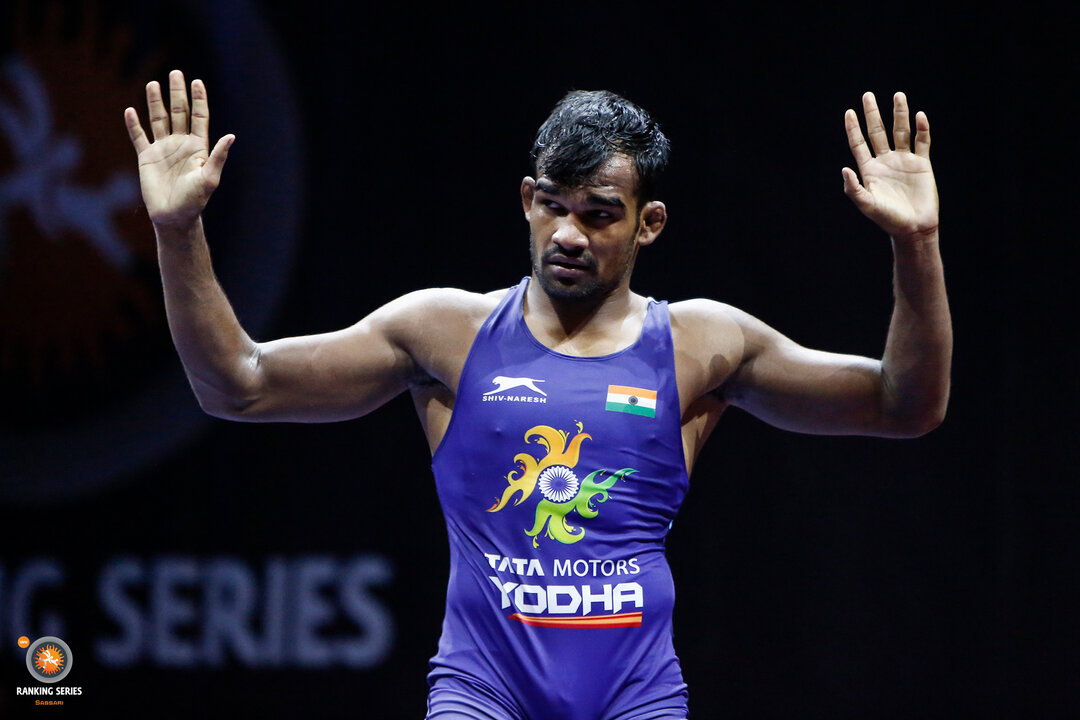 Sonba GONGANE (IND) was down 6-1 and came back to beat No. 16 Magomedrasul IDRISOV (RUS), 9-8. (Photo: Gabor Martin)

Gongane Wins 65kg Title After Being Down 6-1
In one of the most exciting matches of the night, India's Sonba GONGANE (IND) scored the 9-8 come-from-behind win over Russian Ivan Yariguin champion and 16th-ranked Magomedrasul IDRISOV in the 65kg gold-medal bout. 
Gongane trailed 6-1 at one point in the match, but continued to claw back, and ultimately gained the 7-6 outright lead with 120 seconds left. The Indian again found himself behind when the Russian picked up a takedown - but Gongane stayed on the attack and picked up a pair of one-point exchanges to win the match, 9-8.
Wrestling resumes tomorrow with the Sardinia Beach Wrestling Matteo Pellicone Memorial. 
TEAM SCORES
GOLD – Kazakhstan (162 points)
SILVER – Russia (147 points)
BRONZE – Iran (111 points)
Fourth - India (90 points) 
Fifth – Canada (73 points)
57kg
GOLD - Azamat TUSKAEV (RUS) df. Darthe CAPELLAN (CAN), via fall 
BRONZE - Nader Ahmad HAJIAGHANIASAMAKOUSHI (IRI) df. Changjun PARK (KOR), 6 - 0
BRONZE - Givi DAVIDOVI (ITA) df. Patrick James HEBREARD (USA), 10-0 
61kg
GOLD - Rassul KALIYEV (KAZ) 
SILVER -  Uladzislau ANDREYEU (BLR)
BRONZE - Rahul AWARE (IND) 
65kg 
GOLD – Sonba Tanaji GONGANE (IND) df. Magomedrasul IDRISOV (RUS), 9-8 
BRONZE – Sayatbek OKASSOV (KAZ) df. Harphool HARPHOOL (IND), 14-3 
BRONZE - Junsik YUN (KOR) df. Quentin Jean-René STICKER (FRA), 5-0 
70kg
GOLD - Nurkozha KAIPANOV (KAZ) df. George KOLIEV (BLR), 6-0 
BRONZE - Yones Aliakbar EMAMICHOGHAEI (IRI) df. Mihail Iliev GEORGIEV (BUL), 10-0 
BRONZE - Batyr BORJAKOV (TKM) df. Fares LAKEL (ALG), 9-4 
74kg
GOLD - Frank CHAMIZO MARQUEZ (ITA) df. Daniyar KAISANOV (KAZ), 6-4 
BRONZE - Miroslav Stefanov KIROV (BUL) df. Amit Kumar DHANKHAR (IND), 11-0
BRONZE - Khetik TSABOLOV (RUS) df. Andrei KARPACH (BLR), 12-6 
79kg 
GOLD - Khalil AMINOV (RUS) df. Galymzhan USSERBAYEV (KAZ), 6-2 
BRONZE - Fateh BENFERDJALLAH (ALG) df. Parveen RANA (IND), via fall 
BRONZE - Dmytrii TKACHENKO (UKR) df. Sahergeldi SAPARMYRADOV (TKM), via fall
86kg 
GOLD - Ahmad Yousef BAZRIGHALEH (IRI) vs. Azamat DAULETBEKOV (KAZ), 19-10 
BRONZE -  Akhmed AIBUEV (FRA) df. Dovletmyrat ORAZGYLYJOV (TKM), 14 - 4
BRONZE - Deepak PUNIA (IND) df. Boris MAKOEV (SVK)
92kg (Single Bronze) 
GOLD - Alireza KARIMIMACHIANI (IRI) df. Batyrbek TCAKULOV (RUS), 8-4
BRONZE -  Arashk Mohammadkazem MOHEBI (IRI) vs. Nurgali NURGAIPULY (KAZ), 7-3  
97kg 
GOLD - Hamed Delavar TALEBIZARRINKAMAR (IRI) df. Abbas Ali FOROUTANRAMI (IRI), 8-0 
BRONZE - Abraham de Jesus CONYEDO RUANO (ITA) df. Bakdaulet ALMENTAY (KAZ), 2 - 0
BRONZE - Igor Alekseevitch OVSIANNIKOV (RUS) df. Batzul ULZIISAIKHAN (MGL)
125kg 
GOLD - Pavel KRIVTSOV (RUS) df. Daniel LIGETI (HUN), 7-4 
BRONZE - Oleg BOLTIN (KAZ) df. Grant Michael ROBINSON (USA), 12-0 
BRONZE - Frédérick CHOQUETTE (CAN) df. Aly BARGHOUT (CAN), 3-0