Zhou Erases Eight-Point Deficit, Downs World Champ Mensah
Thursday, January 16, 2020 - 20:17 By Eric Olanowski
ROME, Italy (January 16) --- It's no secret that ZHOU Feng (CHN) was the underdog coming into her Matteo Pellicone finals against reigning world champion Tamyra MENSAH (USA), and though she fell behind by eight points, she remained composed enough to erase an 8-0 second-period deficit to win the 68kg gold medal. Zhou's shocking win stopped Mensah, the 2019 Women's Wrestler of the Year, from winning her fourth consecutive Ranking Series title.
"For the first period, I didn't feel prepared or ready, but I didn't give up," said Zhou. At that point of the match, Zhou surrendered three takedowns and a trapped arm gut and trailed 8-0. "I was thinking the match is not finished and I didn't give up." 
Zhou, a two-time world medalist, kickstarted her unexpected comeback with two points from a defensive stop, which ended in a takedown. She tacked on six additional points from three gut wrenches and closed out the match on top, 8-8. 
After her remarkable come-from-behind win, Zhou said, "I'm happy and excited. From this competition, most of (these wrestlers) will participate in the Olympic Games, so to get the gold medal makes me very happy."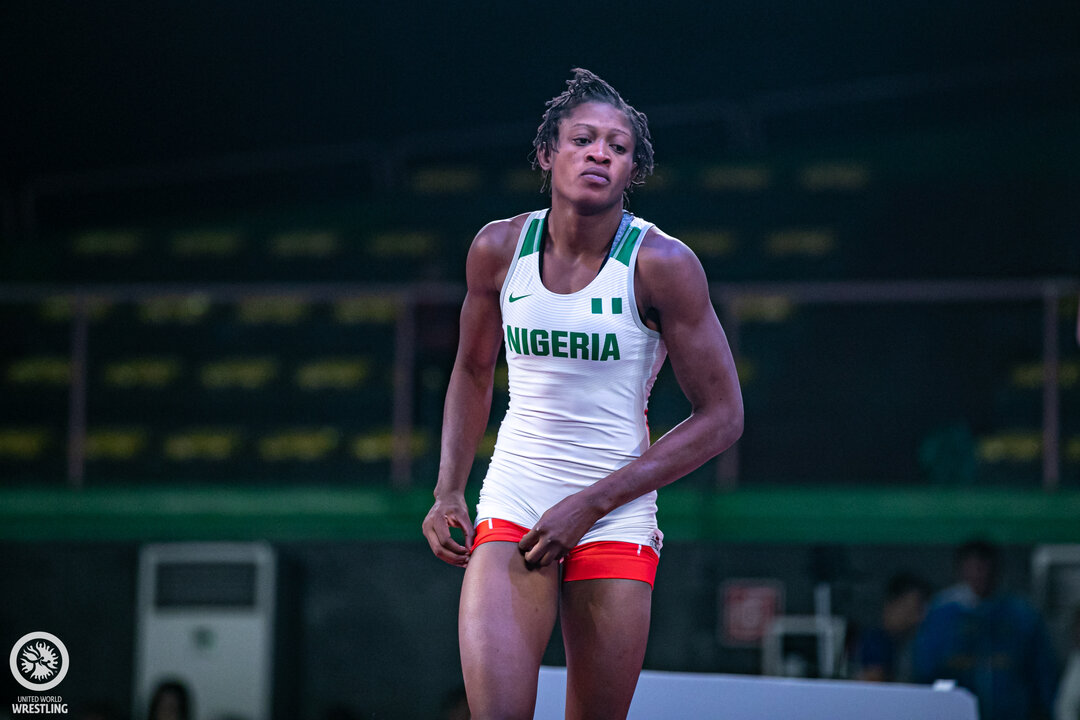 Odunayo ADEKUOROYE (NGR) downed Anshu ANSHU (IND), 10-0, in the 57kg finals. (Photo: Kadir Caliskan)
At 57kg, a friendly wager between two presidents sparked three-time world medalist Odunayo ADEKUOROYE (NGR) past Anshu ANSHU (IND) for the gold medal. Understanding the wager was a joke, and with a smile on her face, the long and lengthy Adekuoroye said, "Before the match, my president and one other president had a bet that I'd maybe lose to (Anshu). So, I told him to keep calm; I'm ready for the match. I'm happy to make him proud." 
The Nigerian, who was last year's world bronze medalist at 57kg, quickly handled Anshu in the finals, 10-0. She scored an early takedown off a single leg, then picked up eight straight points off exposures – six of which came from a match-ending leg lace.
"I came here to win a gold medal. For me, it's not like a surprise, and I look forward to some matches again."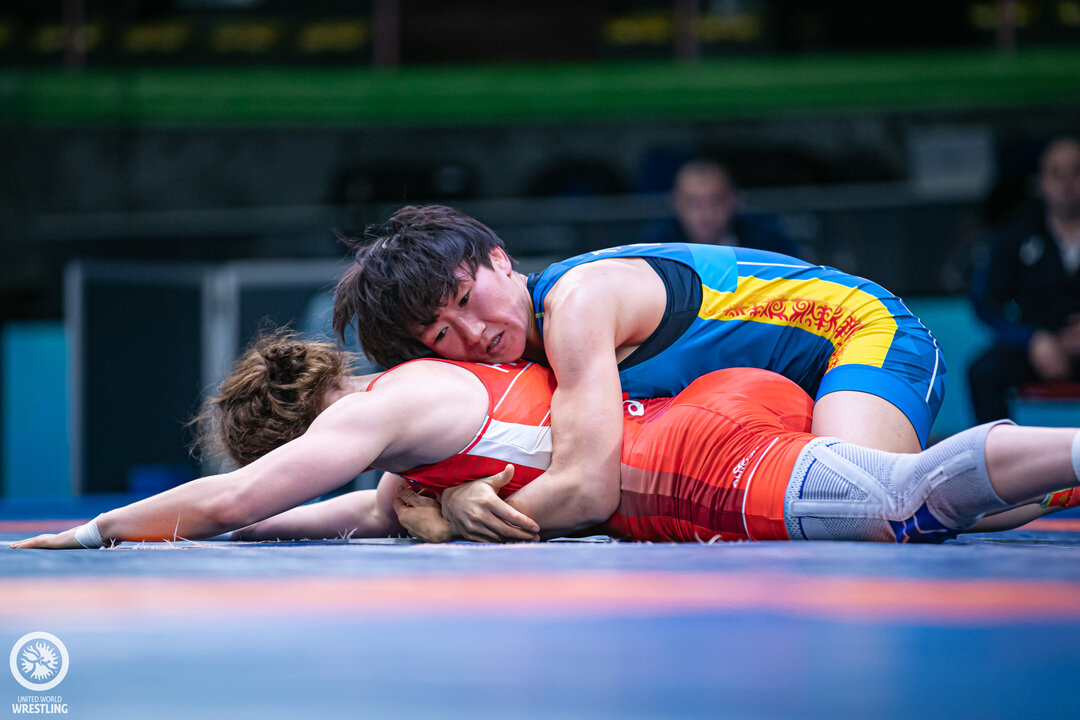 Aisuluu TYNYBEKOVA (KGZ) fought through illness to win the 62kg title. (Photo: Kadir Caliskan)
Even though the reigning world champion Aisuluu TYNYBEKOVA (KGZ) has been fighting through a nasty illness since the start of the year, she decided to still compete at the Matteo Pellicone. "At the beginning of this year, I got sick and ill, so I wasn't 100% ready for the competition," Tynybekova said. "And, actually, before this final, my coach thought I should not go on the mat because of my illness."
But, midway through today's session, she felt strong enough to compete in the medal-match session. And luckily for her, she didn't have to wrestle the entire six minutes. 
She only wrestled for just over a period – three minutes and 16 seconds to be exact -- and after leading 7-2, was awarded the gold medal when 2019 world silver medalist Liubov OVCHAROVA (RUS) broke her nose in the second period and injury defaulted out of the finals.  
"In the final match, I didn't give my 100%. In my mind, I planned on keeping my energy and strength to wrestle for the two periods. But, accidentally, my Russian opponent couldn't continue."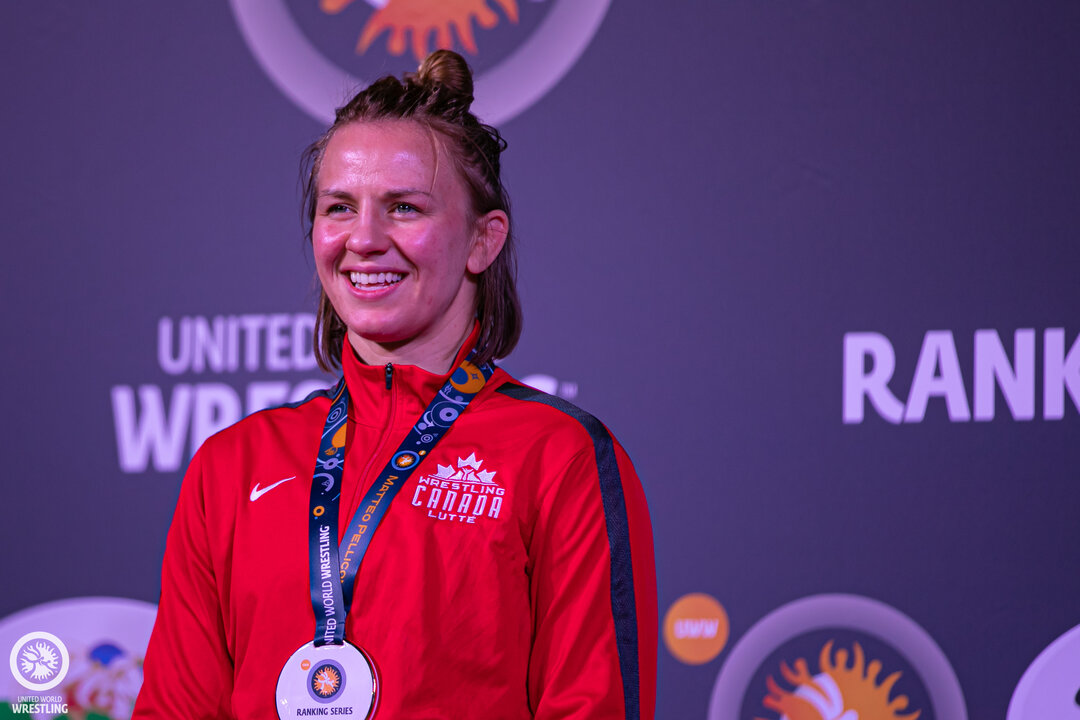 Erica WIEBE (CAN) wrapped up her 76kg finals match against ZHOU Qian (CHN) in the opening period after a takedown, followed by four leg laces. (Photo: Kadir Caliskan)
In the 76kg finals, Olympic champion Erica WIEBE (CAN) ended her gold-medal bout against two-time world medalist ZHOU Qian (CHN) in the opening period with a 10-0 shutout victory. 
"When I get into wrestling position, that's when it gets really fun. She went for kind of a double leg, I redirected, went behind, we get into a scramble, and that's what wrestling is all about." 
Wiebe barrel-rolled into four straight leg laces and ended the match 10-0 in the first period. Jokingly, Wiebe said, "I've been working on my lace. Watch out world!"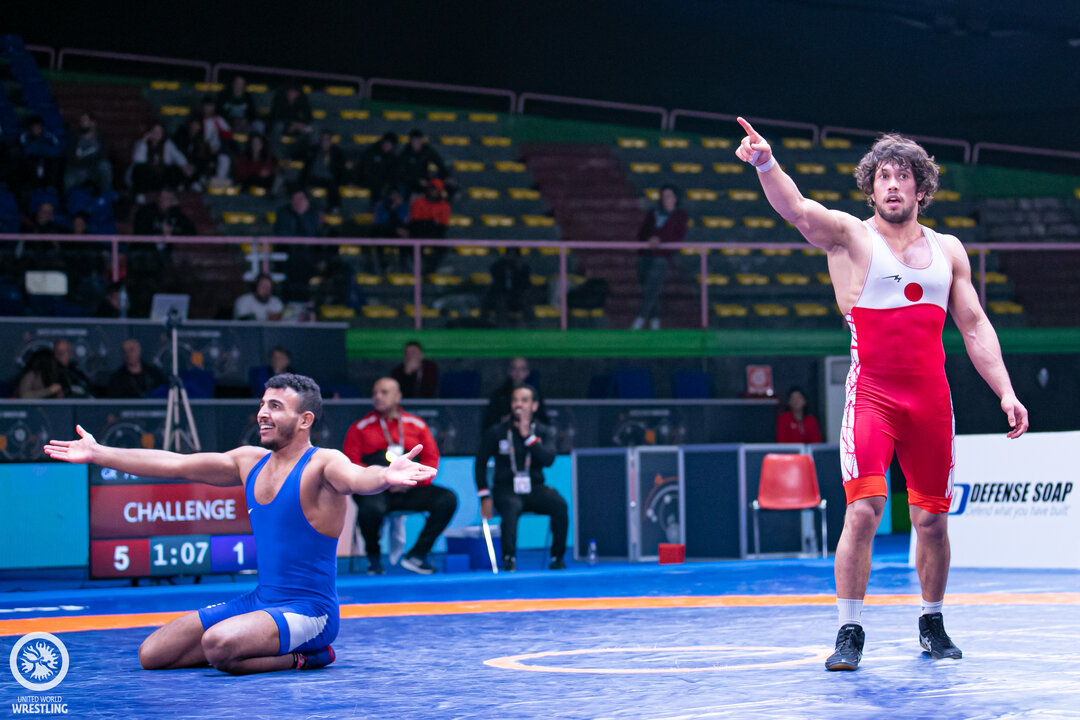 Mohamed ELSAYED (EGY) scored the come-from-behind fall over Selcuk CAN (TUR) in the 72kg finals. (Photo: Kadir Caliskan)
Meanwhile, Mohamed ELSAYED (EGY), Zotlan LEVAI (HUN) and Singh GURPREET (IND) closed out the Greco-Roman portion of the competition with gold medals on Thursday night. 
Elsayed and Levai picked up falls in the 72kg and 77kg finals, respectively, while Gurpreet scored the 8-5 victory over Burhan AKBUDAK (TUR) in the 82kg finals. 
Elsayed, a two-time U23 world champion, trailed 5-1 but flattened Selcuk CAN (TUR) in the 72kg finals and backflipped his way to a second career Ranking Series title. And after a pair of Ranking Series final losses, Levai finally got his long-awaited gold medal when he stuck Yunus BASAR (TUR) in the 77kg finals. 
The third day of wrestling at the Matteo Pellicone kicks off on Friday at 10:30 (local time) in Ostia, Italy.
RESULTS
57kg
GOLD - Odunayo ADEKUOROYE (NGR) df. Anshu ANSHU (IND), 10-0 
BRONZE - Linda MORAIS (CAN) df. Jenna Rose BURKERT (USA), 10-0 
BRONZE - Allison Mackenzie RAGAN (USA) df. Alina AKOBIIA (UKR), 4-4 
62kg
GOLD - Aisuluu TYNYBEKOVA (KGZ) df. Liubov OVCHAROVA (RUS), via injury default
BRONZE - Jia LONG (CHN) df. Kayla MIRACLE (USA), 6-1 
BRONZE - Yuliia TKACH OSTAPCHUK (UKR) df. Iryna KOLIADENKO (UKR), 3-1
68kg
GOLD - Feng ZHOU (CHN) df. Tamyra MENSAH (USA), 8-8
BRONZE - Danielle LAPPAGE (CAN) df. Divya KAKRAN (IND), 12-2
BRONZE - Blessing OBORUDUDU (NGR) df. Alina BEREZHNA STADNIK MAKHYNIA (UKR)
76kg
GOLD - Erica Elizabeth WIEBE (CAN) vs. Qian ZHOU (CHN), 10-0
BRONZE - Natalia VOROBEVA (RUS) df. Elmira SYZDYKOVA (KAZ), via injury
BRONZE - Aline ROTTER FOCKEN (GER) df. Vasilisa MARZALIUK (BLR), 4-2 
Greco-Roman
72kg
GOLD - Mohamed Ibrahim Elsayed Ibrahi ELSAYED (EGY) df. Selcuk CAN (TUR), via fall 
BRONZE - Cengiz ARSLAN (TUR) df. Parviz NASIBOV (UKR), 6 - 0
BRONZE - Maksym YEVTUSHENKO (UKR) df. Gaoquan ZHANG (CHN), 5-3 
77kg
GOLD - Zotlan LEVAI (HUN) df. Yunus Emre BASAR (TUR), via fall 
BRONZE - Wuileixis RIVAS ESPINOZA (VEN) df. Ravaughn Richard Ravelle PERKINS (USA), 8 - 2
BRONZE - Sajan SAJAN (IND) df. Emrah KUS (TUR), via fall 
82kg
GOLD - Singh GURPREET (IND) df. Burhan AKBUDAK (TUR), 8-5
BRONZE - Florian NEUMAIER (GER) df. John Walter STEFANOWICZ JR (USA), 5 - 1
BRONZE - Salih AYDIN (TUR) df. Jalgasbay BERDIMURATOV (UZB), 6-5