Yasar Dogu Preview
Wednesday, July 10, 2019 - 11:58 By Eric Olanowski
ISTANBUL, Turkey (July 10) --- All eyes will converge on Istanbul's Bağcılar Olimpic Sports Hall starting Thursday as it's set to host the most significant Ranking Series tournament of the year, the Yasar Dogu (July 11-14). 
We started with four, and now, only one remains. The Yasar Dogu will be this season's final point-earning tournament; and after this weekend, we'll have the top-four freestyle and women's wrestling seeds for the 2019 World Championships. 
Heading into Istanbul, five freestyle and women's wrestlers have seized a No. 1 seed, but there are still 23 freestyle and 25 women's wrestling top-four seeds open for the taking. 
The freestyle portion of the tournament will feature four Olympic champions and three wrestlers who hold the world's top-ranking. But without a doubt, the top storyline leaving wrestling fans licking their chops is the potential fifth match-up between two of the sport's biggest stars, Jordan BURROUGHS (USA) and Frank CHAMIZO (ITA). 
The pair of past world champions met four times since two-time 70kg world champion Chamizo made the jump up to the Olympic weight of 74kg last season. The American holds the 3-1 match advantage after winning their Beat the Street's matchup, the bronze-medal bout of last year's World Championships, and their second-round match-up at the Dan Kolov. 
Chamizo's lone win came at last year's Yasar Dogu, where he outlasted the four-time world and Olympic champion in a 20-point shootout, winning 10-10 on criteria. A second consecutive Yasar Dogu title would give Chamizo the top-seed at the World Championships because the Rio bronze medalist only needs four points to dethrone the current world No. 1, Russia's reigning world champion Zaubek SIDAKOV. 
If Chamizo grabs the No. 1 seed from Sidakov, that would pit the Italian against Budapest world runner-up and fourth-ranked Avtandil KENTCHADZE (GEO) in the top-side semifinal, and Sidakov and Burroughs in the bottom side semifinal. That is, of course, if the seeds hold true in Nur-Sultan. 
This weight was also set to feature Olympic champion Togurl ASGAROV (AZE) and Rio bronze medalist Soener DEMIRTAS (TUR), but both have since pulled out of the tournament -- leaving two-time world bronze medalist Yakup GOR (TUR) as the most credible threat to knock off Burroughs or Chamizo at 74kg.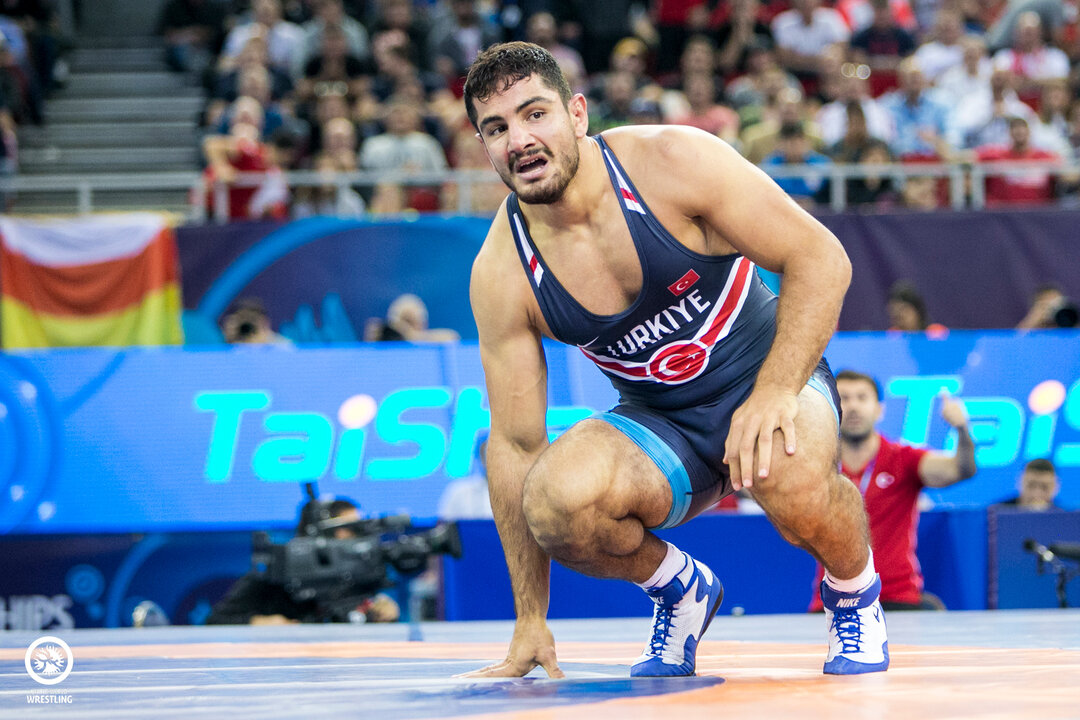 Taha AKGUL (TUR) is one of four freestyle Olympic champions that are competing at the Yasar Dogu. (Photo: Gabor Martin) 
Three Other Olympic Champs Lacing Up
In addition to Burroughs, there will also be three other Olympic champions wrestling. They'll be Sharif SHARIFOV (AZE), Kyle SNYDER (USA) and Turkey's own Taha AKGUL. 
Sharifov, the London Olympic champion and Rio bronze medalist will wrestle at 92kg, where he'll likely meet reigning world champion and the current No.1-ranked wrestler in the world J'Den COX (USA). 
Rio Olympic champion Kyle Snyder is ranked second in the world at 97kg coming into the Yasar Dogu but could gain the top-spot from rival Abdulrashid SADULAEV (RUS) if he collects two points in Turkey. 
Taha Akgul rounds out the freestyle Olympic champions who'll be in action. 
The Turkish big man brings 50 Ranking Series points into Istanbul and needs one point to ensure he gets placed on the opposite side of the 125kg bracket at the World Championships of his nemesis Geno PETRIASHVILI (GEO). As the rankings sit heading into Istanbul, Taha and Russia's third-ranked Anzor KHIZRIEV are tied, but the Russian holds the criteria advantage (highest World Championships placement) because of his fifth-place finish at the Budapest World Championships. 
Outside of Akgul, another wrestler who is looking to add to his Ranking Series point total and improve on his world seed is fifth-ranked Nicholas GWIAZDOWSKI (USA). The two-time world bronze medalist is five points away from moving into the top-four and could steal the fourth seed from Khizriev with a promising showing in Turkey.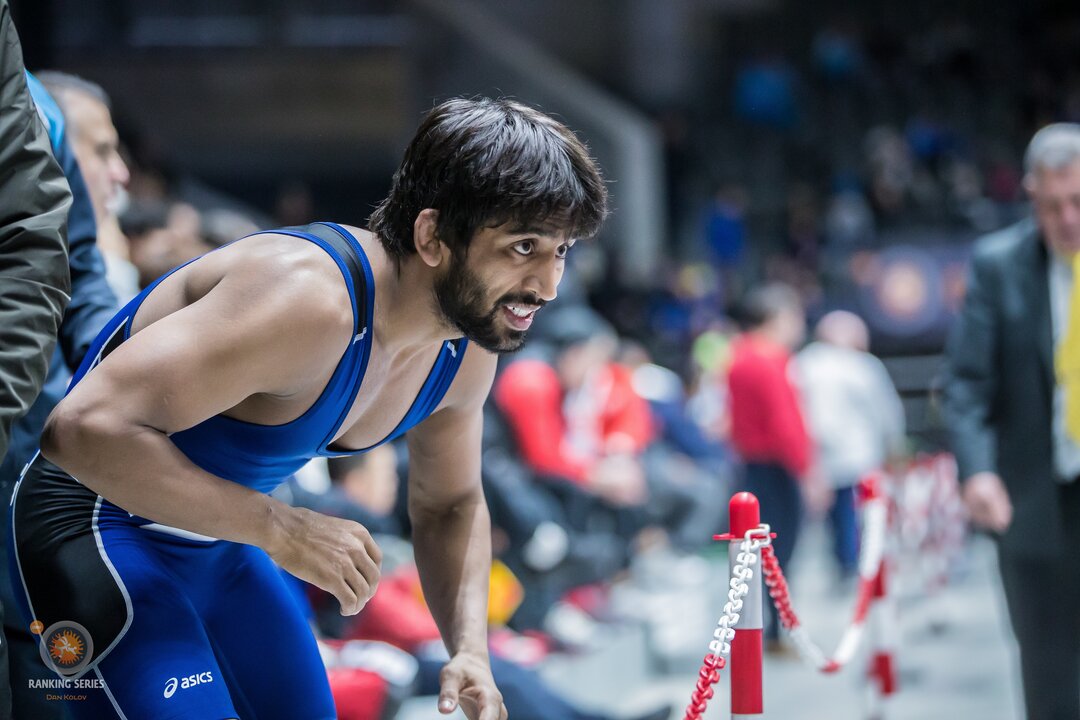 Bajrang PUNIA (IND) is one of three world No. 1's that'll be in action this week. (Photo: Sachiko Hotaka)
World No.1's Punia and Erdin Set to Compete 
In addition to the aforementioned J'den Cox, world No. 1's Bajrang PUNIA (IND) and Faith ERDIN (TUR) will also wrestle this week. 
Punia, the top-ranked wrestler in the world at 65kg, will be moving up to 70kg, where he'll look to defend his Yasar Dogu title from a year ago. To do so, he'll have the tall task of stopping Budapest world runner-up Adam BATIROV (BRN) and Paris world silver medalist James GREEN (USA). 
Batirov is ranked second in the world at 70kg after dropping last year's world finals, while Green is ranked 37th heading into Turkey.
Although Faith Erdin has already locked up the No.1 seed at 86kg for the World Championships after reigning world champion David TAYLOR (USA) had surgery on his right knee, he'll still wrestle at the Yasar Dogu. The two guys Erdin has to watch out for are fellow Turk Selim YASAR and Boris MAKOEV (SVK). Yasar was a 2016 Olympic runner-up and Makoev finished second in the world in 2017.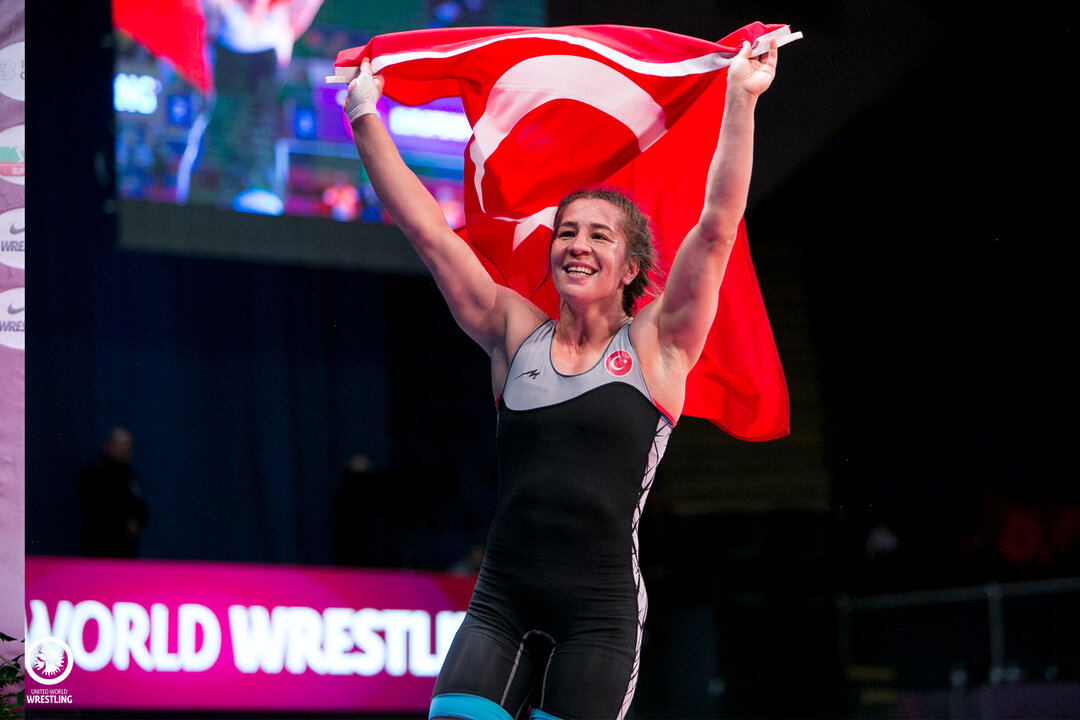 Yasemin ADAR (TUR) could pass Adeline GRAY (USA) and become the No. 1-ranked wrestler in the world at 76kg with a promising Yasar Dogu performance. (Photo: Gabor Martin) 
Deepest Women's Wrestling Weight: 76kg
Much like the last year's World Championships, the women's wrestling portion of the tournament will be highlighted by the stacked 76kg weight class that's filled with world and Olympic medalists. 
The favorite to win the 76kg title is second-ranked Yasemin ADAR (TUR). The 2017 world champion trails four-time world champion Adeline GRAY (USA) by two points heading into the Yasar Dogu and will likely gain the top spot from Gray after closing out the regular season in her home country as Gray will not be making the trip to Turkey.
But winning the 76kg title will be no easy task for Adar as third-ranked Aline FOCKEN (GER) and Rio Olympic champion Erica WIEBE (CAN) are looking to make some noise in Istanbul. 
Focken could shake up the rankings and find herself ahead of Gray, too. And if her previous three Ranking Series events are any indication as to what she's capable of, she'll indeed be in front of Gray come Monday. Focken will be making her fourth Ranking Series appearance of the year. In her three previous appearances, she finished with a bronze medal each time. 
Olympic champion Erica Wiebe is also in the mix of wrestlers who are on the cusp of earning a top-four seed. She's ranked fifth right now and trails fourth-ranked Hiroe MINAGAWA SUZUKI (JPN) by two points. 
With the way Wiebe has been wrestling over the past month and a half, it's almost a given that she's going to be the fourth seed at the World Championships. At the Sassari in late May, Wiebe stuck Olympic champion Natalia VORBIEVA (RUS) in the opening period, then followed that up by defeating reigning world champion Justina DI STASIO (CAN) to win the Canada Cup title two weeks ago.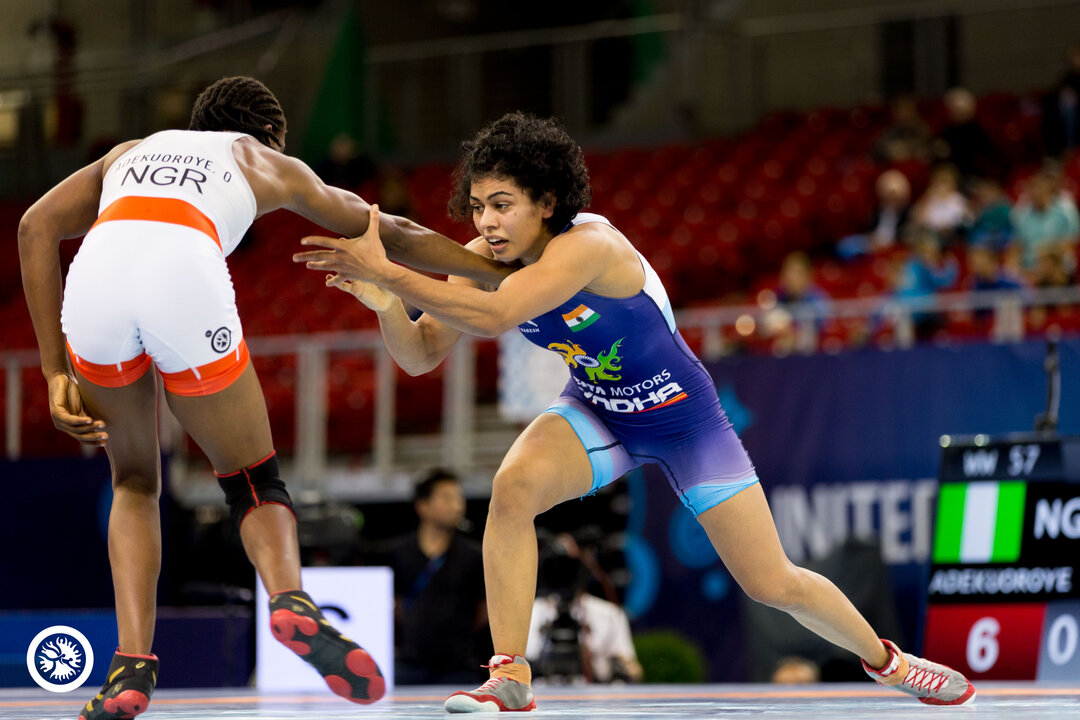 Pooja DHANDA (IND) avenged her Commonwealth Games loss and defeated Odunayo ADEKUOROYE (NGR) in the World Championships en route to a bronze medal. The pair will wrestle in the 57kg bracket this week. (Photo: Gabor Martin)
Three World Medalists Jockeying for A Seed at 57kg 
There are six wrestlers ranked inside the top-20 at 57kg that'll compete at the Yasar Dogu, but the all eyes will be fixated on Pooja DHANDA (IND), Odunayo ADEKUOROYE (NGR) and Emese BARKA (HUN), who are ranked fourth through six, respectively. The trio of top-six world medalists are only separated by six points heading into this week, and it's hard to say who's the favorite to win this weight because of their back and forth history. 
It is not clear whether or not third-ranked Bilyana DUDOVA (BUL) will compete in Nur-Sultan later this year, and with Dhanda, Adekuoroye, and Barka all having the ability to capture a gold medal, we could see a complete shakeup of the third and fourth spot after this weekend. 
In addition to the six ranked wrestlers entered at 57kg, pay attention to Canada's Alexandria TOWN. Though she's not ranked, the reigning U23 world champion could cause trouble for anyone she draws in to.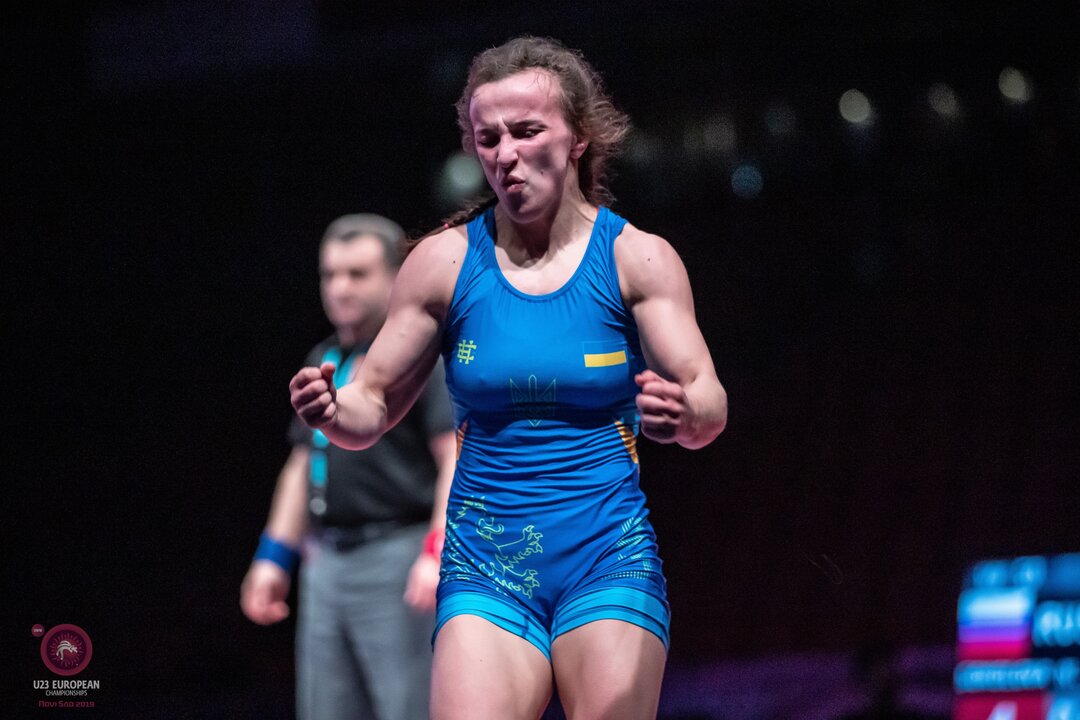 Oksana LIVACH (UKR) needs five points to lock up the No. 1 seed at 50kg. (Photo: Sachiko Hotaka)
Livach Locks Up the No.1 Seed with Five Points 
Two-time world champion Yui SUSAKI (JPN) fell in her wrestle-off last weekend to Yuki IRIE (JPN) and will forfeit her No.1 ranking to world bronze medalist Oksana LIVACH (UKR). Susaki's departure will also slide Kseniya STANKEVICH (BLR) into a top-four seed for the World Championships. 
Both of those beneficiaries from the Susaki loss will compete at the Yasar Dogu. 
Livach is the clear-cut favorite to win the 50kg title in Turkey and only needs five Ranking Series points to lock up the No. 1 seed for the World Championships. Meanwhile, Stankevich holds a four-point advantage over Turkey's Evin DEMIRHAN and controls her own destiny. If she wrestles well in Istanbul, she'll lock up a top-four seed. If she doesn't, she leaves the door open for Demirhan, Seema SEEMA (IND) and Fredrika Ida PETERSSON (SWE), to steal the seed from her. 
Seema and Petersson are ranked eighth and ninth, respectively, and sit less than eight points behind Stankevich.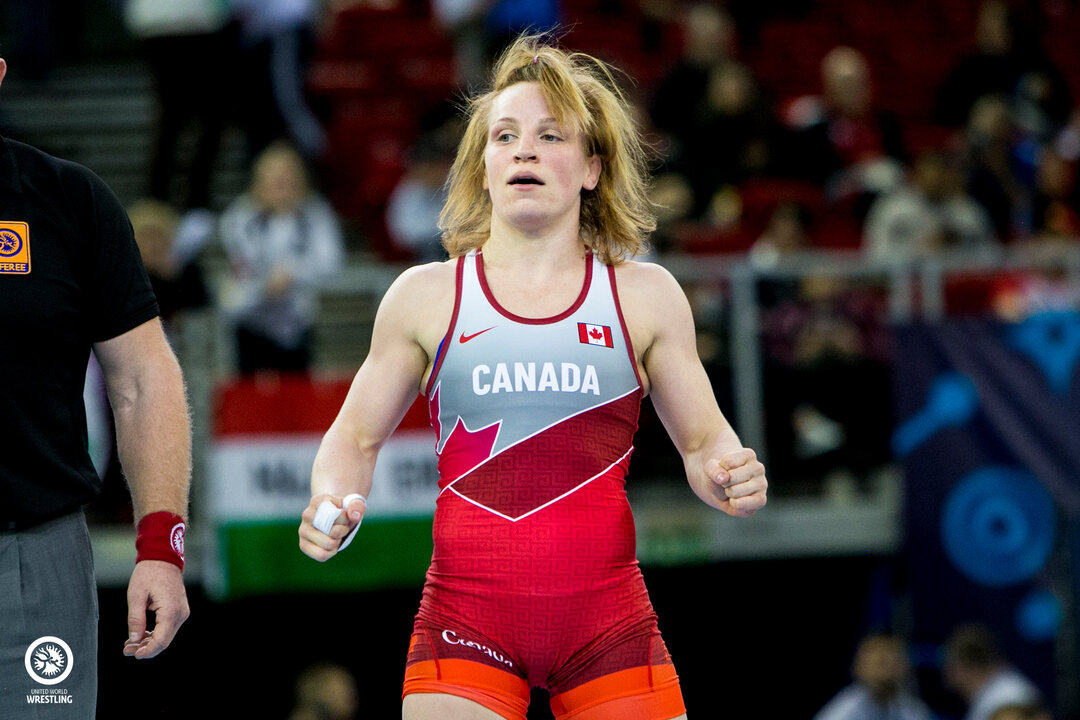 Diana WEICKER (CAN) and Luisa VALVERDE MELENDRES (ECU) are only separated by five points in the rankings and could flip flop positions depending on how this weekend plays out. (Photo: Gabor Martin)
Weicker and Valverde Melendres Fighting for Fourth Spot at 53kg
There are seven ranked wrestlers that have entered their names into the 53kg weight class, but the two to pay attention to are Diana WEICKER (CAN) and Luisa VALVERDE MELENDRES (ECU).
Reigning world bronze medalist Weicker enters the Yasar Dogu with 53 points and is ranked No. 4 in the world, while Valverde Melendrez, who has 48 points, sit five points behind the Canadian. 
Brackets for the Yasar Dogu will be released today and wrestling begins on Thursday morning at 11:00 (local time). 
Thursday (July 11) 
08:30 - Medical examination and weigh-in cat: (57-61-70Kg Mens) (50-55-59-65Kg Womens)
11:00 - Eliminations
13:00 - Lunch Time 
16:00 - Eliminations and 1⁄2 Finals - (57-61-70Kg Mens) (50-55-59-65Kg Womens)
16:00 - DRAW (65-79-125Kg Mens) (53-57-62-68Kg Womens)
Friday (July 12) 
08:15 - Weigh-in cat: (57-61-70Kg Mens) (50-55-59-65Kg Womens)
08:30 - Medical examination and weigh-in cat: - (65-79-125Kg Mens) (53-57-62-68Kg Womens)
11:00 - Eliminations and 1⁄2 Finals (65-79-125Kg Mens) (53-57-62-68Kg Womens )
11:00 - Repechage (57-61-70Kg Mens) (50-55-59-65Kg Womens)
17:00 - Opening Ceremony
17:30 - Bronze and Gold medal matches - (57-61-70Kg Mens) (50-55-59-65Kg Womens)
16:00 - DRAW (74-86-92-97Kg Mens) (72-76Kg Womens)
Saturday (July 13) 
08:15 - Weigh-in cat: (65-79-125Kg Mens) (53-57-62-68Kg Womens)
08:30 - Medical examination and weigh-in cat: (74-86-92-97Kg Mens) (72-76Kg Womens)
11:00 - Eliminations and 1⁄2 Finals (74-86-92-97Kg Mens) (72-76Kg Womens)
11:00 - Repechage (65-79-125Kg Mens) (53-57-62-68Kg Womens)
17:00 - Bronze and Gold medal matches (65-79-125Kg Mens) (53-57-62-68Kg Womens)
Sunday (July 14)  
08:30-08:45 - Weigh-in cat:(74-86-92-97Kg Mens) (72-76Kg Womens)
11:00 - Repechage:(74-86-92-97Kg Mens) (72-76Kg Womens)
12:30 - Bronze and Gold medal matches:(74-86-92-97Kg Mens) (72-76Kg Womens)