Yarygin Finals Set For Day One
Friday, January 26, 2018 - 10:06 By Eric Olanowski
KRASNOYARSK, Russia (January 26) – With a thrilling 5-0 semifinal victory over Abbos RAKHMONOV (UZB), Russia's Ismail MUSUKAEV's (RUS) guaranteed the rabid Krasnoyarsk fans would be treated to an all-Russian final on the first day of the Ivan Yarygin Gradn Prix in Krasnoyarsk.
Zaur UGUEV's (RUS) punched his ticket to the 57kg finals after earning a lopsided 8-3 victory over Frank PERRELLI (USA). It was Uguev's second trip to the finals in as many years. Uguev, who was last year's champion at 57kg will look to defend his title against junior world champion, Azamat TUSKAEV (RUS).
At 65kg, 2017 world finalist Gadzhimurad RASHIDOV (RUS) and International D. A. Kunaev Tournament champion Ismail MUSUKAEV (RUS) will tangle in a highly anticipated matchup between two of Russia's best overall wrestlers.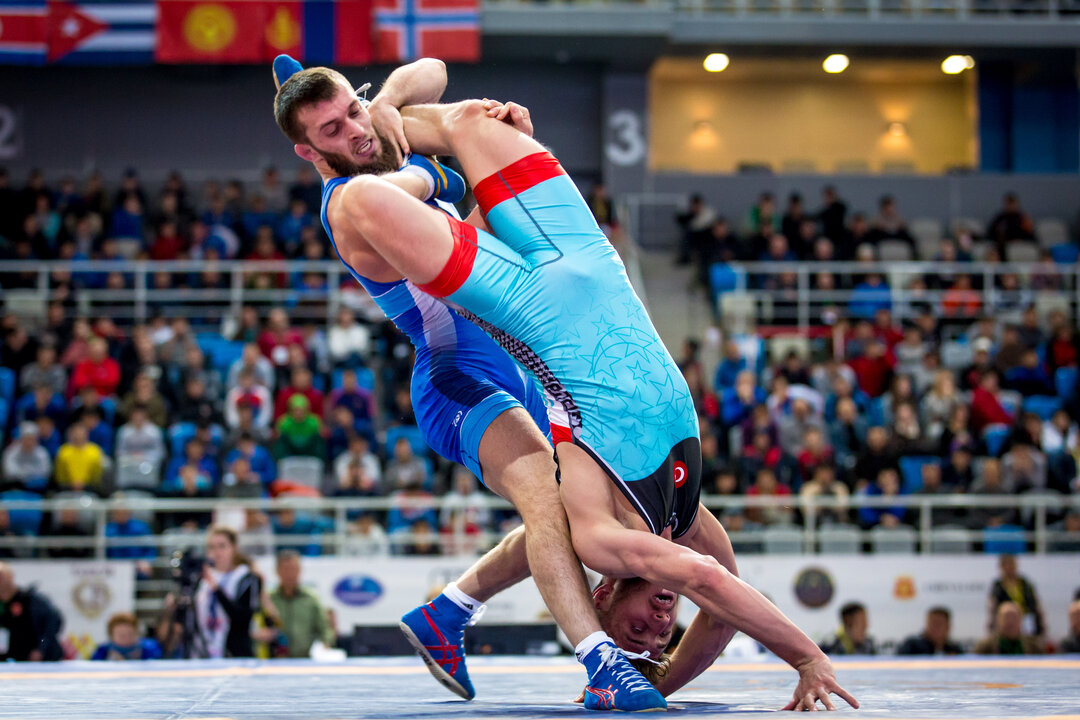 Magomed KURBANALIEV (RUS) will be tasked with stopping Israil Kasumov's (RUS) in his quest to capture a third Yarygin title. Kasumov, the two-time defending champion hasn't lost in Krasnoyarsk since 2015, but faces a tall order in 2016 world champion Kurbanaliev.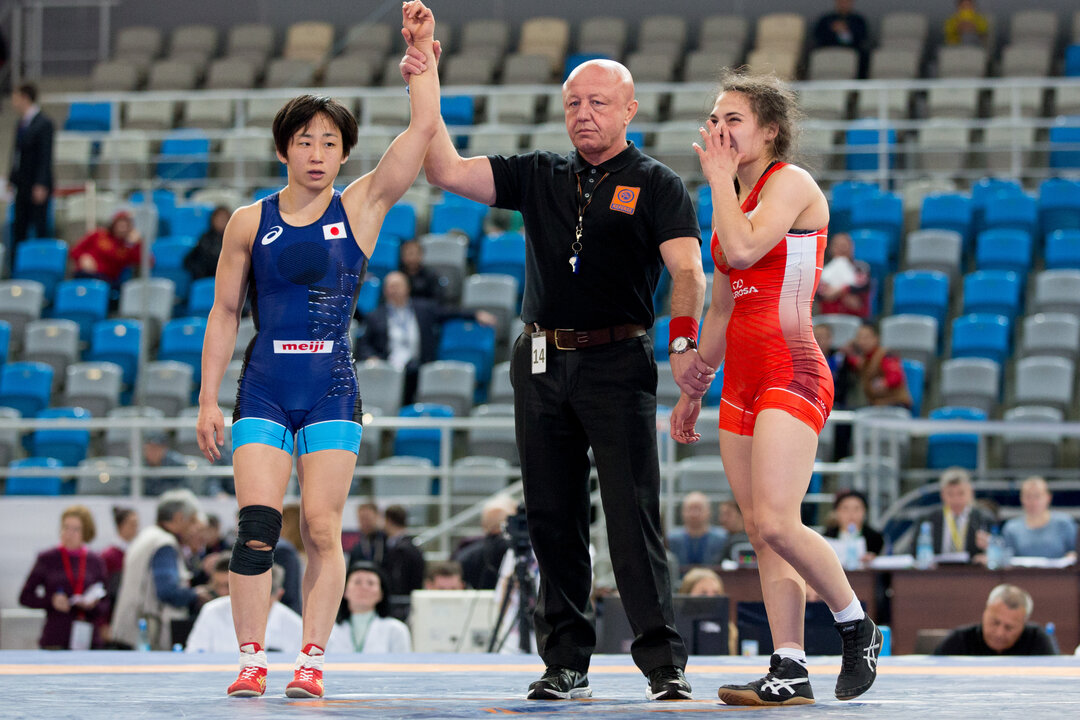 China leads the women's weights, putting finalists into three of four weight categories. Japan trails with two finalists, followed by the DPRK, Russia and USA each with one finalist.
Freestyle
57kg
Gold – Zavur UGUEV (RUS) vs. Azamat TUSKAEV (RUS)

Bronze – Baris KAYA (TUR) vs. Tsogbadrakh TSEVEENSUREN (MGL)
Bronze – Khuresh ool DONDUK OOL (RUS) vs. Frank PERRELLI IV (USA)
Semifinal – Zavur UGUEV (RUS) df. Frank PERRELLI IV (USA), 8-3
Semifinal – Azamat TUSKAEV (RUS) df. Tsogbadrakh TSEVEENSUREN (MGL), 7-0
61kg
Gold – Ismail MUSUKAEV (RUS) vs. Gadzhimurad RASHIDOV (RUS)
Bronze –  Aleksandr BOGOMOEV (RUS) df. Anthony RAMOS (USA) 
Bronze – Tuvshintulga TUMENBILEG (MGL) vs. Abbos RAKHMONOV (UZB)
Semifinal – Gadzhimurad RASHIDOV (RUS) df. Aleksandr BOGOMOEV (RUS), 2-0
Semifinal – Ismail MUSUKAEV (RUS) df. Abbos RAKHMONOV (UZB), 5-0
70kg
Gold – Magomed KURBANALIEV (RUS) vs. Magomedrasul GAZIMAGOMEDOV (RUS)
Bronze – Andriy KVYATKOVSKYY (UKR) vs. Israil KASUMOV (RUS)
Bronze – Levan KELEKHSASHVILI (GEO) vs. Frank MOLINARO (USA)
Semifinal – Magomedrasul GAZIMAGOMEDOV (RUS) df. Israil KASUMOV (RUS), 7-1
Semifinal – Magomed KURBANALIEV (RUS) df. Frank MOLINARO (USA), 8-5
Women's Wrestling
50kg
Gold – Sonhyang KIM (PRK) vs. Yuki IRIE (JPN)
Bronze –  Valeriya CHEPSARAKOVA (RUS) vs. Anzhelika VETOSHKINA (RUS)       
Bronze – Jie NI (CHN) vs. Elena VOSTRIKOVA (RUS) 
Semifinal – Yuki IRIE (JPN) df. Anzhelika VETOSHKINA (RUS), 14-3
Semifinal – Sonhyang KIM (PRK) df. Elena VOSTRIKOVA (RUS), 8-0
55kg
Gold – Andoriahanako SAWA (JPN) vs. Mengyu XIE (CHN)
Bronze – Aleksandra NITSENKO (RUS) vs. Davaachimeg ERKHEMBAYAR (MGL)
Bronze – Nina MENKENOVA (RUS) vs. Jonghwa CHOE (PRK)
Semifinal – Andoriahanako SAWA (JPN) df. Jonghwa CHOE (PRK), 8-0
Semifinal – Mengyu XIE (CHN) df. Davaachimeg ERKHEMBAYAR (MGL), 9-5
59kg
Gold – Allison Mackenzie RAGAN (USA) vs. Ningning RONG (CHN)
Bronze – Veronika CHUMIKOVA (RUS) vs. Mimi Nikolova HRISTOVA (BUL)
Bronze – Uliana TUKURENOVA (RUS) vs. Bilyana Zhivkova DUDOVA (BUL)
Semifinal – Ningning RONG (CHN) df. Mimi Nikolova HRISTOVA (BUL), 8-4
Semifinal – Allison Mackenzie RAGAN (USA) df. Bilyana Zhivkova DUDOVA (BUL), 9-6
65kg
Gold – Yulia PRONTSEVITCH (RUS) vs. Chuying TANG (CHN)
Bronze – Anna SHCHERBAKOVA (RUS) vs. Bolortungalag ZORIGT (MGL)
Bronze – Tsevegmed ENKHBAYAR (MGL) vs. Oyuntuya OTGONBAT (MGL)
Semifinal – Chuying TANG (CHN) df. Bolortungalag ZORIGT (MGL), 2-0
Semifinal – Yulia PRONTSEVITCH (RUS) df. Oyuntuya OTGONBAT (MGL), 5-2