#WrestleWarsaw European C'ship Entries
Wednesday, April 14, 2021 - 17:24 By Eric Olanowski
WARSAW, Poland (April 14) --- All eyes will be on Warsaw, Poland next week (April 19-25) as 444 athletes from 37 countries will compete for continental gold at the European Championship. Greco-Roman leads the tournament entries with 77 athletes while there will be 156 freestyle competitors and 111 women's wrestlers.
Freestyle wrestling kicks off the competition next Monday (April 19). The spotlight turns to women's wrestling on Wednesday, while Greco-Roman takes center-stage starting on Friday.
*Please note that these entries were pulled on Wednesday (April 14) and are subject to change.
57kg
Afgan KHASHALOV (AZE)
Aryan TSIUTRYN (BLR)
Mikyay Salim NAIM (BUL)
Beka BUJIASHVILI (GEO)
Ioannis MARTIDIS (GRE)
Givi DAVIDOVI (ITA)
Anatolii BURUIAN (MDA)
Razvan Marian KOVACS (ROU)
Nachyn MONGUSH (RUS)
Suleyman ATLI (TUR)
Kamil KERYMOV (UKR)
61kg
Akhmednabi GVARZATILOV (AZE)
Dzimchyk RYNCHYNAU (BLR)
Georgi Valentinov VANGELOV (BUL)
Arman Norik ELOYAN (FRA)
Beka LOMTADZE (GEO)
Viktor Viktorowitsch LYZEN (GER)
Richard VILHELM (HUN)
Daniel POPOV (ISR)
Simone Vincenzo PIRODDU (ITA)
Leomid COLESNIC (MDA)
Vladimir EGOROV (MKD)
Eduard GRIGOREV (POL)
Ivan GUIDEA (ROU)
Abasgadzhi MAGOMEDOV (RUS)
Sebastian KOLOMPAR (SRB)
Emrah ORMANOGLU (TUR)
Andrii DZHELEP (UKR)
65kg
Gevorg TADEVOSYAN (ARM)
Gabriel JANATSCH (AUT)
Ali RAHIMZADE (AZE)
Andrei BEKRENEU (BLR)
Ruhan Hyusnyu RASIM (BUL)
Quentin Jean-René STICKER (FRA)
George Anthony RAMM (GBR)
Shmagi TODUA (GEO)
Niklas Dietmar DORN (GER)
Iszmail MUSZUKAJEV (HUN)
Maxim SACULTAN (MDA)
Krzysztof BIENKOWSKI (POL)
Nikolai OKHLOPKOV (ROU)
Zagir SHAKHIEV (RUS)
Hamza ALACA (TUR)
Andrii SVYRYD (UKR)
70kg
Orges LILA (ALB)
Arman ANDREASYAN (ARM)
Turan BAYRAMOV (AZE)
Dzianis SALAVEI (BLR)
Nicolae COJOCARU (GBR)
Davit TLASHADZE (GEO)
Daniel ANTAL (HUN)
Gianluca TALAMO (ITA)
Artem AUGA (LTU)
Mihail SAVA (MDA)
Fati VEJSELI (MKD)
Magomedmurad GADZHIEV (POL)
Israil KASUMOV (RUS)
Daniel CHOMANIC (SVK)
Haydar YAVUZ (TUR)
Ihor NYKYFORUK (UKR)

74kg
Hrayr ALIKHANYAN (ARM) 
Simon MARCHL (AUT)
Ashraf ASHIROV (AZE)
Davud ALIZALAU (BLR)
Miroslav Stefanov KIROV (BUL)
Aimar ANDRUSE (EST)
Charlie James BOWLING (GBR)
Avtandil KENTCHADZE (GEO)
Daniel SARTAKOV (GER)
Csaba VIDA (HUN)
Mitchell Louis FINESILVER (ISR)
Frank CHAMIZO MARQUEZ (ITA)
Valentin BORZIN (MDA)
Kamil RYBICKI (POL)
Zurab KAPRAEV (ROU)
Razambek ZHAMALOV (RUS)
Malik Michael AMINE (SMR)
Hetik CABOLOV (SRB)
Marc DIETSCHE (SUI)
Tajmuraz Mairbekovic SALKAZANOV (SVK)
Fazli ERYILMAZ (TUR)
Semen RADULOV (UKR)
79kg
Osman HAJDARI (ALB)
Arman AVAGYAN (ARM)
Rashad YUSIFLI (AZE)
Andrei KARPACH (BLR)
Oktay Ruzhdi HASAN (BUL)
Erik REINBOK (EST)
Saifedine ALEKMA (FRA)
Nika KENTCHADZE (GEO)
Eduard TATARINOV (GER)
Salvatore DIANA (ITA)
Alans AMIROVS (LAT)
Eugeniu MIHALCEAN (MDA)
Dejan MITROV (MKD)
Andrzej Piotr SOKALSKI (POL)
Malik SHAVAEV (RUS)
Akhsarbek GULAEV (SVK)
Muhammet Nuri KOTANOGLU (TUR)
Vasyl MYKHAILOV (UKR)
86kg
Benjamin GREIL (AUT)
Gadzhimurad MAGOMEDSAIDOV (AZE)
Ali SHABANAU (BLR)
Dzhemal Rushen ALI (BUL)|
Akhmed AIBUEV (FRA)
Sandro AMINASHVILI (GEO)
Joshua Philipp David MORODION(GER)
Uri KALASHNIKOV (ISR)
Simone IANNATTONI (ITA)
Edgaras VOITECHOVSKIS (LTU)
Gheorghi PASCALOV (MDA)
Sebastian JEZIERZANSKI (POL)
Artur NAIFONOV (RUS)
Myles Nazem AMINE (SMR)
Stefan REICHMUTH (SUI)
Boris MAKOEV (SVK)
Osman GOCEN (TUR)
Mraz DZHAFARIAN (UKR)
92kg
Osman NURMAGOMEDOV (AZE)
Hajy RAJABAU (BLR)
Akhmed Adamovitch MAGAMAEV (BUL)
Irakli MTSITURI (GEO)
Robin Michael FERDINAND (GER)
Ivars SAMUSONOKS (LAT)
Georgii RUBAEV (MDA)
Radoslaw MARCINKIEWICZ (POL)
Magomed Guseynovitch KURBANOV (RUS)
Samuel SCHERRER (SUI)
Erhan YAYLACI (TUR)
AndriI VLASOV (UKR)
97kg
Shamil ZUBAIROV (AZE)
Aliaksandr HUSHTYN (BLR)
Ahmed Sultanovich BATAEV (BUL)
Elizbar ODIKADZE (GEO)
Abraham de Jesus CONYEDO RUANO (ITA)
Lukas KRASAUSKAS (LTU)
Radu LEFTER (MDA)
Magomedgadji Omardibirovich NUROV (MKD)
Radoslaw BARAN (POL)
Albert SARITOV (ROU)
Alikhan ZHABRAILOV (RUS)
Suleyman KARADENIZ (TUR)
Murazi MCHEDLIDZE (UKR)
125kg
Paris KAREPI (ALB)
Johannes LUDESCHER (AUT)
Dzianis KHRAMIANKOU (BLR)
Islam Timurovich ADIZOV (BUL)
Jere Tapani HEINO (FIN)
Geno PETRIASHVILI (GEO)
Daniel LIGETI (HUN)
Egzon SHALA (KOS)
Samhan JABRAILOV (MDA)
Kamil Tomasz KOSCIOLEK (POL)
Sergei KOZYREV (RUS)
Taha AKGUL (TUR)
Oleksandr KHOTSIANIVSKYI (UKR)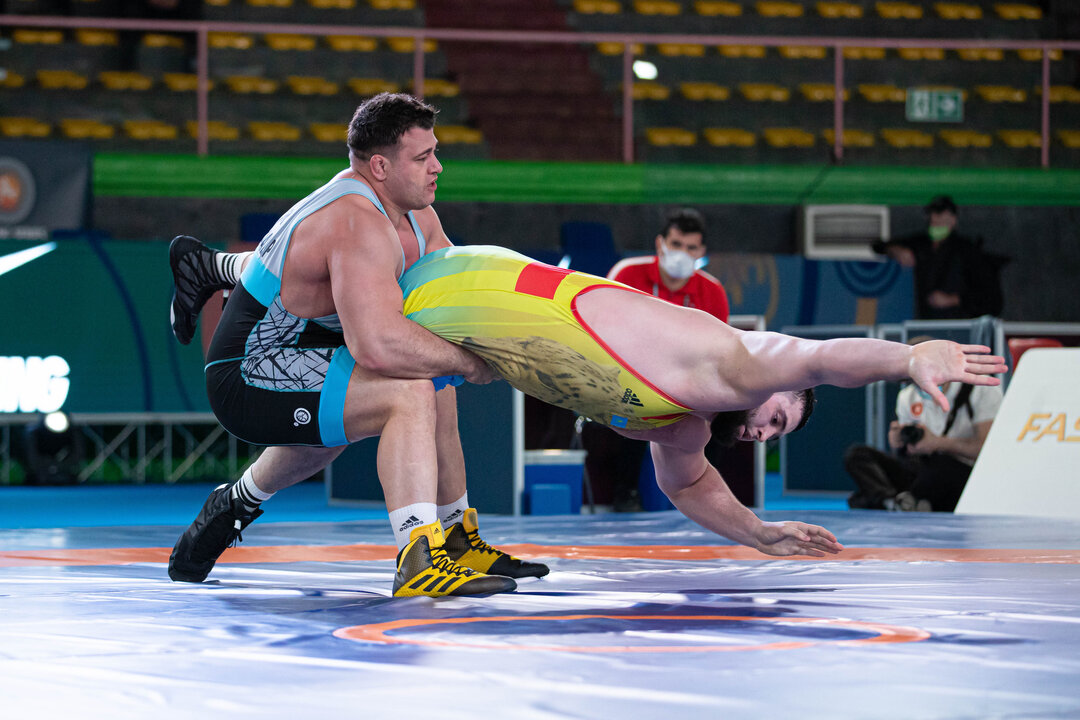 Riza KAYAALP (TUR) is on a quest to win his tenth European title. (Photo: Kadir Caliskan)
Greco-Roman
55kg
Rudik MKRTCHYAN (ARM)
Eldaniz AZIZLI (AZE)
Artsiom KATSAR (BLR)
Nedyalko Petrov PETROV (BUL)
Mattias Tero Alarik POUTANEN (FIN)
Nugzari TSURTSUMIA (GEO)
Fabian Bernhard SCHMITT (GER)
Andre Ricardo CARDOSO OLIVEIRA SILVA (POR)
Teodor HORATAU (ROU)
Viktor VEDERNIKOV (RUS)
Sebastian KOLOMPAR (SRB)
Ekrem OZTURK (TUR)
Mykhaylo STUPIN (UKR)
60kg
Gevorg GHARIBYAN (ARM)
Murad BAZAROV (AZE)
Hleb MAKARANKA (BLR)
Helary MAEGISALU (EST)
Irakli DZIMISTARISHVILI (GEO)
Jozsef ANDRASI (HUN)
Jacopo SANDRON (ITA)
Nicolai BURGHILA (MDA)
Michal Jacek TRACZ (POL)
Grzegorz KUNKEL (POL)
Antonio MARTINS CABRAL (POR)
Razvan ARNAUT (ROU)
Sergey EMELIN (RUS)
Kerem KAMAL (TUR)
Viktor PETRYK (UKR)

63kg
Hrachya POGHOSYAN (ARM)
Taleh MAMMADOV (AZE)
Soslan DAUROV (BLR)
Nikolay Ivanov VICHEV (BUL)
Yasin OZAY (FRA)
Leri ABULADZE (GEO)
Andrej GINC (GER)
Erik TORBA (HUN)
Andrea SETTI (ITA)
Aleksandrs JURKJANS (LAT)
Mateusz Radoslaw SZEWCZUK (POL)
Julinho Benjamim CORREIA DJU (POR)
Mihai Radu MIHUT (ROU)
Zhambolat LOKYAEV (RUS)
Perica DIMITRIJEVIC (SRB)
Niklas Jan Olov Pontus OEHLEN (SWE)
Abdurrahman ALTAN (TUR)
Oleksandr HRUSHYN (UKR)
67kg
Slavik GALSTYAN (ARM)
Namaz RUSTAMOV (AZE)
Maksim NEHODA (BLR)
Ivo Krasimirov ILIEV (BUL)
Fredrik Holmquist BJERREHUUS (DEN)
Stefan Roger CLEMENT (FRA)
Joni KHETSURIANI (GEO)
Witalis LAZOVSKI (GER)
Mate KRASZNAI (HUN)
Zaur KABALOEV (ITA)
Edgaras VENCKAITIS (LTU)
Donior ISLAMOV (MDA)
Mateusz Lucjan BERNATEK (POL)
Artem SURKOV (RUS)
Mate NEMES (SRB)
Andreas VETSCH (SUI)
Murat FIRAT (TUR)
Oleksii MASYK (UKR)
Aker AL OBAIDI (UWW)
72kg
Malkhas AMOYAN (ARM)
Christoph BURGER (AUT)
Khasay HASANLI (AZE)
Anton KORABAU (BLR)
Alen FODOR (CRO)
Mikko Petteri PELTOKANGAS (FIN)
Ibrahim Mahmoud Hamed Hassan GHANEM (FRA)
Shmagi BOLKVADZE (GEO)|
Frank STAEBLER (GER)
Robert Attila FRITSCH (HUN)
Valentin PETIC (MDA)
Juan Sebastian AAK (NOR)
Roman PACURKOWSKI (POL)
Chingiz LABAZANOV (RUS)
Aleksandar MAKSIMOVIC (SRB)
Leos DRMOLA (SVK)
Daniel Mattias SOINI (SWE)
Selcuk CAN (TUR)
Maksym YEVTUSHENKO (UKR)
77kg
Varuzhan GRIGORYAN (ARM)
Sanan SULEYMANOV (AZE)
Tsimur BERDYIEU (BLR)
Stoyan Stoychev KUBATOV (BUL)
Antonio KAMENJASEVIC (CRO)
Jakub BIELESZ (CZE)
Waltteri Harri Kristian LATVALA (FIN)
Johnny Just BUR (FRA)
Sachino DAVITAIA (GEO)
Michael Felix WIDMAYER (GER)
Georgios PREVOLARAKIS (GRE)
Tamas LORINCZ (HUN)
Roman ZHERNOVETSKI (ISR)
Riccardo Vito ABBRESCIA (ITA)
Mantas Kazimieras SINKEVICIUS (LTU)
Daniel CATARAGA (MDA)
Exauce MUKUBU (NOR)
Iwan NYLYPIUK (POL)
Ilie COJOCARI (ROU)
Abuiazid MANTSIGOV (RUS)
Aleksa ERSKI (SRB)
Fabio DIETSCHE (SUI)
Denis HORVATH (SVK)
Bogdan KOURINNOI (SWE)
Yunus Emre BASAR (TUR)
Dmytro PYSHKOV (UKR)
82kg
Karapet CHALYAN (ARM)
Tunjay VAZIRZADE (AZE)
Radzik KULIYEU (BLR)
Rosian Ognyanov DERMANSKI (BUL)
Filip SACIC (CRO)
Rajbek Alvievich BISULTANOV (DEN)
Ranet KALJOLA (EST)
Mikko Tapani LYTTINEN (FIN)
Aivengo RIKADZE (GEO)
Hannes WAGNER (GER)
Laszlo SZABO (HUN)
Igor PETRISHIN (ISR)
Mihail BRADU (MDA)
Edgar BABAYAN (POL)
Adlan AKIEV (RUS)
Branko KOVACEVIC (SRB)
Marc WEBER (SUI)
Alex Michel BJURBERG KESSIDIS (SWE)
Burhan AKBUDAK (TUR)
Yaroslav FILCHAKOV (UKR)
87kg 
Michael WAGNER (AUT)
Kiryl MASKEVICH (BLR)
Svetoslav Nikolaev NIKOLOV (BUL)
Vjekoslav LUBURIC (CRO)
Petr NOVAK (CZE)
Turpan Ali Alvievich BISULTANOV (DEN)
Andreas VAELIS (EST)
Tornike DZAMASHVILI (GEO)
Denis Maksymilian KUDLA (GER)
Dimitrios PAPADOPOULOS (GRE)
Viktor LORINCZ (HUN)
Fabio PARISI (ITA)
Martynas NEMSEVICIUS (LTU)
Viorel BURDUJA (MDA)
Arkadiusz Marcin KULYNYCZ (POL)
Milad Valerikovitch ALIRZAEV (RUS)
Zurabi DATUNASHVILI (SRB)
Oskar Alexander Patrick JOHANSSON (SWE)
Dogan GOKTAS (TUR)
Zhan BELENIUK (UKR)
97kg 
Markus RAGGINGER (AUT)
Zamir MAGOMEDOV (AZE)
Mikalai STADUB (BLR)
Kiril Milenov MILOV (BUL)
Artur OMAROV (CZE)
Arvi Martin SAVOLAINEN (FIN)
Giorgi MELIA (GEO)
Balazs KISS (HUN)
Nikoloz KAKHELASHVILI (ITA)
Tadeusz MICHALIK (POL)
Musa EVLOEV (RUS)
Mihail KAJAIA (SRB)
Ibrahim TIGCI( TUR)
Yevhenii SAVETA (UKR)
130kg
Pavel RUDAKOU (BLR)
Marko KOSCEVIC (CRO)
Stepan DAVID (CZE)
Konsta Johannes MAEENPAEAE (FIN)
Iakobi KAJAIA (GEO)
Eduard POPP (GER)
Alexandros PAPADATOS (GRE)
Romas FRIDRIKAS (LTU)
Rafal Andrzej KRAJEWSKI (POL)
Alin ALEXUC CIURARIU (ROU)
Zurabi GEDEKHAURI (RUS)
Riza KAYAALP (TUR)
Oleksandr CHERNETSKYY (UKR)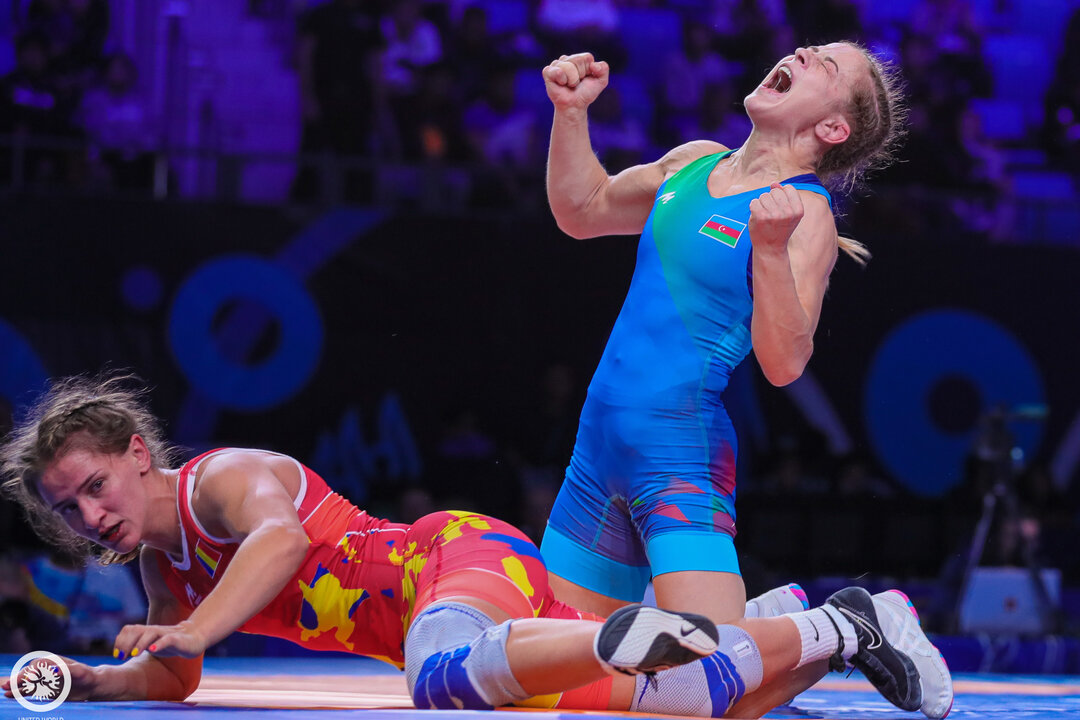 Two-time world champion Mariya STADNIK (AZE) leads the women's wrestling entries. She's entered at 50kg. (Photo: Kadir Caliskan)
Women's Wrestling
50kg
Mariya STADNIK (AZE)
Natallia VARAKINA (BLR)
Miglena Georgieva SELISHKA (BUL)
Julie Martine SABATIE (FRA)
Emilia CIRICU BUDEANU (MDA)
Ramona ERIKSEN (NOR)
Anna LUKASIAK (POL)
Emilia Alina VUC (ROU)
Ekaterina POLESHCHUK (RUS)
Evin DEMIRHAN (TUR)
Oksana LIVACH (UKR)
53kg
Tatyana VARANSOVA (AZE)
Vanesa KALADZINSKAYA (BLR)
Annika WENDLE (GER)
Maria PREVOLARAKI (GRE)
Kamile SERNAUSKAITE (LTU)
Iulia LEORDA (MDA)
Katarzyna KRAWCZYK (POL)
Olga KHOROSHAVTSEVA (RUS)
Zeynep YETGIL (TUR)
Mariia VYNNYK (UKR)

55kg
Katsiaryna PICHKOUSKAYA (BLR)
Sezen Behchetova BELBEROVA (BUL)
Hilary Ysaline HONORINE (FRA)
Mercedesz DENES (HUN)
Mariana DRAGUTAN (MDA)
Jessica Cornelia Francisca BLASZKA (NED)
Roksana Marta ZASINA (POL)
Andreea Beatrice ANA (ROU)
Stalvira ORSHUSH (RUS)
Sofia Magdalena MATTSSON (SWE)
Eda TEKIN (TUR)
Khrystyna Zoryana DEMKO (UKR)

57kg
Iryna KURACHKINA (BLR)
Evelina Georgieva NIKOLOVA (BUL)
Mathilde Hélène RIVIERE (FRA)
Sandra PARUSZEWSKI (GER)
Ramona GALAMBOS (HUN)
Francesca INDELICATO (ITA)
Anhelina LYSAK (POL)
Svetlana LIPATOVA (RUS)
Mehlika OZTURK (TUR)
Alina HRUSHYNA AKOBIIA (UKR)
59kg
Krystsina SAZYKINA (BLR)
Bilyana Zhivkova DUDOVA (BUL)
Ineta DANTAITE (LTU)
Anastasia NICHITA (MDA)
Grace Jacob BULLEN (NOR)
Jowita Maria WRZESIEN (POL)
Kateryna ZHYDACHEVSKA (ROU)
Veronika CHUMIKOVA (RUS)
Elif YANIK (TUR)
Kateryna ZELENYKH (UKR)

62kg
Veranika IVANOVA (BLR)
Taybe Mustafa YUSEIN (BUL)
Debora LAWNITZAK (GER)
Marianna SASTIN (HUN)
Sara DA COL (ITA)
Mariana CHERDIVARA ESANU (MDA)
Katarzyna MADROWSKA (POL)
Valeria KOBLOVA ZHOLOBOVA (RUS)
Malin Johanna MATTSSON (SWE)
Cansu AKSOY (TUR)
Iryna KOLIADENKO (UKR)

65kg
IrIna  Petrovna NETREBA (AZE)
Tatsiana PAULAVA (BLR)
Sofiya Hristova GEORGIEVA (BUL)
Eyleen SEWINA (GER)
Irina RINGACI (MDA)
Aleksandra WOLCZYNSKA (POL)
Kriszta Tunde INCZE (ROU)
Liubov OVCHAROVA (RUS)
Henna Katarina JOHANSSON (SWE)
Asli TUGCU (TUR)
Tetiana RIZHKO (UKR)

68kg
Elis MANOLOVA (AZE)
Hanna SADCHANKA (BLR)
Mimi Nikolova HRISTOVA (BUL)
Adela HANZLICKOVA (CZE)
Koumba Selene Fanta LARROQUE (FRA)
Ilana KRATYSH (ISR)
Elma ZEIDLERE (LAT)
Danute DOMIKAITYTE (LTU)
Wiktoria CHOLUJ (POL)
Khanum VELIEVA (RUS)
Tindra Linnea SJOEBERG (SWE)
Nesrin BAS (TUR)
Alina BEREZHNA STADNIK MAKHYNIA (UKR)

72kg
Yuliana Vasileva YANEVA (BUL)
Maria SELMAIER (GER)
Dalma CANEVA (ITA)
Natalia Iwona STRZALKA (POL)
Catalina AXENTE (ROU)
Evgeniia ZAKHARCHENKO (RUS)
Merve PUL (TUR)
Alla BELINSKA (UKR)

76kg
Martina KUENZ (AUT)
Sabira ALIYEVA (AZE)
Vasilisa MARZALIUK (BLR)
Mariya Gerginova ORYASHKOVA (BUL)
Epp MAEE (EST)
Cynthia Vanessa VESCAN (FRA)
Aline ROTTER FOCKEN (GER)
Zsanett NEMETH (HUN)
Eleni PJOLLAJ (ITA)
Kamile GAUCAITE (LTU)
Iselin Maria Moen SOLHEIM (NOR)
Patrycja SPERKA (POL)
Natalia VOROBEVA (RUS)
Aysegul OZBEGE (TUR)
Anastasiia OSNIACH SHUSTOVA (UKR)