#WrestleOslo Day Three Preview: FS 70kg, 97kg; WW 55kg, 62kg
Monday, September 20, 2021 - 12:25 By Ken Marantz
CORSIER-SUR-VEVEY, Switzerland (September 20) -- After winning a second Olympic gold medal last month in Japan, the Russian Wrestling Federation's superstar Abdulrashid SADULAEV (RWF) was asked by local media about making a possible move to Mixed Martial Arts for a lucractive test of his talents.
Scoffing at making a switch to rough-and-tumble MMA, he told Sport Yakutia, "I don't even have such thoughts. I still need a head."
Sadulaev has been head and shoulders above the competition in the sufficiently demanding and more graceful sport of wrestling since striking Olympic gold for the first time at age 20 at the 2016 Rio Games -- save for one lapse in 2017, for which he more than made amends.
The wrestler dubbed "The Russian Tank" will be aiming for a fifth straight world title as the favorite when the freestyle 97kg class gets underway in Oslo on Oct. 4, with another high-profile clash with rival Kyle SNYDER (USA) potentially in the cards.
In other weight classes, Olympic silver medalist Aisuluu TYNYBEKOVA (KGZ) will launch an attempt to repeat her historic triumph from the 2019 worlds at women's 62kg, while the non-Olympic divisions of freestyle 70kg and women's 55kg also get underway.
The titanic clashes between Sadulaev and Snyder have been dubbed "Snyderlaev," and the third edition that played out on the Makuhari Messe mat at the Tokyo Olympics saw the Russian -- representing the Russian Wrestling Federation -- come away with a 6-3 victory and the gold.
The two, born just six months apart, followed up world titles in 2015 with Olympic golds at Rio 2016 at different weight classes. But Sadulaev then moved up from 86kg to 97kg to create the rivalry for the ages.
In their first meeting, in the final at the 2017 World Championships in Paris, Snyder won a 6-5 thriller. But Sadulaev got his revenge the following year in Budapest, winning the world gold with an unorthodox fall.
A potential third meeting at the 2019 World Championships in Nur-Sultan never came about after Snyder lost in the semifinals to 2012 London Olympic champion Sharif SHARIFOV (AZE), whom Sadulaev then defeated for his fourth world title.
In the final at Tokyo, Sadulaev was hampered by a lingering leg injury and was forced to play a defensive game. But he scored a pair of 2-point counters off Snyder's takedown attempts which put him over the top.
"There are definitely some positions that I have got to get better in," Snyder said after the match. "That is what I'm thinking about. I have got to finish those attacks."
In Sadulaev's Sport Yakutia interview, it was pointed out that should he win all three world titles in the Olympic cycle, then take the gold at Paris 2024, he would tie the freestyle record of legendary Soviet star Alexander Medved with a combined 10 world and Olympic titles.
"We will work," Sadulaev said. "If my health allows, I will try not to miss the World Championships, I will fight everywhere, and I will do what is depended of me."
With Sharifov not making the trip to Oslo, it looks like a two-man race to the gold. But there are a handful of opponents capable of pulling a surprise and be in the battle to make the medal podium.
Leading the best-of-the-rest is Cuban-born Abraham CONYEDO (ITA), one of the bronze medalists at the Tokyo Olympics, where he lost 6-0 to Snyder in the quarterfinals. He also finished third at the 2020 European Championships and 2018 World Championships.
Russian-born Albert SARITOV (ROU), a Rio 2016 bronze medalist at 86kg, lost in the first round in Tokyo to Conyedo and will be aiming to make it farther in the competition in Oslo. The 36-year-old was the 2020 European silver medalist.
Four other quarterfinalists in Tokyo look to be among the mix -- Elizbar ODIKADZE (GEO), a 2021 European and 2018 world bronze medalist; 2019 world bronze medalist Magomedgadji NUROV (MKD); 2021 Asian silver medalist Alisher YERGALI (KAZ); and 2021 European silver medalist Suleyman KARADENIZ (TUR).
Not to be discounted is 2020 Asian champion Mojtaba GOLEIJ (IRI), the 2019 world U23 champion.
In the women's 62kg class, defending champion Tynybekova will not have to contend with her main nemesis, Yukako KAWAI (JPN), who pipped her for the gold in Tokyo to avenge a third-round loss at the 2019 worlds. Kawai, like all of Japan's Olympians, is not entered this year.
Tynybekova made history with her triumph in Nur-Sultan, as it made her Kyrgyzstan's first-ever wrestling world champion, male or female, since it became independent in 1991.
She and Meerim ZHUMANAZAROVA (KGZ), a bronze medalist at 68kg, became the first Kyrgyz women to win Olympic medals, but Tynybekova was left devastated by falling short of her goal of becoming the country's first gold medalist in any sport.
"I could not accept the silver, and I could not hold back the tears," Tynybekova said in an interview with local media. "I did not sleep until dawn that day."
But while the 28-year-old was harsh on herself, her country was more than forgiving. She was treated to a hero's welcome upon her return, which greatly boosted her spirits, and not just from the 10 million som ($118,000) bonus and new Toyota car she was awarded from the state. She received something far more valuable.
Tynybekova had shut down her Facebook and Instagram accounts to focus on the Olympics, and when she restored them after the Games, she was overwhelmed by the flood of support.
"I was glad to see that every corner of Kyrgyzstan, every village, town and district is united," she said. "I wore this silver medal around my neck, held it in my hands, looked at it and didn't even take pictures.
"After the support of the Kyrgyz people, I felt differently and accepted the silver medal with a different love. That feeling was aroused by the support of my people. I learned that it is more valuable than gold."
Still, gold will be what she is after in Oslo, but Tynybekova cannot take the competition lightly. Even with the top Japanese missing, Tynybekova and the others should count on a dangerous alternate taking her place.
In Oslo, that will be 18-year-old Nonoka OZAKI (JPN), the 2019 world cadet champion who will be making her international senior debut. Ozaki earned the ticket to Norway by winning both of the top senior national tournaments, which, it should be noted, were missing Kawai.
Ozaki, the 2018 world cadet and Youth Olympics gold medalist at 57kg, is a highly touted product of the JOC Elite Academy, which produced Tokyo Olympic gold medalists Yui SUSAKI (JPN), Mayu MUKAIDA (JPN) and Takuto OTOGURO (JPN). It will be interesting to see how she holds up under the boiler-pressure of the top global tournament.
Another rising star also making her international senior debut will be recently crowned world junior champion Alina KASABIEVA (RWF). She also won the European junior title this year, and was a 2019 world cadet bronze medalist at 57kg.
Neither of the Tokyo bronze medalists were among the preliminary entries, but other ones to watch are 2019 world junior bronze medalist Ana GODINEZ GONZALEZ (CAN) and 2020 Asian silver medalist Ayaulym KASSYMOVA (KAZ).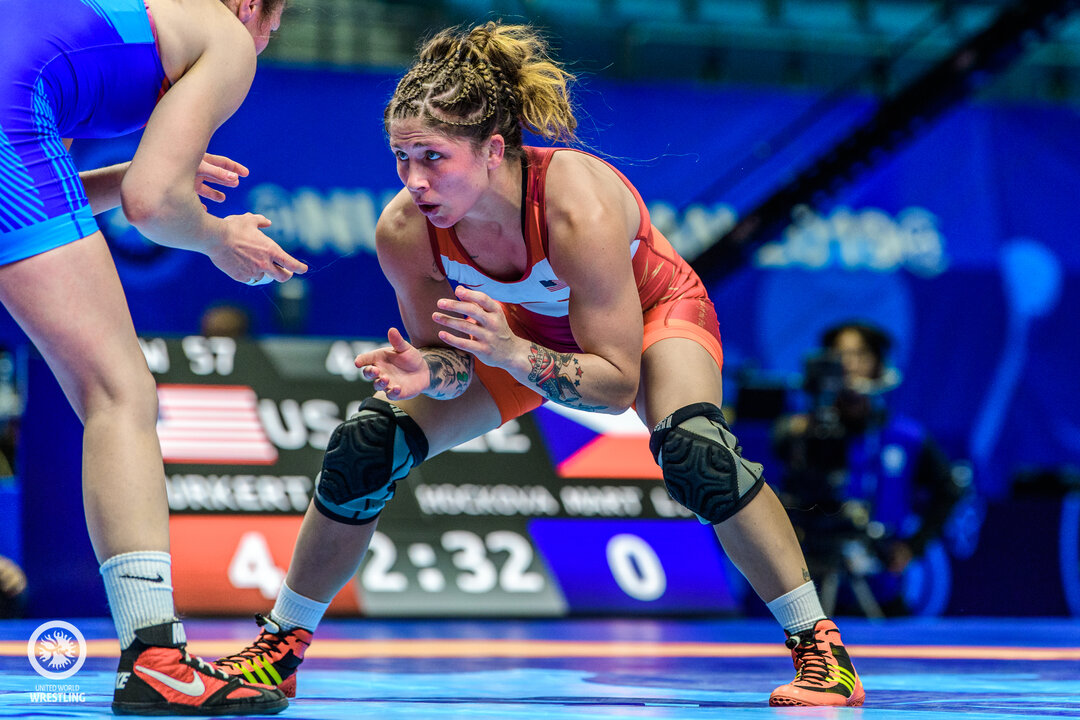 Jenna Rose BURKERT (USA) will represent the United States at 55kg. (Photo: Tony Rotundo)
At women's 55kg, reigning champion Jacarra WINCHESTER (USA) won't be around to defend her title after losing at the U.S. trials to Jenna BURKERT (USA), who is aiming to secure her first hardware in her fourth trip to the World Championships.
Burkert, a bronze medalist at the 2020 Matteo Pellicone tournament, won just one match in her three previous appearances at the worlds in weight classes ranging from 57kg to 60kg. She said she's ready to make a better showing this time after dropping to her lightest weight class since winning the Pan Am cadet title at 52kg -- back in 2008.
"You are only as good as your next match," Burkert said by email. "That's how I always train. I don't allow my ego to get caught up in how I've previously performed. I'm constantly pushing myself to make sure I'm putting in the work my body is capable of. I feel great both physically and mentally -- this new weight class really suits me in my opinion."
Burkert said the victory over Winchester, in which she won two matches to one in the best-of-3 format, with every match decided by one point, has given her a boost of confidence.
"I'm still working to be the best in the world," she said. "Beating the reigning world champ was the step I needed to get on the world team, and now it's about getting after it on October 4 & 5th."
Nanami IRIE (JPN), the 2019 silver medalist, dropped down to 53kg but failed to make the Japan team, and the spot at 55kg was filled by Tsugumi SAKURAI (JPN), the 2020 Klippan Lady gold medalist and 2016 world cadet champion.
Two entries who competed at the Tokyo Olympics at 53kg who can be expected to make waves in Oslo are 2019 world bronze medalist Olga KHOROSHAVTSEVA (RWF) and Roksana ZASINA (POL), a 2017 world bronze medalist at 53kg.
Khoroshavtseva is coming off a victory at 53kg at the European Championships in June, giving her a second straight continental title after winning at 55kg last year.
Zasina, who lost in the quarterfinals in Tokyo to eventual champion Mukaida, won her fourth European medal this year when she took the silver, and was the silver medalist at 53kg at the Individual World Cup in 2020.
Asian hopes will also be on Poland Open silver medalist Sumiya ERDENECHIMEG (MGL), Asian bronze medalist Aisha UALISHAN (KAZ) and 2020 Asian champion Pinki PINKI (IND).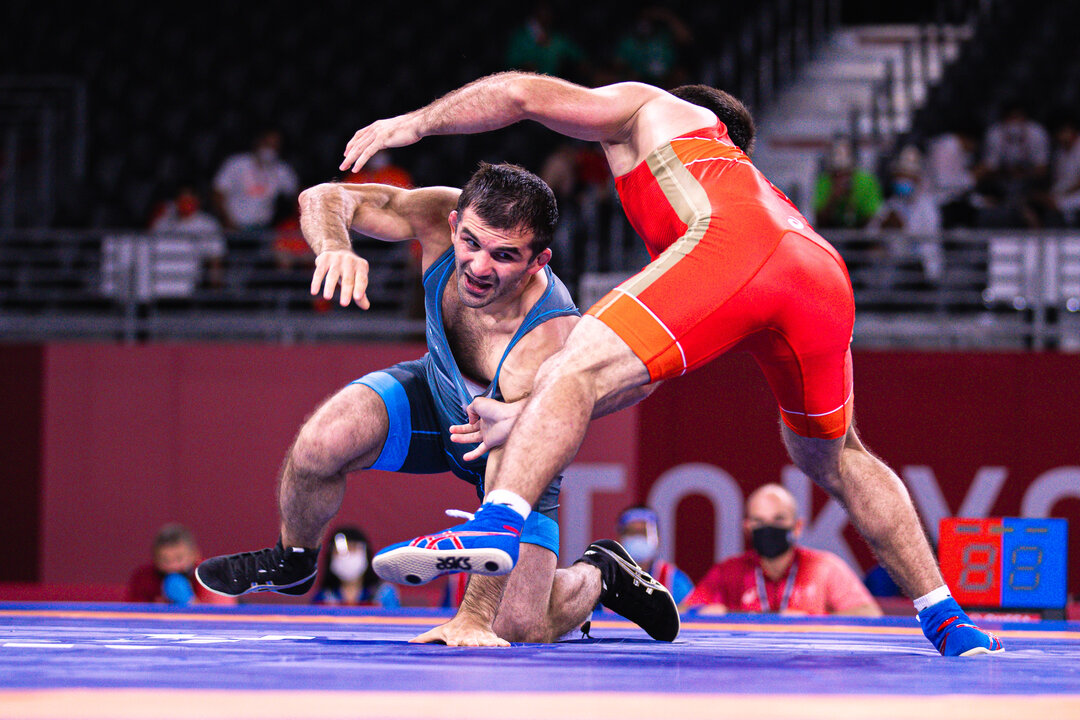 Magomedmurad GADZHIEV (POL), the two-time world medal winner, will move up to 70kg from his Tokyo Olympic weight of 65kg. (Photo: Gabor Martin)
At freestyle 70kg, Russian-born Magomedmurad GADZHIEV (POL) looks to be the one to beat, with two-time world medalist James GREEN (USA), European champion Israil KASUMOV (RWF) and veteran Adam BATIROV (BRN) also well in contention.
The 33-year-old Gadzhiev, a 2019 world bronze medalist, finished seventh at 65kg at the Tokyo Olympics. In 2020, he won his second European gold and fifth medal overall, and also triumphed at the Individual World Cup.
Green is dead set on making it to the top of the podium after taking a silver at the 2017 world championships and bronze in 2015.
"I think about this a lot!" he said in an email. "It's been a long time since I've been on top of any international podium. Silver and bronze seem to be the only medals that I get my hands on. That hasn't stopped me from staying on the path for gold."
Not being on the U.S. Olympic team only adds incentive for a victory in Oslo.
"Not having an opportunity to go to the Olympics makes this world championships a redemption, not only for myself but the other non-Olympic weights," Green said. "I'm hungry for gold and I will end the drought this year.