#WrestleIstanbul Yasar Dogu Entry List
Monday, February 7, 2022 - 16:17 By United World Wrestling Press
ISTANBUL, Turkey (February 8) -- An insane list of world and Olympic champions have entered their names into the prestigious Yasar Dogu Ranking Series event in Istanbul, Turkey (February 24-27).
The Yasar Dogu will be the first of four Ranking Series events of the year where wrestlers will look to accumulate seeding points for September's World Championships.
Jordan BURROUGHS (USA), Victor CIOBANU (MDA), Aisuluu TYNYBEKOVA (KGZ) and Turkey wrestling's pillars Riza KAYAALP (TUR) and Taha AKGUL (TUR) are some of the biggest names that will be on the mat from February 24 to 27.
Turkey will have the biggest contingent of all as they entered the maximum of three wrestlers in each of the 30 weight classes. Kayaalp will be in action for the first time since the Tokyo Olympics while Akgul has been on a break since winning the bronze at the Oslo Worlds. Tokyo Olympian Suleyman ATLI (TUR) will be at 61kg in freestyle. Veteran Soner DEMIRTAS (TUR) will try his luck in 74kg.
Iran is bringing a young squad with Amirmohammad Babak YAZDANICHERATI (IRI) leading the charge of the team which also features rising stars Alireza SARLAK (IRI) and Rahman AMOUZADKHALILI (IRI). 
Kazakhstan is also flying with a big squad with at least two entries in each of the 30 weight classes. All eyes will be on former U23 world silver medalist and Asian champion Adlan ASKAROV (KAZ) who finally makes a move to Olympic weight class 65kg from his preferred 61kg.
The Russian Wrestling Federation will treat the Yasar Dogu as a trial for the senior European Championships. They've entered 65kg Ivan Yarguin champion Shamil MAMEDOV (RWF) and world champion Zagir SHAKHIEV (RWF) for the event.
Russia is also expected to use the Dan Kolov, which takes place a week before the Yasar Dogu, as a European Championships selection competition. Depending on how things play out in Bulgaria, there's a chance we don't see Sidakov, Valiev, Mamedov and Shakhiev in Istanbul.
Olympic champ Burroughs will return to wrestling for the first time since his record sixth world title win. He is expected to take home ranking points at 79kg. Chandler MARSTELLER (USA) and David MC FADDEN (USA) are also entered at 79kg for the United States.
Joseph MCKENNA (USA) and Evan HENDERSON (USA) make up the Stars and Stripes lineup at 65kg while Jordan OLIVER (USA), James GREEN (USA) and Anthony ASHNAULT (USA) will be at 70kg. Mark HALL (USA) will also be wrestling at 86kg.
In women's wrestling, Tokyo Olympian Jacarra WINCHESTER (USA) is at 55kg while Ivan Yarguin champion Emma BRUNTIL (USA) and silver medalist Forrest MOLINARI (USA) will be wrestling at 65kg.
Ukraine has entered most of their U23 European and World team title-winning squads with Alina AKOBIYA (UKR) leading the charge as women's wrestling promises to be an amazing show in Istanbul.
A strong Greco-Roman performance is expected from Azerbaijan as U23 world champion Hasrat JAFAROV (AZE) at 67kg, '21 world silver Sanan SULEYMANOV (AZE) at 77kg and world champion Rafig HUSEYNOV (AZE) will be the biggest hopes of the nation.
India's two Olympic medalists from Tokyo Bajrang PUNIA (IND) and Ravi KUMAR (IND) will be making a return to the competition since August as they will wrestle in 65kg and 61kg respectively. Four-time Ranking Series gold-medalist Vinesh PHOGAT (IND) and '19 World silver Deepak PUNIA (IND) are also performing.
Kyrgyzstan's superstar trio of women's wrestling Tynybekova, world champion Meerim ZHUMANAZAROVA (KGZ) and Aiperi MEDET KYZY (KGZ) are back after all three won a medal at the Oslo World Championships. Current U23 world champion at 70kg Ernazar AKMATALIEV (KGZ) will also be wrestling alongside former U23 world champion Ulukbek ZHOLDOSHBEKOV (KGZ) who is entered at 61kg.
Bulgaria's world champion Bilyana DUDOVA (BUL) is making the move up to the Olympic weight class of 62kg as she prepares for Paris 2024. But it will be a clash with former world champion and Tokyo Olympian Taybe YUSEIN (BUL) who also wrestles in the same weight class. Tokyo bronze medalist at 57kg Evelina NIKOLOVA (BUL) is also entered.
Iryna KURACHKINA (BLR) is returning after winning the Tokyo Olympic silver as she begins another Olympic cycle with the aim to upgrade her Tokyo medal in Paris.
Moldova is bringing Greco-Roman world champion Ciobanu, along with women's wrestling pioneer Anastasia NICHITA (MDA) who suffered a heartbreaking fall at the Tokyo Olympics to return empty-handed. Oslo world silver medalist at 53kg Iulia LEORDA (MDA) will be looking to add more ranking points to her name.
Tokyo Olympians Epp MAEE (EST) and Arvi SAVOLAINEN (EST) will be leading their country's challenge in Turkey.
For United World Wrestling's latest world championship, continental championship and Ranking Series updates, please subscribe to our newsletter here.
*The entries were updated on February 15.
Jordan BURROUGHS (USA) is entered at 79kg. (Photo: United World Wrestling)
Freestyle
57kg
Guesseppe REA VILLARROEL (ECU)
Beka BUJIASHVILI (GEO)
Horst LEHR (GER)
Aman AMAN (IND)
Seyed AZIMISIYACHEGHAEI (IRI)
Daulet TEMIRZHANOV (KAZ)
Assylzhan YESSENGELDI (KAZ)
Rakhat KALZHAN (KAZ)
Almaz SMANBEKOV (KGZ)
Munkh BATKHUYAG (MGL)
Zanabazar ZANDANBUD (MGL)
Darian CRUZ (PUR)
Martin ZIDZIK (SVK)
Hikmatullo VOHIDOV (TJK)
Mehmet Mevlut YUCE (TUR)
Ahmet KARAVUS (TUR)
Muhammet KARAVUS (TUR)
Roman HUTSULIAK (UKR)
61kg
Georgii OKOROKOV (AUS)
Islam BAZARGANOV (AZE)
Adam BIBOULATOV (FRA)
Teimuraz VANISHVILI (GEO)
Mangal KADYAN (IND)
Ravi KUMAR (IND)
Saeid ANVARIZIJOUD (IRI) 
Rahman AMOUZADKHALILI (IRI)
Shamil OMAROV (ITA)
Zhassulan TASKUL (KAZ)
Akbar KURBANOV (KAZ)
Assyl AITAKYN (KAZ)
Ulukbek ZHOLDOSHBEKOV (KGZ)
Ramiz GAMZATOV (RWF)
Recep TOPAL (TUR)
Suleyman ATLI (TUR)
Ahmet TAS (TUR)
Andrii YATSENKO (UKR)
Taras MARKOVYCH (UKR)
Nicholas MEGALUDIS (USA)
Daniel DESHAZER (USA)
Gulomjon ABDULLAEV (UZB)
65kg
Ali RAHIMZADE (AZE)
Akhmednabi GVARZATILOV (AZE)
Ilman MUKHTAROV (FRA)
Quentin STICKER (FRA)
Beka LOMTADZE (GEO)
Iszmail MUSZUKAJEV (HUN)
ROHIT (IND)
Bajrang PUNIA (IND)
Rahman Daryoosh RAHIMPOOR (IRI)
Morteza Hassanali GHIASI CHEKA (IRI)
Adlan ASKAROV (KAZ)
Adil OSPANOV (KAZ)
Bekzat YERMEKBAY (KAZ)
Ikromzhon KHADZHIMURODOV (KGZ)
Tulga TUMUR OCHIR (MGL)
Tsogbadrakh TSEVEENSUREN (MGL)
Nikolai OKHLOPKOV (ROU)
Shamil MAMEDOV (RUS)
Zagir SHAKHIEV (RUS)
Ertugrul KAHVECI (TUR)
Mensur BAYOGLU (TUR)
Munir AKTAS (TUR)
Erik ARUSHANIAN (UKR)
Joseph MC KENNA (USA)
Evan HENDERSON (USA)
Abbos RAKHMONOV (UZB)
Nodir RAKHIMOV (UZB)
Umidjon JALOLOV (UZB)
70kg
Gitinomagomed GADZHIYEV (AZE)
Zurabi IAKOBISHVILI (GEO)
Levan KELEKHSASHVILI (GEO)
Vishal KALIRAMANA (IND)
Aliakbar FAZLIKHALILI (IRI)
Amirmohammad YAZDANICHERATI (IRI)
Sanzhar DOSZHANOV (KAZ)
Amandyk BAKEYEV (KAZ)
Syrbaz TALGAT (KAZ)
Ernazar AKMATALIEV (KGZ)
Khanburged GANKHUYAG (MGL)
Mohammed J M Th A ABDULKAREEM (KUW)
Viktor RASSADIN (RWF)
Daniel CHOMANIC (SVK)
Mustafo AKHMEDOV (TJK)
Cuneyt BUDAK (TUR)
Selahattin KILICSALLAYAN (TUR)
Servet COSKUN (TUR)
Ivan KUSYAK (UKR)
Jordan OLIVER (USA)
James GREEN (USA)
Anthony ASHNAULT (USA)
74kg
Soslan TIGIYEV (AZE)
Pritam PRITAM (IND)
Mohmmadsadegh FIROUZPOURBANDPEI (IRI)
Mitchell FINESILVER (ISR)
Nurlan BEKZHANOV (KAZ)
Shynggys MUKHAMETKALIYEV (KAZ)
Nurkozha KAIPANOV (KAZ)
Islambek OROZBEKOV (KGZ)
Abdullah J M Th A ABDALKAREEM (KUW)
Byambadorj BAT ERDENE (MGL)
Sumiyabazar ZANDANBUD (MGL)
Zurab KAPRAEV BELBEROVA (ROU)
Iakub SHIKHDZHAMALOV (ROU)
Maxim VASILIOGLO (ROU)
Samet AK (TUR)
Soner DEMIRTAS (TUR)
Tarik GUR (TUR)
Zielimkhan TOHUZOV (UKR)
Semen RADULOV (UKR)
Zielimkhan TOHUZOV (UKR)
Joey LAVALLEE (USA)
Asomiddin HASANOV (UZB)
79kg
Francisco de Deus KADIMA (ANG)
Gadzhimurad OMAROV (AZE)
Saifedine ALEKMA (FRA)
Vladimeri GAMKRELIDZE (GEO)
Giorgi SULAVA (GEO)
Gourav BALIYAN (IND)
Ali SAVADKOUHI (IRI)
Meiir KOSHKINBAYEV (KAZ)
Daulet YERGESH (KAZ)
Zhiger ZAKIROV (KAZ)
Arsalan BUDAZHAPOV (KGZ)
Alans AMIROVS (LAT)
Gadzhimurad ALIKHMAEV (RWF)
Hetik CABOLOV (SRB)
Jakub SYKORA (SVK)
Nuri TEMUR (TUR)
Muhammet AKDENIZ (TUR)
Abdullah ARSLAN (TUR)
Vasyl MYKHAILOV (UKR)
Kasum KASUMOV (UKR)
Dmytrii TKACHENKO (UKR)
Chandler MARSTELLER (USA)
Jordan BURROUGHS (USA)
David MC FADDEN (USA)
86kg
Gadzhimurad MAGOMEDSAIDOV (AZE)
Akhmed AIBUEV (FRA)
Tariel GAPHRINDASHVILI (GEO)
Tarzan MAISURADZE (GEO)
Lars SCHAEFLE (GER)
Sandeep Singh MANN (IND)
Mojtaba ASGHARI OSMAVANDANI (IRI)
Ali MANSOURI (IRI)
Abylaikhan NURSULTANOV (KAZ)
Azamat DAULETBEKOV (KAZ)
Maksat SATYBALDY (KAZ)
Nurtilek KARYPBAEV (KGZ)
Saiakbai USUPOV (KGZ)
Ivars SAMUSONOKS (LAT)
Temuujin MENDBILEG (MGL)
Bat Erdene BYAMBASUREN (MGL)
Ahmet KIS (TUR)
Osman GOCEN (TUR)
Fatih ERDIN (TUR)
Khasan ZAKARIIEV (UKR)
Mark HALL (USA)
Bekzod ABDURAKHMONOV (UZB)
92kg
Shamil ZUBAIROV (AZE)
Miriani MAISURADZE (GEO)
Deepak PUNIA (IND)
Viky VIKY (IND)
Ahmad BAZRIGHALEH (IRI)
Adilet DAVLUMBAYEV (KAZ)
Elkhan ASSADOV (KAZ)
Omar ZHUMASH (KAZ)
Mirlan CHYNYBEKOV (KGZ)
Guram CHERTKOEV (RWF)
Samed OZASLAN (TUR)
Erhan YAYLACI (TUR)
Ahmet BILICI (TUR)
Andrii VLASOV (UKR)
Denys PAVLOV (UKR)
97kg
Givi MATCHARASHVILI (GEO)
Satywart KADIAN (IND)
Mohammad MOHAMMADIAN (IRI)
Bakdaulet ALMENTAY (KAZ)
Akezhan AITBEKOV (KAZ)
Mamed IBRAGIMOV (KAZ)
Batzul ULZIISAIKHAN (MGL)
Nicolaas DE LANGE (RSA)
Alievitch MUSAEV (RWF)
Alikhan ZHABRAILOV (RWF)
Oktay CIFTCI (TUR)
Mustafa SESSIZ (TUR)
Bilal SAHIN (TUR)
Mahamed ZAKARIIEV (UKR)
Murazi MCHEDLIDZE (UKR)
Kollin MOORE (USA)
Mukhammadrasul RAKHIMOV (UZB)
125kg
Johannes LUDESCHER (AUT)
Jere Tapani HEINO (FIN)
Gennadij CUDINOVIC (GER)
Daniel LIGETI (HUN)
Shivraj RAKSHE (IND)
Oleg BOLTIN (KAZ)
Alisher YERGALI (KAZ)
Yusup BATIRMURZAEV (KAZ)
Muzafar ZHAPPUEV (KGZ)
Lkhagvagerel MUNKHTUR (MGL)
Vitalii GOLOEV (RWF)
Atsamaz TEBLOEV (RWF)
Magomedgadzhi NURASULOV (SRB)
Gabriel TYSZ (SVK)
Salim ERCAN (TUR)
Muhammed BANDIRMA (TUR)
Taha AKGUL (TUR)
Volodymyr BURUKOV (UKR)
Oleksandr KOLDOVSKYI (UKR)
Hayden ZILLMER (USA)
Nicholas GWIAZDOWSKI (USA)
Sardorbek KHOLMATOV (UZB)
Khasanboy RAKHIMOV (UZB)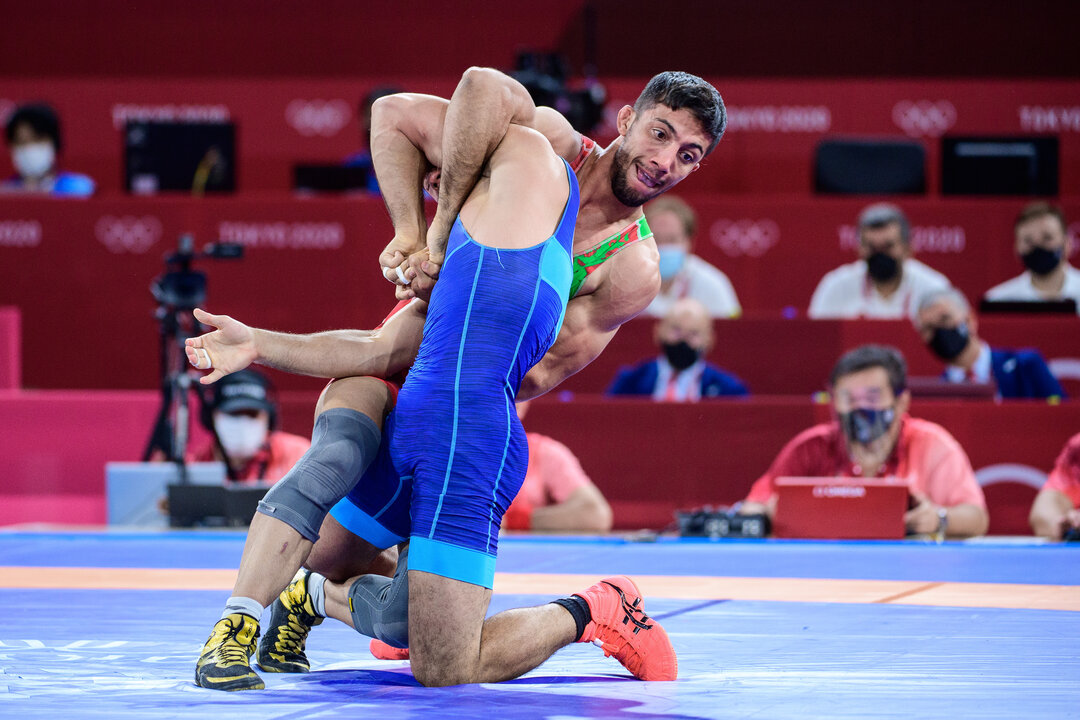 Olympic champion Mohammadreza GERAEI (IRI) headlines the Yasar Dogu Greco-Roman entries. (Photo: Tony Rotundo)
Greco-Roman
55kg
Ibrahim NURULLAYEV (AZE)
Sandeep SANDEEP (IND)
Nurzat KABDYRAKHIMOV (KAZ)
Amangali BEKBOLATOV (KAZ)
Marlan MUKASHEV (KAZ)
Dogus AYAZCI (TUR)
Ahmet TASKINOGLU (TUR)
Himmet SANDIKLILI (TUR)
60kg
Eldaniz AZIZLI (AZE)
Marat GARIPOV (BRA)
Gyanender GYANENDER (IND)
Dastan ZARLYKHANOV (KAZ)
Yernur FIDAKHMETOV (KAZ)
Mert ILBARS (TUR)
Ekrem OZTURK (TUR)
Ayhan KARAKUS (TUR)
Firuz TUKHTAEV (UZB)
63kg
Taleh MAMMADOV (AZE)
Sagar SAGAR (IND)
Aidos SULTANGALI (KAZ)
Galym KABDUNASSAROV (KAZ)
Bagylan ZHAKANSHA (KAZ)
Dastan KADYROV (KGZ)
Justas PETRAVICIUS (LTU)
Victor CIOBANU (MDA)
Rahman BILICI (TUR)
Ahmet UYAR (TUR)
Abdurrahman ALTAN (TUR)
Islomjon BAKHRAMOV (UZB)
67kg
Namaz RUSTAMOV (AZE)
Ashu ASHU (IND)
Sultan ASSETULY (KAZ)
Daniyar KALENOV (KAZ)
Meiirzhan SHERMAKHANBET (KAZ)
Kaly SULAIMANOV (KGZ)
Donior ISLAMOV (MDA)
Morten THORESEN (NOR)
Volkan CAKIL (TUR)
Furkan YILDIZ (TUR)
Murat FIRAT (TUR)
Makhmud BAKHSHILLOEV (UZB)
72kg
Ulvu GANIZADE (AZE)
Mikko PELTOKANGAS (FIN)
Vikas VIKAS (IND)
Alikhan KOKENOV (KAZ)
Azat SADYKOV (KAZ)
Abylaikhan AMZEYEV (KAZ)
Suimon IKRAMOV (KGZ)
Bek KONURBAEV (KGZ)
Kristupas SLEIVA (LTU)
Mateusz BERNATEK (POL)
Murat DAG (TUR)
Selcuk CAN (TUR)
Cengiz ARSLAN (TUR)
Mirzobek RAKHMATOV (UZB)
77kg
Sanan SULEYMANOV (AZE)
Joilson DE BRITO RAMOS JUNIOR (BRA)
Matias LIPASTI (FIN)
Sajan SAJAN (IND)
Demeu ZHADRAYEV (KAZ)
Tamerlan SHADUKAYEV (KAZ)
Maxat YEREZHEPOV (KAZ)
Gevorg SAHAKYAN (POL)
Viktor NEMES (SRB)
Ahmet YILMAZ (TUR)
Yunus BASAR (TUR)
Furkan BAYRAK (TUR)
Aram VARDANYAN (UZB)
82kg
Tunjay VAZIRZADE (AZE)
Rafig HUSEYNOV (AZE)
Harpeet SINGH (IND)
Ilimdor SATAYEV (KAZ)
Rakhmet SAPIYEV (KAZ)
Dias KALEN (KAZ)
Mihail BRADU (MDA)
Burhan AKBUDAK (TUR)
Emrah KUS (TUR)
Hasan KILINC (TUR)
87kg
Islam ABBASOV (AZE)
Sunil KUMAR (IND)
Umalt DAUDOV (KAZ)
Zhantas NURGALI (KAZ)
Nursultan TURSYNOV (KAZ)
Arkadiusz KULYNYCZ (POL)
Zurabi DATUNASHVILI (SRB)
Mehmetali KUCUKOSMAN (TUR)
Ali CENGIZ (TUR)
Metehan BASAR (TUR)
Jalgasbay BERDIMURATOV (UZB)
Nurbek KHASHIMBEKOV (UZB)
97kg
Daniel GASTL (AUT)
Arif NIFTULLAYEV (AZE)
Murat LOKIAYEV (AZE)
Igor ALVES DE QUEIROZ (BRA)
Arvi SAVOLAINEN (FIN)
Hardeep HARDEEP (IND)
Nikoloz KAKHELASHVILI (ITA)
Sanzhar SERIKKAN (KAZ)
Islam UMAYEV (KAZ)
Martynas NEMSEVICIUS (LTU)
Vilius LAURINAITIS (LTU)
Felix BALDAUF (NOR)
Tadeusz MICHALIK (POL)
Mihail KAJAIA (SRB)
Abdul CEBI (TUR)
Ibrahim TIGCI (TUR)
Beytullah KAYISDAG (TUR)
Rustam ASSAKALOV (UZB)
Abrorbek NURMUKHAMMEDOV (UZB)
130kg
Beka KANDELAKI (AZE)
Konsta MAEENPAEAE (FIN)
Nikolaos NTOUNIAS (GRE)
Naveen NAVEEN (IND)
Danila SOTNIKOV (ITA)
Anton SAVENKO (KAZ)
Alimkhan SYZDYKOV (KAZ)
Romas FRIDRIKAS (LTU)
Mantas KNYSTAUTAS (LTU)
Oskar MARVIK (NOR)
Rafal KRAJEWSKI (POL)
Atalay AYDEMIR (TUR)
Osman YILDIRIM (TUR)
Riza KAYAALP (TUR)
Muminjon ABDULLAEV (UZB)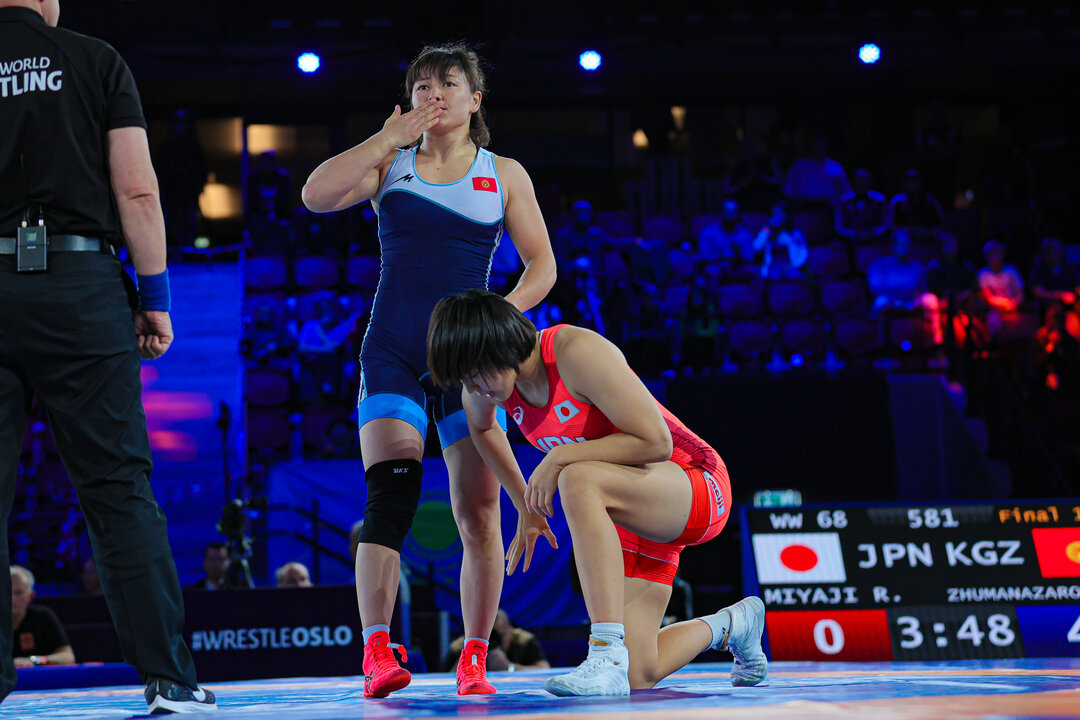 World champion and Tokyo Olympic bronze medalist Meerim ZHUMANAZAROVA (KGZ) will compete at 68kg. (Photo: Kadir Caliskan)
Women's Wrestling
50kg
Turkan NASIROVA (AZE)
Kseniya STANKEVICH (BLR)
Kamila BARBOSA VITO DA SILVA (BRA)
Miglena SELISHKA (BUL)
Shivani PAWAR (IND)
Svetlana ANKICHEVA (KAZ)
Aigul NURALIM (KAZ)
Gabija DILYTE (LTU)
Namuuntsetseg TSOGT OCHIR (MGL)
Otgonjargal DOLGORJAV (MGL)
Agata Marta WALERZAK (POL)
Weronika SIKORA (POL)
Anna LUKASIAK (POL)
Alina VUC (ROU)
Nadezhda SOKOLOVA (RUS)
Polina LUKINA (RUS)
Anzhelika FEDOROVA (RUS)
Sarra HAMDI (TUN)
Evin DEMIRHAN YAVUZ (TUR)
Emine CATALOGLU (TUR)
Aynur ERGE (TUR)
Tetiana PROFATILOVA (UKR)
Erin GOLSTON (USA)
Amy FEARNSIDE (USA)
Jasmina IMMAEVA (UZB)
53kg
Tatyana VARANSOVA (AZE)
Katsiaryna PICHKOUSKAYA (BLR)
Annika WENDLE (GER)
Pooja GEHLOT (IND)
Assylzat SAGYMBAY (KAZ)
Ellada MAKHYADDINOVA (KAZ)
Zhuldyz ESHIMOVA (KAZ)
Iulia LEORDA (MDA)
Bolortuya BAT OCHIR (MGL)
Milana MAKHACHEVA DADASHEVA (RWF)
Anzhelika VETOSHKINA (RWF)
Leila KARYMOVA (RWF)
Emma MALMGREN (SWE)
Sila AYKUL (TUR)
Semanur KANLI (TUR)
Esra PUL (TUR)
Liliya HORISHNA (UKR)
Dominique PARRISH (USA)
Aktenge KEUNIMJAEVA (UZB)
55kg
Anju ANJU (IND)
Vinesh VINESH (IND)
Aisha KAPPAR (KAZ)
Altyn SHAGAYEVA (KAZ)
Ainur ASHIMOVA (KAZ)
Laura STANELYTE (LTU)
Roksana ZASINA (POL)
Katarzyna KRAWCZYK (POL)
Aleksandra SKIRENKO (RWF)
Ekaterina ISAKOVA (RWF)
Tatiana NOVIK (RWF)
Eda TEKIN (TUR)
Mehlika OZTURK (TUR)
Sinem KOROGLU (TUR)
Oleksandra KHOMENETS (UKR)
Jacarra WINCHESTER (USA)
57kg
Iryna KURACHKINA (BLR)
Hanna VAHER (BLR)
Giullia RODRIGUES PENALBER DE OLIVEIRA (BRA)
Evelina NIKOLOVA (BUL)
Jenna HEMIAE (FIN)
Elena BRUGGER (GER)
Sandra PARUSZEWSKI (GER)
Mansi MANSI (IND)
Emma TISSINA (KAZ)
Nilufar RAIMOVA (KAZ)
Aisha UALISHAN (KAZ)
Bolortuya KHURELKHUU (MGL)
Omolayo KOLAWOLE (NGR)
Alicja CZYZOWICZ (POL)
Anhelina LYSAK (POL)
Veronika CHUMIKOVA (RWF)
Irina OLOGONOVA (RWF)
Olga KHOROSHAVTSEVA (RWF)
Bediha GUN (TUR)
Derya BAYHAN (TUR)
Ozge FINDIKCI (TUR)
Shokhida AKHMEDOVA (UZB)
59kg59kg
Alyona KOLESNIK (AZE)
Sarita SARITA (IND)
Madina AMAN (KAZ)
Diana KAYUMOVA (KAZ)
Aizhan ISMAGULOVA (KAZ)
Anastasia NICHITA (MDA)
Grace BULLEN (NOR)
Jowita WRZESIEN (POL)
Kateryna ZHYDACHEVSKA (ROU)
Zhargalma TSYREMPILOVA TCYRENOVA (RWF)
Zelfira SADRADDINOVA (RWF)
Anastasiia IAKOVLEVA (RWF)
Elmas CELIK (TUR)
Elif YANIK (TUR)
Nurife DUMAN (TUR)
Solomiia VYNNYK (UKR)
Yuliia LISOVSKA (UKR)
Michaela BECK (USA)
Sophia MIRABELLA (USA)
62kg
Veranika IVANOVA (BLR)
Lais NUNES DE OLIVEIRA (BRA)
Bilyana DUDOVA (BUL)
Taybe YUSEIN (BUL)
Luisa NIEMESCH (GER)
Sangeeta SANGEETA (IND)
Sakshi MALIK (IND)
Tynys DUBEK (KAZ)
Irina KUZNETSOVA (KAZ)
Ayaulym KASSYMOVA (KAZ)
Aisuluu TYNYBEKOVA (KGZ)
Tserenchimed SUKHEE (MGL)
Natalia KUBATY (POL)
Aleksandra WOLCZYNSKA (POL)
Svetlana LIPATOVA (RWF)
Anastasiia PAROKHINA (RWF)
Khadizhat MURTUZALIEVA (RWF)
Marwa AMRI (TUN)
Gamze ADAKAN (TUR)
Hatice TEKIN (TUR)
Ebru YILMAZ (TUR)
Ilona PROKOPEVNIUK (UKR)
Macey KILTY (USA)
Rushana ABDIRASULOVA (UZB)
Nabira ESENBAEVA (UZB)
65kg
Elis MANOLOVA (AZE)
Sofiya GEORGIEVA (BUL)
Nisha NISHA (IND)
Madina BAKBERGENOVA (KAZ)
Dariga ABEN (KAZ)
Kriszta INCZE (ROU) 
Mariia KUZNETSOVA (RWF)
Uliana TUKURENOVA (RWF)
Dinara KUDAEVA SALIKHOVA (RWF)
Khadija JLASSI (TUN)
Asli TUGCU (TUR)
Gulsum BINGOL (TUR)
Derya KARADUMAN (TUR)
Antonyna KULAHINA (UKR)
Tetiana RIZHKO (UKR)
Forrest MOLINARI (USA)
Mallory VELTE (USA)
Emma BRUNTIL (USA)
Ariukhan JUMABAEVA (UZB)
68kg
Adela HANZLICKOVA (CZE)
Ritu RITU (IND)
Albina KAIRGELDINOVA (KAZ)
Meerim ZHUMANAZAROVA (KGZ)
Delgermaa ENKHSAIKHAN (MGL)
Blessing OBORUDUDU (NGR)
Natalia STRZALKA (POL)
Zuzanna WOLCZYNSKA (POL)
Khanum VELIEVA (RWF)
Marina SUROVTSEVA (RWF)
Tatiana SMOLIAK (RWF)
Nesrin BAS (TUR)
Havva DURAN (TUR)
Alla BELINSKA (UKR)
Nicole PIEARCY (USA)
Azoda ESBERGENOVA (UZB)
72kg
Anna SCHELL (GER)
Pinki PINKI (IND)
Alexandra ZAITSEVA (KAZ)
Zhamila BAKBERGENOVA (KAZ)
Danute DOMIKAITYTE (LTU)
Alexandra ANGHEL (ROU)
Kseniia BURAKOVA (RUS)
Buse CAVUSOGLU TOSUN (TUR)
Nazar BATIR (TUR)
Vahide GOK (TUR)
76kg
Martina KUENZ (AUT)
Kseniya DZIBUK (BLR)
Mariya ORYASHKOVA (BUL)
Samar HAMZA (EGY)
Francy RAEDELT (GER)
Gursharanpreet KAUR(IND)
Gulmaral YERKEBAYEVA (KAZ)
Aiperi MEDET KYZY (KGZ)
Kamile GAUCAITE (LTU)
Patrycja SPERKA (POL)
Catalina AXENTE (ROU)
Ekaterina BUKINA (RUS)
Kristina SHUMOVA (RUS)
Rita TALISMANOVA (RUS)
Beste CIVELEK ALTUG (TUR)
Melisa SARITAC (TUR)
Melike KOZGUN (TUR)
Anastasiia OSNIACH SHUSTOVA (UKR)
Precious BELL (USA)
Victoria FRANCIS (USA)
Svetlana OKNAZAROVA (UZB)