#WresleSkopje U23 European C'ship Entries
Wednesday, May 12, 2021 - 13:46 By Eric Olanowski
SKOPJE,  North Macedonia (May 13) --- After a 592 day layoff due to the COVID-19 pandemic, and for the first time since the '19 U23 World Championships, the U23 calendar resumes with the U23 European Championships (May 17-23). 
The VIP Arena Boris Trajkovski in North Macedonia's capital city, Skpoje, will welcome nearly 425 rising stars from 36 different nations.
Freestyle action begins on Monday, women's wrestling takes center stage on Wednesday and Greco-Roman closes out the competition beginning on Friday.
Freestyle
57kg
Endrio AVDYLI (ALB)
Karen ZURABYAN (ARM)
Aliabbas RZAZADE (AZE)
Dzmitry SHAMELA (BLR)
Mehmed Hasan MEHMED (BUL)
Ramaz TURMANIDZE (GEO)
Niklas STECHELE (GER)
Richard Lajos RACZ (HUN)
Simone Vincenzo PIRODDU (ITA)
Ghennadi DIUVENJI (MDA)
Besir ALILI (MKD)
Akhmed IDRISOV (RUS)
Nils LEUTERT (SUI)
Hafiz Can HASDEMIR (TUR)
Kamil KERYMOV (UKR)
61kg
Razmik PAPIKYAN (ARM)
Ilya RAHOZAU (BLR)
Ruhan Hyusnyu RASIM (BUL)
Arman Norik ELOYAN (FRA)
Teimuraz VANISHVILI (GEO)
Nico MEGERLE (GER)
Leomid COLESNIC (MDA)
Arben ABAZI (MKD)
Muslim MEKHTIKHANOV (RUS)
Nino LEUTERT (SUI)
Emrah ORMANOGLU (TUR)
Artem KRYVENKO (UKR)

65kg
Sure VRIONI (ALB)
Hrachya MARGARYAN (ARM)
Ziraddin BAYRAMOV (AZE)
Uladzislau KOIKA (BLR)
Alish Gyoksel ALISH (BUL)
David KOPRIVA (CZE)
Marwane Ahmed YEZZA (FRA)
Ross Taylor CONNELLY (GBR)
Giorgi TCHOLADZE (GEO)
Leon GERSTENBERGER (GER)
Karoly KISS (HUN)
Altin BERISHA (KOS)
Sergiu LUPASCO (MDA)
Elmedin SEJFULAU (MKD)
Stefan Ionut COMAN (ROU)
Abdulmazhid KUDIEV (RUS)
Cavit ACAR (TUR)
Erik ARUSHANIAN (UKR)
70kg
Eriglent PRIZRENI (ALB)
Arman ANDREASYAN (ARM)
Dzhabrail GADZHIEV (AZE)
Daniil AMELYANCHYK (BLR)
Dimitar Atanasov ANGELOV (BUL)
Giorgi ELBAKIDZE (GEO)
Roland BIRO (HUN)
Raul ZARBALIEV (ISR)
Albin SHEHU (KOS)
Nicolai GRAHMEZ (MDA)
Fati VEJSELI (MKD)
Norbert MOLNOS (ROU)
Inalbek SHERIEV (RUS)
Tobias PORTMANN (SUI)
Daniel CHOMANIC (SVK)
Cuneyt BUDAK (TUR)
Denys BOROHAN (UKR)
74kg
Arjan DANAJ (ALB)
Hrayr ALIKHANYAN (ARM)
Simon MARCHL (AUT)
Ashraf ASHIROV (AZE)
Davud ALIZALAU (BLR)
Nikolay Iliev DIMITROV (BUL)
Charles André AFA (FRA)
Vladimeri GAMKRELIDZE (GEO)
Lucas Marco KAHNT (GER)
Georgios KOUGIOUMTSIDIS (GRE)
Naftali Hertz HOROWITZ (ISR)
Luca FINIZIO (ITA)
Vasile DIACON (MDA)
Serhan SHAKIROV (MKD)
Szymon WOJTKOWSKI (POL)
Krisztian BIRO (ROU)
Chermen VALIEV (RUS)
Isa DEMIR (TUR)
Andrii NUHUMANOV (UKR)
79kg
Arman AVAGYAN (ARM)
Yahor AKULICH (BLR)
Oktay Ruzhdi HASAN (BUL)
Erik REINBOK (EST)
Goga MAMIAURI (GEO)
Beat Konstantin SCHAIBLE (GER)
Botond LUKACS (HUN)
Max KASPEROVICH (ISR)
Salvatore DIANA (ITA)
Lilian BALAN (MDA)
Astrit ISMAILI (MKD)
Jakub Patryk WLADCZYK (POL)
Khalid IAKHIEV (RUS)
Tanguy DARBELLAY (SUI)
Ramazan SARI (TUR)
Valentyn BABII (UKR)
86kg
Benjamin GREIL (AUT)
Orkhan ABASOV (AZE)
Ilya KHAMTSOU (BLR)
Ivan Kostadinov STEFANOV (BUL)
Matous VONDAL (CZE)
Demur MEGENEISHVILI (GEO)
Lars SCHAEFLE (GER)
Patrik SZUROVSZKI (HUN)
Uri KALASHNIKOV (ISR)
Ivars SAMUSONOKS (LAT)
Andrian GROSUL (MDA)
Omer SEJFULAI (MKD)
Cezary Marek SADOWSKI (POL)
Amanula RASULOV (RUS)
Emre CIFTCI (TUR)
Denys SAHALIUK (UKR)
92kg
Osman NURMAGOMEDOV (AZE)
Arkadzi PAHASIAN (BLR)
Ivaylo Stefanov NANCHEV (BUL)
Miriani MAISURADZE (GEO)
Sebastian SCHMIDT (GER)
Richard VEGH (HUN)
Shai Shabtai SHOTASHVILI (ISR)
Auron SYLA (KOS)
Gheorghe ERHAN (MDA)
Redjep HAJDARI (MKD)
Azamat ZAKUEV (RUS)
Erhan YAYLACI (TUR)
Daniil PIDLYPENETS (UKR)
97kg
Islam ILYASOV (AZE)
Aliaksei PARKHOMENKA (BLR)
Tsvetan Danielov EVTIMOV (BUL)
Luka KHUTCHUA (GEO)
Ertugrul AGCA (GER)
David LABKOVSKY (ISR)
Radu LEFTER (MDA)
Ramadan MUSTAFOVSKI (MKD)
Michal Jan BIELAWSKI (POL)
Aslanbek SOTIEV (RUS)
Viliam OROSS (SVK)
Sven Janovitj ENGSTROEM (SWE)
Feyzullah AKTURK (TUR)
Danylo STASIUK (UKR)
125kg
Paris KAREPI (ALB)
Hovhannes MAGHAKYAN (ARM)
Timon Johann HASLWANTER (AUT)
Vakhit GALAYEV (AZE)
Yaraslau SLAVIKOUSKI (BLR)
Georgi Lyubomirov IVANOV (BUL)
Aleksi ZHORZHOLIANI (GEO)
Lior ALTSHULER (ISR)
Semion PLUGARU (MDA)
Uvejs FEJZULAHU (MKD)
Atsamaz TEBLOEV (RUS)
Anil Berkan KILICSALLAYAN (TUR)
Yurii IDZINSKYI (UKR)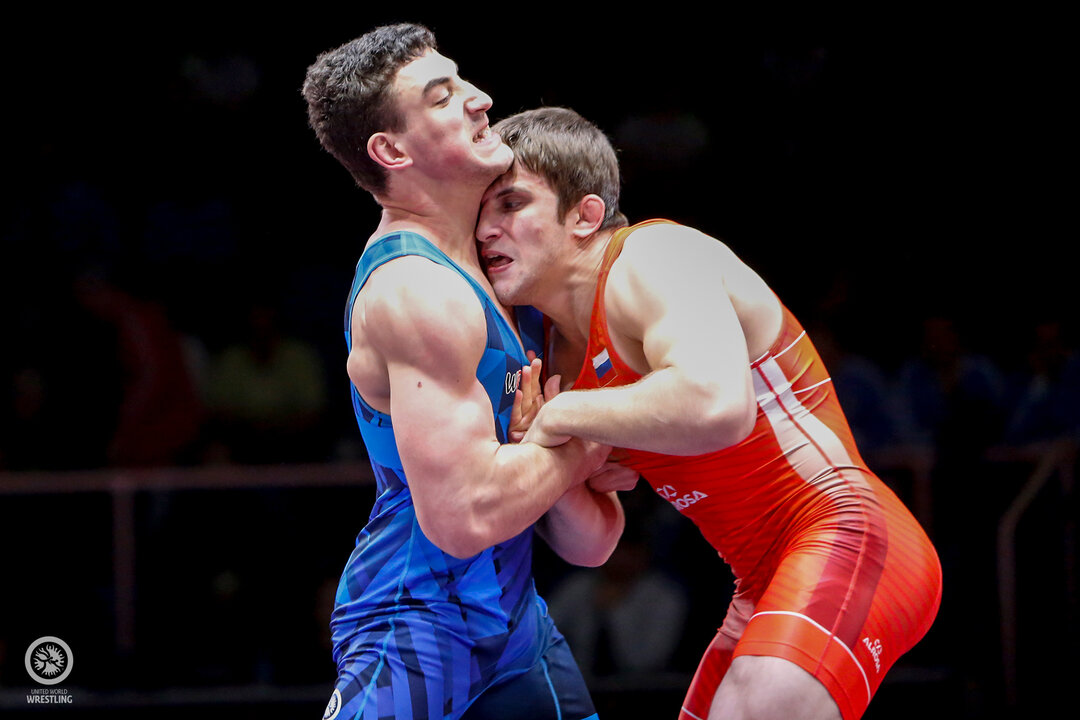 Four-time age group world champion Aleksandr Andreevitch KOMAROV (RUS) will compete at 87kg. (Photo: Kadir Caliskan)
Greco-Roman
55kg
Bajram SINA (ALB)
Ashot MKHITARYAN (ARM)
Zaur Eyvaz ALIYEV (AZE)
Maksim STUPAKEVICH (BLR)
Denis Krasimirov DEMIROV (BUL)
Ramaz SILAGAVA (GEO)
Artiom DELEANU (MDA)
Denis Florin MIHAI (ROU)
Mavlud RIZMANOV (RUS)
Sebastian KOLOMPAR (SRB)
Adem Burak UZUN (TUR)
Mykola HAVRYCHKIN (UKR)
60kg
Tigran MINASYAN (ARM)
Elmir ALIYEV (AZE)
Uladzislau PRYBYLSKI (BLR)
Edmond Armen NAZARYAN (BUL)
Andy JUAN SUCH (ESP)
Irakli DZIMISTARISHVILI (GEO)
Krisztian KECSKEMETI (HUN)
Vitalie ERIOMENCO (MDA)
Razvan ARNAUT (ROU)
Anvar ALLAKHIAROV (RUS)
Ahmet UYAR (TUR)
Ihor KUROCHKIN (UKR)
63kg
Hrachya POGHOSYAN (ARM)
Zaur NURIYEV (AZE)
Aliaksandr PECHURENKA (BLR)
Ilia Dimitrov MUSTAKOV (BUL)
Leri ABULADZE (GEO)
Andrej GINC (GER)
Andrea SETTI (ITA)
Alexandru TRANDAFIR (ROU)
Rakhman TAVMURZAEV (RUS)
Dejan PETROVIC (SRB)
Niklas Jan Olov Pontus OEHLEN (SWE)
Abdulkadir SAYDAM (TUR)
Maksym LIU (UKR)
67kg
Gurgen ALEKSANYAN (ARM)
Aker AL OBAIDI (AUT)
Hasrat JAFAROV (AZE)
Maksim NEHODA (BLR)
Ivo Krasimirov ILIEV (BUL)
Denis MERTL (CZE)
Marcos SANCHEZ SILVA MEJIAS (ESP)
Elmer Joakim MATTILA (FIN)
Gagik Mishai SNJOYAN (FRA)
Joni KHETSURIANI (GEO)
Krisztian Istvan VANCZA (HUN)
Mateusz Radoslaw SZEWCZUK (POL)
Vasile Alexandru DOSOFTEI (ROU)
Turpal Ali ISAEV (RUS)
Kadir KAMAL (TUR)
Oleksii MASYK (UKR)
72kg
Kevin KUPI (ALB)
Malkhas AMOYAN (ARM)
Khasay HASANLI (AZE)
Aliaksandr LIAVONCHYK (BLR)
Luka MALOBABIC (CRO)
Akseli Elias YLI HANNUKSELA (FIN)
Otar ABULADZE (GEO)
Idris IBAEV (GER)
Oliver KAJTAN (HUN)
Mihai PETIC (MDA)
Haavard JOERGENSEN (NOR)
Sergei KUTUZOV (RUS)
Aron PINTER (SRB)
Michael PORTMANN (SUI)
Oliver OLAH (SVK)
Hasan ORAKCI (TUR)
Andrii KULYK (UKR)
77kg
Samvel GRIGORYAN (ARM)
Mikita KAZAKOU (BLR)
Pavel PUKLAVEC (CRO)
Jakub BIELESZ (CZE)
Waltteri Harri Kristian LATVALA (FIN)
Nikoloz TCHIKAIDZE (GEO)
Erik LOESER (GER)
Moric KISMONI (HUN)
Alexandrin GUTU (MDA)
Per Anders KURE (NOR)
Patryk Adam BEDNARZ (POL)
Nicolae POPA (ROU)
Sergei STEPANOV (RUS)
Aleksa ILIC (SRB)
Gergely BUERSOELY (SVK)
Per Albin OLOFSSON (SWE)
Erkan ERGEN (TUR)
Ihor BYCHKOV (UKR)
82kg
Gagik HAKOBYAN (ARM)
Yauheni YUROU (BLR)
Tihomir Todorov DIMOV (BUL)
Sebastian PETRAC (CRO)
Ranet KALJOLA (EST)
Otto Eemeli KETONEN (FIN)
Aivengo RIKADZE (GEO)
Dimitrios TSOMPANOUDIS (GRE)
Tamas LEVAI (HUN)
Arminas LYGNUGARIS (LTU)
Vladislav GUTU (MDA)
Marcel STERKENBURG (NED)
Magnus GROENVIK (NOR)
Vasile Daniel COJOC (ROU)
Shamil Letkaevitch OZHAEV (RUS)
Branko KOVACEVIC (SRB)
Ramon Rainer BETSCHART (SUI)
Mats Ola Lukas AHLGREN (SWE)
Dogan KAYA (TUR)
Dmytro GARDUBEI (UKR)
87kg
Gevorg TADEVOSYAN (ARM)
Lachin VALIYEV (AZE)
Ihar YARASHEVICH (BLR)
Svetoslav Nikolaev NIKOLOV (BUL)
Matej MANDIC (CRO)
Andreas VAELIS (EST)
Juho Matias PAHIKAINEN (FIN)
Temuri TCHKUASELIDZE (GEO)
Ilias PAGKALIDIS (GRE)
Istvan TAKACS (HUN)
Mirco MINGUZZI (ITA)
Tyrone STERKENBURG (NED)
Szymon SZYMONOWICZ (POL)
Nicu Samuel OJOG (ROU)
Aleksandr Andreevitch KOMAROV (RUS)
Mario VUKOVIC (SRB)
Muhutdin SARICICEK (TUR)
Dmytro KIIASHOK (UKR)
97kg
Kevi BALLABANI (ALB)
Albert YEGHIKYAN (ARM)
Markus RAGGINGER (AUT)
Pavel HLINCHUK (BLR)
Mariyan Iliyanov MARINOV (BUL)
Filip SMETKO (CRO)
Ondrej DADAK (CZE)
Giorgi KATSANASHVILI (GEO)
Patrick NEUMAIER (GER)
Michail IOSIFIDIS (GRE)
Robert ERSEK (HUN)
Luca SVAICARI (ITA)
Arnoldas BARANOVAS (LTU)
Marcus WORREN (NOR)
Piotr CHUDZIK (POL)
Artur SARGSIAN (RUS)
Aleksandar SIMOVIC (SRB)
Damian VON EUW (SUI)
Beytullah KAYISDAG (TUR)
Valentyn SHKLIARENKO (UKR)

130kg
David OVASAPYAN (ARM)
Sarkhan MAMMADOV (AZE)
Ilya YUDCHYTS (BLR)
Mate GOKADZE (GEO)
Franz RICHTER (GER)
Nikolaos NTOUNIAS (GRE)
Dariusz Attila VITEK (HUN)
Nikola MILATOVIC (NOR)
Gerard Cyprian KURNICZAK (POL)
Lenard Istvan BEREI (ROU)
Mikhail LAPTEV (RUS)
Vladan ZIVKOVIC (SRB)
Delian Hossein ALISHAHI (SUI)
Fatih BOZKURT (TUR)
Mykhailo VYSHNYVETSKYI (UKR)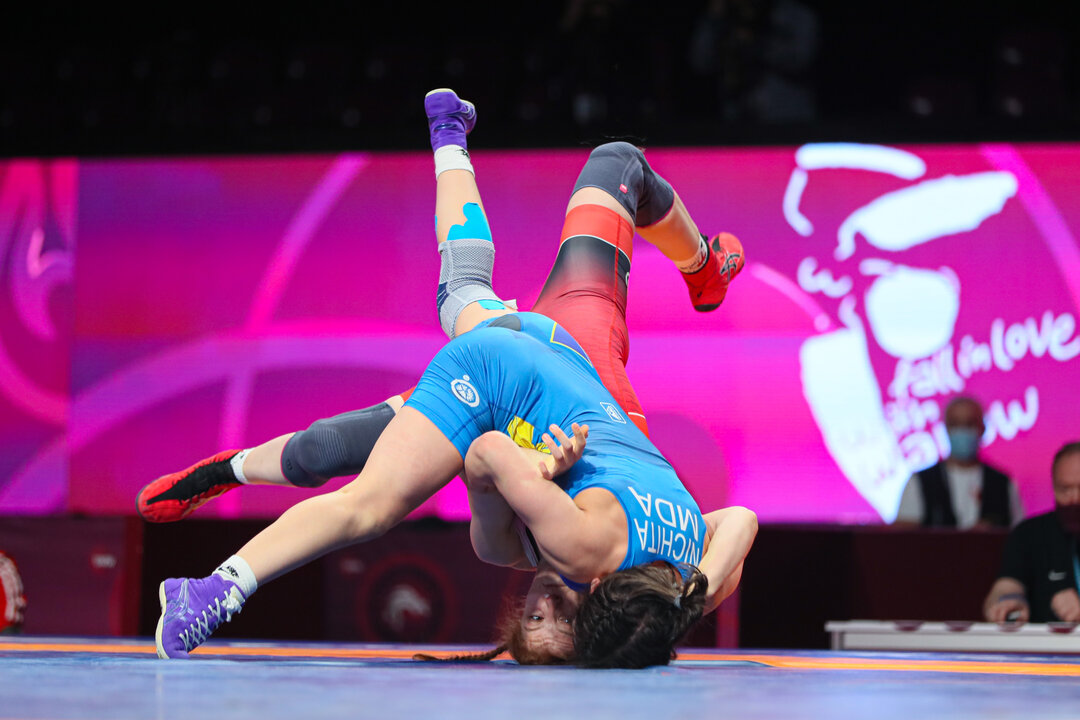 Cadet, junior, U23 and senior European champion Anastasia NICHITA (MDA) headlines the women's wrestling entries. She'll compete at 59kg. (Photo: Kadir Caliskan)
Women's Wrestling
50kg
Anastasiya YANOTAVA (BLR)
Ana Maria TORRES RUBIO (ESP)
Taru Marketta VAINIONPAEAE (FIN)
Lisa ERSEL (GER)
Jekaterina JERMALONOKA (LAT)
Vestina DANISEVICIUTE (LTU)
Maria LEORDA (MDA)
Amanda TOMCZYK (POL)
Maria Alexandra CIOCLEA (ROU)
Mariia TIUMEREKOVA (RUS)
Anna POLLAKOVA (SVK)
Aynur ERGE (TUR)
Liliia MALANCHUK (UKR)
53kg
Viktoryia VOLK (BLR)
Emma Solange Irène LUTTENAUER (FRA)
Anastasia BLAYVAS (GER)
Szimonetta Timea SZEKER (HUN)
Elvira KRASNIQI (KOS)
Mariana DRAGUTAN (MDA)
Alicja CZYZOWICZ (POL)
Elena Simona IONESCU (ROU)
Ekaterina VERBINA (RUS)
Esra PUL (TUR)
Mariia VYNNYK (UKR)
55kg
Florine Maria SCHEDLER (AUT)
Anastasiya RAMANIONAK (BLR)
Aleksandrina Nikolaeva KASHINOVA (BUL)
Laura GOMEZ VIZCAINO (ESP)
Laura STANELYTE (LTU)
Dominika Ewa KULWICKA (POL)
Beatrice Ionela FERENT (ROU)
Aleksandra SKIRENKO (RUS)
Zeynep YETGIL (TUR)
Khrystyna Zoryana DEMKO (UKR)
57kg
Hanna VAHER (BLR)
Sezen Behchetova BELBEROVA (BUL)
Josefine Maria PURSCHKE (GER)
Erika BOGNAR (HUN)
Aurora RUSSO (ITA)
Othelie Annette HOEIE (NOR)
Patrycja GIL (POL)
Denisa Iuliana FODOR (ROU)
Viktoriia VAULINA (RUS)
Kristina CINTALANOVA (SVK)
Eda TEKIN (TUR)
Alina HRUSHYNA AKOBIIA (UKR)
59kg
Celina Michelle DENZ (AUT)
Krystsina SAZYKINA( BLR)
Maria Victoria BAEZ DILONE (ESP)
Anne Beatrice NUERNBERGER (GER)
Tamara DOLLAK (HUN)
Ineta DANTAITE (LTU)
Anastasia NICHITA (MDA)
Magdalena Urszula GLODEK (POL)
Aleksandra NITSENKO (RUS)
Anna FABIAN (SRB)
Elvira KAMALOGLU (TUR)
Solomiia VYNNYK (UKR)
62kg
Tatsiana PAULAVA (BLR)
Raya Zhanetova KYOSEVA (BUL)
Kelsey BARNES (GBR)
Debora LAWNITZAK (GER)
Elena ESPOSITO (ITA)
Anhelina LYSAK (POL)
Mariia LACHUGINA (RUS)
Cansu AKSOY (TUR)
Tetiana RIZHKO (UKR)
65kg
Albina DRAZHI (ALB)
Viktoryia Alesia DZEHTSIARENKA (BLR)
Nerea PAMPIN BLANCO (ESP)
Eyleen SEWINA (GER)
Elma ZEIDLERE (LAT)
Irina RINGACI (MDA)
Kamila Czeslawa KULWICKA (POL)
Amina Roxana CAPEZAN (ROU)
Dinara KUDAEVA SALIKHOVA (RUS)
Linnea Antonia SVENSSON (SWE)
Asli DEMIR (TUR)
Kateryna ZELENYKH (UKR)

68kg
Natallia BELSKAYA (BLR)
Siyka Todorova IVANOVA (BUL)
Kendra Augustine Jocelyne DACHER (FRA)
Ewelina Weronika CIUNEK (POL)
Adina Ionela IRIMIA  (ROU)
Vusala PARFIANOVICH (RUS)
Tindra Linnea SJOEBERG (SWE)
Nesrin BAS (TUR)
Oksana CHUDYK (UKR)

72kg
Anastasiya ZIMIANKOVA (BLR)
Kornelija ZAICEVAITE (LTU)
Wiktoria CHOLUJ (POL)
Maria larisa NITU (ROU)
Marina SUROVTSEVA (RUS)
Zsuzsanna MOLNAR (SVK)
Merve PUL (TUR)
Anastasiya ALPYEYEVA (UKR)

76kg
Hanna MASLAKOVA (BLR)
Bernadett NAGY (HUN)
Enrica RINALDI (ITA)
Kamile GAUCAITE (LTU)
Ewelina KACZYNSKA (POL)
Diana Elena VLASCEANU (ROU)
Evgeniia ZAKHARCHENKO (RUS)
Andela PRIJOVIC (SRB)
Aysegul OZBEGE (TUR)
Romana VOVCHAK (UKR)