World Bronze Medalist Matsumoto Regains National Title, But Falls Short of Own Standards
Thursday, December 20, 2018 - 14:47 By Ken Marantz
TOKYO---Regaining his national title was not too much of a problem for Atsushi MATSUMOTO. But trying to live up to the high standard he has set for himself as a newly minted world medalist left him feeling less than thrilled with his performance.
Matsumoto captured the only title at stake on the opening day of the four-day All-Japan Championships on Thursday in Tokyo, defeating Ryoichi YAMANAKA 11-4 in the 92kg final for his first freestyle title since 2014 and fourth overall.
Matsumoto, who won a bronze at the Budapest world championships to end a long global medal drought by Japanese men in the upper weights, spotted Yamanaka a 4-point lead before storming back for the victory with a combination of points from both the standing and ground positions.
"I feel a sense of relief, but I can't be satisfied with my performance," said Matsumoto. 
Matsumoto had Yamanaka's leg in the air when his former Nippon Sport Science University teammate executed a twisting flip that sent Matsumoto to his back for 4 points. Later, Matsumoto countered a leg attack with a 2-point lift, then added a takedown to make it 4-4 going in the second period. A nifty ankle pick for a 2-point takedown put him ahead for the first time, and he built on the lead to clinch the victory.
"I had trained almost every day with my opponent at [college]," Matsumoto said of Yamanaka, who is now a high school teacher. "But now, he was finishing up school, went back home and probably didn't train fully. To have a close match with someone like that, it was pitiful and hard to take. I'm not happy."
Matsumoto's bronze in Budapest made him the first Japanese male to win a global medal in a weight class at 90kg or over since Akira OTA won a silver at the Seoul 1988 Olympics. The last world medal was a bronze won by Makoto KAMATA in 1970.  
"After the tournament, the phrase 'world No. 3' was in my head," Matsumoto said. "But I had an injury, and I couldn't get my mind and body in sync. I couldn't move like I wanted to, I couldn't train like I wanted to. To compete in that condition is, in a word, difficult."
That Matsumoto was competing at 92kg was somewhat of a surprise, as this year's tournament, also called the Emperor's Cup, is the first stage of qualifying for what is every Japanese wrestler's goal---a place on Japan's team to the Tokyo 2020 Olympics. He said he will eventually move up to the Olympic division of 97kg. 
"In my mind, I'm not yet ready to compete at 97kg," said Matsumoto, who spent 1 1/2 years in Greco after failing to make the Rio 2016 Olympics, but returned to freestyle this spring. "That's my self-analysis. First, I'll get prepared physically and compete at the next world championships at 92kg."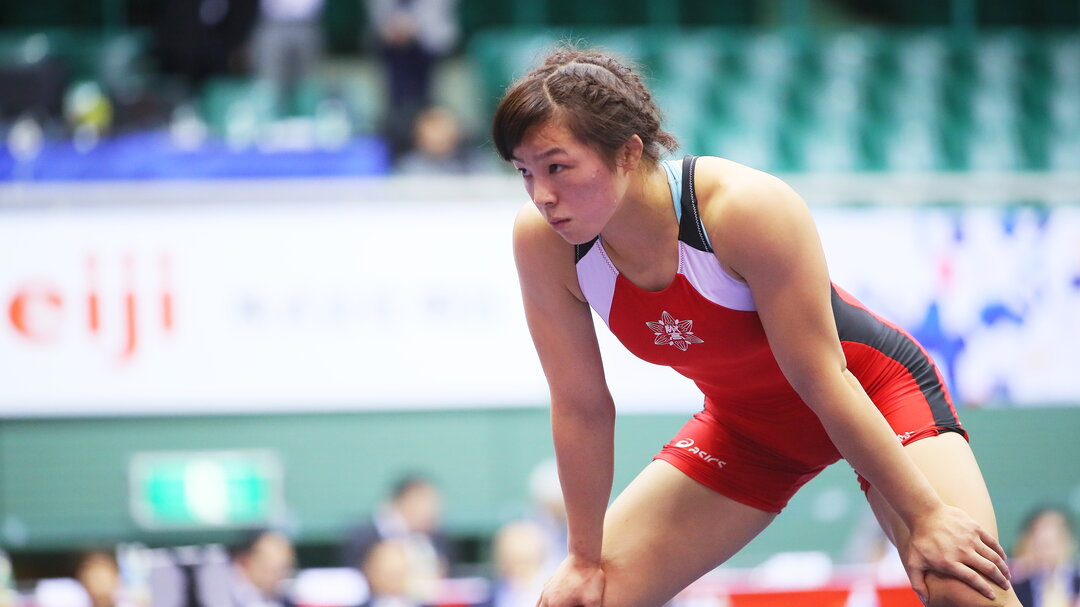 Yukako KAWAI, U23 world champion and senior-level world runner-up will wrestle U23 bronze medalist Yuzuru KUMANO for the 62kg gold medal. (Photo: Sachiko Hotaka) 
All other top Japanese wrestlers have crammed into the six Olympic weight classes for each of the three styles, leading to potential matchups between world and/or Olympic champions, while conversely, some non-Olympic divisions have just a handful of entries. 
The other weight classes in action Thursday will be held over two days, even the three that have just four entries and are using a round-robin format. The competition ran through the semifinals, or through two rounds in the case of  round-robins.
Yukako KAWAI, the Budapest 2018 silver medalist and world U23 champion, advanced to the women's 62kg final, where she will face Yuzuru KUMANO, a U23 bronze medalist at 59kg. 
This weight class was expected to feature a clash between Kawai and Ayana GEMPEI, like Kawai a senior world medalist and U23 champion who had dropped down to the Olympic division from 65kg. But Gempei suffered a knee injury in practice five days ago---while sparring with Shigakkan University teammate Kawai, no less---and made a game-day decision to withdraw.
While Gempei absolved Kawai of responsibility for the injury, Kawai said tearfully, "Two years ago, I got hurt just before a tournament and was out for a year. Thinking about that, I really feel I need to apologize. But life is not so easy in this competitive world, so if someone gets injured, you have to try and get over it and not let it steer you away from your goal." 
Kawai made Friday's final by beating world 65kg junior champion Miyu Imai by 14-3 technical fall in the semifinals. Kawai had built an 8-0 lead, but a flurry of points delayed her from finishing off the match sooner. 
"At a point where I could end it with 1 or 2 points, I got caught in a wild move," Kawai said. "I need to stay calmer up to the end."
Commenting on her selection as the UWW U23 Wrestler of the Year, Kawai said, "At first, I thought it was a mistake. I was tagged on Instagram and that's how I found out, but I thought it was a mistake that I was tagged. When I realized that it was me, I was surprised."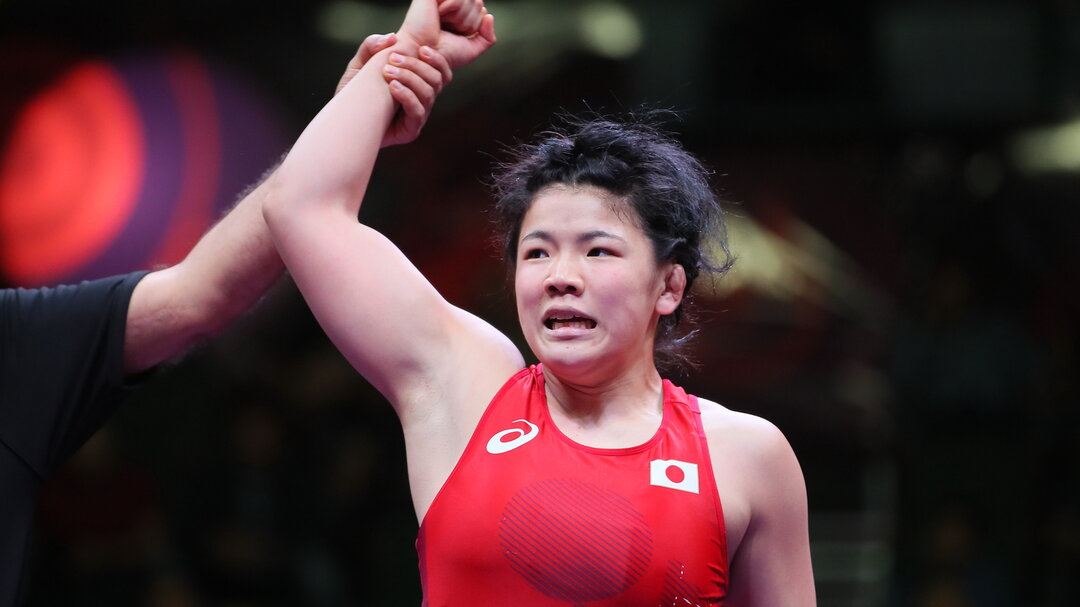 Yuka KAGAMI, the 17-year-old cadet, defeated the top-seed Naruha MATSUYUKI to make the 72kg gold-medal bout. (Photo: Sachiko Hotaka) 
Japan's other UWW award winner, Cadet Wrestler of the Year Yuka KAGAMI, got off to a good start in her Emperor's Cup debut, winning both of her matches in the round-robin at 72kg. The 17-year-old will win the gold Friday with a victory over winless Mai HAYAKAWA.
"I had two matches today and I won both, so I'm happy," said Kagami, a two-time world cadet champion who put herself in line for the gold with a 2-1 victory over top-seed Naruha MATSUYUKI, a Budapest 2018 team member.
Kagami said she is motivated by the memory of a loss at the Youth Olympics in October in Buenos Aires, where she had to settle for the bronze medal. "The Youth Olympics was really disappointing," she said. "I don't want to feel that again, so I remind myself before every match of that memory."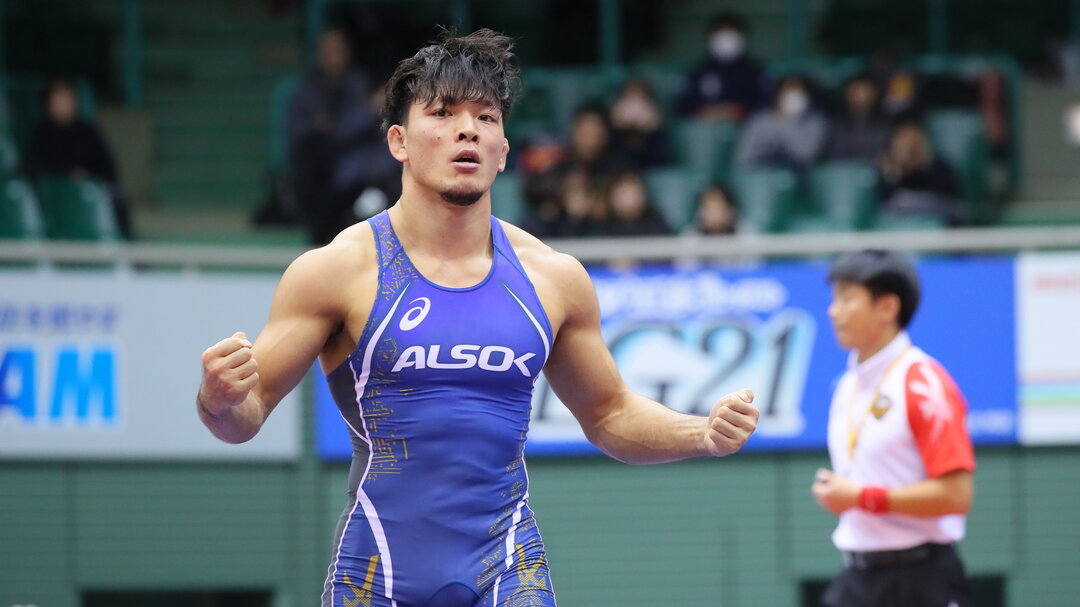 Sosuke TAKATANI, 2014 74kg world silver medalist bumped up to 86kg and made the finals. (Photo: Sachiko Hotaka)
Meanwhile, Sosuke TAKATANI, the 2014 world silver medalist at freestyle 74kg, made a solid start in his debut at the next Olympic weight of 86kg by advancing to the final. 
Takatani, who spent last year at 79kg as a stepping stone to 86kg, scraped out a 2-1 win in the semifinals over last year's runner-up Masao MATSUSAKA. Both of Takatani's points were scored with Matsusaka on the activity clock, and he had to survive a step-out in the final seconds that was overturned by video review. 
"I didn't really feel the difference in weight," said Takatani, who will face defending champion Shota SHIRAI in the final as he bids for an eighth straight national title.
Takatani has practiced with Shirai, and even had his nose broken by him during a sparring session in October. "I beat him in practice matches, but tomorrow I will be nervous, so I'll go in regarding myself as the challenger," he said.
Day 1 Results
Freestyle
86kg (15 entries)
Semifinals
Shota SHIRAI df. Hayato ISHIGURO, 4-3
Sosuke TAKATANI df. Masao MATSUSAKA, 2-1 
92kg (11 entries)
Final: Atsushi MATSUMOTO df. Ryoichi YAMANAKA, 11-4
3rdPlace: Keiwan YOSHIDA df. Kazuma SHIBATA by TF, 10-0, 1:41 
3rdPlace: Takuma OTSU df. Akinobu TAKEUCHI by TF, 11-0, 2:37
Semifinals
Matsumoto df. Yoshida, 7-2
Yamanaka df. Otsu, 10-1
97kg (12 entries)
Semifinals
Takeshi YAMAGUCHI df. Yuji FUKUI, 3-2
Naoya AKAGUMA df. Takashi ISHIGURO, 5-0
125kg (14 entries)
Semifinals
Katsutoshi KANAZAWA df. Tetsuya TANAKA, 2-1 
Nobuyoshi ARAKIDA df. Takuya HIGUCHI, 4-2 
Greco-Roman
63kg (18 entries)
Semifinals
Katsuaki ENDO df. Ryota KOSHIBA by TF, 8-0, 1:06
Yoshiki YAMADA df. Shintaro YOSHINAGA, 2-2 
72kg (16 entries)
Semifinals
Tomohiro INOUE df. Nao KUSAKA, 5-0
Takuya TOMIZUKA df. Masaki KONDO, 5-4 
87kg (13 entries)
Semifinals
Masato SUMI df. Shuhei SAKANO by TF, 8-0, :30
Takahiro TSURUDA df. Ryota NASUKAWA, 4-0 
97kg (15 entries)
Semifinals
Yuta NARA df. Masayuki AMANO, 7-0
Masaaki SHIKIYA df. Takuya YAMASHITA by TF, 8-0, 2:40 
130kg (13 entries)
Semifinals
Arata SONODA df. Shoma SUZUKI by TF, 8-0, :29
Ryota KONO df. Keita BANCHI by Fall, :44 (4-0)
Women's Wrestling
 
55kg (4 entries)
Round-Robin Group (through 2 rounds)
1. Nao TANIYAMA (2-0, 6 pts); 2. Saki IGARASHI (1-1, 6); 3. Sena NAGAMOTO (1-1, 3); 4. Kana HIGASHIKAWA (0-2, 1)
59kg (4 entries)
Round-Robin Group (through 2 rounds)
1. Yuzuka INAGAKI (2-0, 6 pts) 2. Kiwa IWASAWA (1-1, 4); 3. Kumi IRIE (1-1, 4); 4. Yumeka TANABE (0-2, 2)
62kg (11 entries)
Semifinals
Yukako KAWAI df. Miyu IMAI by TF, 14-3, 4:57
Yuzuru KUMANO df. Yurika ITO, 3-2 
72kg (4 entries)
Round-Robin
Through 2 rounds
1. Yuka KAGAMI (2-0, 6 pts); 2. Mei SHINDO (1-1, 5); 3. Naruha MATSUYUKI (1-1, 4); 4. Mai HAYAKAWA (0-2, 0)