Weekly FIVE! October 15, 2018
Monday, October 15, 2018 - 10:59 By Eric Olanowski
Reviewing the return of four-time Olympic champion Kaori ICHO (JPN) and reviewing the Youth Olympic Games. Also looking at this week's #BudaWrestle2018 World Championships. 
1. Icho Cruises to Gold, Credits Love of Sport for Return
Four-time Olympic champion Kaori ICHO cleared the first hurdle on the track to a possible fifth gold medal at Tokyo 2020. At this point, however, her sights are set on a more immediate goal.

Icho, returning to the mat for the first time since winning the gold at Rio 2016, had a few blips but otherwise was back to her dominant self in capturing the 57kg title at the All-Japan Women's Open on Sunday in Mishima, Shizuoka Prefecture.

The 34-year-old Icho scored a 38-second technical fall in her opening match, then won both of her next two by falls to take the title in the second-tier tournament that serves as a qualifier for the national championships in December. 
"The one thing I gained by entering this tournament and getting back into the sport was that I feel the joy of wrestling again," Icho said at a 30-minute post-tournament press conference. 
Click HERE for full article on Icho's return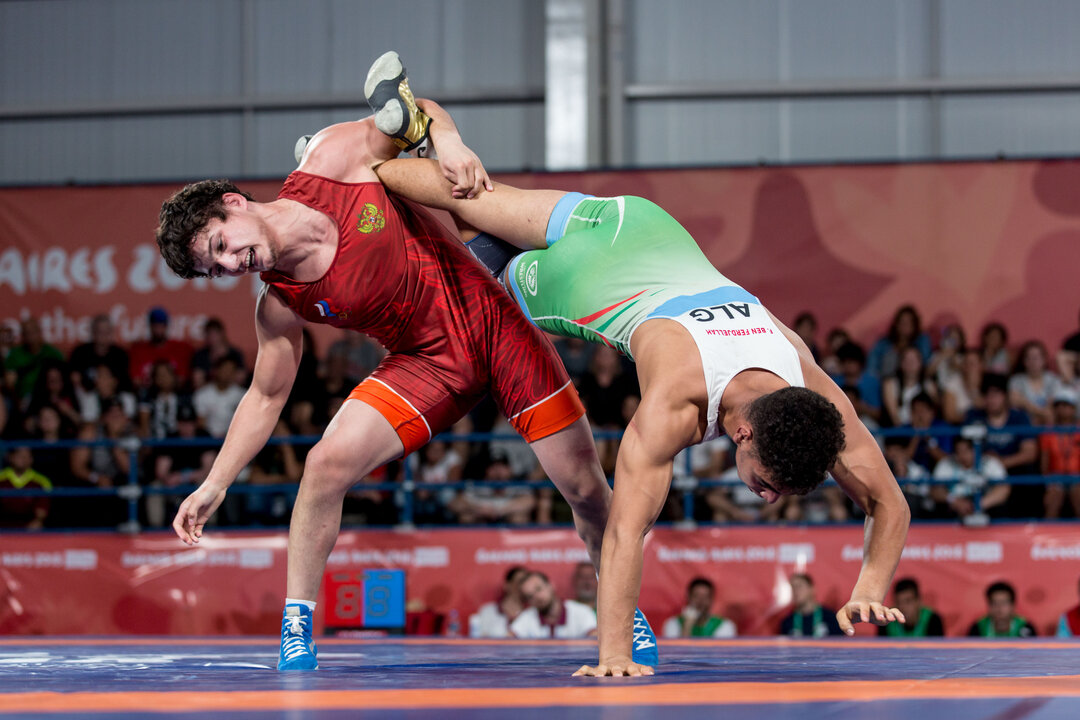 Akhmedkhan TEMBOTOV (80kg) uses a leg lace against Fateh BENFERDJALLAH (ALG) in the 80kg final to pick up the 10-0 technical fall. (Photo by Max Rose-Fyne) 
2. Russia Nabs 2 Freestyle Golds to Close Wrestling at YOG
Russia, the most titled men's freestyle nation in the world, seems well-stocked for golden runs in 2024 and 2028 after Akhmedkhan TEMBOTOV (80kg) and Sergei KOZYREV (110kg) capped the competition with back-to-back gold medals in men's freestyle.
Tembetov wasted little time in disposing of Fateh BENFERDJALLAH (ALG) in the 80kg final, wrapping up the 10-0 technical fall inside the first period.
Zozyrev faced a tougher finals opponent, needing every second to work past Amir Hossein Abbas ZARE (IRI), 6-5. The Iranian had spent the morning rounds dominating the center of the mat, but Zozyrev matched Zare's gamesmanship and plodded his way to Youth Olympic gold.
Meanwhile, the United States' Robert HOWARD (55kg) became his country's first male wrestler to win a Youth Olympic gold, outpacing hometown favorite Hernan ALMENDRA (ARG) by TF, 17-6. Heading into the second period it seemed Howard had the matched handled, but a four-point move by Almendra drew the Argentinian closer to an upset. Howard stayed calm and fought his way for the technical superiority victory.
The final pair of YOG freestyle gold medals went to Turan BAYRAMOV (AZE) (65kg) and Umidjon JALOLOV (UZB) (48kg). 
Click here for full freestyle recap. 
RESULTS
Men's Freestyle, 48kg
GOLD: Umidjon JALOLOV (UZB)
SILVER: Giorgi GEGELASHVILI (GEO)
BRONZE: Halil GOKDENIZ (TUR)
Men's Freestyle, 55kg
GOLD: Robert Kelly HOWARD (USA)
SILVER: Hernan David ALMENDRA (ARG) 
BRONZE: Vladyslav OSTAPENKO (UKR)
Men's Freestyle, 65kg
GOLD: Turan BAYRAMOV (AZE)
SILVER: Mohammad Baghi KARIMISEIFABAD (IRI), 6-1
BRONZE: Inayat ULLAH (PAK)
Men's Freestyle, 80kg
GOLD: Akhmedkhan TEMBOTOV (RUS)
SILVER: Fateh BENFERDJALLAH (ALG) by TF, 10-0
BRONZE: Mukhammadrasul RAKHIMOV (UZB)

​Men's Freestyle, 110kg
GOLD: Sergei KOZYREV (RUS)
SILVER: Amir Hossein Abbas ZARE (IRI), 6-5
BRONZE: Ahmed Mahmoud Elsayed M. KHALIL (EGY)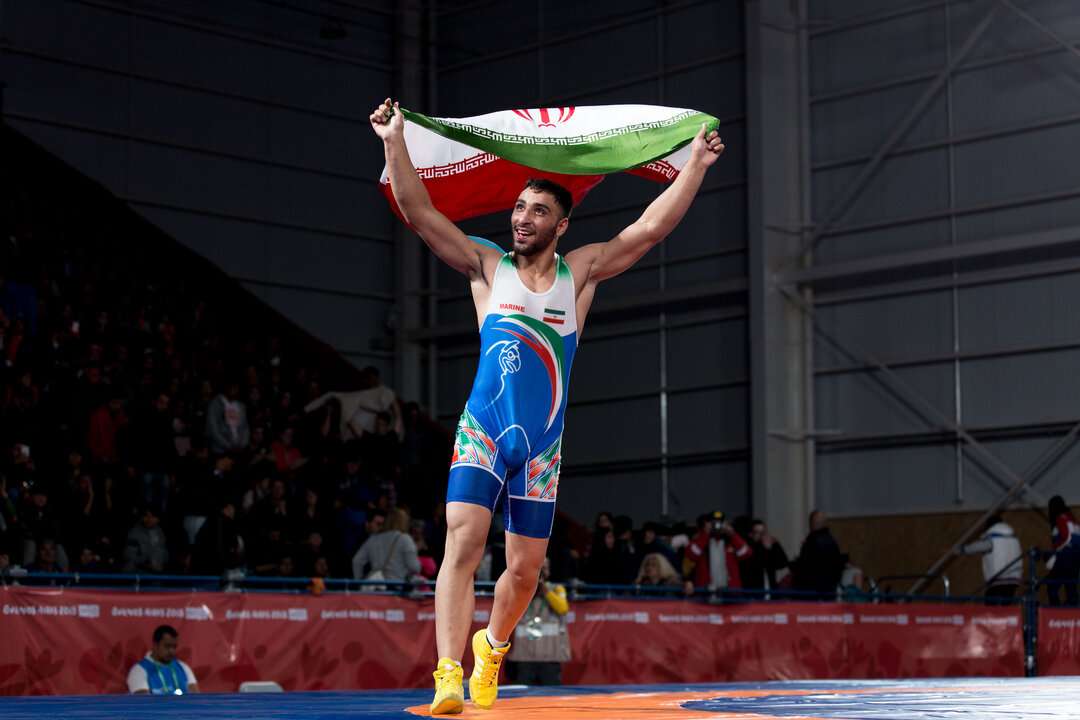 Mohammad NOSRATI (IRI) celebrates his 92kg gold medal after defeating Osman AYAYDIN (TUR), 3-1 (Photo: Max Rose-Fyne)
3. Iran Wins Pair, Japan's Sasaki Registers Incredible Comeback
Iran notched their first two gold medals of the 2018 Youth Olympic Games Friday night at the Asian Pavilion at Youth Olympic Park in Buenos Aires, while Japan's Wataru SASAKI lodged one of the most impressive Olympic comebacks in years.
For the often-dominant Iranian team it was business as usual. Amirreza DEHBOZORGI (45kg) was unstoppable against Jeremy PERALTA GONZALEZ (ECU), pressuring the South American wrestler into a series of missteps and racking up a pair of takedowns. After Dehbozorgi found his second takedown, he followed it up with a step out point to win gold, 8-0.
Mohammad NOSRATI (92kg) imposed his size on Turkey's Osman AYAYDIN, controlling the mat for four minutes to win the final title of the evening, 3-1. The big man was jubilant after the match, speaking to reporters and interacting with fans.
"This was a great event for me," said Nosrati. "I have to thank my fans and the people of Iran for their support during the Games."
Cick here for full Greco-Roman recap. 
RESULTS
Greco-Roman, 45kg
GOLD: Amirreza DEHBOZORGI (IRI)
SILVER: Jeremy Renzo PERALTA GONZALEZ (ECU)
BRONZE: Edmond Armen NAZARYAN (BUL)

Greco-Roman, 51kg
GOLD: Wataru SASAKI (JPN)
SILVER: Giorgi TOKHADZE (GEO) 
BRONZE: Axel Andre SALAS ESQUIVEL (MEX)

Greco-Roman, 60kg
GOLD: Giorgi CHKHIKVADZE (GEO)
SILVER: Elmirbek SADYROV (KGZ), 9-0
BRONZE: Sahak HOVHANNISYAN (ARM) 

Greco-Roman, 71kg
GOLD: Alexandrin GUTU (MDA)
SILVER: Stepan STARODUBTSEV (RUS) 
BRONZE: Shu YAMADA (JPN)
df. Lam

Greco-Roman, 92kg
GOLD: Mohammad Ghorbanali NOSRATI (IRI)
SILVER: Osman AYAYDIN (TUR)
BRONZE: Mukhammad EVLOEV (RUS)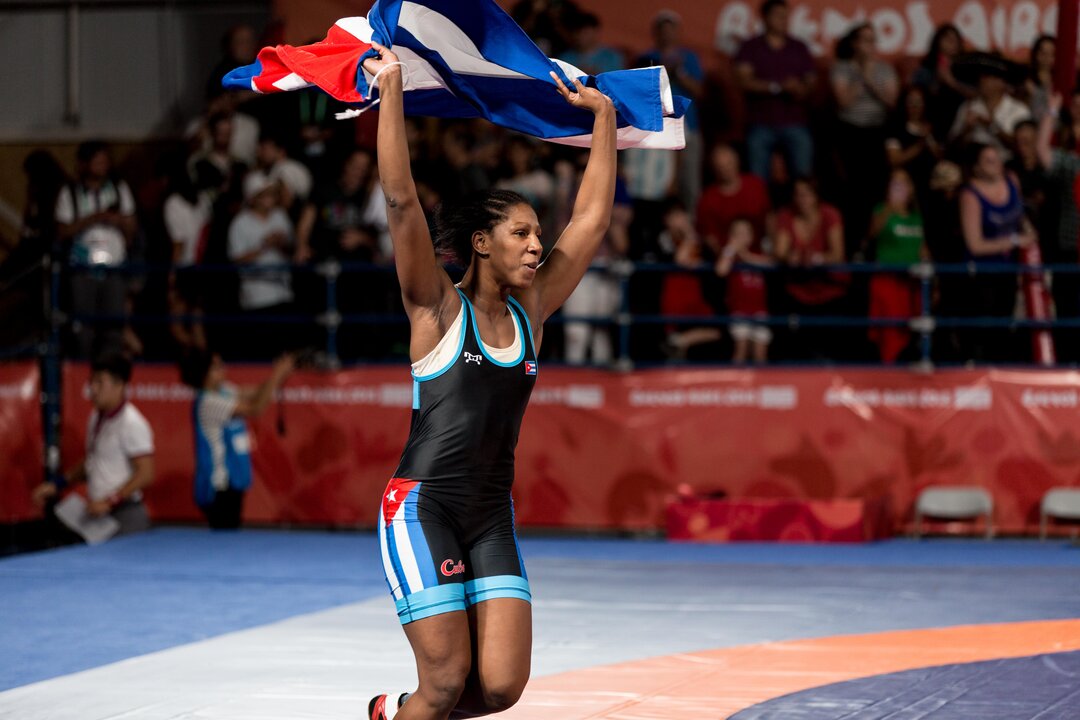 4. Cuba's Potrille Upends Machuca; Five Nations Win Gold at YOG
The risers shook, and eardrums ached as Linda MACHUCA (ARG) made her walk to the mat Saturday night for her 73kg gold medal final. The local teen had gone 4-0 in early action and was wrestling for her nation's first gold on the mats. 
Fans at the Asian Pavilion were swaying, dancing, clapping, howling – a moment of pure joy and anticipation for all those in attendance. 
But just as enthusiastic as the teens clapping their red thunder sticks, Cuba's Milaimys MARIN POTRILLE (CUB) was stoic. Taller than Machuca, Potrille glided across the field of play and climbed to the top of the mat. The wrestlers shook hands and as the whistle blew Portrille launched a double leg for four points, landed in a pinning position and put an end to Machuca's storybook ending.
Meanwhile, Emily SHILSON (USA) and China's Xinru ZHOU (CHN) each won their nation's first gold medal in wrestling. 
The American opened up a large lead in the 43kg gold-medal bout, but conceded six points late in the match, but managed to escape with the 11-6 win, while Zhou defeated Oksana CHUDYK (UKR) by TF, 10-0 in less than 30 seconds.
The final who golds went to Emma MALMGREN (SWE) and Nonoka OZAKI (JPN)
Sweden's Emma Malmgren took the 49kg gold medal with a quick pin over Azerbaijan's Shokhida AKHMEDOVA (UZB). The diminutive Swede erupted in emotion on the mat, realizing that she'd won gold in dominant fashion.
Nonoka Ozaki, whose fanbase dressed in gi blue tops adorned with a large flag of Japan on their back, had no problem showing happiness after winning her final. Ozaki dominated Hungary's Anna Hella SZEL in final, working to a 10-0 technical superiority victory in the second period.
Click here for full women's wrestling recap. 
RESULTS
Women's Wrestling, 43kg
GOLD: Emily SHILSON (USA)
SILVER: imran SIMRAN (IND) 
BRONZE: Shahana NAZAROVA (AZE)

Women's Freestyle, 49kg 
GOLD: Emma Jonna Denise MALMGREN (SWE)
SILVER: Shokhida AKHMEDOVA (UZB) 
BRONZE: Natallia VARAKINA (BLR)

Women's Freestyle, 57kg
GOLD: Nonoka OZAKI (JPN)
SILVER: Anna Hella SZEL (HUN) 
BRONZE: Anastasia BLAYVAS (GER)

Women's Freestyle, 65kg
GOLD: Xinru ZHOU (CHN)
SILVER: Oksana CHUDYKF 
BRONZE: Oyun Erdene TAMIR (MGL)

Women's Freestyle, 73kg
GOLD: Milaimys MARIN POTRILLE (CUB)
SILVER: Linda Marilina MACHUCA (ARG)
BRONZE: Yuka KAGAMI (JPN)
5. Budapest to Host World Championship October 20 
The 2018 Senior Wrestling World Championships are October 20-28 at the Papp Laszlo Arena in Budapest. More than 850 wrestlers from 97 nations are competing to win one of the 30 world titles in freestyle, Greco-Roman and women's wrestling!
A schedule shake-up from last year means freestyle kicks off the World Championships on October 20. 
The 2017 world champion's team race in men's freestyle came down to the last match of the tournament, featuring Russia's Abdulrashid SADULAEV and the United States' Kyle SNYDER competing for 97kg gold. That match, dubbed "Snyderlaev," captivated the world not only because the two big men were defending Olympic champions, but whoever won would secure the team title for their nation.
Snyder ultimately won the match and secure Team USA's first freestyle team title since 1995, sparking a rivalry between wrestlers and nations that has continued through 2018. With both squads fully reloaded the team race may once again come down to the final day of competition.
With all the noise surrounding the top two teams, Georgia quietly won a pair of gold medals and edged Turkey by one point, claiming third-place in the freestyle team race.
Women's wrestling follows, beginning on October 22. 
Japan won the 2017 team title with four champions and six overall medals. They return three champions in 2018, with world and Olympic gold medalist, Sara DOSHO (JPN) sitting out due to injury.  The Japanese have shown some weakness in 2018, failing to win a single gold medal at the Asian Games in Indonesia and looking lackluster at certain weights throughout the year.
However, the sheer number of medalists the Japanese can - and likely will - produce is tough for any nation to overcome. If a nation is poised for the upset, it might be Belarus who will be wrestling close to home and has been competing well all season.
Another upset-minded nation could be fellow 2017 second-place team title holder United States will being a roster of established superstars and unproven, but highly touted, newcomers that head coach Terry Steiner believes will make the medal stand in Budapest.
The Canadians, Russians, Swedes, and Mongolians bring veteran teams who under the right conditions would make their way onto the team medal stand.
Finally, Greco-Roman closes out the competition, starting on October 24.
Though Russia failed to win a gold medal at the 2017 World Championships, they still managed to win the Greco-Roman team title - capping off their run to a team title with a silver medal and a pair of bronze medalist. They also used points from a pair fifth-place finishes to edge Turkey by one point - pushing them to the top of the Greco-Roman field.
Russia's 2017 medalists Musa EVLOEV (RUS), Stepan MARYANYAN (RUS) and Artem SURKOV (RUS) will make the trip to Budapest with hopes of improving on their respective medals from a year ago.
Meanwhile, Turkey's duo reigning world champions, Metehan BASAR (TUR) and Riza Kayaalp (TUR), will also return to the world championships. But instead of improving on last year's performances, they'll try to defend their world titles, while teammates Atakan YUKSEL (TUR) and Fatih CENGIZ (TUR) try to better their third-place finishes from Paris.
Iran, who finished in third-place, return each of their three bronze medalists. Their trio 2017 third-place finishers are Saeid ABDVALI (IRI), Mohammadali GERAEI (IRI), and Hossein NOURI (IRI).
Click here for the full World Championship schedule. 
Weekly FIVE! In Social Media 
1. The United States men's freestyle team came together in 2017 to win their first team title in 22 years. Will they repeat in 2018? Or will Sadulaev and Team Russia get their revenge? Find out more about Team USA's journey on October 15th with the release of "From Many, One" the first short film in our Wrestling 360 documentary series. - #wrestling #usawrestling #uww#wrestling360 #usa #freestyle
2. Photo from day one of the 2018 Youth Olympic Games! We are ready for day two. Women's wrestling today!!!
#unitedworldwrestling #wrestling#youtholympics2018
3. Great action on the first day of the 2018 Youth Olympic Games @maxrosefyne 
4. Amazing Freestyle wrestling today at the 2018 Youth Olympic Games
#buenosaires2018 #uww#unitedworldwrestling
5. Being wrestling girl is like...Rate the video, please. Оцените видео, пожалуйста.😊🎥 @bravewoman__ 
#wrestlinggirl#wrestling#training#sport#борьба#спорт