Weekly FIVE! November 13, 2018
Tuesday, November 13, 2018 - 14:39 By Eric Olanowski
Reviewing Tuesday's U23 Greco-Roman finals and Olympic champion Ramonov's recent back surgery. Also looking at the American Wrestling League's matchups and the final point-base rankings of the year. 
1. Cartaraga and Pataridze Return to U23 World Finals in #BuchaWrestU23
The first day of the 2018 U23 World Championships have come to a close, but not before two wrestlers earned their second-consecutive U23 World finals bids.
2017 U23 World champion at 71 kg Daniel CARTARAGA (MDA) made his second-straight U23 World finals, this time at 77 kg, pinning 2018 Junior World silver medalist and 2017 Junior World bronze medalist Sajan SAJAN (IND) in the first period.
In the finals, Cartaraga will meet 2018 U23 European champion Rajbek BISULTANOV (DEN), who knocked off reigning U23 World champion Fatih CENGIZ (TUR) with a 4-1 decision.
Also advancing to his second U23 World finals was Zviadi PATARIDZE (GEO), who is a five-time age-group World champion, winning three Junior World titles and two Cadet World titles.
To earn a spot in the finals, the Georgian finished off 2017 U23 World bronze medalist Konsta MAEENPAEAE (FIN) with an 8-0 technical fall in 56 seconds.
Pataridze looks to improve on his silver-medal finish from last year. To do so, he will have to go through 2016 Junior World silver medalist and two-time Junior World bronze medalist Osman YILDIRIM (TUR) in the 130 kg finals.
The Greco-Roman finals begin on Tuesday at 18:00 local time.
Click HERE to see all Greco-Roman finals matchups.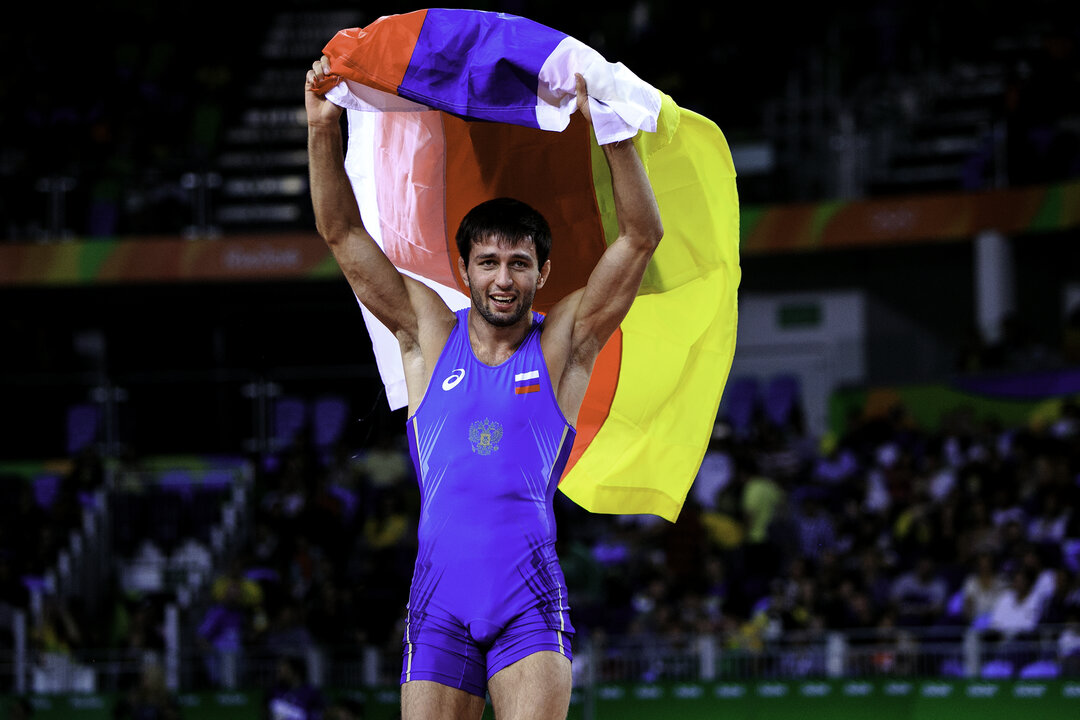 Soslan RAMONOV (RUS) carries his regional flag along with the Russian flag after winning the 2016 Rio gold medal. (Photo by Gabor Martin) 
2. Olympic Champion Ramonov Undergoes Back Surgery 
Rio Olympic champion Soslan RAMONOV (RUS) is expected to miss three to six months after undergoing spinal surgery to correct a back issue that has long troubled him. Ramonov said, "It's true that I had an operation on my back last week, but I've already got back to work and started physical therapy."
The timing of the surgery could not have come at a worse time for the two-time world medalist, as it'll sideline him for two of Russia's most significant tournaments, the 2018 Alans and next January's Ivan Yarygin. 
"I expect to return to the mat in January, and hopefully enter a tournament at 65kg closer to the fall." 
This statement should raise eyebrows of wrestling fans because Ramonov was arguably the most dominant wrestler in the world during his run to the 65kg Rio Olympic gold medal. After that win, he bumped up to 70kg and failed to make it back on the Russian world team in back-to-back years after earning medals at three consecutive medals at the World Championships and Olympic Games.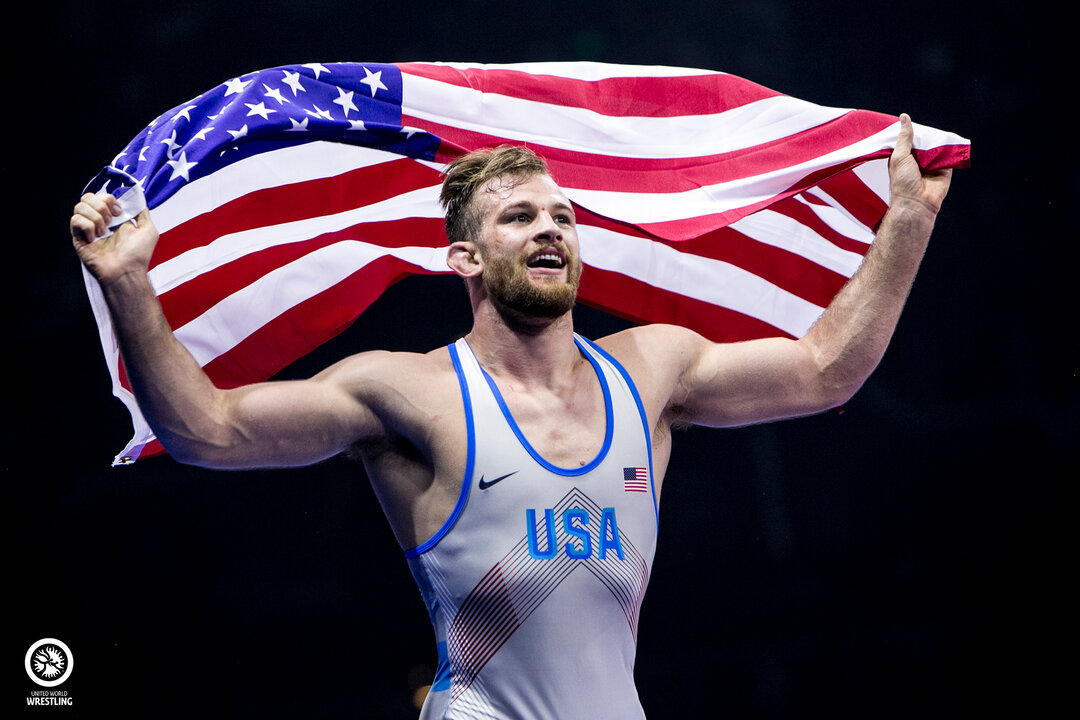 David Taylor carries the American flag around the mat after winning the 2018 world championship.(Photo by Gabor Martin) 
3. Starting Line-ups announced for November 30 American Wrestling League 
Reigning world champions Kyle DAKE (USA) and David TAYLOR (USA) drafted their teams two weeks for the inaugural "American Wrestling League I The Beginning," and this weekend, the pair of gold-medal winners finalized their rosters for the event that will take place on for November 30 at U.S. Cellular Center in Cedar Rapids, Iowa. 
The premier bout of the ten match card comes at 65kg where Jordan OLIVER (USA) will meet Zain RETHERFORD (USA). Team Dake's Oliver is coming back from a year-long suspension, while Team Taylor's Retherford returns after sitting out the 2017 season. 
This will not be the last time these two meet, as they are expected to both compete for the 2019 world team spot at 65kg. 
Each of the starters from Team Dake and Team Taylor will pick up $2,500 to show, and $5,000 to win. Fans can follow all of the AWL action live on trackwrestling.com on November 30.
AWL I Matchups
Team Dake vs. Team Taylor 
57kg - Frank PERRELLI vs. Nico MEGALUDIS 
61kg - Tony RAMOS vs. Cory CLARK 
65kg - Jordan OLIVER vs. Zain RETHERFORD 
70kg - James GREEN vs. Brandon SORENSEN 
74kg - Richie LEWIS vs. Tommy GANTT 
79kg - Isaiah MARTINEZ vs. Alex DIERINGER 
86kg - Nick HEFLIN vs. Sam BROOKS 
92kg - Deron WINN vs. Mike MACCHIAVELLO 
97kg - Jacob KASPER vs. Kyven GADSON 
125kg - Dom BRADLEY vs. Adam COON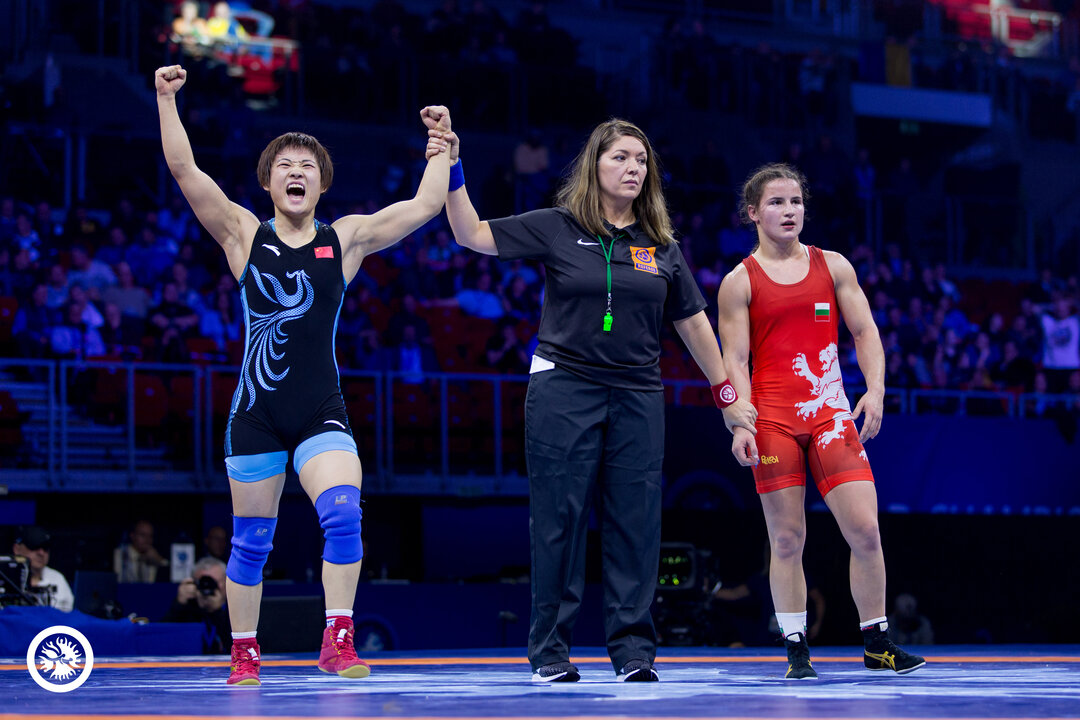 RONG Ningning (CHN), this year's 57kg world champion is entered at 59kg. (Photo by Max Rose-Fyne) 
4. Women's Wrestling at the U23 World Championships Begins Tomorrow 
Greco-Roman wrestling at the U23 World Championships is wrapping up and women's wrestling is next in line to shine at the Polyvalent Hall in Bucharest, Romania. 
Highlighting the women's wrestling field is Yukako KAWAI (JPN), RONG Ningning (CHN), and Khanum VELIEVA (RUS). 
Rong, who will be up 2kg from her world championship weight of 57kg, will try to cap off 2018 with another world title. Last month, Rong grabbed the senior-level gold medal, adding to her impressive twelve-month run where she reached the top of the podium at the Asian Championships, China Open, Ivan Yarygin, and Poland Open. 
Another 2018 world champion that'll be competing this week is Russia's junior world champion Khanum Valieva. Two months ago, Valieva captured her fourth age-level when she won her second straight junior world gold medal at the 2018 Junior World Championships in Trnava, Slovakia. 
Though she fell short in the 2018 senior-level gold-medal bout, Japan's Kawai is fresh off a second-place finish at the senior-level World Championship two weeks ago in Budapest, Hungary. In the finals, Kawai lost to Bulgaria's Taybe YUSEIN (BUL), 6-2 in the 62kg gold-medal bout, improving on her 2017 eighth-place finish.
Click here for the full schedule.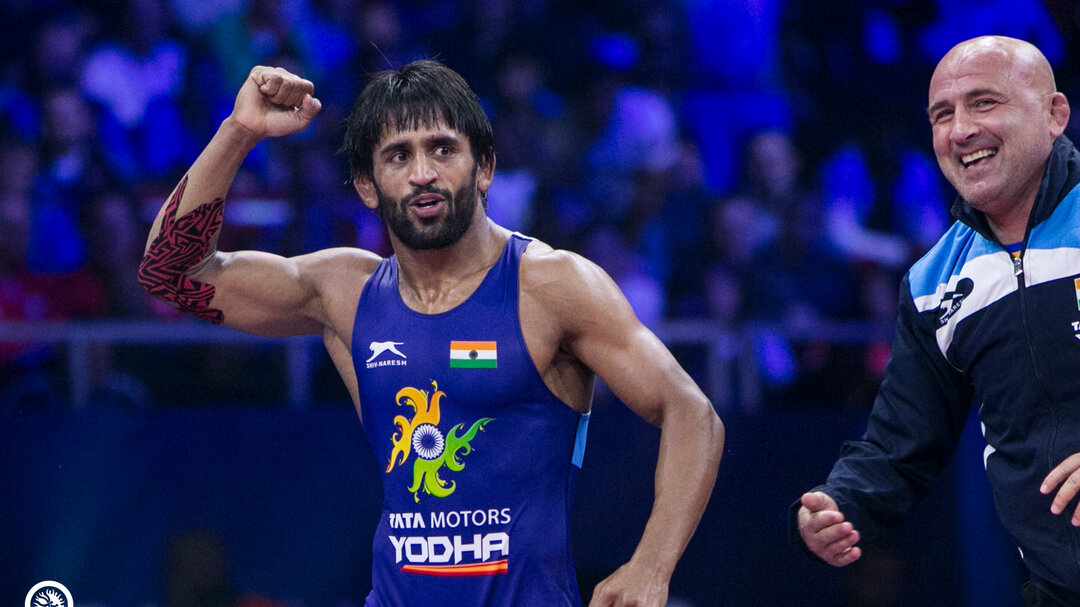 Bajrang BAJRANG (IND) fist-pumps after making it to the gold medal bout of the 2018 World Championships. (Photo by Max Rose-Fyne) 
5. Post World Championship Rankings Published 
The final point-base rankings of the 2018 calendar year are posted on www.unitedworldwrestling.org. 
In freestyle, eight different nations finished the year with a top-ranked wrestler, as Russia led the way with a trio of No. 1 ranked guys. Of the ten wrestlers who own a freestyle top ranking, Zavur UGUEV (RUS) is the only one who claimed a gold medal at the 2018 World Championships. 
In Greco-Roman, seven different nations have a wrestler ranked in the top position to end the season. Hungary is the front-runner, having three wrestlers in the first spot. The two Greco-Roman world champions that end the season as the top-ranked wrestler are Sergey EMELIN (RUS) and Artem SURKOV (RUS). 
Ukraine and Turkey lead the way in women's wrestling with a pair of wrestlers sitting atop of the final rankings. Of the ten world champions, only Alla CHERKASOVA (UKR), Petra OLLI (FIN) and Ningning RONG (CHN) end the year in the top spot of the final 2018 point-base rankings. 
Freestyle
57kg - Zavur UGUEV (RUS)
61kg - Gadzhimurad RASHIDOV (RUS)
65kg - Bajrang BAJRANG (IND)
70kg - Andriy KVYATKOVSKYY (UKR)
74kg - Frank CHAMIZO MARQUEZ (ITA)
79kg - Akhmed GADZHIMAGOMEDOV (RUS)
86kg - Fatih ERDIN (TUR) 
92kg - Alireza KARIMIMACHIANI (IRI) 
97kg - Elizbar ODIKADZE (GEO) 
125kg - Nicholas Edward GWIAZDOWSKI (USA)
Greco-Roman 
55kg - Ekrem OZTURK (TUR)
60kg - Sergey EMELIN (RUS) 
63kg - Elmurat TASMURADOV (UZB) 
67kg - Artem SURKOV (RUS) 
72kg - Balint KORPASI (HUN) 
77kg - Tamas Lörincz (HUN) 
82kg - Viktar SASUNOUSKI (BLR) 
87kg - Islam ABBASOV (AZE) 
97kg - Balazs KISS (HUN) 
130kg - Oscar PINO HINDS (CUB) 
Women's Wrestling 
50kg -  Mariya STADNIK (AZE) 
53kg - Sarah HILDEBRANDT (USA) 
55kg - Zalina SIDAKOVA (BLR) 
57kg - Ningning RONG (CHN) 
59kg - Elif YESILIRMAK (TUR) 
62kg - Yuliia TKACH OSTAPCHUK (UKR) 
65kg - Petra OLLI (FIN) 
68kg - Alla CHERKASOVA (UKR) 
72kg - Nasanburmaa OCHIRBAT (MGL) 
76kg - Yasemin ADAR (TUR) 
Weekly FIVE! In Social Media 
1. Mihut (ROU) is an arm throw wizard 🤼‍♂️. #unitedworldwrestling #uww #wrestling
2. Who do you think wins the race? Comment👇1, 2, 3 or 4!
3. Highlights from the Greco-Roman qualification round at #buchawrest2018
4. You're rubbing off on the kids, @aligaraii!
5. Kozliuk (UKR) makes his way to the next round 🇺🇦 🤼‍♂️ . #wrestling #uww #unitedworldwrestling