Weekly FIVE! January 07, 2019
Monday, January 7, 2019 - 13:37 By Eric Olanowski
Reviewing why Sadualev will miss the Ivan Yarygin, and Gadisov's coaching promotion. Also looking at the Indian Pro League roster and the Best Wrestlers of the Year award winners. 
1. Sadulaev to Miss First Ranking Series Event of the Year, Ivan Yarygin
Gaidar GAIDAROV (RUS), the "senior coach of the Dagestan national wrestling team", has confirmed to United World Wrestling that four-time world and Olympic champion Abdulrashid SADULAEV (RUS) will sit out of the first Ranking Series event of the year, the Ivan Yarygin. Gaidarov simply told UWW "No, he will not be wrestling in Krasnoyarsk." He later said, "Russia's head coach freed him from the tounrament in Krasnoyarsk." 
The news of Sadulaev not competing came five days before registration closes, and 20 days before the first whistle at the Ivan Yarygin, which is often referred to as the "Toughest Wrestling Tournament in the World."
Sadualev not making the trip to Krasnoyarsk eliminates the potential "Round 3" matchup with the three-time world and Olympic champion Kyle SNYDER (USA) after the pair split the 2017 and 2018 world finals. "Captain America" was victorious in 2017, but the "Russian Tank" got his revenge in 2018, pinning Snyder one minute into the 97kg gold-medal bout. 
The duo of superstars have recently gone back and forth on Instagram teasing a potential third match at the Ivan Yarygin. 
First, it was Snyder who tagged Sadulaev in that post that was captioned, "Round 3. Let's do it. Krasnoyarsk, Russia." 
Sadulaev quickly responded, saying, "Buddy Snyder, I understand your condition, but I advise you to approach the trilogy with a cool head. And then suddenly the psyche will suffer. On the way to Tokyo 2020, we will meet again."
With the news of Sadulaev sitting out of the Yarygin, it looks like we'll have to wait until the 2019 World Championships in Astana, Kazakhstan, for the third match-up. 
The Ivan Yarygin begins on January 24 and is the first Ranking Series for freestyle and women's wrestling.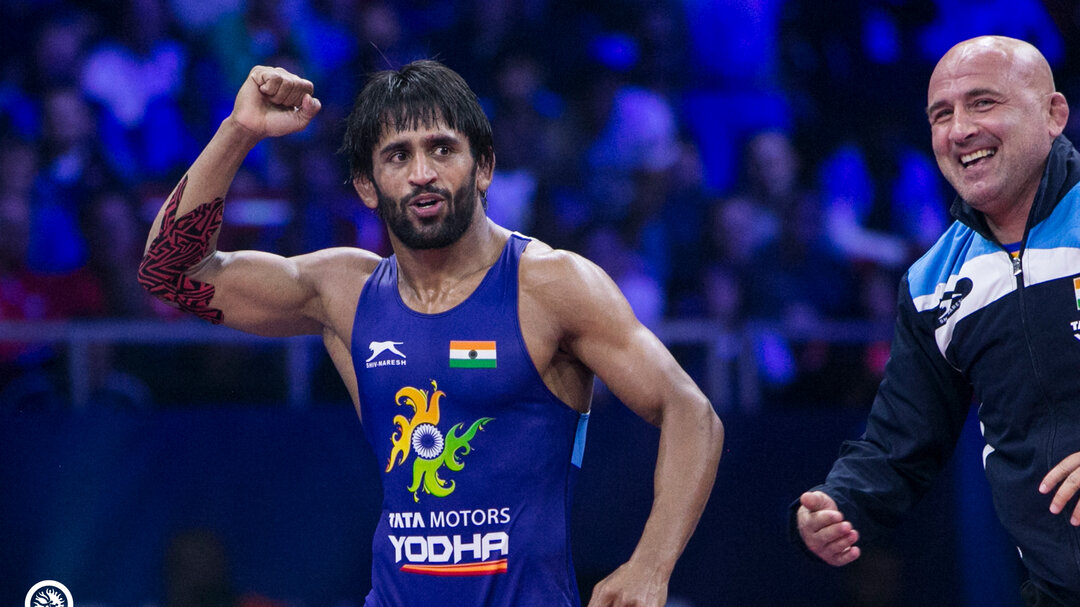 India's brightest young star and 2018 world runner-up, Bajrang PUNIA , will compete for the NCR PUNJAB ROYALS at the 2019 Indian Pro League. 
2. Indian Pro Wrestling League Rosters Announced 
For the fourth straight year, wrestling's biggest stars will travel to India to compete in arguably the world's most popular professional wrestling league, the Indian Pro League (IPL). 
Last week, the Indian Pro League announced the rosters for the six teams that feature five men and four women. Each team will have five Indian wrestlers and four international wrestlers.
Last season, the NCR Punjab Royals knocked off the returning champions, Haryana Hammers, 44-35, to win their first Indian Pro League title. This was the third year in a row that the Haryana Hammers made the finals. The three-time finalists won the team title in Season 2, but fell short in the Season 1 and Season 3 finals.
The daily matches from India last three weeks and begin on January 14 and go through January 31.
DELHI SULTANS
Women's Wrestling 
53kg - Pinki PINKI (IND) 
57kg - Katherina ZHYDACHIVSHA (ROM)
62kg - Sakshi MALIK (IND)
76kg - Shustova ANASTASIA (UKR)
Freestyle
57kg - Rahul AWARE (IND)
65kg - Andrey KVIATKOVSKI (UKR)
74kg - Khetik TSABOLOV (RUS) 
84kg - Praveen PRAVEEN (IND)
125kg - Sumit Malik (IND) 
HARYANA HAMMERS
Women's Wrestling 
53kg – Seema SEEMA (IND) 
57kg - Anastasia NICHITA (MDA) 
62kg - Tayana OMELCHENKO (AZE) 
76kg – Kiran KIRAN (IND) 
Freestyle
57kg - Ravi KUMAR (IND) 
65kg – Rajneesh RAJNEESH (IND) 
74kg - Parveen RANA (IND) 
86kg - Ali SHABANOV (BLR) 
125kg - Aleksander KHOTSIANIVSKI (UKR) 
MUMBAI MAHARATHI
Women's Wrestling 
53kg - Vinesh PHOGAT (IND)
57kg - Angelica BETZABETH (VEN)
62kg - Shilpi YADAV (IND)
76kg - Zsaneet NEMETH (HUN)
Freestyle
57kg - Ibragim ILYASOV (RUS)
65kg – Harphool HARPOOL (IND)
74kg - Sachin RATHI (IND)
86kg - Deepak PUNIA (IND)
125kg - Vladislav BAITSEEV (RUS) 
NCR PUNJAB ROYALS
Women's Wrestling 
53kg – Anju ANJU (IND)
57kg - Mimi HRISTOVA (BGR)
62kg – Anita ANITA (IND)
76kg – Alina STADNIK(UKR)
Freestyle
57kg - Nitin RATHI (IND)
65kg - Bajrang PUNIA (IND)
74kg - Amit DHANKAR (IND)
86kg - Dato MARSAHISHVILI (GEO)
125kg - Korey JARVIS (CAN) 
UP DANGAL
Women's Wrestling 
53kg - Vanesa KALADZINSKAYA (BLR)
57kg – Sarita SARITA (IND)
62kg - Navjot Kaur (IND)
76kg - Epp MAE (EST)
Freestyle
57kg - NaveenNAVEEN (IND)
65kg - Pankaj RANA (IND)
74kg - Jitender JITENDER (IND)
86kg - Irakli Misituri  (GEO)
125kg - Georgi SAKANDELIDZE (QAT)
MP YODHA
Women's Wrestling 
53kg - Ritu PHOGAT (IND) 
57kg - Pooja DHANDA (IND) 
62kg - Elise MANOLOVA (AZE) 
76kg- Andrea CAROLINA (COL) 

Freestyle
57kg - Sandeep TOMAR (IND) 
65kg - Haji ALIYEV (AZE) 
74kg - Vasil MIKHAILOV (URK) 
86kg - Deepak DEEPAK (IND) 
125kg - Akash ANTIL (IND)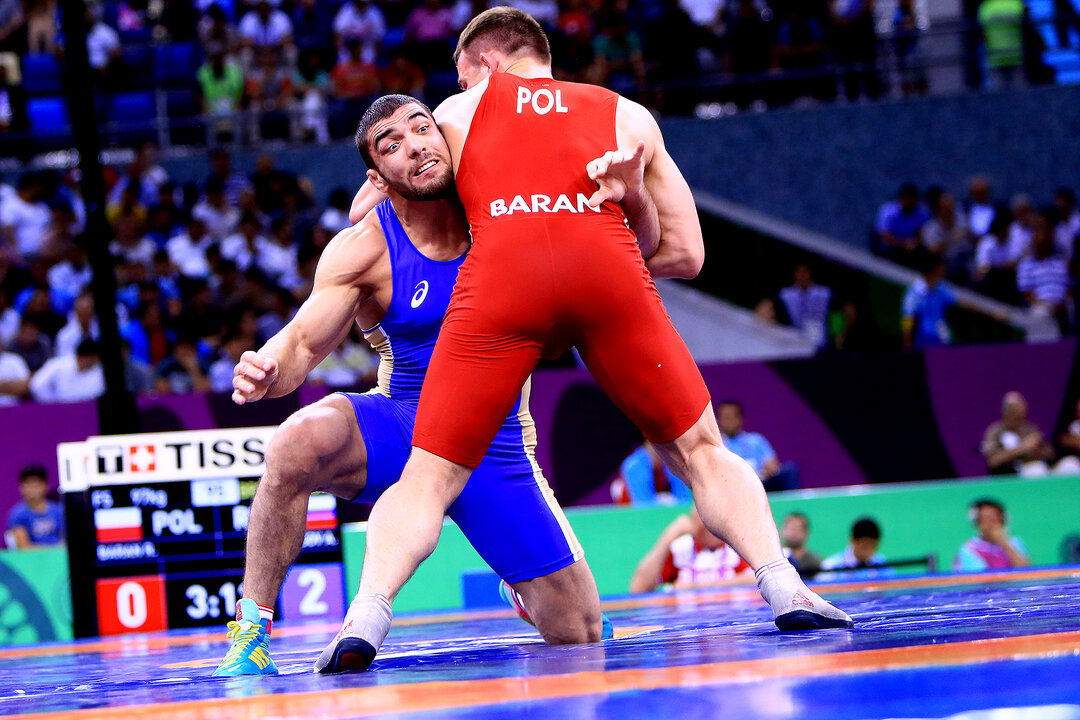 Russia's Abdulsalam GADISOV, the 2014 world champion, has been promoted to head coach of the junior freestyle team. (Photo: Martin Gabor)
3. World Champ Gadisov Named Head Coach of Russian Junior Freestyle Team
Dshambulat TEDEEV, the head freestyle coach of the Russian Federation, announced that a pair of world champion wrestlers turned coaches received promotions this weekend. First, Abdulsalam GADISOV, a 2014 world champion and 2015 world runner-up for the Russian Federation, has been named the head coach of Russia's junior freestyle team, and Magomed AZIZOV (RUS), a 1994 world champion, has been promoted to the 65kg coach for the senior-level team. 
Coach Tedeev made the announcement on Instagram, saying, "There have been small changes in the coaching staff of the Russian national team in freestyle wrestling. Magomed Azizov, who was previously at the position of senior coach of the Russian wrestling team among juniors under 20, was transferred to an adult team, where he will be responsible for the weight category up to 65 kg And Abdusalam Gadisov became the head coach of the junior team. Congratulations to my brother and wish us success in future work!" 
4. Taylor, Olli, and Bacsi Named Best Wrestlers of the Year 
With the 2018 wrestling season officially at a close, United World Wrestling has awarded "Best Wrestler of the Year" honors to David TAYLOR (USA) in freestyle, Petra OLLI (FIN) in women's wrestling, and Peter BACSI (HUN) in Greco-Roman.
The award was based on the number of ranking points each of the wrestlers attained over the course of the 2018 season. A majority of points were earned at the world and continental championships, with additional points earned at a number of style-specific Ranking Series tournaments around the world.
For their efforts, Taylor, Olli, and Bacsi each received a 10,000 CHF prize from United World Wrestling.
Click here to watch the Best Wrestlers of the Year videos.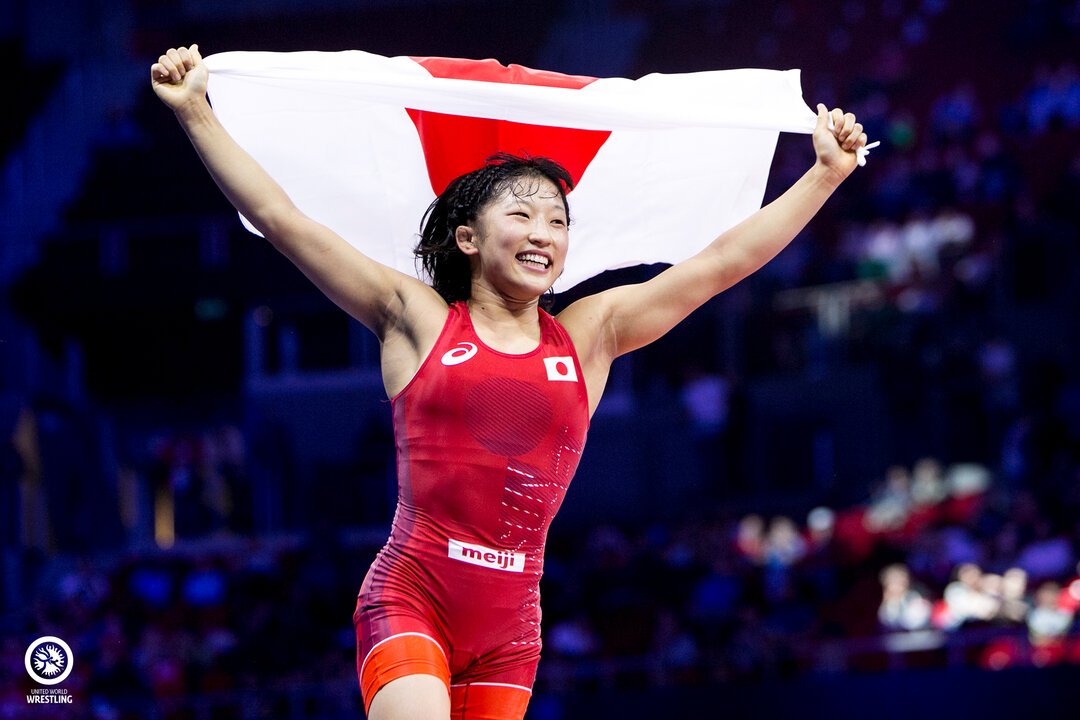 Two-time world champion Yui SUSAKI (JPN) has won six world titles across all divisions. (Photo: Martin Gabor)
5. Meet Yui Susaki, Japan's 20-Year-Old Six-Time World Champion
At just 20 years of age, Yui SUSAKI (JPN) has reached the top of the world stage six times across all age-levels. Her international resume remains unblemished and includes a trio of cadet world titles, a junior world championship and a pair of senior-level world gold medals. 
Susaki's international debut came at the 2014 Cadet World Championships in Snina, Slovakia, where she went undefeated and claimed the 43kg world title. She ultimately went on to win back-to-back-to-back cadet world titles, claiming the 46kg and 49kg world titles in 2015 and 2016, respectively.
Surprisingly, in 2017, the Waseda University freshman (who's studying Sports Science) bypassed the junior-circuit and made her senior-level debut at the "Toughest Wrestling Tournament in the World," the Ivan Yarygin, where she outscored her five opponents 48-0 and grabbed her first-ever senior-level gold medal. 
Susaki continued her dominance through 2017, winning the Klippan Lady Open and the Asian Championships before heading to Paris, France to make her World Championship debut. In her rookie debut, Susaki went 5-0, finished four of those five matches early with technical superiority victories and outscored her opponents 53-8.
In 2018, Susaki failed to make Japan's Asian Games and Asian Championship teams and decided to circle back and compete at the 2018 Junior World Championships in Trnava, Slovakia. The Japanese superstar won her first junior world title and fifth overall world championship with a quartet of 10-0 wins before booking her trip to Budapest, Hungary, to defend her senior-level world title. 
Susaki proved that she belongs in the discussion as one of the most dominant wrestlers across all styles, in all divisions after successfully defending her world title in Budapest. To win back-to-back senior-level world titles, Susaki shutout reigning world finalist Emilia VUC (ROU), world bronze medalist Oksana LIVACH (UKR), and the eight-time world and Olympic medalist Mariya STADNIK (AZE). 
After winning her second straight world title, Susaki was forced to withdraw from Japan's Emperor's Cup due to a dislocated elbow suffered at the national team training camp last month. This means that Susaki will have to win the All-Japan Invitational Championships, also known as the Meiji Cup, next spring, then defeat the winner of this tournament (known as the Emperor's Cup) in a playoff. 
Weekly FIVE! In Social Media
1. There's only one more day until the weekend! Why not throw everything you have into it?
2. The pain of defeat.
3. How do you spend the winter?😉 А как ты проводишь эту зиму? Video from Kazakhstan @daniyarkaisanov
4. "Hayatımın en unutulmaz günlerinden biriydi..#Kareografi#Teşekkürler #Sivasspor #Yiğidolar#YiğidoGençlik @yigido.genclik @sivasspor@sivassporsk" "It was one of the most memorable days of my life." - @tahakgul
5. Doesn't get much cooler than this! Here's three-time Olympic champion @saori___yoshida rolling with Rio Olympic champion @eri_tosaka!