Weekly FIVE! February 12, 2019
Tuesday, February 12, 2019 - 13:35 By Eric Olanowski
Reviewing the Freestyle World Cup draws and Kazakhstan's National Championships. Also looking at results from the Zagreb Open and how they changed the Greco-Roman rankings.
1. Wrestling Announces Groups for 2019 Freestyle World Cup
United World Wrestling has announced the draw for the 2019 Freestyle World Cup in Yakutia, Russia. The annual dual-meet event is a highlight of the international wrestling calendar and features the top eight teams from the 2018 World Championships in Budapest. 
The UWW executive board determined this week that all World Cup competitions, including the Greco-Roman and Women's World Cup, should follow the same competition format for placement of teams in their respective pools, or groups. With the new system, the No. 1 team will be paired with the No.4, No.5, and No.8 teams from the world championships. 
The No.2 team will in a group with the No.3, No.6, and No.7.
The groups for the 2019 Freestyle World Cup:
Group A - RUS (1), CUB (4), JPN (5), TUR (8)
Group B - USA (2), GEO (3), IRI (6), MGL (7)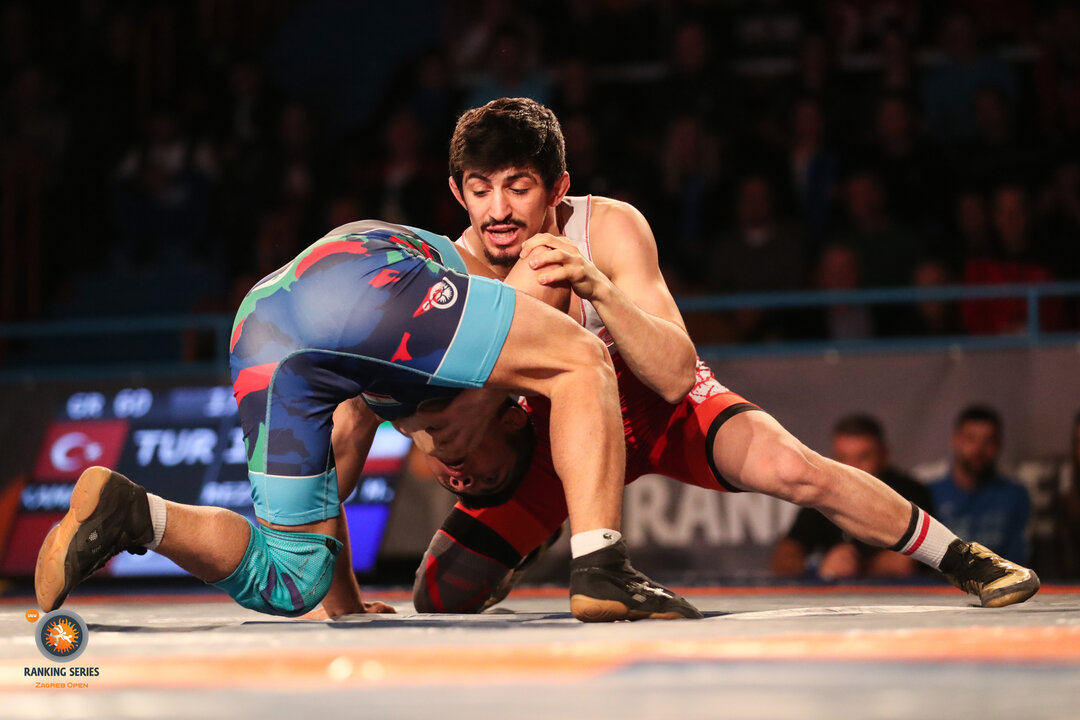 Kerem KAMAL, two-time junior world champion, led Turkey to the Zagreb Open team title with his 60kg gold-medal performance. (Photo: Kadir Caliskan)
2. First GR Ranking Series Event, Zagreb Open Concludes in Croatia
The first Greco-Roman Ranking Series event of the year, the Zagreb Open, wrapped up in Croatia, and Turkey captured the team title with their solo champion Kerem KAMAL (TUR) and three runner-ups. They finished 31 points ahead of second place Uzbekistan, who had two champions, and one second-place finisher. 
Croatia's hometown wrestler Bozo STARCEVIC capped off his impressive run to a fifth consecutive Zagreb Open title with a tactical 2-1 victory over Turkey's Yunus BASAR in the 77kg finals.
Meanwhile, Bulgaria's Daniel ALEKSANDROV and Russia's Ilia BORISOV knocked off reigning world runner-up's Emrah KUS (TUR) and Kiril MILOV (BUL) respectively to with their first Zagreb Open titles.
Daniel Aleksandrov erased a 7-0 opening-period deficit and scored eight unanswered points in the final period to upend returning world runner-up Emrah KUS (TUR), 8-7, in the 82kg Zagreb Open gold-medal bout.
In the 97kg finals, Ilia Borisov also knocked off a returning Budapest world champion to win his Zagreb Open title. Borisov, the lone Russian finalist, tossed around returning world runner-up Kiril MILOV (BUL) with ease and scored the 9-0 technical superiority victory in the opening period.
Click HERE for a full recap of the Zagreb Open.
Team Scores
GOLD - Turkey (132 points) 
SILVER - Uzbekistan (101 points) 
BRONZE - Croatia (91 points) 
Fourth - Bulgaria (85 points) 
Fifth - Hungary (83 points) 
55kg (Round-Robin) 
GOLD -   Poya Soulat DAD MARZ (IRI) 
SILVER - Ekrem OZTURK (TUR) 
BRONZE - Alexandru Vasile BOTEZ (ROU)
60kg - Kerem KAMAL (TUR) df. Milad Ali REZANEZHAD (IRI), 9-3
63kg - Islomjon BAKHRAMOV (UZB) df. Xavier JOHNSON (USA), 10-2 
67kg - Elmurat TASMURADOV (UZB) df. Mihai Radu MIHUT (ROU), 4-1 
72kg - Robert Attila FRITSCH (HUN)  df. Ramaz ZOIDZE (GEO), via injury default
77kg - Bozo STARCEVIC (CRO) df. Yunus BASAR (TUR), 2-1 
82kg - Daniel ALEKSANDROV (BUL) df. Emrah KUS (TUR), 8-7
87kg - Viktor LORINCZ (HUN) df. Kristoffer Zakarias BERG (SWE), 3-1 
97kg - Ilia BORISOV (RUS) df.  Kiril Milenov MILOV (BUL), 9-0 
130kg - Oskar MARVIK (NOR) df. Muminjon ABDULLAEV (UZB) , 1-0 
3. Kazakhstan National Championships 
Kazakhstan, the host nation for this year's 2019 Astana World Championships, wrapped up their National Championships in freestyle, Greco-Roman, and women's wrestling last weekend. 
In freestyle, six of Kazakhstan's 2018 world representatives captured a medal at last weekend's Nationals Championships, but only Daulet NIYAZBEKOV and Adilet DAVLUMBAYEV walked away with gold medals. The other five wrestlers who competed in Budapest all took home bronze medals. 
Also of note, two of Kazakhstan's most successful wrestlers from last season, Nurislam SANAYEV and Zhandos ISMAILOV sat out of the competition due to injury. 
Sanayev was last year's world team representative at the Budapest World Championships, where he fell to Russia's Zaur UGUEV in the 57kg gold-medal bout. Sanayev also had success at the Asian Championships a season ago, capturing the gold medal, though that title-winning performance came at 61kg. 
Kazakhstan's 57kg Asian Championship bronze medalist Zhandos Ismailov sat this weekend due to injury. 
Both of these guys were expected to compete for the 61kg title. Instead, it was Kazakhstan's U23 world representative Bauirzhan TOREBEK who grabbed the gold medal. 
Though a win last weekend puts most of the championship wrestlers into the continental championships, it does not guarantee them a spot on the 2019 Astana World Championship team. That decision won't come after several international tournaments.
57kg
GOLD - Meirambek KARTBAY 
SILVER - Akbar KURBANOV 
BRONZE - Rakhat KALZHAN 
BRONZE - Berdakh PIRIMBAYEV 
61kg
GOLD-  Bauirzhan TOREBEK 
SILVER -  Rasul KALIYEV 
BRONZE - Kuat AMIRTAYEV 
BRONZE - Vladidmir KUDRIN 
65kg
GOLD - Daulet NIYAZBEKOV 
SILVER - Sayatbek OKASSOV 
BRONZE -Ilyas ZHUMAY 
BRONZE - Meirzhan ASHIROV 
70 kg
GOLD - Nurgozha KAIPANOV 
SILVER - Azhikul NURDAULET 
BRONZE - Kanat MUSABEKOV 
BRONZE - Amandik BAKEYEV 
74 kg
GOLD - Daniyar KAISANOV 
SILVER - Nurlan BEKZHANOV 
BRONZE - Bolat SAKAYEV 
BRONZE -  Azamat OMIRZHANOV 
79 kg
GOLD - Galymzhan USSERBAYEV 
SILVER - Shamil MURTAZOV 
BRONZE - Zhaksibek KARABALAYEV 
BRONZE - Abilay NURSULTANOV 
86 kg
GOLD - Adilet DAVLUMBAYEV 
SILVER - Azamat DAULETBEKOV 
BRONZE - Zhiger ZAKIROIV 
BRONZE - Elkhan ASADOV 
92 kg
GOLD - Yerali ABDRASHEV 
SILVER - Abdumanap BAIKENZHEYEV 
BRONZE - Abubakr TORGAYEV 
BRONZE - Shamil MAGOMEDOV 
97 kg
GOLD - Alisher YERGALI
SILVER - Bakdaulet ALMENTAY.
BRONZE - Mamed IBRAGIMOV 
BRONZE - Bakhitkhanov SERIK 
125kg
GOLD - Oleg BOLTIN 
SILVER - Yusup BATYRMIRZAYEV 
BRONZE - Duman BOLTIRIKOV 
BRONZE - Daulet SHABANBAY 

*Kazakhstan's 2018 national team members listed in bold. 
Click HERE to review Kazahkstan's Greco-Roman and women's wrestling results. 
4. Vlasov and Staebler Train Together in Sochi
The Russian Federation welcomed teams from Germany, Kyrgyzstan, Switzerland, and Uzbekistan, to attend their first training camp of the 2019 season in Russia's Olympic host city of Sochi. 
The camp in Sochi brought together two Greco-Roman superstars in two-time Olympic champion Roman VLASOV (RUS) and three-time world champion Frank STAEBLER (GER), who was a part of a German squad that brought ten wrestlers to train with Russia's No. 1 Greco-Roman National Team. 
Staebler told United World Wrestling that a highlight of the camp was training with Vlasov. "It's been very hard, but great fun and we both learn from each other and get stronger together. Staebler hopes to one day return to Russia to train, saying, "There's a great respectful friendship between Germany and Russia, and I hope we can return as soon as possible." 
Staebler, who trained out of a barn for the finals three months leading up to Budapest after he got kicked out of his previous gym, reflected on how improbable his run to a third world title was. The German said he now realizes "How incredible it is that I've achieved what I have with my opportunities in Germany. My options compared to what Russia has are ridiculous. Thus, I learned to be even more proud of my German success."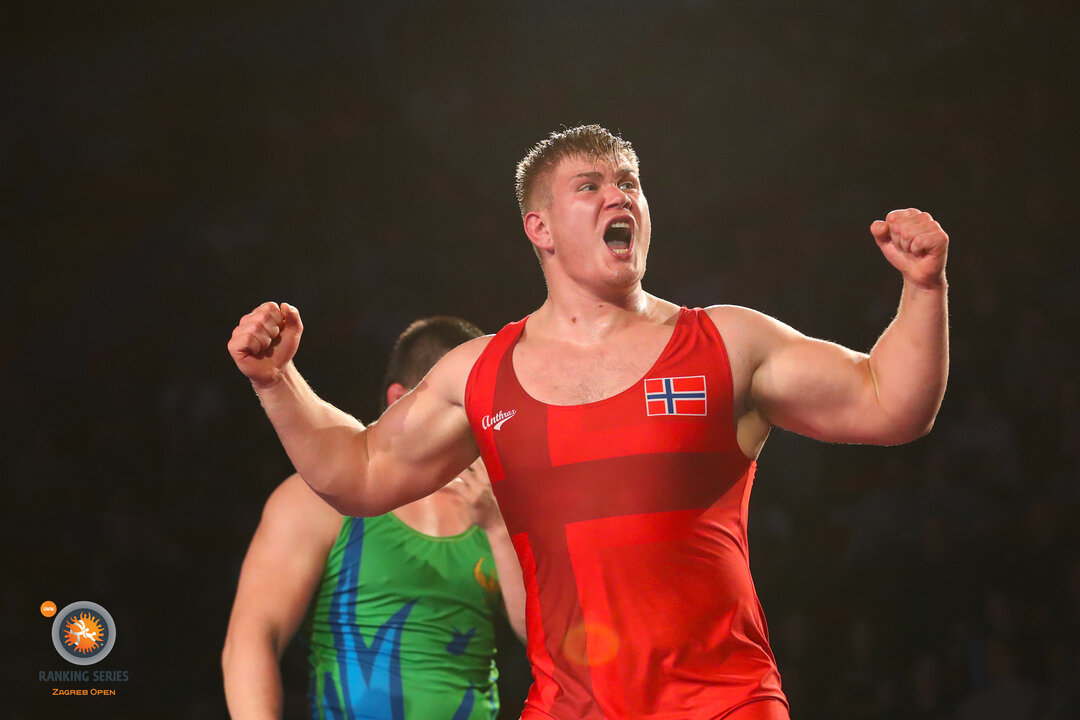 Oskar MARVIK (NOR) won the 125kg title at the Zagreb Open and moved up to No. 4 in the rankings. (Photo: Kadir Caliskan) 
5. New Greco-Roman Rankings Released 
The first set of updated Greco-Roman rankings have been updated after the Zagreb Open and are up on United World Wrestling's homepage. 
The biggest movers in the first set of Greco-Roman rankings were: 
55kg - Ekrem OZTURK (TUR) takes sole ownership of the No. 3 spot after a runner-up finish at the Zagreb Open. Ozturk now has 37 points after the Zagreb Open and fifth place finish at the world championships. 
67kg - Danijel JANECIC (CRO) leaps Budapest bronze medalists Meiirzhan SHERMAKHANBET (KAZ) (25 points) and Gevorg SAHAKYAN (POL) (25 points) with his fifth-place finish at the Zagreb Open. He now has 30 points. 
72kg - Aik MNATSAKANIAN (BUL) was tied with fellow world bronze medalist Rasul CHUNAYEV (AZE) for the third spot with 25 points, but broke that tie with his bronze-medal finish at the Zagreb Open. MNatsakanian now has 39 points. 
77kg - KIM Hyeonwoo (KOR) took possession of the No. 3 ranking with his third-place finish at the Zagreb Open. Kim has 37 points. 
125kg - Yasmani ACOSTA FERNANDEZ (CHI) and Oskar MARVIK (NOR) moved up to the third and fourth spot after being eighth and tenth respectively. Marvik won the gold medal, while Acosta finished in third place. 
Weekly FIVE! In Social Media 
1. Big Move Monday -- RUBAEV G. (MDA) -- 2018 Dan Kolov
2. Here are some of our favorite shots of @kadircaliskan 's from the #Zagreb2019. 
3. Two time World Champion Geno Petriashvili training with the national team in the mountains of Bakuriani @petro700
4. Images from the historic wrestling room in Gori, Georgia.
5. Best match of FR Takhti Cup- 79kg final: Bahman Teymouri (IRI) df. Jabrayil Hasanov (AZE), 6-4