Weekly FIVE! December 16, 2019
Tuesday, December 17, 2019 - 00:10 By Eric Olanowski
Discussing this week's All Japan Championships and U.S. Olympic Trials Qualifier. Also looking at Amine winning San Marino's Atleta Dell'Anno Athlete of the Year and recent modifications to the draw process and World Cup Events.
1. All Japan Championships (Emperors Cup) Begins Thursday
There's no shortage of Japanese wrestling storylines for this week, as a star-studded cast of world and Olympic champions are set to take the mat at Tokyo's Komazawa Gymnasium for the All-Japan Championships (also known as the Emperors Cup), which starts December 19-22. 
Among the list of all-stars that'll be looking to win an Emperors Cup crown will be Sara DOSHO, Takuto OTOGURO, Shinobu OTA, Yui SUSAKI and Eri TOSAKA.
Dosho, the Rio Olympic champion, will have an uphill battle in booking her ticket to the Asian Olympic Qualifier, as she'll be joined in the 68kg bracket by U23 world champions Masako FURUICHI and Yuka KAGAMI. 
Although 2017 world champion Otoguro punched Japan's ticket to the Olympic Games at 65kg with a fifth-place finish in Nur-Sultan, he still needs to cement himself as the top guy in the country at the weight. He's the unquestionable favorite to win the weight.
Ota, this year's 63kg world champion, will be wrestling up a weight at 67kg. He planned on dropping down to 60kg, but after Kenichiro FUMITA (JPN) won the 60kg world title, he locked up his seat on Japan's Olympic team at the weight. This left Ota with no other choice than to move up to the Olympic weight of 67kg. In his debut up at 67kg, Ota will look to challenge defending national champion Shogo TAKAHASHI, defending national runner-up Tsuchika SHIMOYAMADA and last year's U23 world champion Katsuaki ENDO, for the 67kg spot.
Yui Susaki, a two-time world champion and Olympic champion Eri Tosaka are both entered at 50kg. The pair of hammers will be joined by Yuki IRIE, who was Japan's representative at the 2019 World Championships. 
The winners of each weight class will book their trip to Xi'an, China, for the Asian Olympic Qualifier, where they'll hope to qualify their respective weight classes for the Toyko Olympic Games.
The All Japan Championships can be followed on https://www.japan-wrestling.jp/2019/12/15/155990/.
2. Amine Named San Marino's Athlete of the Year
Myles AMINE continues to have a life-defining year that he'll surly never forget. Months after the 23-year-old became his nation's first-ever freestyle Olympian, Amine was named San Marino's Atleta Dell'Anno Athlete of the Year. 
The award comes on the heels of Amine making San Marinian history at both the European Games and the World Championships. In June, Amine edged Alexander GOSTIYEV (AZE), 3-3, in the bronze-medal bout in Minsk and became the first wrestler from San Marino to win a medal at the European Games. Then, on the eighth day of wrestling in Nur-Sultan, Amine again made history for his nation when he advanced to the semifinals in the World Championships and clinched a spot at 86kg in the Tokyo Olympic Games. 
Amine ultimately went on to finish in fifth place at the World Championships. And as expected, since the World Championships, Amine has announced that he'll, in fact, be the 86kg representative for San Marino come August at the Tokyo Olympic Games.
3. Wrestling Announces New Format for Senior World Cup Events
United World Wrestling has announced a change in the format for Senior World Cup events. 
Senior World Cup events will now be held in November or early December of non-Olympic years. The events will be contested over two days, Friday and Saturday.  
The numbers of teams competing in each style will be reduced from eight to six. The top five wrestling nations from the previous Senior World Championships in each style will qualify for the event. In addition to the five qualified countries, an All-Star team will be selected based on the highest ranked wrestlers from the previous Senior World Championships who compete for non-qualified countries. 
The proposal was made by the Technical Commission and approved by the Executive Committee.
"We fully expect this new format to appeal to more fans from across the world," said United World Wrestling president Nenad Lalovic. "The addition of an All-Star team is unique. We are excited to see their impact on the event."
National Wrestling Federations and cities to are expected provide bids in the coming months. More details will be released in the new year.
4. Wrestling Modifies Draw, Brings Blockchain to the Mats
United World Wrestling has announced the implementation of a new draw process for competitions that includes the use of Blockchain technology to ensure a certifiably random assignment of athletes into competition brackets. The system, a first in the Olympic movement, has been reviewed, approved and applauded by the International Olympic Committee.
"We are always striving to improve our operations and guarantee total transparency in our draw process," said United World Wrestling IT Director Sebastien Guenat. " I'm happy we can introduce Blockchain as it will save us time during the draw of weight categories and ensure absolute random assignments."
The draws themselves will now only occur once per style. In effect, the draws will mean that athletes, coaches, and fans will be able to see some brackets up to three days in advance of the competition.
"This is a major step forward for us because it allows coaches to know in advance the opponent of their wrestlers in order to adjust their preparation," said United World Wrestling Sports Director Jean-Daniel Rey. "The process is always under review and these changes signal that we are ready to adapt to the needs of our coaches, athletes, and fans."
Click here for United World Wrestling's full release about the new draw process.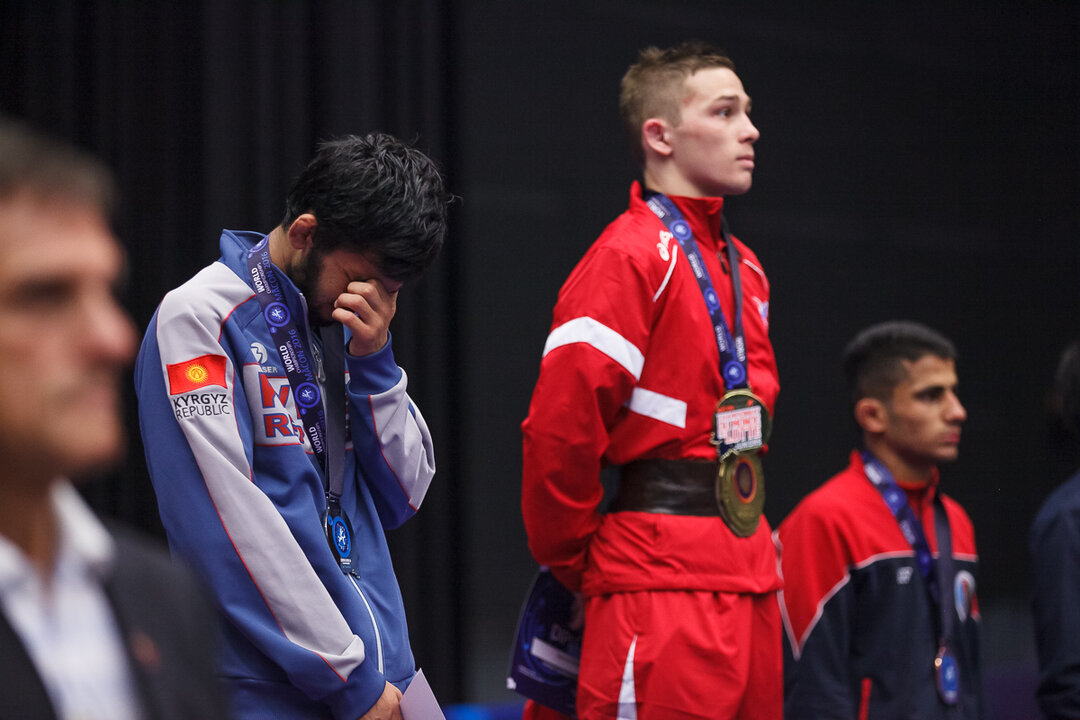 Spencer LEE (USA), the three-time age-group world champion, will make his freestyle return for the first time since 2016. (Photo: Justin Hoch)
5. Three-time World Champ Lee to Make Return this Week at U.S. Olympic Trials Qualifier 
America's most credential age-group wrestler, Spencer LEE (USA), is set to make his freestyle return this weekend in Fort Worth, Texas, at the U.S. Olympic Trials Qualifier. The three-time age-group world champion will return to freestyle action for the first time since he won his 2016 junior world title in Macon, France. 
Lee's return comes at a much-needed weight class for the United States where they have yet to qualify a spot for the Olympic Games, 57kg. Their Nur-Sultan representative Daton FIX (USA) dropped to a 12th place finish at the World Championships, which was the lowest finish at the weight for the Stars and Stripes since the 2014 World Championships and their second-lowest finish over the last decade.
Lee has to finish top-five this weekend to qualify for the 2020 U.S. Olympic Team Trials, which will take place in State College, Pennsylvania, on April 4-5.
Our friends at www.flowrestling.org have the streaming rights to the two-day tournament which kicks off Friday. Wrestling at the U.S. Olympic Trials Qualifier begins at 11:00 (local time) on December 20.
Weekly FIVE! In Social Media
1. Big Move Monday -- Valdes Tobiera A. @alejandrovaldestobier (CUB) -- Senior Worlds 2019 #WrestleNursultan
2. #TBT - Icho Wins Tenth and Final World Title
3. @hasan_yazdani73 leads Iran 🇮🇷 and China 🇨🇳 through a joint workout while the two countries train together in Iran.
4. Sunday smiles 😃!
5. India's 🇮🇳 Deepak PUNIA has been named United World Wrestling's Junior Freestyle Wrestler of the Year.