Weekly FIVE! December 10, 2018
Monday, December 10, 2018 - 16:28 By Eric Olanowski
Reviewing Russia's Ivan Yarygin qualification process. Also reviewing results from the Alans and Haparanda Cup.  
1. Dzambolat Tedeev Clarifies 2019 Ivan Yarygin Qualification Process
Dzambolat Tedeev, the head freestyle wrestling coach for the Russian Federation, clarified the qualification process for January's Ivan Yarygin, which takes place in Krasnoyarsk, Russia. Only three Russian wrestlers will qualify for the "Toughest Tournament in the World." Each of the 2018 world team members, along with the Alans and Mindiashvili winners will each punch their ticket to the Ivan Yarygin. 
In an interview with WRESTRUS.RU's correspondent, Tigran Avanian, Tedeev said, "The first members of the Russian national team, mainly those who wrestled in Budapest, can still compete in the Alans. They already have an admission to Yarygin, but only in the weight in which they wrestled in Budapest." Meaning the below world team members have qualified at the following weights.
57kg - Zaur UGUEV
61kg - Gadzhimurad RASHIDOV 
65kg - Akhmed CHAKAEV 
70kg - Magomedrasul GAZIMAGOMEDOV 
74kg - Zaurbek SIDAKOV 
79kg - Ahmed GADZHIMAGOMEDOV 
86kg - Dauren KURUGLIEV
92kg-  Batyrbek TSAKULOV
97kg - Abdulrashid SADULAEV 
125kg -  Anzor HIZRIEV
In order to provide further clarification, coach Tedeev  continued by saying, "If an athlete decides to change his weight category, he needs to establish himself in the new weight, which means he'll have to win either the Alans or the Mindiashvili tournament, and only then he will be able to wrestle in Krasnoyarsk."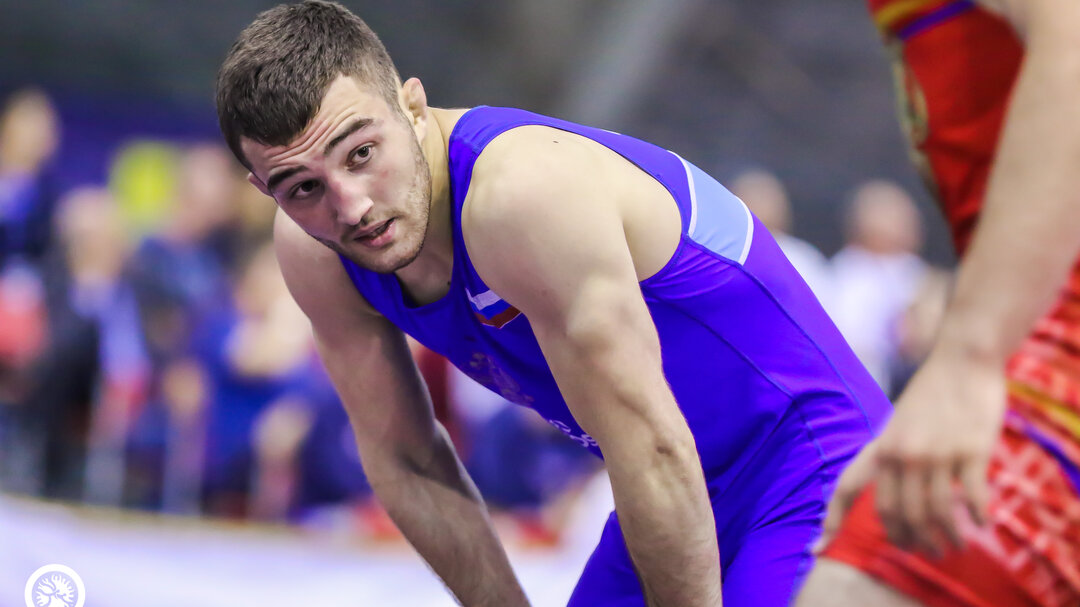 70kg Alans champion, David BAEV (RUS) Photo by Marion Stein. 
2. Vladikavkaz Hosts Yarygin Qualification Tournament, the Alans 
Loads of fans showed up to the sold-out Sports Center Arena in Vladikavkaz, North Ossetia-Alania, Russia, for one of the country's most important tournaments, the Alans. As mentioned above, the Alans served as a qualification for the January's Ivan Yarygin in Krasnoyarsk, Russia. 

Arguably, the most impressive gold medal winner was the 70kg champion, David BAEV (RUS). Baev, the two-time age-level world champion, and 2018 U23 world runner-up knocked off back-to-back- world medalists on his run to the top of the podium. In the semifinals, Baev defeated two-time world medalist, James GREEN (USA), 8-6. He followed that up with a 5-3 finals win over 2016 world champion, Magomed KURBANALIEV (RUS). 
Azerbaijan, Georgia, and the United State each had wrestlers medal, but it was the Russian Federation who won nine of ten possible gold medals. The lone non-Russian champion was reigning two-time world champion, Geno PETRIASHVILI (GEO) who won the 125kg gold medal over Iran's Jaber SADEGHZADEH. 
RESULTS 
57kg
GOLD - Abasgadzhi MAGOMEDOV (RUS)
SILVER - Khuresh Ool DONDUK OOL (RUS) 
BRONZE - Ramiz AMZATOV (RUS)
BRONZE - Ibragim ABDURAKHMANOV (RUS) 
61kg 
GOLD - Ramazan FERZALIEV (RUS) 
SILVER - Beka LOMTADZE (GEO) 
BRONZE - Iulian GERGENOV (RUS)
BRONZE - Aleksandr BOGOMOEV (RUS) 
65kg 
GOLD - Muslim SAIDULAEV (RUS)
SILVER - Kurban SHIRAEV (RUS)
BRONZE – Nachyn KUULAR (RUS)
BRONZE – Alan GOGAEV (RUS)
70kg 
GOLD - David BAEV (RUS) 
SILVER - Magomed KURBANALIEV (RUS)
BRONZE - James Malcolm GREEN (USA) 
BRONZE - Razambek ZHAMALOV (RUS) 
74kg 
GOLD - Timur BIZHOEV (RUS) 
SILVER - Avtandil KENTCHADZE (GEO) 
BRONZE - Akhmed USMANOV (RUS)
BRONZE - Kakhaber KHUBEZHTY (RUS) 
79kg 
GOLD - Gadzhi NABIEV (RUS) 
SILVER - Atsamaz SANAKOEV (RUS)
BRONZE - Alan ZASEEV (RUS)
BRONZE - Khalil AMINOV (RUS)
86kg 
GOLD - Vladislav VALIEV (RUS)
SILVER - Magomedsharif BIIAKAEV (RUS)
BRONZE - Slavik NANIEV (RUS)
BRONZE - Soslan KTSOEV (RUS)
92kg
GOLD - Anzor URISHEV (RUS)
SILVER - Magomed KURBANOV (RUS)
BRONZE - Alikhan ZHABRAILOV (RUS)
BRONZE - Sharif SHARIFOV (AZE) 
97kg
GOLD - Vladislav BAITCAEV (RUS)
SILVER - Shamil MUSAEV (RUS)
BRONZE - Zaynulla KURBANOV (RUS)
BRONZE - Igor OVSIANNIKOV (RUS)
125kg 
GOLD - Geno PETRIASHVILI (GEO) 
SILVER - Jaber Taghi SADEGHZADEH (IRI) 
Mukhamagazi MAGOMEDOV (RUS)
Vitalii GOLOEV (RUS)
3. Tehran to Host 2018 World Wrestling Clubs Cup 
Tehran, Iran is set to host the fifth annual World Wrestling Clubs Cup on December 13-14. 
Last year, 16 World and Olympic medalists took part in the two-day competition, but it was Iran's Easy Pipe Kashan who edged defending champions from the United States, Titan Mercury, 6-4, while Setaregan Sari (IRI) downed Khimori (MGL) in the third-place dual.
One interesting note regarding this year's World Wrestling Clubs Cup, the United State's will not be sending a team to Tehran. Due to the World Championships being pushed back to October, the United States decided to rest their athletes and not send them to Iran. 
2017 Finals Results 
57kg - Reza ATARI (Easy Pipe) df. Thomas GILMAN (TMWC), 6-4 
61kg- Vladimir KHINCHEGASHVILI (Easy Pipe) df. Alan WATERS (TMWC), 7-0
65kg- Farzad AMOUZAD KHALILI df. (Easy Pipe) Bernard FUTRELL (TMWC), 6-3
70kg- Mohammad NADERI (Easy Pipe) df. Franklin GOMEZ (TMWC), 2-2
74kg- Nazariy KULCHYTSKYY (TMWC) df. Hossein ELYASI (Easy Pipe), 5-4 
79kg- Kyle DAKE (TMWC) TF. Reza AFZALI (Easy Pipe), 12-0
86kg- David TAYLOR (TMWC) df. Alireza KARIMI (Easy Pipe), 3-1 
92kg- Hossein SHAHBAZI (Easy Pipe) df. Nickolas HEFLIN (Titan), 4-2
97kg- Kyle SNYDER (TMWC) TF. Vladislav BAITSAEV (Easy Pipe), 11-0
125kg - Geno PETRIASHVILI (Easy Pipe) df. Nick GWIAZDOWSKI (Titan), 6-5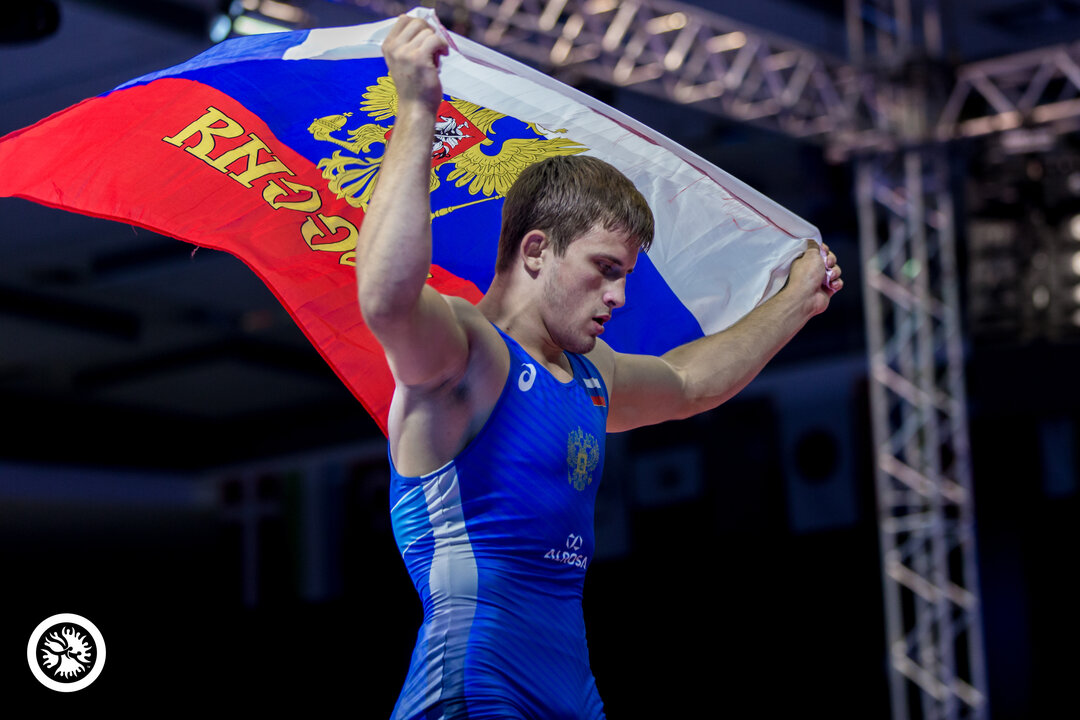 Aleksander KOMAROV (RUS), 82kg Haparanda Cup champion. (Photo by Max Rose-Fyne) 
4. Russia Wins Quartet of Golds at 2018 Haparanda Cup
Over 60 wrestlers made the trip to Haparanda, Sweden to compete in the annual Haparanda Cup. Per usual, the Russian Federation was locked and loaded, winning four of the nine overall Haparanda Cup gold medals. 
The most notably gold medal came at 82kg where the Russian youngster Aleksander KOMAROV (RUS) competed in his first tournament since September when he captured the 2018 junior world title in Tampere, Finland. This was Komarov's second junior world title, but his fourth overall age-level world title. He also won back-to-back cadet world titles in 2015 and 2016. 
Without a doubt, Komarov has the most impressive Greco-Roman resumes in recent memory. Since stepping on the international scene back in 2015, he's entered 13 tournaments and has yet to face defeat at any of those 13 tournaments. 
In addition to his four age-level world and European titles, Komarov also has five senior-level tournament gold medals to his name. 

Russia also had a trio of other gold medalists. They were Yuri DENISOV (RUS), Ivan CHERNOV (RUS), and Maxim SAYARYAN (RUS). Russia was the only country to win more than one gold medal. Finland, Norway Sweden, Ukraine, and the United States were the remaining five nations who won a solo gold medal. 
RESULTS 
60 kg   
GOLD - Maksym LIU (UKR)
SILVER - Christoffer SVENSSON (SWE)
BRONZE - Roope MIETTUNEN (FIN)
63kg 
GOLD - Alexander BICA (SWE)
SILVER - Colton RUSHE (USA)
BRONZE - Raffaele MASI (USA)
67kg  
GOLD - Håvard JORGENSEN (NOR) 
SILVER - Jamel JOHNSON (USA)
BRONZE - Denis BOLUNOV (EST)
BRONZE - Serhii HRUSHYN (UKR)
72kg  
GOLD - Yuri DENISOV (RUS) 
SILVER - Akseli  KISALIJAT (FIN)
BRONZE - Ihor BYCHKOV (UKR)
BRONZE - Vladyslav KRAVCHENKO (UKR)
77kg  
GOLD - Ivan CHERNOV (RUS)
SILVER - Sakke PUROLAINEN (FIN) 
BRONZE - Pat SMITH (USA)
BRONZE - Roni PUROLAINEN (FIN)
82kg   
GOLD - Aleksander KOMAROV (RUS)
SILVER - Dmytro GARDUBEI (UKR)
BRONZE - John STEFANOWICZ (USA) 
BRONZE - Vitalii ANDRILOVYCH  (UKR)
87kg
GOLD - Rami HIETANIEMI (FIN) 
SILVER - Joe RAU (USA) 
BRONZE - Duguchiev MOVSAR (RUS)
BRONZE - Valentyn SHKLIARENKO (UKR) 
97kg 
GOLD – Maxim SAYARYAN (RUS)
SILVER - Billy RAAF (SWE)
BRONZE - Daniel MILLER (USA) 
BRONZE - Kalle PERSSON (SWE)
130kg 
GOLD - Trent OSNES (USA) 
5. United World Wrestling Yearly Awards to be Released Over Next Few Weeks 
As the 2018 calendar year comes to a close, it leaves an opportunity for the wrestling world to reflect on successes over the previous twelve months. In the next few weeks, United World Wrestling will be releasing their annual year-end awards. Like past year's awards, this year's awards will look at some of the best matches, athletes, and performances from 2018. 
If you have a favorite moment, match, or wrestler that you think should be included in our annual awards; please share your thoughts on Facebook, Instagram or Twitter! 
Weekly FIVE! In Social Media 
1.Big Move Monday! 
2.  Flipping into the week like. 
3. Black and white photos from #BudaWrestle2018 
4. Steam coming off a young Indian wrestler 
5. Matcharshvili outscored his opponents 40-0 to win the 97kg U23 world title.