Weekly FIVE! April 30, 2019
Tuesday, April 30, 2019 - 12:37 By Eric Olanowski
Discussing last weekend's Asian Championships, and No. 2 Hasanov's possible weight change. Also looking at the Beat the Streets, updated world rankings, and the third Ranking Series event of the year. 
1. Asian Championships Come to an End in Xi'an, China 
The Asian Championships, which were the fifth and final Continental Championships, wrapped up last weekend in Xi'an, China. 
Iran put on an impressive showing in both freestyle and Greco-Roman, winning the team titles in each, while Japan won the women's wrestling team title. 
In freestyle, Iran annihilated the competition, wrapping up the team title with seven champions and three bronze-medal finishers. Their ten medal performance was good enough for 220 points, which was 65 points ahead of second place India, who had 155 points. 
Kazakhstan rounded out the top three in the freestyle department with 129 points. 
Iran also won the Greco-Roman team title. They did so by narrowly sneaking past second place Uzbekistan by two points. 
Majority of Iran's 165 points came from their four champions and a trio of bronze-medal finishers. Uzbekistan, who had 163 points, had more finalists than Iran, but dropped three of those five gold-medal bouts, falling just short of the podiums top spot.
Kazakhstan had 134 points and finished in third place in Greco-Roman. 
In women's wrestling, powerhouse Japan won the team title with nine finalists and four champions. The lone wrestler who missed out on competing for a gold medal was four-time Olympic champion Kaori ICHO, who was making her return to international competition for the first time since her history-making performance at the 2016 Rio Olympic Games. 
Icho scored a win in the 57kg bronze-medal bout, giving Japan, who had 215 points, a medal in all ten weight classes. 
China (183 points) and India (113 points) finished in second and third respectively in the women's wrestling competition. 
Click here for the Asian Championships event hub. 
No. 2 Ranked 79kg European Champion Hasanov Moving Down to 74kg? 
Azerbaijan's reigning 79kg European champion Jabrayil HASANOV posted a photo on his Instagram story showing himself on a scale with the weight of 76.4kg. 
Hasanov's current weight of 79kg is not an Olympic weight class, which means if the reigning world runner-up has hopes of improving on his bronze-medal finish from the 2016 Rio Olympic Games, he'll have to make the move back down to 74kg. 
For Hasanov to represent Azerbaijan at 74kg at the World Championships and Olympic Games, he'll most likely have to go through either No. 13 Abubakr ABAKAROV or No. 15 Khadzhimurad GADZHIYEV. Abakarov represented Azerbaijan at the World Championships where he finished in eighth place, while Gadzhiyev was a fifth-place finisher at this year's European Championships.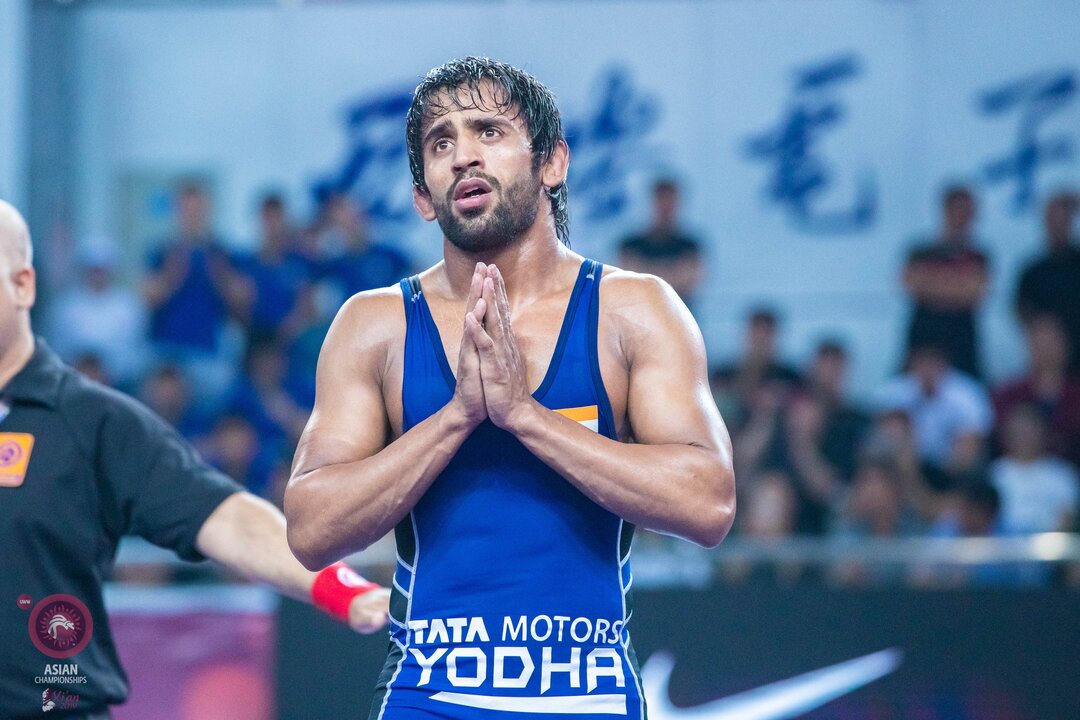 Bajrang Punia (IND), who won the 65kg Asian title, will take over the world's No. 1 spot at 65kg in the latest world rankings. (Photo Sachiko Hotaka)
3. New World Rankings to be Released this Week 
United World Wrestling will be releasing the latest point-based rankings later this week. The May edition of the world rankings are extremely important because they'll include results from all five of the Continental Championships. 
The top four ranked wrestlers at each weight will be seeded at the 2019 World Championships, which take place in Nur-Sultan, Kazakhstan on September 14-22. 
Continental Championship Event Hubs
Asian Championships 
African Championships 
European Championships 
Oceania Championships
Pan-American Championships 
4. Beat the Streets Less than a Week Away
The wrestling invades New York City on May 6 for the annual  Beat the Streets (BTS) benefit. This year, the event will take take place at the world famous Hulu Theater, located inside "The World's Most Famous Arena," Madison Square Garden. 
The "Grapple at the Garden's" star-studded lineup includes nine returning world medalists, headlined by reigning world champions David TAYLOR (USA) and J'den COX (USA), and the No. 1 ranked wrestler in the world at 65kg, Bajrang PUNIA (IND). 
Taylor and Punia will both scrap against defending NCAA champions. At 86kg, Taylor will wrestle Drew FOSTER (USA), and Punia will go toe-to-toe with Yianni DIAKOMAHLIS (USA). 
The other reigning world champion in action, J'den Cox, will tussle with Patrick BRUCKI (USA) at 92kg. 
Rio Olympic champion No. 2 Kyle SNYDER (USA) and London Olympic gold medalist No. 2 Jordan BURROUGHS (USA) are also set to compete at the event. 
Snyder, the 2018 world runner-up, will take on Canada's Nishan RANDHAWA (CAN) in the 97kg bout, and Burroughs, the 2018 world bronze medalist, will wrestle 2008 Olympian and current UFC fighter Ben ASKREN (USA) at 74kg. 
The event, which has already sold over 3000 tickets, begins on May 6 at 6:30pm and can be watched on www.flowrestling.org. 
"Grapple at the Garden" Matchups 
Freestyle
57kg - Nathan TOMASELLO (USA) vs. Jack MUELLER (USA)  
61kg - Nick SURIANO (USA) vs. Joe COLON (USA)
65kg - Jordan OLIVER (USA) vs. Joseph MCKENNA (USA)  
65kg - Yianni DIAKOMAHLIS (USA) vs. Bajrang PUNIA (IND)
70kg - James GREEN (USA) and Anthony ASHNAULT (USA)
74kg - Jordan BURROUGHS (USA) vs. Ben ASKREN (USA)  
86kg - David TAYLOR (USA) vs. Drew FOSTER  (USA)  
92kg - J'den COX (USA) vs. Patrick BRUCKI (USA)  
97kg - Kyle SNYDER (USA) vs. Nishan RANDHAWA (CAN)
125kg Nick GWIZADOWSKI (USA) vs. Derek WHITE (USA)  
Women's Wrestling
53kg - Becka LEATHERS vs. Dana WEICKER (CAN) 
62kg - Mallory VELETE (USA) vs. Linda MORAIS (CAN)
5. Third Ranking Series Event Just Three Weeks Away 
The entries are starting to pour in for the third Ranking Series event of the year, the Sassari City Matteo Pellicone Memorial. The three-day tournament that begins on May 23 will take place on the Italian island of Sardinia, and will be the first-ever Ranking Series event which will feature freestyle, Greco-Roman, and women's wrestling. 
Although registration hasn't closed, two-time world champion and Italian superstar Frank CHAMIZO has entered his name into the 74kg bracket. 
In addition to Chamizo, the early entry list at 74kg also includes Russia's 2017 world runner-up Khetik TSABOLOV and three-time European champion Soner DEMIRTAS (TUR). Chamizo defeated Tsabolov at last year's European Championships but fell to Demirtas, who went on to win the gold medal in Dagestan. 
Other notable early entries include Olympic champions KIM Hyeonwoo (KOR) and Erica WIEBE (CAN), and former world champions Aline ROTTER FOCKEN (GER), RYU Hansu (KOR), Vanesa KALADZINSKAYA (BLR),  Sofia MATTSSON (SWE). 
Weekly FIVE! In Social Media 
1. Big Move Monday -- R. SCHWARZ (GER) -- 2019 Senior European C'ships
2. Big Move From Day 6 // #WrestleXian
3. Big Move From Day 5 // فن برتر روز پنجم #WrestleXian
4. Tasmuradov has an incredible match in the 1/4 finals of the 63kg division.
5. The reigning 79kg European🥇and world 🥈@cebrayil313 posted a photo of scale with the weight of 76.4kg. Does this mean the No. 2-ranked wrestler in the world is moving down to 74kg for the #WrestleNurSultan World Championships?