Vuc Ascends to No.1 in Women's World Rankings, 9 Retain No.1 Ranking
Monday, July 2, 2018 - 17:53 By United World Wrestling Press
CORSIER-SUR-VEVEY (July 2) -- Alina VUC (ROU) ascends to No.1 at 50kg in the July 2018 Ranking Series for women's wrestling after winning gold at the China Open.
Vuc, a European silver medalist and Klippan Lady Open bronze medalist, won her China Open gold medal with a 1-0 victory over China's ZHU Jiang.
Vuc is the lone new No. 1 in this month's rankings for women's wrestling. 
Other No.1-ranked wrestlers include Sarah HILDEBRANDT (USA) at 53kg, Bediha GUN (TUR) at 55kg, Irina OLOGONOVA (RUS) at 57kg, Elif YESILIRMAK (TUR) at 59kg, Kayla MIRACLE (USA) at 62kg, Petra OLLI (FIN) at 65kg, Laura SKUJINA (LAT) at 68kg, Jenny FRANSSON (SWE) at 72kg and Adeline GRAY (USA) at 76kg. 
USA has the most top-ranked women's wrestlers with three. Hildebrandt and Gray won gold medals at the Pan American Championships, while Miracle claimed a bronze. 
Bediha GUN (55kg) and Elif YESILIRMAK (59kg) give Turkey a pair of No.1-ranked wrestlers. 
Gun, a 2016 Olympian, was a silver medalist at the Klippan Lady Open and a bronze medalist at the European Championships.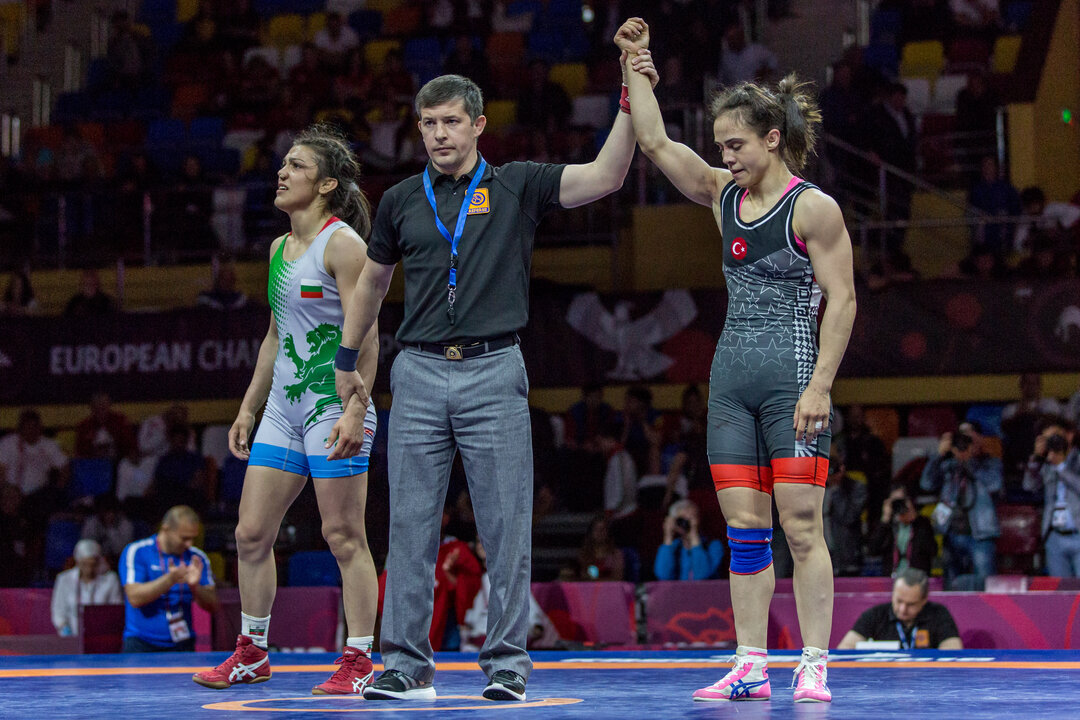 Yesilirmak, a multiple-time world medalist, won a gold medal at the European Championships and a bronze medal at the Klippan Lady Open.
The 2018 season is the first in which United World Wrestling is utilizing an objective ranking system. The points acquired at continental championships and select rankings series will determine the top four seeded athletes at the 2018 World Championships in October held in Budapest.
 
For more on the Ranking Series format, be sure to check out this article. 
View all the rankings on United World Wrestling's homepage.
50kg
1. Alina VUC (ROU) // 51 Points
2. Mariya STADNIK (AZE) // 43 Points
3. Chun LEI (CHN) // 29 Points
4. Aktenge KEUNIMJAEVA (UZB) // 26 Points
5. Anzhelika VETOSHKINA (RUS) // 24 Points
53kg
1. Sarah HILDEBRANDT (USA) // 38 Points
2. Yu MIYAHARA (JPN) // 34 Points
3. Aysun ERGE (TUR) // 33 Points
4. Sumiya ERDENECHIMEG (MGL) // 31 Points
5. Mercedesz DENES (HUN) // 30 Points
55kg
1. Bediha GUN (TUR) // 33 Points
2. Hyemin OH (KOR) // 27 Points
3. Iryna KURACHKINA (BLR) // 23 Points
4. Ramona GALAMBOS (HUN) // 22 Points
5. Nazgul NURAKHAN (KAZ) // 21 Points
57kg
1. Irina OLOGONOVA (RUS) // 41 Points
2. Laura MERTENS (GER) // 31 Points
3. Xingru PEI (CHN) // 30 Points
4. Battsetseg ALTANTSETSEG (MGL) // 27 Points
5. Tetyana KIT (UKR) // 27 Points
59kg
1. Elif YESILIRMAK (TUR) // 33 Points
2. Shoovdor BAATARJAV (MGL) // 29 Points
3. Yuzuru KUMANO (JPN) // 28 Points
4. Svetlana LIPATOVA (RUS) // 25 Points
5. Ningning RONG (CHN) // 22 Points
62kg
1. Kayla MIRACLE (USA) // 35 Points
2. Orkhon PUREVDORJ (MGL) // 33 Points
3. Yuliia TKACH OSTAPCHUK (UKR) // 28 Points
4. Luzie MANZKE (GER) // 28 Points
5. Taybe Mustafa YUSEIN (BUL) // 23 Points
65kg
1. Petra OLLI (FIN) // 41 Points
2. Henna JOHANSSON (SWE) // 33 Points
3. Forrest MOLINARI (USA) // 26 Points
4. Mariia KUZNETSOVA (RUS) // 25 Points
5. Miwa MORIKAWA (JPN) // 23 Points
68kg
1. Laura SKUJINA (LAT) // 31 Points
2. Alla CHERKASOVA (UKR) // 30 Points
3. Tumentsetseg SHARKHUU (MGL) // 30 Points
4. Anastasia BRATCHIKOVA (RUS) // 25 Points
5. Meerim ZHUMANAZAROVA (KGZ) // 23 Points
72kg
1. Jenny FRANSSON (SWE) // 36 Points
2. Alexandra nicoleta ANGHEL (ROU) // 26 Points
3. Tatiana KOLESNIKOVA MOROZOVA (RUS) // 24 Points
4. Masako FURUICHI (JPN) // 23 Points
5. Yue HAN (CHN) // 18 Points
76kg
1. Adeline GRAY (USA) // 40 Points
2. Yasemin ADAR (TUR) // 38 Points
3. Epp MAE (EST) // 30 Points
4. Elmira SYZDYKOVA (KAZ) // 28 Points
5. Eunju HWANG (KOR) // 25 Points