USA's Six Golds Include Four Births to the Youth Olympic Games
Sunday, May 27, 2018 - 12:48 By Eric Olanowski
GUATEMALA CITY, Guatemala (May 26) - The United States capped off their impressive run at a Cadet Pan-American Championship team title with six individual championships, which includes four births to the 2018 Youth Olympic Games in Buenos Aires, Argentina later this year. 
Venezuela and Cuba grabbed a pair of spots to the YOG, while Brazil and Mexico each had a solo wrestler punch their ticket to Buenos Aires. 
Emily SHILSON (USA) kick-started the USA with a technical superiority win in the 43kg finals over Brazil's Heloisa MARTINEZ. 
The cadet world runner-up finished the tournament by seizing her second Cadet Pan American Championship, winning all four bouts via technical superiority while outscoring her opponents 47-5.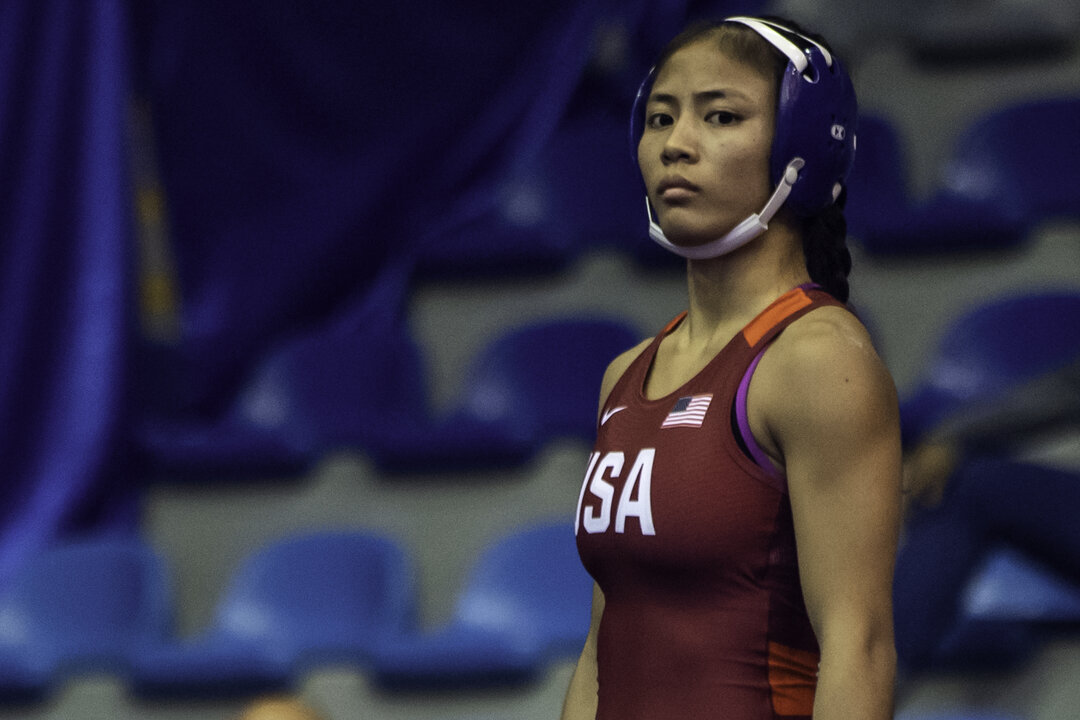 Tiare IKEI (USA), 49kg Cadet Pan-American champion. (Photo by Robert Wijtman)
Tiare IKEI (USA) and Cheyenne BOWMAN (USA) picked up the next two Youth Olympic Games births for the United States with wins over Venezuelan opponents. 
At 49kg, Tiare Ikei scored her 10 points with two counter offensive takedowns and three exposures on Maria Jose MOSQUERA ROJAS (VEN) to stop the gold-medal bout at the 1:07 mark of the first period. 
Cheyenne Bowman (USA) captured USA's third gold medal at a Youth Olympic weight class with a 10-4 win over Venezuela's Mayra ALVAREZ.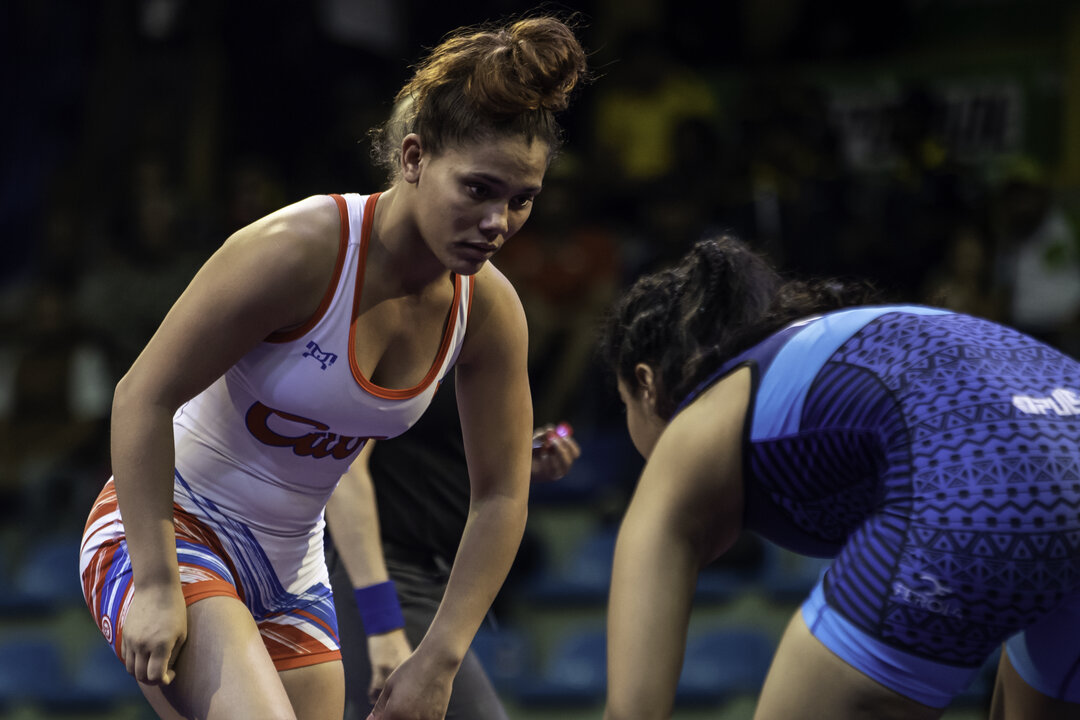 Yetzis MARQUEZ (CUB) was one of two Cubans to earn a spot for the 2018 Youth Olympic Games. (Photo by Robert Wijtman)
At 65kg, Yetzis MARQUEZ (CUB) gave Cuba their first Youth Olympic Games birth with a 4-0 win over Sandra MENCHACA (MEX). 
The Cuban wrestler scored her four-point sequence off a snap down spin behind to an immediate left sided gut. 
The second Cuban gold medal came at 73kg where Milaimys POTRILLE (CUB) stopped the United States from winning their seventh overall gold medal with a 4-0 win over Tristan Nicole KELLY (USA) in the finals. 
Potrille's physical style of wrestling helped her score a takedown in each period, ultimately picking up the 4-0 shutout to remain unscored upon throughout these championships. 
Three of the five gold medals at non-Youth Olympic weight classes were won by the United States, with Ecuador and Mexico claiming the remaining two.  
Team Scores 
GOLD - United States (205 points) 
SILVER – Canada (131 points) 
BRONZE – Mexico (130 points) 
Fourth - Ecuador (80 points)
Fifth - Brazil (60 points) 
Sixth - Cuba( 58 points) 
Seventh - Venezuela (52 points) 
Eighth - Argentina (43 points) 
Ninth – Colombia (41 points) 
Tenth – Chile (16 points) 
RESULTS 
40kg
GOLD - Mayerly Vitalia IBARRA CAICEDO (ECU) 
SILVER - Melissa Fuen LEE (USA) 
BRONZE -  Halle Beryl BACHIU (CAN) 
43kg
GOLD - Emily King SHILSON (USA) df. Heloisa Elena MARTINEZ (BRA), 10-0 
BRONZE -  Estefani ESTUPINAN PEREZ (COL) df. Julieta Esperanza MARTINEZ GONZALEZ (MEX), 10-0 
BRONZE - Serena Rosa DI BENEDETTO (CAN) df. Sandra CHUMACERO HEREDIA (BOL), 10-0 
46kg
GOLD - Adriana Berenis HERNANDEZ SANCHEZ (MEX) 
SILVER - Vivica Akuorkor ADDO (CAN) 
BRONZE - Amanda Rosa PARRALES (NCA) 
49kg
GOLD -  Tiare Lynn Masako Dizon IKEI (USA) df. Maria Jose MOSQUERA ROJAS (VEN), 10-0 
BRONZE -  Mercedes Paola CASTILLO BERNAL (MEX) df. Leticia CINCINATO PIMENTA (BRA), 11-0 
BRONZE -  Lucia Yamileth YEPEZ GUZMAN (ECU) df. Leydi Lucia ALMEYDA FONCE (COL), 10-0 
53kg (One bronze) 
GOLD - Kierstien Norma BUSH (USA) df. Zeltzin HERNANDEZ GUERRA (MEX), 6-0 
BRONZE -  Victoria Joie SEAL (CAN) df. Lara Alejandra VERLATSKY BENITEZ (ARG), 10-0   
57kg
GOLD -  Cheyenne Siara BOWMAN (USA) df. Mayra Alejandra PARRA ALVAREZ (VEN), 10-4
BRONZE -  Andrea Monserrat LOPEZ MARTINEZ (MEX) df. Antonia Alejandra VALDEZ ARRIAGADA (CHI), 10-0 
BRONZE  Isaeileen Shammail MIRANDA DIAZ (PUR) df. Tatiana HURTADO LERMA (COL), via forfeit
61kg
GOLD - Ashton Ann CADMAN (USA) 
SILVER - Aleah Noelle NICKEL (CAN) 
BRONZE -  Alejandra RIVERA ARRIAGA (MEX) 
65kg
GOLD -  Yetzis Camila RAMIREZ MARQUEZ (CUB) df. Sandra Elena ESCAMILLA MENCHACA (MEX), 4-0
BRONZE - Thaissa ANIBAL RIBEIRO (BRA) df. Nyla Raeleen BURGESS (CAN), via fall 
BRONZE -  Kiana Alyse PUGH (USA) df. Camila Lara MINUTILLO (ARG), 12-0 
69kg
GOLD - Kennedy Alexis BLADES (USA) 
SILVER - Jamilex de Los Angeles CUMBICOS CASTILLO (ECU) 
BRONZE - Vianne Elizabeth ROULEAU (CAN) 
73kg
GOLD -  Milaimys de la Caridad MARIN POTRILLE (CUB) df. Tristan Nicole KELLY (USA), 5-0 
BRONZE -  Linda Marilina MACHUCA (ARG) df. Gabriela Renata CANALES HERRERA (MEX), 8-4
BRONZE - Anika Elizabeth WHITE (CAN) df. Luisa Fernanda MOSQUERA PARRA (COL), 8-4