USA Closes out Pan-American C'ships with Nine Freestyle Gold Medals
Monday, May 28, 2018 - 12:35 By Eric Olanowski
GUATEMALA CITY, Guatemala (May 27) - The United States of America's national anthem was on repeat during the third and final day of competition at the 2018 Pan-American Championships in Guatemala City, Guatemala. The Americans closed out the tournament with a 38-1 record and won nine of the possible ten gold medals.
More importantly, the quartet of American gold medals at Youth Olympic weights helped the United States punch four tickets to the 2018 Buenos Aires Games in October. Mexico, who won the fifth and final gold medal also locked up their spot for the 2018 Games. 
Sheldon SEYMOUR (USA) was the first American to capture freestyle gold for October's Games. Seymour, who won the 45kg Greco-Roman Cadet Pan-American gold medal two days ago picked up five takedowns to defeat Diego CUEVAS (COL), 10-2 in the 48kg freestyle gold-medal match.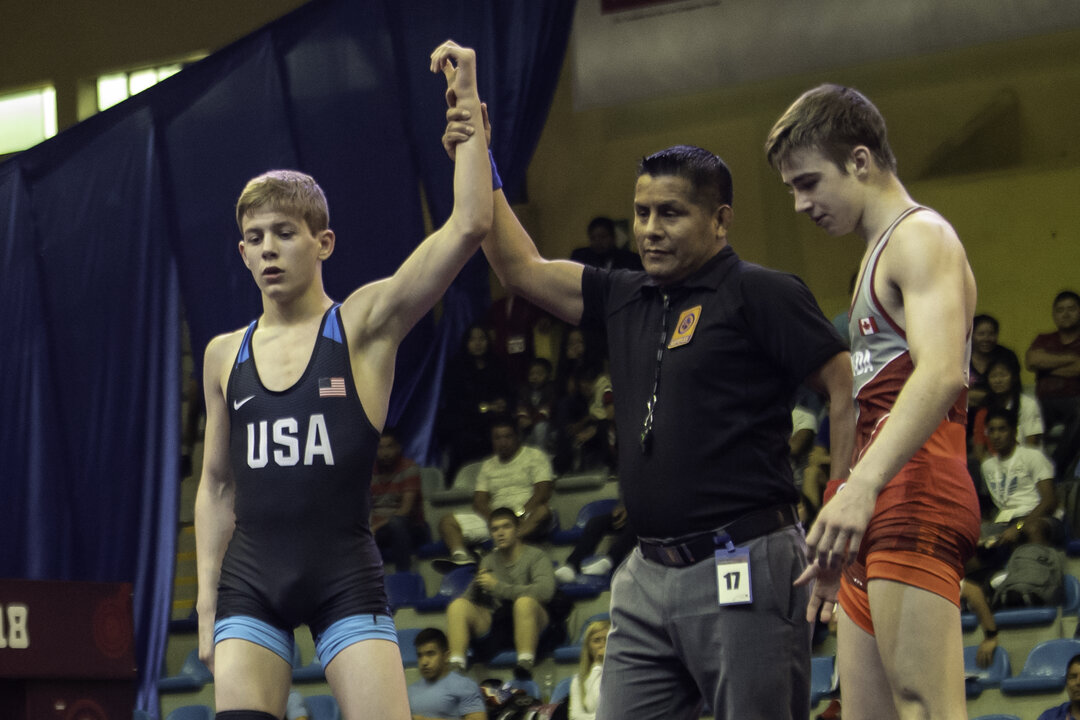 Hunter LEWIS (USA), 2018 Cadet Pan-American champion at 55kg. (Photo by Robert Wijtman)
Hunter LEWIS (USA) seized the USA's second YOG spot after winning the 8-8 battle with Canadian, Lachlan MCNEIL at 55kg.
Lewis took the four-point lead in the opening period with an arm throw, but McNeil ended the first period with a takedown, closing the Americans lead to two points. 
Lewis was outscored 6-4 in the closing period but used his first-period four-point throw to win the match 8-8 on criteria. 
The two remaining American gold medals were apprehended in dominant fashion, as Carson MANVILLE (USA) and Gerrit NIJENHUIS (USA) scored technical superiority victories in the 65kg and 80kg gold-medal bouts. 
Mexico's, Luis Rodrigo OROZCO CORTEZ outscored his round-robin opponents 34-0 on his way to locking up 110kg Youth Olympic Games spot for his nation. 
In addition, the United States won the remaining five gold medals that were at non-Youth Olympic Games weight categories. 
Team Scores
GOLD - United States (245 points)
SILVER - Mexico (120 points)
BRONZE - Canada  (100 points)
Fourth - Guatemala (89 points)
Fifth - Dominican Republic  (74 points)
Results (Click here to watch all 2018 Pan-American Championship matches) 
45kg (One bronze) 
GOLD - Stevo Ross POULIN (USA) df. Angel Felipe DE LEON SANTANA (DOM), 10-0 
BRONZE - Marlon Ismael GODINEZ PEREZ (GUA) df. Jose Jairo VELAZQUEZ CASTANON (MEX),4-2 
48kg 
GOLD -  Sheldon Keith SEYMOUR (USA) df. Diego Armando ZULUAGA CUEVAS (COL), 10-0 
BRONZE - Helisson Rai QUEIROZ BRESSON (BRA) df. Enrique Armando HERRERA HUACRE (PER), 11-4
BRONZE -  Junior Ismael MEDINA GUAMAN (ECU) df. Melvin Orlando VASQUEZ TACAM (GUA), 10-0 
51kg (One bronze) 
GOLD -  Paxton Liam CREESE (USA) df. Richard Antonio GARCIA ANDRADE (PAN), 8-2
BRONZE - Yorkis Miscaloby CARVAJAL LERBOURS (DOM) df. Oseas Misael LORENZO BAUTISTA (GUA), 4-3  
55kg
GOLD -  Hunter Lake LEWIS (USA) df. Lachlan Maurice MCNEIL (CAN), 8-8
BRONZE - Victor Jesus PARRA ROMAN (VEN) df. Luis Gerardo PARRA GUILLEN (MEX), 3-1 
BRONZE - Hernan David ALMENDRA (ARG) df. Elkin ESPANA SANTA (COL), 8-7 
60kg
GOLD -  Beau Reynald BARTLETT (USA) df. Carlos Antonio MENDOZA PENA (MEX), 10-0 
BRONZE -  Matias Augusto PANERO (ARG) df. Cristian Dario LOPEZ DUARTE (URU), 10-0 
BRONZE - Nicolae GANDRABURA (CAN) df. Jefferson Orlando VILLANUEVA TORRES (ESA), 10-0 
65kg
GOLD - Carson Taylor MANVILLE (USA) df. Richard Felipe SANCHEZ PEREZ (VEN), 12-1 
BRONZE - Angel Enrrique TINOCO TORRES (PER) df. Elivaldo FEITOSA COSTA (BRA), 13-2 
BRONZE - Diego Antonio SANDOVAL ZARCO (MEX) df. Hossman Eduardo CARVAJAL ROJAS (COL), 4-0 
71kg
GOLD - Aaron Isai GANDARA (USA) df. Santo Felipe FERRER CIPRIAN (DOM), 4-0 
BRONZE - Magnus Tyree MCCRACKIN (CAN) df. Kent Davis APARICIO LEON (PAN),12-0 
BRONZE - Malhcon Alizon PINEDA CUNIL (GUA) df. Klever Patricio MOSQUERA QUINONEZ (ECU), 6-4 
80kg
GOLD -  Gerrit John NIJENHUIS (USA) df. Carson Barry LEE (CAN), 10-0 
BRONZE - Onid Jarel OLAVARRIA MONTILLA (PUR) df. Erwin Josue VARGAS MARTINEZ (MEX), 10-7 
BRONZE -  Jose Raucel ROSARIO ALBERTO (DOM) df. Lucas IMBERNON DA SILVA (BRA), 8-7 
92kg (One bronze) 
GOLD -  Santos Domingo CANTU (USA) df. Josue Helaman CAMPOS ARIZPE (MEX), 5-0 
BRONZE -  Andres Eduardo CABALLERO LIMACO (PER) df. Jafet Isaac RODRIGUEZ BEJARANO (PAN), 6-2 
110kg 
GOLD - Luis Rodrigo OROZCO CORTEZ (MEX) 
SILVER - Chase Jordan THOMPSON (USA)
BRONZE -  Mosheh Fares COTOM GONZALEZ (GUA)