U23 World Champ Bayramov Headlines Tuesday's Finals
Monday, June 28, 2021 - 19:19 By Eric Olanowski
DORTMUND, Germany (June 28) --- U23 world champion Turan BAYRAMOV (AZE) blitzed his way to Tuesday's junior European championship finals, while Russia inserted four of five wrestlers into gold-medal matches.
Bayramov, the reigning senior-level European runner-up, went unscathed en route to the 70kg finals match. The 20-year-old outscored his three opponents on Monday 26-0 and will wrestle Stanislav NOVAC (MDA) tomorrow night for a second junior European title.
Meanwhile, Russian freestylers Said KHUNKEROV (57kg), Turpal Ali KHATUEV (65kg), Rasul ASLUEV (79kg) and Ali ALIEV (97kg) earned finals berths and are one match away from winning a continental title.
Khunkerov, a tenth-place finisher at this year's prestigious Ivan Yariguin, reached the finals with a pair of technical superiority wins. First, he picked up the convincing 18-8 win over three-time cadet world medalist Giorgi GEGELASHVILI (GEO), then shut out Ahmet KARAVUS (TUR), 10–0, to reach his first European finals.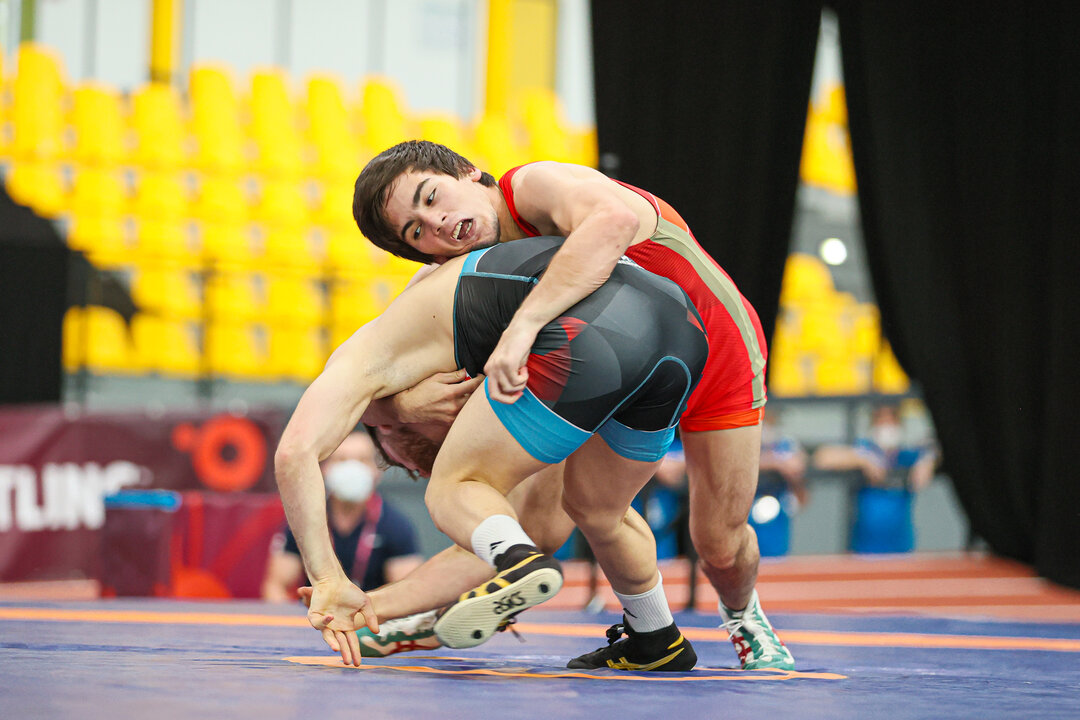 Said KHUNKEROV (RUS) finishes a shot on Giorgi GEGELASHVILI (GEO) during Monday's opening day of wrestling at the Junior European Championships. (Photo Kadir Caliskan)
Khunkerov and Manvel KHNDZRTSYAN (ARM) will square off tomorrow for the 57kg title. Khndzrtsyan outscored his three opponents 31-0 – including a 10-0 win over cadet European champion Simone Vincenzo PIRODDU (ITA) – and will try to improve on his '18 cadet European silver-medal finish.
Turpal Khatuev (RUS) was Russia's second finalist. He punched his ticket to the finals with a two-point victory in a 24-point shootout with '19 cadet European champion Sabir JAFAROV (AZE). Khatuev will meet Mykyta HONCHAROV (UKR) tomorrow night for gold. The Ukrainian breezed into the finals with a 7-2 win over Hungarian senior-level National runner-up Marcell BUDAI KOVACS (HUN).
Rasul Asluev nearly shut out Otari ADEISHVILI (GEO) in their semifinal meeting, but ultimately walked away with a 5-1 win and a final meeting against '18 cadet world runner-up Georgios KOUGIOUMTSIDIS (GRE). The Greek wrestler, who won U23 European bronze earlier this year, reached the finals with three wins on the day, which was capped off by a 9-2 throttling of Viktor KRUPA (UKR).
The fourth Russian Day 2 finalist was Ali Aliev. He beat Danylo STASIUK (UKR), 6-2, in the semifinals and will wrestle Polat POLATCI (TUR) in the 97kg finals.
Tomorrow's wrestling resumes at 11:30 (local time) and can be followed on www.uww.org.
RESULTS
57kg
GOLD - Said KHUNKEROV (RUS) vs. Manvel KHNDZRTSYAN (ARM)
SEMIFINAL - Said KHUNKEROV (RUS) df. Ahmet KARAVUS (TUR), 10 - 0
SEMIFINAL - Manvel KHNDZRTSYAN (ARM) df. Thomas EPP (SUI), 10 – 0
65kg
GOLD - Turpal Ali KHATUEV (RUS) vs. Mykyta HONCHAROV (UKR)
SEMIFINAL - Turpal Ali KHATUEV (RUS) df. Sabir JAFAROV (AZE), 13-11
SEMIFINAL - Mykyta HONCHAROV (UKR) df. Marcell BUDAI KOVACS (HUN), 7-2
70kg
GOLD - Turan BAYRAMOV (AZE) vs. Stanislav NOVAC (MDA)
SEMIFINAL - Turan BAYRAMOV (AZE) df. Davit PATSINASHVILI (GEO), 11-0
SEMIFINAL - Stanislav NOVAC (MDA) df. Mevlut OZDEMIR (TUR), 4-3
79kg
GOLD - Rasul ASLUEV (RUS) vs. Georgios KOUGIOUMTSIDIS (GRE)
SEMIFINAL - Rasul ASLUEV (RUS) df. Otari ADEISHVILI (GEO), 5-1
SEMIFINAL - Georgios KOUGIOUMTSIDIS (GRE) df. Viktor KRUPA (UKR), 9-2
97kg
GOLD - Ali ALIEV (RUS) vs. Polat POLATCI (TUR)
SEMIFINAL - Polat POLATCI (TUR) df. Danylo STASIUK (UKR), 6-2
SEMIFINAL - Ali ALIEV (RUS) df. Milan KORCSOG (HUN), 4-0