Two-Time Olympic Champ Vlasov Leads Three Russians Into Day Six Finals
Friday, April 12, 2019 - 19:45 By Eric Olanowski
BUCHAREST, Romania (April 11) – The Russian Federation's Greco-Roman train is on track to defend their European team title from last year after opening up the Greco-Roman share of the competition by inserting three wrestlers into the Day 6 finals. 
The loaded five-man day-five squad featured reigning world champions Stepan MARYANYAN and Sergey SEMENOV, two-Olympic champions Davit CHAKVETADZE and Roman VLASOV, and U23 world runner-up Vitalii KABALOEV.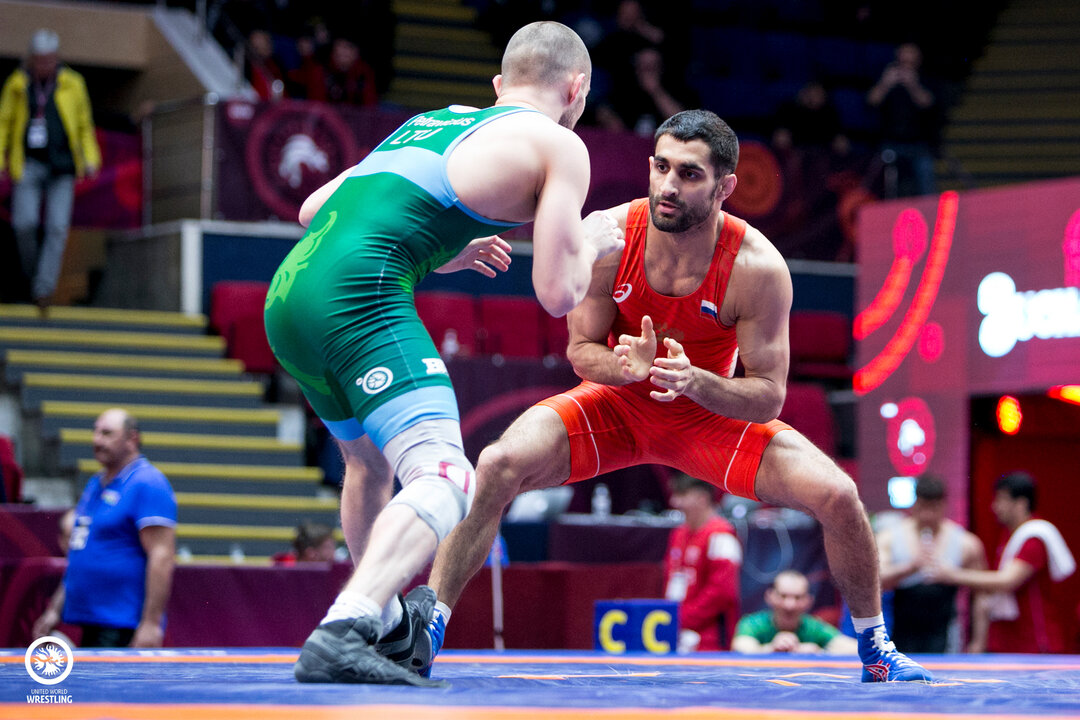 Stepan MARYANYAN (RUS) will wrestle for his first European title since 2015. (Photo: Gabor Martin) 
Both reigning world champions Maryanyan and Semenov were undefeated on the day heading into the semifinals, but only Maryanyan came out on top of his semifinals match and will wrestle for gold on Saturday night.
Maryanyan, the reigning world champion at 67kg, picked up shutout wins over Michal Jacek TRACZ (POL) and Justas PETRAVICIUS (LTU), then scored an 11-3 win over last year's European eighth-place finisher, Levani KAVJARADZE (GEO) to lock up his spot in tomorrow's finals. 
Maryanyan, who will be looking for his first continental top finishes since 2015, will wrestle Rio Olympic bronze medalist Stig-Andre BERGE (NOR) in the 67kg finals match. 
Berge grabbed a 5-2 win in the semifinals over Taleh MAMMADOV (AZE) and will wrestle in his second consecutive European title match. He fell short in last year's finals to Mihai MIHUT (ROU). 
Russia's second reigning world champion who was looking to make the finals was Sergey Semenov. Semenov fell to Georgia's Iakobi KAJAIA (GEO), 3-2, in the semifinals, ending his run to a continental title. 
The Georgian big man will see eight-time European champion Riza KAYAALP (TUR) in the finals. In Kayaalp's semifinals match, he avenged his opening round world championship loss to Heiki NABI (EST), 4-0. If the Turkish superstar is able to win tomorrow night, he'll surpass Kamza YERLIKAYA (TUR) Turkish record of eight European titles. 
Meanwhile, the story was the same for the Russian Olympic champions as one came out on top and one fell short of his goal of winning a European title. 
London and Rio Olympic gold-medal winner Roman Vlasov scored four wins on Friday and made it to the 77kg finals. But, Rio Olympic champion Davit Chakvetadze wasn't so lucky and dropped a one-point match to Azerbaijan's Islam ABBASOV in the quarterfinals. Abbasov ended up making it to the finals where he'll square off against Ukraine's Rio runner-up Zhan BELENIUK. 
Vlasov, the defending 77kg European champion, completed his run to the finals with wins over tenth-ranked Bozo STARCEVIC (CRO), Ukraine's Mykola DARAGAN, 2017 world champion Viktor NEMES (SRB), and U23 world bronze medalist Fatih CENGIZ (TUR). 
Vlasov will wrestle Germany's Roland SCHWARZ in tomorrow night's gold-medal match. Schwarz barreled past Bulgaria's Daniel ALEKSANDROV, 10-2, to make the finals. 
Vitalii KABALOEV was one of three Russian's who made the Day 6 finals. (Photo: Gabor Martin)
The final Russian who was in action on Day 5 was Vitalii Kabaloev. In his European debut, the U23 world runner-up scored perhaps one of the most shocking upsets of the tournament, knocking off defending world champion Eldaniz AZIZLI (AZE), 7-5. 
Kabaloev will go toe-to-toe with Romania's Florin TITA (ROU), who used the home crowd to help push him to the 5-4 victory over Anders ROENNINGEN (NOR). 
The Day 6 finals behind at 18:00 local time, and can be followed on www.unitedworldwrestling.org.
RESULTS 
55kg
GOLD - Vitalii KABALOEV (RUS) vs. Florin TITA (ROU)
SEMIFINAL - Vitalii KABALOEV (RUS) df. Eldaniz AZIZLI (AZE), 7-5 
SEMIFINAL - Florin TITA (ROU) df. Anders ROENNINGEN (NOR), 5-4 
63kg
GOLD - Stepan MARYANYAN (RUS) vs. Stig-Andre BERGE (NOR)
SEMIFINAL - Stig-Andre BERGE (NOR) df. Taleh MAMMADOV (AZE), 4-2 
SEMIFINAL - Stepan MARYANYAN (RUS) df. Levani KAVJARADZE (GEO), 11-3 
77kg
GOLD - Roman VLASOV (RUS) vs Roland SCHWARZ (GER) 
SEMIFINAL - Roland SCHWARZ (GER) df. Daniel ALEKSANDROV (BUL), 10-2 
SEMIFINAL - Roman VLASOV (RUS) df. Fatih CENGIZ (TUR), 3-1 
87kg
GOLD - Islam ABBASOV (AZE) vs. Zhan BELENIUK (UKR)
SEMIFINAL - Islam ABBASOV (AZE) df. Mikalai STADUB (BLR), 4-0 
SEMIFINAL - Zhan BELENIUK (UKR) df. Eividas STANKEVICIUS (LTU), 5-1 
130kg 
GOLD - Riza KAYAALP (TUR) vs. Iakobi KAJAIA (GEO)
SEMIFINAL - Riza KAYAALP (TUR) df. Heiki NABI (EST), 4-0 
SEMIFINAL - Iakobi KAJAIA (GEO) df. Sergey SEMENOV (RUS) 3-2