Tunisia Tops Egypt, Wins African Freestyle Team Title
Sunday, March 31, 2019 - 20:23 By Eric Olanowski
HAMMAMET, Tunisia (March 31) – Tunisia was one of three teams who entered into the final session of wrestling with a quartet of finalists, but their trio of gold medalists helped the host nation hoist the freestyle team trophy on the last day of wrestling in Hammamet's Omni Sports Hall. 
Tunisia, who finished with 183 points, had three champions and seven overall medalists who assisted them in narrowly edging Egypt (180 points) by three points for the tournaments top spot.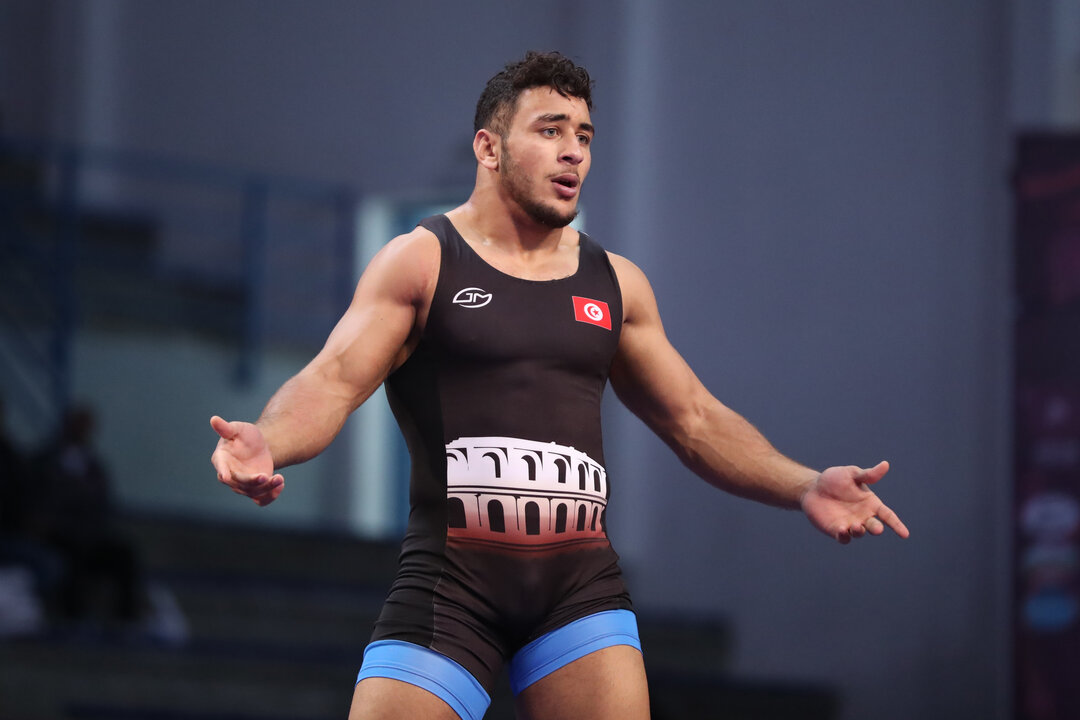 Ayoub BARRAJ (TUN) won his third consecutive African title with a win in the 79kg finals. (Photo: Kadir Caliskan)
Their trio of champions were Ayoub BARRAJ, Sabri MNASRIYA, and Mohamed SAADAOUI. 
In the 79kg finals, two-time defending champion Ayoub Barraj dismantled Algeria's Fateh BENFERDJALLAH, 10-0 and won his third consecutive title. 
Tunisia's second freestyle title of the day went to Sabri Minasriya who hung on to defeat Oussama REGANI (MAR), 2-1, in the 86kg finals. Their third and final championship performance came at 92kg where Mohamed Saadaoui shutout Egypt's defending African champion Hosam MERGHANY, 6-0.
Egypt finished in second place, thanks to their three champions, Amr HUSSEN,  Khaled ELMOATAMADAWI, and Khaled ABDALLA. 
At 70kg, returning silver medalist Amr Hussen trailed 1-0 after the opening period but ignited for eight second period points before planting 2018 African bronze medalist Fares LAKEL (ALG) on his back for the fall. 
Elmoatamadawi and Abdalla, the 97kg and 130kg winners respectively, went undefeated in their Nordic system tournaments, claiming Egypt's second and third freestyle titles.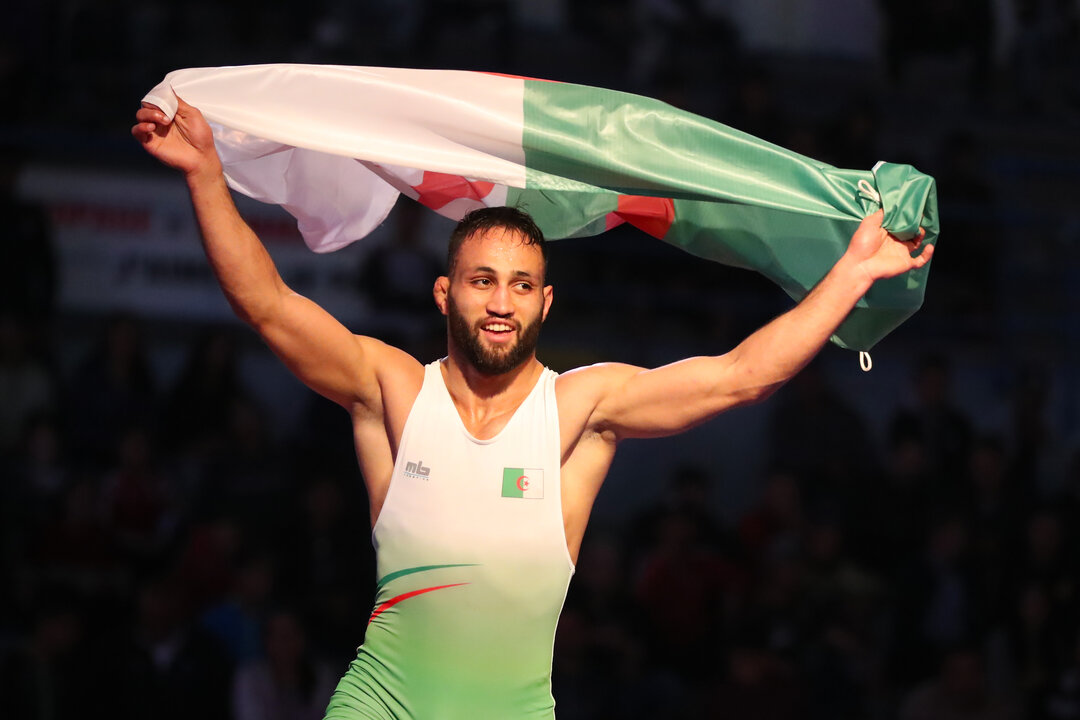 Abdelhak KHERBACHE won the 57kg gold medal and improved on his bronze-medal finish from a year ago. (Photo: Kadir Caliskan)
Algeria's Abdelhak KHERBACHE claimed the 57kg title and helped his nation finishing in third place with 117 points. Kherbache improved on his bronze medal finish a season ago, winning his first continental title with a 3-1 victory over Chakir ANSARI (MAR) in the 57kg gold-medal bout. 
Morocco, who had 117 points, and Nigeria, who had 90 points, rounded out the top-five of the freestyle team scores. 
The Final Three Golds 
The final three nations who had a solo gold-medal winner were Senegal, Guinea-Bissau, and Nigeria. 
Senegal's Adama DIATTA claimed his fifth consecutive African Championship title and tenth overall continental gold medal with a 12-0 thumping of Egypt's Yasser AHMED in the 61kg finals. 
In the 65kg finals, Guinea-Bissau's Mbunde CUMBA MBALI easily claimed the gold medal with an 11-0 routing of Egypt's Aly ABDELHAMID. 
Lastly, in the 74kg gold-medal bout, two-time defending champion Ogbonna JOHN (NGR) put together a seven-point second period that went unanswered and won his third consecutive African title with a 7-1 victory over Tunisia's Maher GHANMI. 
What's Next?
The African Championships were the first senior-level continental championships of the year. The next continental championships are the European Championships, which begin April 8 in Bucharest, Romania. 
RESULTS 
Freestyle Team Scores
GOLD – Tunisia (183 points)
SILVER – Egypt (180 points)
BRONZE – Algeria (117 points)
Fourth – Morocco (90 points)
Fifth – Nigeria (63 points)
57kg 
GOLD -  Abdelhak KHERBACHE (ALG) df. Chakir ANSARI (MAR), 3-1 
BRONZE - Gamal Abdelnaser Hanafy MOHAMED (EGY) df. Ebikewenimo WELSON (NGR), via inj. def. 
61kg 
GOLD – Adama DIATTA (SEN) df. Yasser Eshhata Abady AHMED (EGY), 12-0 
BRONZE - Mohamed Al Amine LAKEL (ALG) df. Farouk JELASSI (TUN), 4-0 
65kg 
GOLD – Mbunde CUMBA MBALI (GBS) df. Aly Ibrahim Abdelhamid ABDELHAMID (EGY), 13-0 
BRONZE - Reagan NDOMBASI MATADI (COD) df. DJEKOUNDAKOM DJERAYOM Elie (CHA), via forfeit 
BRONZE - Kaireddine BEN TELILI (TUN) df. Chems BOUCHAIB (ALG), 16-6 
70kg 
GOLD – Fares LAKEL (ALG) df. Amr Reda Ramadan HUSSEN (EGY), 8-3
BRONZE - Rabii REGANI (MAR) df. Haithem DAKHLAOUI (TUN), via fall 
74kg 
GOLD – Ogbonna JOHN (NGR) df. Maher GHANMI (TUN), 8-1 
BRONZE - Saifeldin ELKOUMY (EGY) df. Essam ELHAG (SUD), via forfeit  
BRONZE - Augusto MIDANA (GBS) df. Kasimir MADJADOUM (CHA), 10-0 
79kg 
GOLD – Ayoub BARRAJ (TUN) df. Fateh BENFERDJALLAH (ALG), 10-0 
BRONZE - Aboubakr GADELMAWLA (EGY) df. Alberto da Silva GUNZA (ANG), 15-5 
BRONZE - Ekerekeme AGIOMOR (NGR) df. Zander GERINGER (RSA), 12-1 
86kg 
GOLD – Sabri MNASRIYA (TUN) df. Oussama REGANI (MAR), 2-1
BRONZE - Melvin BIBO (NGR) df. Blaise DIATTA (SEN), via fall
BRONZE - Bedopassa BUASSAT DJONDE (GBS) df. Nicolaas DE LANGE (RSA), 10-2 
92kg 
GOLD – Mohamed SAADAOUI (TUN) df. Hosam Mohamed Mostafa MERGHANY (EGY), 6-0 
BRONZE - Aron Isomi MBO (COD) df. Francisco Nkunga NGONDA (ANG), 18-4 
BRONZE - Mohammed FARDJ (ALG) df. Johan MOSTERT (RSA), 10-0 
97kg (Round Robin) 
GOLD –  Khaled Masoud Ismail ELMOATAMADAWI (EGY)
SILVER – Meher DAHMANI (TUN)
BRONZE – Mohamed Saliou CAMARA (GUI)
125kg (Round Robin) 
GOLD – Khaled Omr Zaki Mohamed ABDALLA (EGY)
SILVER – Abdelmoneim ADOULI (TUN)
BRONZE – Ahmed SEREHALI (MAR)