Tunisia Tallies Four GR Olympic Berths on Friday
Friday, April 2, 2021 - 20:41 By Eric Olanowski
HAMMAMET, Tunisia (April 2) --- The host nation of the African and Oceania Olympic Qualifier came into the weekend empty-handed but tallied a quartet of Tokyo berths on Friday. They claimed the team title five points ahead of second-place Algeria, who also nabbed four Olympic berths.
The four wrestlers who earned Tunisian tickets to the Olympic Games were: Souleymen NASR (TUN), Lamjed MAAFI (TUN), Haikel ACHOURI (TUN) and Amine GUENNICHI (TUN).
Maafi was the lone Tunisian to earn his ticket through the traditional style bracket, while his fellow countrymen netted Olympic licenses through top-two finishes in Nordic style brackets. In the 77kg finals, Maafi landed gold with a 3-3 come-from-behind criteria win against Zied AIT OUAGRAM (MAR). He trailed the nine-time African champion by three points after the opening period but used his bulldozing pressure to put the Moroccan down in the par terre position. Maafi turned the now-three-time Olympian with a right-side gut wrench and closed out the match on top, 3-3.
Despite falling in the finals to Maafi, Ait Ouagram managed to qualify Marroco for the Olympic Games for the third consecutive cycle. He also did so for the London and Rio Olympic Games. 
Souleymen Nasr outscored his three opponents 25-0 en route to a 67kg gold and Tunisian spot at the Olympic Games. The final two Tunisian wrestlers who earned Olympic tickets were Haikel Achouri and Amine Guennichi. They both dropped one match on the day but finished silver medals at 97kg and 130kg, respectively.
Algeria had a solo champion and three runner-ups and also booked four tickets to Tokyo. Their four berths came at 60kg, 67kg, 87kg and 97kg. Adem BOUDJEMLINE (ALG) won gold at 97kg, while Abdelkarim Fergat (60kg), Abdelmalek MERABET (ALG) (67kg) and Bachir SID AZARA (ALG) (87kg) closed out the day with silver-medal finishes.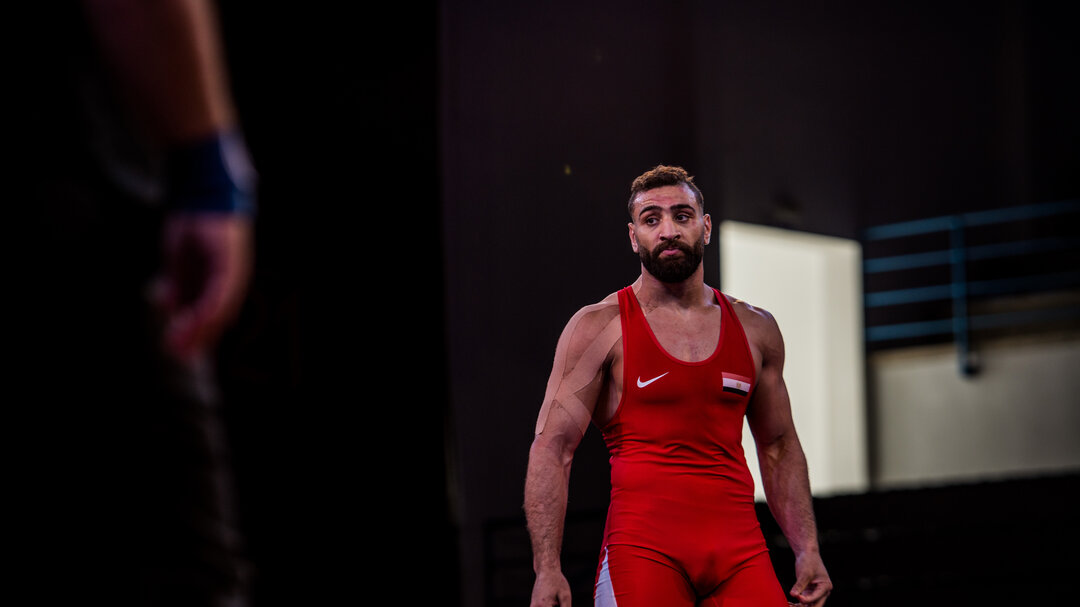 Mohamed METWALLY (EGY) was one of three Egyptian wrestlers who punched a ticket for his country to the Toyko Olympic Games. (Photo: United World Wrestling)
Meanwhile, Egypt won three golds and finished third place in the team race. Coming into the Africa and Oceania Olympic Qualifier, Mohamed ELSAYED was the lone Egyptian Greco-Roman wrestler who qualified his nation for the Tokyo Olympic Games. But that all changed after Haithem MAHMOUD (EGY), Mohamed METWALLY (EGY) and Abdellatif MOHAMED (EGY) were crowned champions at 60kg, 87kg and 130kg, respectively.
In a matchup of African champions in the 60kg finals, Haithem Mahmoud defeated Abdelkarim Fergat 10-3. He trailed 2-0 in the gold-medal match, but after a pair of Algerian cautions, Mahmoud led, 4-3. He used a throw-by and a pair of left-sided guts to blow the match open, 10-4.
The final Egyptian golds on Friday went to Metwally and Mohamed who were handed their golds after their finals opponents injury defaulted out of the gold-medal matches.
Wrestling at the Africa and Oceania Olympic Qualifier resumes tomorrow at 11:00 (local time) with women's wrestling. Follow all the action live on www.uww.org.
RESULTS
60kg
GOLD - Haithem MAHMOUD (EGY) df. Abdelkarim FERGAT (ALG), 10-3
BRONZE -  Fouad FAJARI (MAR) df. Mehdi JOUINI (TUN), 8-0 
67kg
GOLD - Souleymen NASR (TUN)
SILVER - Abdelmalek MERABET (ALG)
BRONZE - Gert COETZEE (RSA) 
77kg
GOLD -  Lamjed MAAFI (TUN) df. Zied AIT OUAGRAM (MAR), 3-3
BRONZE - Wael ABDELRAHMAN (EGY) df. Abd Elkrim OUAKALI (ALG), 8-4
87kg
GOLD - Mohamed METWALLY (EGY) df. Bachir SID AZARA (ALG), via injury default
BRONZE - Mohamed MISSAOUI (TUN) df. Edward LESSING (RSA), via fall 
97kg
GOLD -  Adem BOUDJEMLINE (ALG) 
SILVER - Haikel ACHOURI (TUN) 
BRONZE - Mohamed Ali Elsayed GABR (EGY)
130kg
GOLD - Abdellatif MOHAMED (EGY)
SILVER - Amine GUENNICHI (TUN) 
BRONZE - Hichem KOUCHIT (ALG)