Three Defending Champs Upended on Quest to Repeat as European Champions
Thursday, February 13, 2020 - 21:30 By Eric Olanowski
ROME, Italy (February 13) --- Miglena SELISHKA (BUL), Anastasia NICHITA (MDA) and Ekaterina BUKINA (RUS) halted Thursday night's trio of returning European champions from defending their crowns from a year ago. 
At 50kg, Selishka scored the two-point victory over defending European champion Oksana LIVACH (UKR) and flip-flopped the first and second positions on the podium from last year's European Championships.
"I feel fantastic; I feel good. I can't say it with words," Selishka said after her European finals win. 
She trailed 1-0 after the first four minutes of wrestling but adjusted mid-way through the second period and solved the Ukrainian puzzle that stumped her for over half the match. "I was just thinking that I need to keep wrestling and try to score points."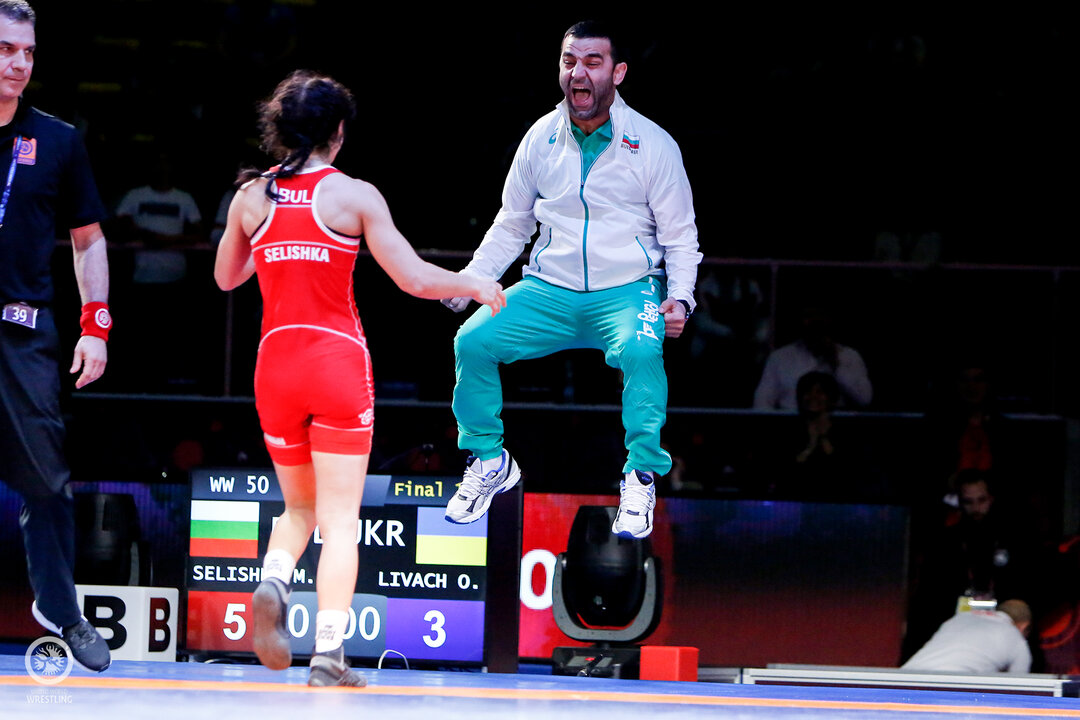 Miglena SELISHKA (BUL) and her coach celebrate her 50kg gold-medal win. (Photo: Gabor Martin)
That's precisely what she did, starting her five-point scoring run with a referee-given inactivity point. 
Selishka added a stepout point and a takedown and extended her lead to 4-1. She surrendered a two-point takedown and only led by a point, but capitalized on a Livach slip and scored her fifth and final point of the match. Selishka avenged her 2019 European finals loss and improved on that 2019 runner-up finish with the 5-3 win over third-ranked Livach.
Anastasia NICHITA (MDA) celebrates after picking up a last-second takedown over Bilyana DUDOVA (BUL) in the 59kg finals. (Photo: Gabor Martin)
Anastasia Nichita scored a dramatic comeback win over Bilyana DUDOVA (BUL) and became the first Moldovan woman ever to win a European title.
"Firstly, for me, it means a lot because I train hard every day. I have done everything I could to win that medal," said Nichita. "I was dreaming of it for so long. It means everything to me."
Nichita trailed 2-0 after the first three minutes after she gave up the period's only takedown. The 21-year-old Moldovan evened the match with a takedown of her own with two-minutes left in the second period. 
But Nichita fell behind again after Dudova gained two points from a stepout and a failed challenge. 
When asked what her plan was heading into the final 25 seconds down by two points, Nachita said, "Honestly, I didn't have any plans. I just wrestled till the very end. I only stopped when I saw 00:00 on the scoreboard."
She fired off attack after attack, and with three seconds left, finally got to the legs of Dudoba. Nichita snuck behind Dudova and ended her hopes of repeating as European champion. "I didn't expect it to happen," Nachita said after scoring the takedown with three seconds left. 
Nichita qualified Moldova for the Olympic Games with a fifth-place finish in Nur-Sultan and will move back down to the Olympic weight of 57kg. "I will go on training hard. I want to win an Olympic medal for our country, for the Republic of Moldova." 
Ekaterina Bukina finally captured her long-awaited European gold medal with a 4-3 victory over reigning champion Yasemin ADAR (TUR). 
Bukina fell in her previous three trips to the European finals and stopped Adar from adding a fifth consecutive continental crown to her resume. 
"It's my first win at the European Championships. Even though I have the Olympic bronze, first place is always the first," Bukina said after her big win. 
In the finals, Bukina blasted Adar in the opening period with an unexpected ankle pick and led 4-0. She said she saw the ankle pick present itself and capitalized on her one opportunity. "I saw that she put her foot close; I tried the chance that was given to me and it was successful." 
She surrendered three points in the second period but stayed composed and stood atop the European podium for the first time in her career with her one-point finals victory. "I was very happy to win. I was happy that they played the Russian national anthem and gave me the medal," said Bukina.
Bukina's European title run puts the Russian coaching staff in a tough position moving forward. London Olympic champion Natalia VOROBEVA (RUS) is moving up from her 2019 world-title winning weight of 72kg to the Olympic weight of 76kg. 
Bukina said she's not sure where this win puts her in the race to represent Russia at the Olympic Games. "It depends on who will be in better shape. Right now, she is wrestling in the other weight category, but we will decide later when it's closer to the Olympics. It's too early to talk about it."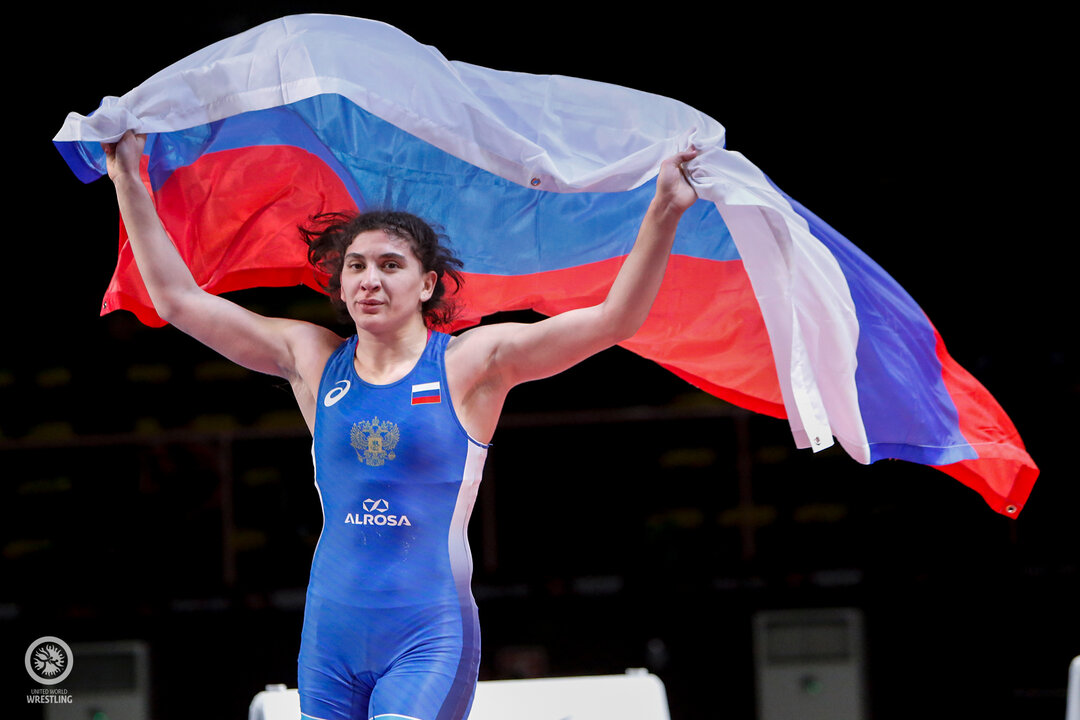 Khanum VELIEVA (RUS) was one of three Russian women who won gold medals on Thursday night. She won the 68kg title with a 10-0 win over Dalma CANEVA (ITA). (Photo: Gabor Martin)
Russia Leads Team Race After Winning Three Golds on Thursday Night 
Olga KHOROSHAVTSEVA (RUS) and Khanum VELIEVA (RUS) joined Bukina as European champions on Thursday night. The trio of champions helped the Russian Federation (105 points) carry a 31 point lead over Ukraine  (74 points) into the final day of women's wrestling. 
At 55kg, Khoroshavtseva only needed less than two minutes to pick up the 10-0 technical superiority victory over Solomiia VYNNYK (UKR) in the 55kg gold-medal match. She kickstarted the match with a slide-by and ended the match with back-to-back four-point throws. 
Khoroshavtseva's win handed Russia their first gold medal in any style of these European Championships.
Velieva was Russia's second champion of the day. She put on a dominant display in the 68kg finals and joined Khoroshavtseva atop the continental podium with an 11-0 technical superiority victory over Dalma CANEVA (ITA). 
Bukina rounded out the three Russian gold medalists with her win over world champion Yasemin Adar in the 76kg finals. 
The European Championships resume on Friday morning at 11:30 (local time) and can be followed live on www.unitedworldwrestling.org.
RESULTS 
50kg
GOLD - Miglena Georgieva SELISHKA (BUL) df. Oksana LIVACH (UKR), 5-3
BRONZE - Milana DADASHEVA (RUS) df. Evin DEMIRHAN (TUR), 10-4 
BRONZE - Kseniya STANKEVICH (BLR) df. Emilia CIRICU BUDEANU (MDA), 10-0 
55kg 
GOLD - Olga KHOROSHAVTSEVA (RUS) df. Solomiia VYNNYK (UKR), 10-0 
BRONZE - Sofia Magdalena MATTSSON (SWE) df. Ellen RIESTERER (GER), 10-0 
BRONZE - Bediha GUN (TUR) df. Mariana DRAGUTAN (MDA), 11-4 
59kg 
GOLD - Anastasia NICHITA (MDA) df. Bilyana Zhivkova DUDOVA (BUL), 6-5 
BRONZE - Anhelina LYSAK (UKR) df. Laura MERTENS (GER), via fall 
BRONZE - Liubov OVCHAROVA (RUS) df. Elif YANIK (TUR), 14-3 
68kg
GOLD - Khanum VELIEVA (RUS) df. Dalma CANEVA (ITA), 11-0 
BRONZE - Alla CHERKASOVA (UKR) df. Hanna SADCHANKA (BLR), via fall 
BRONZE - Danute DOMIKAITYTE (LTU) df. Anna Carmen SCHELL (GER), 9-0 
76kg
GOLD - Ekaterina BUKINA (RUS) df. Yasemin ADAR (TUR), 4-3 
BRONZE - Iselin SOLHEIM (NOR) df. Vasilisa MARZALIUK (BLR), 6-6 
BRONZE - Aline ROTTER FOCKEN (GER) df. Pauline LECA