Tasmuradov Puts Aside Pain, Korean Opponent to Chalk up 5th Asian Gold
Tuesday, February 18, 2020 - 18:36 By Ken Marantz
NEW DELHI (Feb. 18)---How tough is Olympic bronze medalist Elmurat TASMURADOV (UZB)? He just won a fifth gold medal at the Asian Championships two weeks after breaking a rib.
"It's still healing," Tasmuradov said after demolishing SONG Jinseub (KOR) in the Greco-Roman 63kg final on the opening day of this year's continental tournament Tuesday in New Delhi. "I wanted to go for a fall so that I wouldn't have to do the par terre."
In other finals, Kumar SUNIL (IND) gave the host nation its first Asian Greco-Roman gold in 27 years, while a pair of recent world junior champions gave Iran victories in two of the three other gold-medal matches.
In regaining the Asian crown he last won in 2018, Tasmuradov wasn't able to secure a fall, but got the next best thing, scoring a 9-0 technical fall in 1:33 that included a big 4-point lift and gave him an eighth career Asian medal overall.
Tasmuradov was back at his regular weight at 63kg , where he said he felt more "comfortable," after qualifying for this year's Tokyo Olympics at 60kg by placing fifth at last year's World Championships in Nur-Sultan. 
The 2018 world silver medalist said missing out on a medal in Nur-Sultan was irrelevant, given that he achieved what he had set out to do.
"I planned to go and just qualify for Tokyo," he said. "I didn't aim to take a medal, because I'm not a young wrestler. So I went to just qualify and I did it."
Asked to comment on earning his fifth Asian gold in the Indian capital, site of his first title in 2013 with a last-second win over Abdol PAPI (IRI), he replied, "I don't feel anything," he said. "My mind is just on the Tokyo Olympics."
Tasmuradov lost a shot at winning his fifth title last May in Xi'an, China, when he suffered a severe back injury and had to default in the final to TUO Erbatu (CHN). The fact that he continued to wrestle until the pain became so intense he had to be helped off the mat showed the tenacity that has made him so successful – and allows him to shrug off a mere broken rib.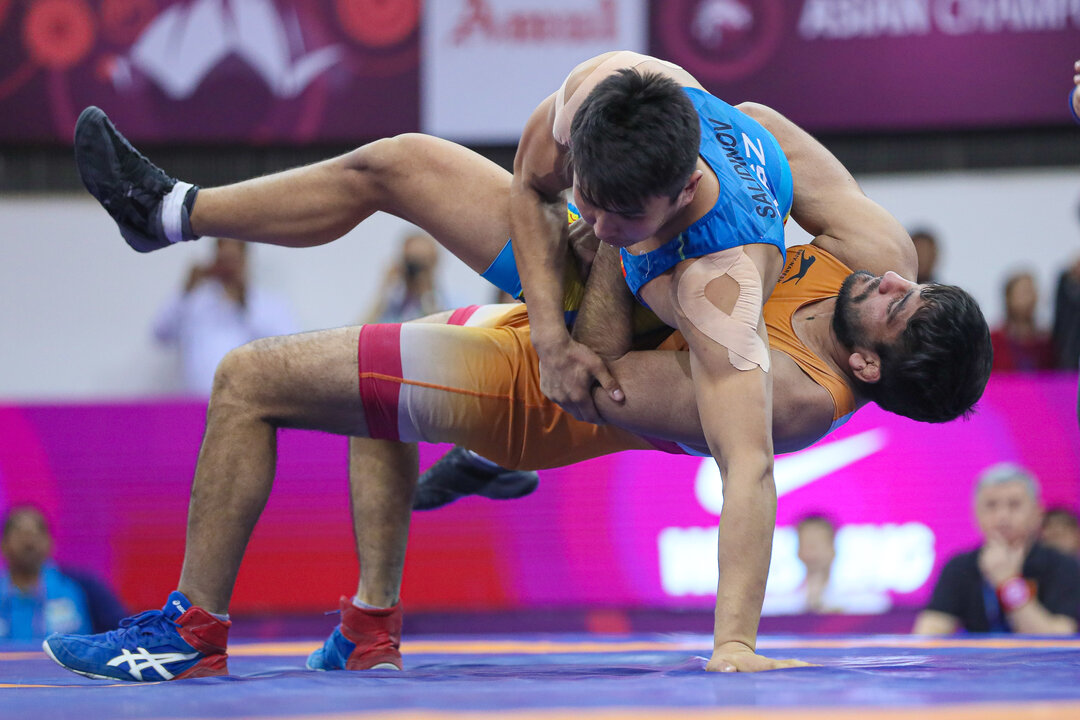 Kumar SUNIL (IND) tosses Azat SALIDINOV (KGZ) in the 87kg gold-medal match. (Photo: Kadir Caliskan)
Meanwhile, Sunil, a silver medalist at Xi'an 2019, showed an effective combination of stamina and power in handily defeating Azat SALIDINOV (KGZ) 5-0 in the 87kg final. 
That gave India its first Greco gold since Yadav POPPU (IND) won at 48kg in 1993 in Hiroshima, a drought of which Sunil was unaware until told about it just before the final. 
"I didn't know about the record," he said. "India had not the gold medal in 27 years. I got to know about it only before the final and it motivated me a lot."
In the final, Sunil gained a passivity point and converted the par terre advantage into a 3-0 lead with a roll in the first period. In the second, he kept the pressure on and forced two stepouts to secure the victory.
"I have wrestled him in the junior category before," Sunil said of Salidinov.. "So I was confident of beating him again. He is not strong in the upper body. So it was great to win the final."
For Sunil, who finished second at the Matteo Pellicone ranking event in January, the bigger accomplishment came in the semifinals in the afternoon session, when he came back from an 8-1 deficit to defeat Azamat KUSTUBAYEV (KAZ) 12-8 – just as he did in the 2019 semifinals. 
"The semifinal was the toughest bout for me," Sunil said. "I was trailing against him at the last Asian Championships as well, but I beat him. Now I beat him here, but this win is sweeter because I was trailing 1-8 here."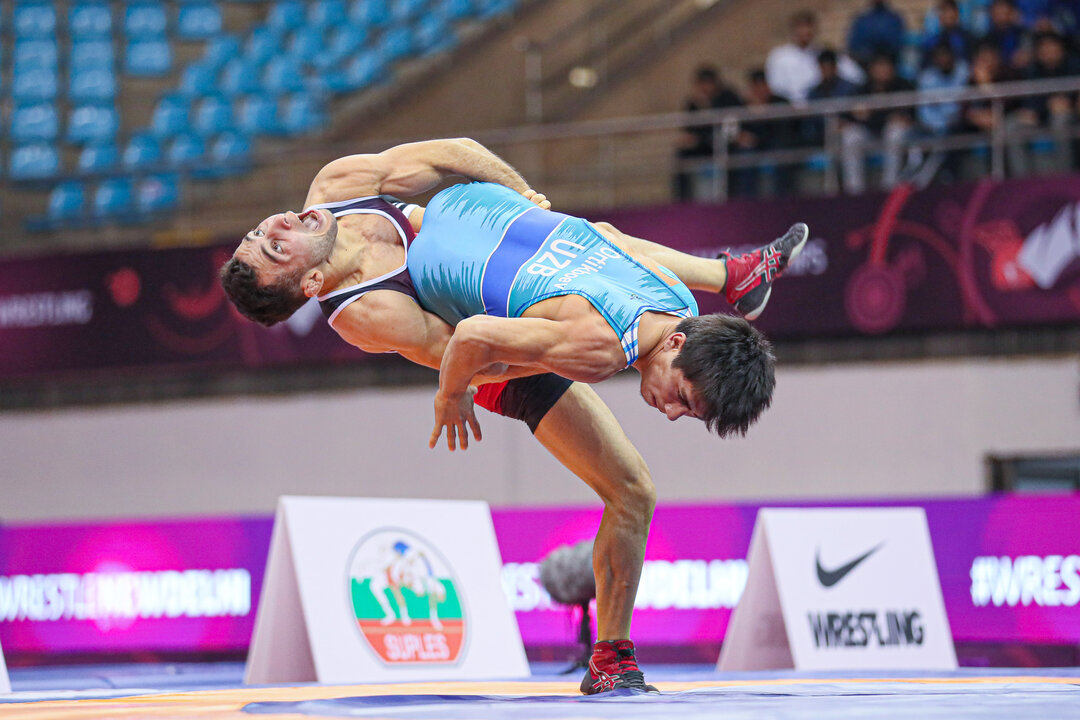 Pouya NASERPOUR (IRI) cruised past Jasurbek ORTIKBOEV (UZB) in the 55kg finals with an 8-0 victory. (Photo: Kadir Caliskan)
In the 55kg final, 2018 world junior champion Pouya NASERPOUR (IRI) rolled to an 8-0 technical fall over Jasurbek ORTIKBOEV (UZB), just hours after he nearly fainted from exhaustion at the conclusion of a wild semifinal victory. 
The team doctor said Naserpour suffered from low blood sugar after rallying from 7-1 down to beat Arjun HALAKURKI (IND) 7-7 in the semifinals. But after ingesting electrolytes from sports drinks, eating lunch and resting, Naserpour was able to recover in time for the final.
Naserpour used counter wrestling to score takedowns in both periods. After the second, he put together two gut-wrench rolls to end the match at 4:16.
"In the final, my body felt very good," Naserpour said. "I trained very hard for six months and I'm happy to win the gold."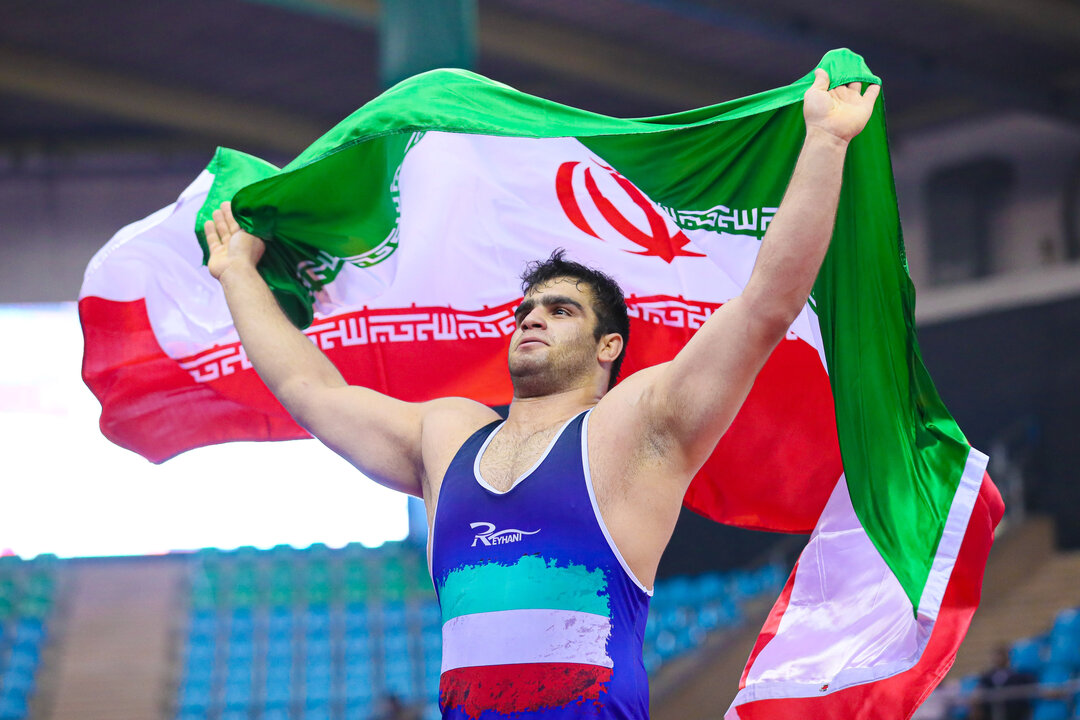 Amin MIRZAZADEH (IRI) defeated 2018 world bronze medalist KIM Minseok (KOR) 9-0 in the 130kg gold medal match. (Photo: Kadir Caliskan)
Amin MIRZAZADEH (IRI), also a world junior champion in 2018, kept the 130kg title in Iranian hands for the fifth consecutive year after overwhelming 2018 world bronze medalist KIM Minseok (KOR) by 9-0 technical fall.
Mirzazedeh put together three rolls from the par terre position, then ended the match at 2:02 with a snap-down takedown.
Tamerlan SHADUKAYEV (KAZ) prevented a trifecta of Iranian golds when he captured the 77kg tile with a 10-1 technical fall of world military champion Pejman POSHTAM (IRI).
Shadukayev, a bronze medalist at Xi'an 2019, moved to the top step of the podium when a takedown gave him the decisive points to end the match with 10 seconds left in the first period.
"Last year, I won the bronze medal, so I was sad," Shadukayev said. "Now, I won the gold medal, so I'm very happy. It's a big thing for me."
In the bronze-medal matches, Shadukayev's brother Mansur gave the family more hardware when he defeated Arata SONODA (JPN) by 9-1 technical fall at 130kg, one of three bronzes won by Kazakhstan.
Khorlan ZHAKANSHA (KAZ) finished third for the second year in a row at 55kg, while Kustubayev shook off his loss to Sunil to take home a bronze at 87kg. Halakurki won the other bronze at 55kg.
Iraq earned the 14th Asian medal in its history and first since 2018 when Hussein ALBIDHAN (IRQ) defeated Sultan Ali EID (JOR) by 12-4 technical fall at 77kg. Eid was aiming to become just the fourth Jordanian to win an Asian medal. 
Kyrgyzstan captured a pair of bronzes from Renat ILIAZ UULU (KGZ) at 77kg and Roman KIM (KGZ) at 130 kg, while the 63kg bronzes went to Mubinjon AKHMEDOV (TJK) and world U-23 champion Meysam DALKHANI (IRI).
In an unusual twist, there was only one bronze at 87kg. Losing semifinalist Behrooz HEDAYAT (IRI) suffered a bad ankle sprain and could not appear in the consolation match, but there was no opponent to face anyway as both of the other wrestlers in the repechage bracket defaulted due to injury.
Day 1 Finals
Greco-Roman
55kg (9 entries)
GOLD - Pouya NASERPOUR (IRI) df. Jasurbek ORTIKBOEV (UZB) by TF, 8-0, 4:16
BRONZE – Arjun HALAKURKI (IND) df. WON Donghyeok (KOR), 7-4
BRONZE – Khorlan ZHAKANSHA (KAZ) df. Sahatsawat PHUANGKAEO (THA) by TF, 10-1, 1:46 
63kg (10 entries)
GOLD - Elmurat TASMURADOV (UZB) df. SONG Jinseub (KOR) by TF, 9-0, 1:33 
BRONZE – Mubinjon AKHMEDOV (TJK) df. Mohammad ALAJMI (KUW) by Fall, 1:50 (7-2)
BRONZE – Meysam DALKHANI (IRI) df. Yernur FIDAKHMETOV (KAZ), 2-0
77kg (13 entries)
GOLD - Tamerlan SHADUKAYEV (KAZ) df. Pejman POSHTAM (IRI) by TF, 10-1, 2:50
BRONZE – Hussein ALBIDHAN (IRQ) df. Sultan Ali EID (JOR) by TF, 12-4, 5:10
BRONZE – Renat ILIAZ UULU (KGZ) df. Bekhzod UMAROV (UZB), 5-0
87kg (9 entries)
GOLD - Kumar SUNIL (IND) df. Azat SALIDINOV (KGZ), 5-0
BRONZE – Azamat KUSTUBAYEV (KAZ) df. Takahiro TSURUDA (JPN), 3-1 
(Only one bronze due to injury defaults)
130kg (8 entries)
GOLD - Amin MIRZAZADEH (IRI) df. KIM Minseok (KOR) by TF, 9-0, 2:02 
BRONZE – Roman KIM (KGZ) df. Singh MEHAR (IND), 3-2
BRONZE – Mansur SHADUKAYEV (KAZ) df. Arata SONODA (JPN) by TF, 9-1, 4:10