Susaki and Okuno Headline Junior World Championship Entries
Wednesday, August 7, 2019 - 17:06 By Eric Olanowski
TALLINN, Estonia (August 7) -- The 2019 Junior World Championships kick off Monday (August 12) in Tallinn, Estonia, and the pair of reigning two-time senior world champions Yui SUSAKI (JPN) and Haruna OKUNO (JPN) headline an entry list of nearly 700 wrestlers from 62 nations. 
This will be Okuno's first trip to the Junior World Championships, but Susaki, who is looking for her seventh overall world title since 2014, will be joined by seven other reigning junior world champions. Women's wrestling returns four gold medalists from last year's Trnava World Championships, while freestyle has a trio of wrestlers looking for back-to-back titles. Finally, Turkey's Kerem KAMAL is the lone returning Greco-Roman junior world champion who is set to make the trip to Estonia.
In addition to the eight returning junior world champs, there will also be seven cadet world gold-medal winners from the 2018 season who are making the leap up to the junior level. 
Though the entries are not official until 24 hours before the start of the competition, here are the early entries for the 2019 Junior World Championships: 
(Reigning junior world champions are listed in bold)
57kg 
Vrezh GEVORGYAN (ARM)
Mahir MAMMADZADA (AZE)
Dzmitry SHAMELA (BLR)
Mehmed Hasan MEHMED (BUL)
Brayden Alexander TODD (CAN)
Weiyu LI (CHN)
Robert Tyson T LIKIAKSA (FSM)
Diamantino IUNA FAFE (GBS)
Giorgi GEGELASHVILI (GEO)
Horst Justin Junior LEHR (GER)
Ioannis MARTIDIS (GRE)
Gamzatgadzhi KHALIDOV (HUN)
Vijay Bajirao PATIL (IND)
Amir Aliakbar PARASTEH (IRI)
Tommaso FREZZA (ITA)
Toshiya ABE (JPN)
Adlan ASKAROV (KAZ)
Nurdoolot SHAILOOBEK UULU (KGZ)
Hyeonsu CHO (KOR)
Nicu CATAVEICA (MDA)
Akhmed IDRISOV (RUS)
Nino LEUTERT (SUI)
Ahmet DUMAN (TUR)
Kamil KERYMOV (UKR)
Vitali ARUJAU (USA)
Sardor RUZIMOV (UZB)
61kg
Mohamed Al Amine LAKEL (ALG)
Hrachya MARGARYAN (ARM)
Asgar MAMMADALIYEV (AZE)
Dzmitry PRYHOZHY (BLR)
Alibeg ALIBEGOV (BRN)
Jiayun HE (CHN)
Godefroid Kalombo KALUBI (COD)
David KOPRIVA (CZE)
Goderdzi DZEBISASHVILI (GEO)
Nico MEGERLE (GER)
Esteban David PEREZ CASTELLANOS (GUA)
Ravinder RAVINDER (IND)
Mahdi Saeed SHIRAZI (IRI)
Kaiki YAMAGUCHI (JPN)
Daulet TAZHIBAY (KAZ)
Tynchtyk ABASBEKOV (KGZ)
Sangboum HAN (KOR)
Leomid COLESNIC (MDA)
Tugsjargal ERDENEBAT (MGL)
David MISHEV (MKD)
Alik KHADARTSEV (RUS)
Muhammed Mustafa KELES (TUR)
Andrii DZHELEP (UKR)
Gabriel Robert TAGG (USA)
Firuz YOKUBOV (UZB)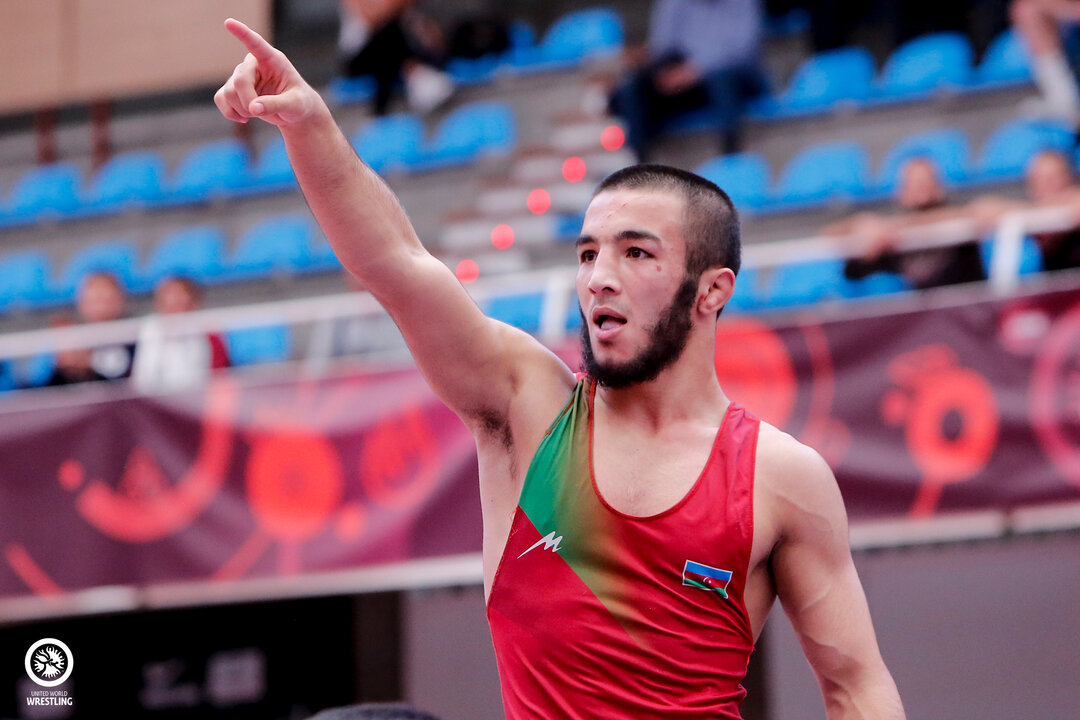 Turan BAYRAMOV (AZE), a 2018 cadet world champion, headlines the 65kg weight class. (Photo: Gabor Martin)
65kg
Vazgen TEVANYAN (ARM)
Turan BAYRAMOV (AZE)
Dzianis SALAVEI (BLR)
Dimitar Atanasov ANGELOV (BUL)
Daniel Troy COLES (CAN)
Chao ZHENG (CHN)
Jordan Ngalula KABONGO (COD)
Fathi Tarek Fathi Attia ISMAIL (EGY)
Marwane Ahmed YEZZA (FRA)
Amiran VAKHTANGASHVILI (GEO)
Panagiotis IOAKEIMIDIS (GRE)
Sunny SUNNY (IND)
Amirhossein Azim MAGHSOUDI (IRI)
Kanta TOKURIKI (JPN)
Syrbaz TALGAT (KAZ)
Adilet ZHAPARKULOV (KGZ)
Injong HWANG  (KOR)
Nicolai GRAHMEZ (MDA)
Tengis DARKHANBAYAR (MGL)
Fati VEJSELI (MKD)
Karol Jakub CZEGUS (POL)
Stefan Ionut COMAN (ROU)
Kurban SHIRAEV (RUS)
Ahmet Salim YIGIT (TUR)
Denys BOROHAN (UKR)
Yahya Abdullah THOMAS (USA)
Bobur ISLOMOV (UZB)

70kg
Abdelkader IKKAL(ALG)
Arman ANDREASYAN (ARM)
Ashraf ASHIROV (AZE)
Aliaksandr KURYSHTA (BLR)
Jun ZHAO (CHN)
Kenfield K MIKE (FSM)
Otari BAGAURI (GEO)
Vishal KALIRAMANA(IND)
Mohmmadsadegh Biglar FIROUZPOURBANDPEI (IRI)
Raul ZARBALIEV (ISR)
Ryo YONEZAWA (JPN)
Sanzhar DOSZHANOV (KAZ)
Alinur TAKIROV (KGZ)
Sangho HAN (KOR)
Pjotrs GOLUBEVS (LAT)
Vasile DIACON (MDA)
Byambadorj ENKHBAYAR (MGL)
Szymon WOJTKOWSKI (POL)
Alan KUDZOEV (RUS)
Mohamed SESAY (SLE)
Tobias PORTMANN (SUI)
Omer Faruk CAYIR (TUR)
Erik ARUSHANIAN (UKR)
Brayton Edward LEE (USA)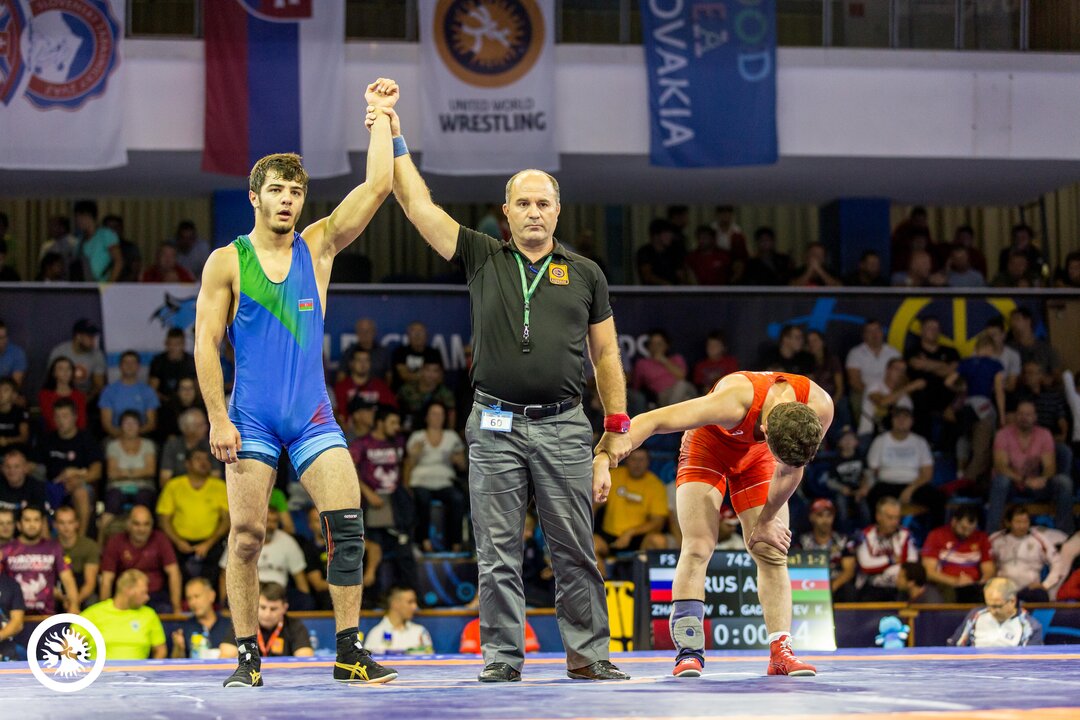 Khadzhimurad GADZHIYEV (AZE) is one of three returning freestyle junior world champions. He'll wrestle at 74kg. Photo: Max Rose-Fyne. 
74kg
Ishak BOUKHORS (ALG)
Davit GEVORGYAN (ARM)
Simon MARCHL (AUT)
Khadzhimurad GADZHIYEV (AZE)
Davud ALIZALAU (BLR)
Tu Erxun AHEIYOU (CHN)
Peter Nkisi MUNDONGA (COD)
Saifeldin Shokry Mohamed Mahmoud ELKOUMY (EGY)
Jako KIVIMAEGI (EST)
Keanson A SIGRAH (FSM)
Goga MAMIAURI (GEO)
Georgios KOUGIOUMTSIDIS (GRE)
Parveen MALIK (IND)
Mohammad Ashghar NOKHODILARIMI (IRI)
Jintaro MOTOYAMA (JPN)
Shynggys MUKHAMETKALIYEV (KAZ)
Baianas MAMASALI UULU (KGZ)
Jinwoo MOON (KOR)
Valentin BORZIN (MDA)
Bat-Erdene BYAMBASUREN (MGL)
Jakub Patryk WLADCZYK (POL)
Devid BETANOV (RUS)
Abdulvasi BALTA (TUR)
Yevhenii DUBOVYI (UKR)
David Aaron CARR (USA)

79kg
Fateh BENFERDJALLAH (ALG)
Arman AVAGYAN (ARM)
Abubakr ABAKAROV (AZE)
Oktay Ruzhdi HASAN (BUL)
Carson Barry LEE (CAN)
Tanggesi TANGGESI (CHN)
Tony Bahati AROKA (COD)
Erik REINBOK (EST)
Bagrati GAGNIDZE (GEO)
Joshua Philipp David MORODION (GER)
Milan MESTER (HUN)
Sandeep Singh MANN (IND)
Abdollah Shahriar SHEIKHAZAMI (IRI)
Max KASPEROVICH (ISR)
Salvatore DIANA (ITA)
Yudai TAKAHASHI (JPN)
Tilek KABYKENOV (KAZ)
Samatbek STANBEK UULU (KGZ)
Taegyu HWANG (KOR)
Cristian PRISACARI (MDA)
Cezary Marek SADOWSKI (POL)
Amkhad TASHUKHADZHIEV (RUS)
Foday KARGBO (SLE)
Omer Faruk KARADENIZ (TUR)
Valentyn BABII (UKR)
Aaron Marquel BROOKS (USA)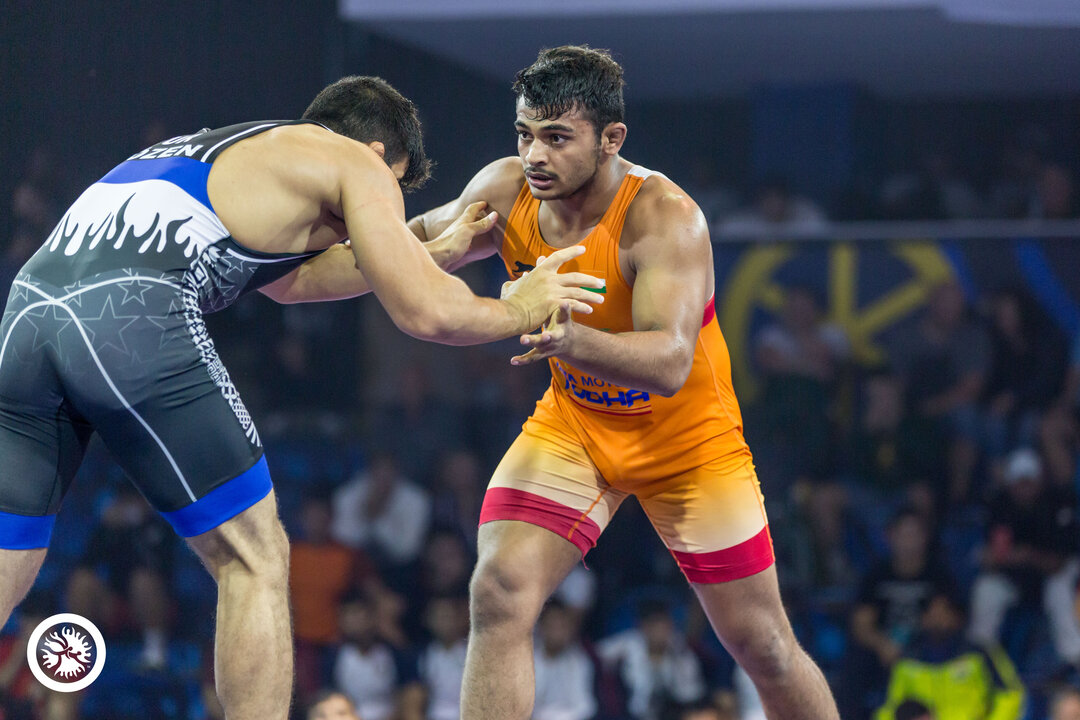 Deepak PUNIA (IND) returns to the Junior World Championships with hopes of imroving on his silver medal from last season. (Photo: Max Rose-Fyne)
86kg
Mher MARKOSYAN (ARM)
Benjamin GREIL (AUT)
Magomed ASIYATILOV (AZE)
Aliaksei PARKHOMENKA (BLR)
Hunter Jeffery LEE (CAN)
Teng ZHAO (CHN)
Stallone Wadiayako SIBU (COD)
Vojtech PISKOR (CZE)
Nikita TSEHHONIN (EST)
Miriani MAISURADZE (GEO)
Lars SCHAEFLE (GER)
Gino Tanislado AVILA DILBERT (HON)
Milan Andras KORCSOG (HUN)
Deepak PUNIA (IND)
Sajjad Saeid HABIBIEHSANI (IRI)
Shai Shabtai SHOTASHVILI (ISR)
Shutaro YAMADA (JPN)
Abylay SOVET (KAZ)
Jeongwoo PARK (KOR)
Ivars SAMUSONOKS (LAT)
Ivan NEDEALCO (MDA)
Bilguun BAYARSAIKHAN (MGL)
Alik SHEBZUKHOV (RUS)
Mohammad Sardar TIMORI (SWE)
Cagri Can BAYRAM (TUR)
Hlib HRYNCHENKO (UKR)
Trent Niemond HIDLAY (USA)
Mukhammadrasul RAKHIMOV (UZB)

92kg
Thomas John Mcglinchey BARNS (AUS)
Askhab HAMZATOV (AZE)
Yaraslau IADKOUSKI (BLR)
Bozhidar Mateev TODOROV (BUL)
Julien CHOQUETTE (CAN)
Tuerdahen AYITUOLIEKE (CHN)
Aron Isomi MBO (COD)
Matous VONDAL (CZE)
Giorgi CHANKSELIANI (GEO)
Ertugrul AGCA (GER)
Richard VEGH (HUN)
Viky VIKY (IND)
Ali Reza Abbasali ABDOLLAHI (IRI)
Takumi TANIZAKI (JPN)
Kuanysh ZHUMASH (KAZ)
Wonhwy CHOI (KOR)
Gheorghe ERHAN (MDA)
Batmagnai ENKHTUVSHIN (MGL)
Machiel Johannes GROBLER (RSA)
Alan BAGAEV (RUS)
Polat POLATCI (TUR)
Vasyl SOVA (UKR)
Lucas John DAVISON (USA)
Ajiniyaz SAPARNIYAZOV (UZB)

97kg
Temraz ISMAYILOV (AZE)
Yaraslau SLAVIKOUSKI (BLR)
Ikjyot Singh RANDHAWA (CAN)
Reheman RUSIDANMU (CHN)
Yonger Pauli BASTIDA POMARES (CUB)
Kevin AAS (EST)
Givi GOGOBERISHVILI (GEO)
Artur VEGH (HUN)
Akash ANTIL (IND)
Abbas Ali FOROUTANRAMI (IRI)
Takuma OTSU (JPN)
Nurken KOBEISINOV (KAZ)
Mingi CHOI (KOR)
Radu LEFTER (MDA)
Haroon ABID (PAK)
Aslanbek GAZZAEV (RUS)
Viliam OROSS (SVK)
Feyzullah AKTURK (TUR)
Danylo STASIUK (UKR)
Tanner Ryan SLOAN (USA)
Makhsud VEYSALOV (UZB)

125kg
Hovhannes MAGHAKYAN (ARM)
Islam Aslangereyvic ABUEV (AZE)
Jackson Jerome SERNA (CAN)
Buheeerdun BUHEEERDUN (CHN)
Ahmed Mahmoud Elsayed Mohamed KHALIL (EGY)
Vasil KHVISTANI (GEO)
Vishal VISHAL (IND)
Amir Hossein Abbas ZARE (IRI)
Lior ALTSHULER (ISR)
Akiho MOR I(JPN)
Bakdaulet OSSERBAY (KAZ)
Aftandil BOLOTBEK UULU (KGZ)
Ki Bum KIM (KOR)
Gan Erdene SODBILEG (MGL)
Alen KHUBULOV (RUS)
Pasa Ekrem KARABULUT (TUR)
Yurii IDZINSKYI (UKR)
Mason Mark PARRIS (USA)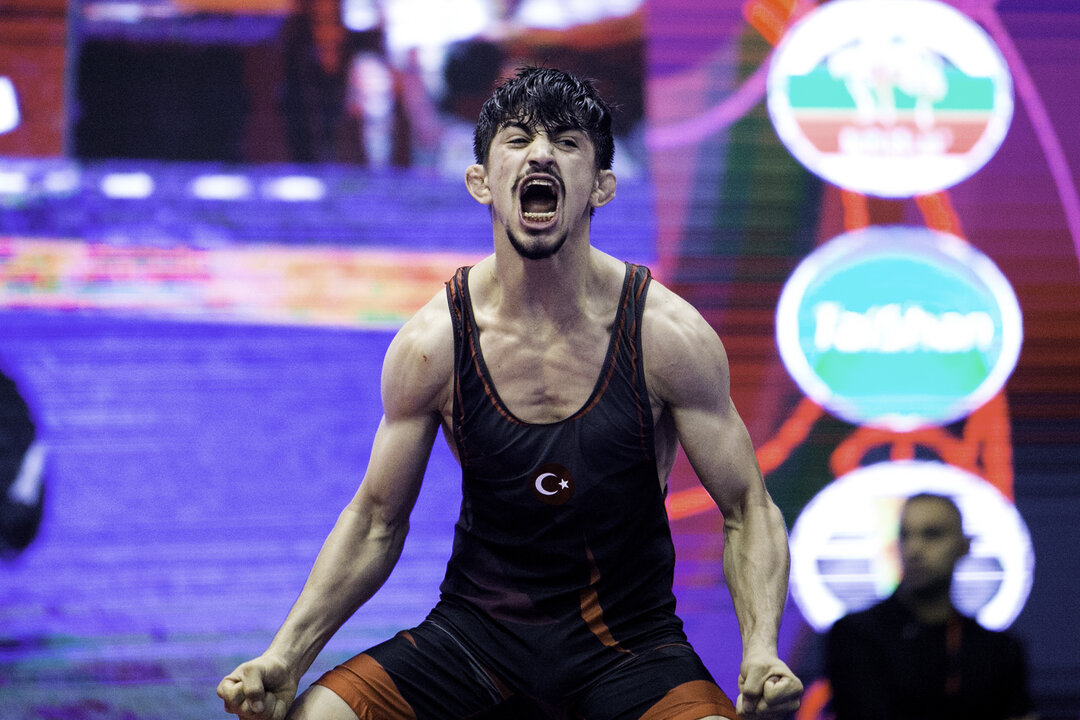 Kerem KAMAL(TUR) is looking to win his third junior world title. He's the favorite to win the 60kg title. (Photo: Gabor Martin)
Greco-Roman
55kg
Tigran MINASYAN (ARM)
Zaur ALIYEV (AZE)
Hleb MAKARANKA (BLR)
Baoyinjiya BAOYINJIYA (CHN)
Antonio Jordan RUIZ MORA (ECU)
Ahmed Fouad Fouad Hussein BAGHDOUDA (EGY)
Pridon ABULADZE (GEO)
Vijay VIJAY (IND)
Poya Soulat DAD MARZ (IRI)
Ken MATSUI (JPN)
Nurzat KABDYRAKHIMOV (KAZ)
Nurmukhammet ABDULLAEV (KGZ)
Donghyeok WON (KOR)
Tuorki Ali M HAZOAZI (KSA)
Artium DELEANU (MDA)
Anvar ALLAKHIAROV (RUS)
Aslamdzhon AZIZOV (TJK)
Mukremin AKTAS (TUR)
Vladyslav KUZKO (UKR)
Dylan Allan RAGUSIN (USA)
Ikhtiyor BOTIROV (UZB)

60kg
Mourtada NAANAA (ALG)
Sahak HOVHANNISYAN (ARM)
Asgar ALIZADA (AZE)
Aliaksandr NIAHODA (BLR)
Alamusi ALAMUSI (CHN)
Moamen Ahmed Rabie MOHAMED (EGY)
Diego CHKHIKVADZE (GEO)
Sachin RANA (IND)
Milad Ali REZANEZHAD (IRI)
Abere FETENE (ISR)
Kazuki YABE (JPN)
Olzhas SULTAN (KAZ)
Talastan KANZHARBEK UULU (KGZ)
Gunwoo PARK (KOR)
Gytis KULEVICIUS (LTU)
Ion BACALU (MDA)
Georgii TIBILOV (RUS)
Rasul ISRAPILOV (SUI)
Niklas Jan Olov Pontus OEHLEN (SWE)
Azatjan ACHILOV (TKM)
Kerem KAMAL (TUR)
Myroslav SOLOVIAN (UKR)
Mason Alan CARZINO HARTSHORN (USA)
Mukhammadkodir YUSUPOV (UZB)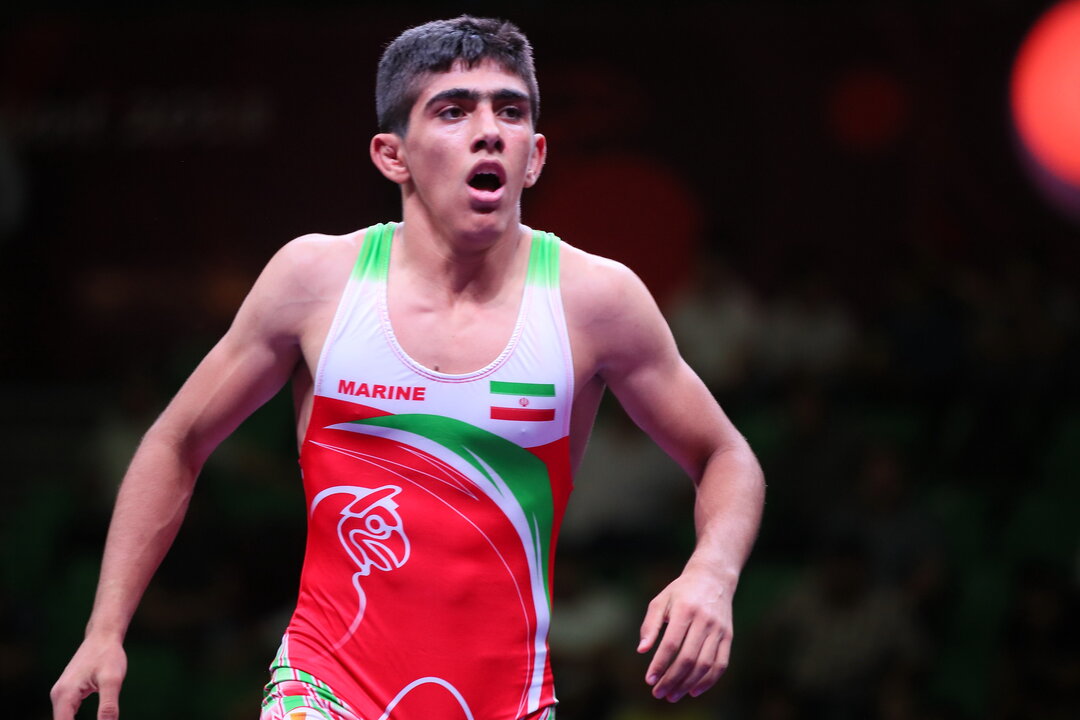 Shahin Eidi BADAGHI MOFRAD (IRI), the 2018 cadet world finalist, will represent Iran at 63kg. (Photo: Sachiko Hotaka)
63kg
Abdelmalek MERABET (ALG)
Hrachya POGHOSYAN (ARM)
Zaur NURIYEV (AZE)
Aliaksandr PECHURENKA (BLR)
Nikalas Petrov SULEV (BUL)
Delin WANG (CHN)
Godefroid Kalombo KALUBI (COD)
Markos TADOLDER (EST)
Leri ABULADZE (GEO)
Cristian Estuardo MEJIA TEPEN (GUA)
Tibor Sandor GYUERKY (HUN)
Pravesh PRAVESH (IND)
Shahin Eidi BADAGHI MOFRAD (IRI)
Kyotaro SOGABE (JPN)
Assaukhat MUKHAMADIYEV (KAZ)
Marlen ASIKEEV (KGZ)
Sangjun PARK (KOR)
Vilius SAVICKAS (LTU)
Kamil Aleksander CZARNECKI (POL)
Abu Muslim Aptievitch AMAEV (RUS)
Abdullah TOPRAK (TUR)
Dmytro MIROSHNYK (UKR)
Alston Jon NUTTER (USA)
Javokhirbek SAMATOV (UZB)

67kg
Kevin KUPI (ALB)
Shant KHACHATRYAN (ARM)
Aker AL OBAIDI (AUT)
Adam HAJIZADA (AZE)
Eldar HASANAU (BLR)
Ivo Krasimirov ILIEV (BUL)
Xin HUANG (CHN)
Jordan Ngalula KABONGO (COD)
Denis MERTL (CZE)
Kristo VIIDAS (EST)
Elmer Joakim MATTILA (FIN)
Giorgi SHOTADZE (GEO)
Samuel BELLSCHEIDT (GER)
Krisztian Istvan VANCZA (HUN)
Saurabh SAURABH (IND)
Mohammad Reza Hojatollah MOKHTARI (IRI)
Ignazio SANFILIPPO (ITA)
Gakuyo TAGUCHI (JPN)
Alikhan KOKENOV (KAZ)
Jaewon LEE (KOR)
Ahmed Fawzi M BARAHMAH (KSA)
Mindaugas VENCKAITIS (LTU)
Valentin PETIC (MDA)
Haavard JOERGENSEN (NOR)
Aleksander Juliusz MIELEWCZYK (POL)
Sergei KUTUZOV (RUS)
Luka GUMILAR (SLO)
Aleksa ILIC (SRB)
Michael PORTMANN (SUI)
Yan-Kai CHEN (TPE)
Lamjed MAAFI (TUN)
Abdul Samet BASAR (TUR)
Vladyslav KRAVCHENKO (UKR)
Peyton Louis OMANIA (USA)
Umidjon AKHROROV (UZB)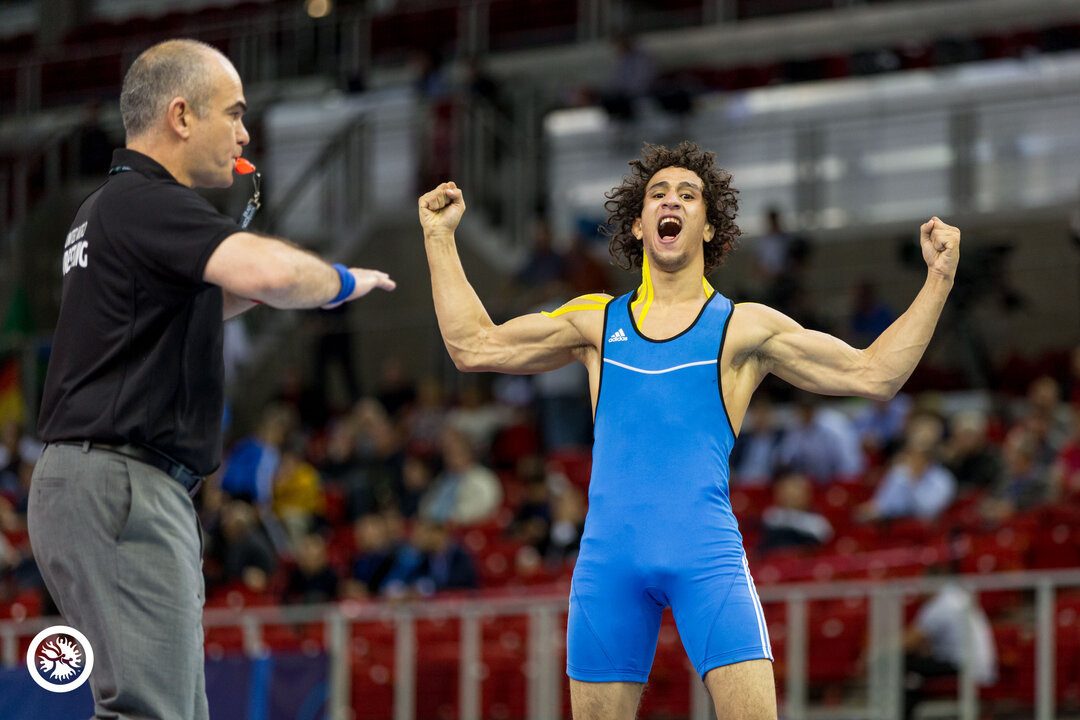 Hassan Hassan Ahmed MOHAMED (EGY) was one match away from winning a junior world title last year. He's one of the favorites to make the finals again at 72kg. (Photo: Max Rose-Fyne) 
72kg
Samvel GRIGORYAN (ARM)
Ulvu GANIZADE (AZE)
Andrei SAMETS (BLR)
Guotao ZHANG (CHN)
Pavel PUKLAVEC (CRO)
Hassan Hassan Ahmed MOHAMED (EGY)
Randel UIBO (EST)
Akseli Elias YLI HANNUKSELA (FIN)
Otar ABULADZE (GEO)
Erik LOESER (GER)
Georgios Theodoros SOTIRIADIS (GRE)
Gergely BAK (HUN)
Rahul RAHUL (IND)
Mohammadreza Mahmoud ROSTAMI (IRI)
Radik RAKHMATULIN (ISR)
Kaichi SUGAWARA (JPN)
Galymbek NURGALI (KAZ)
Bekzat MATKABYLOV (KGZ)
Jangsu CHO (KOR)
Deividas SUBOTKEVIC (LTU)
Anatolie POPOV (MDA)
Mihai PETIC (MDA)
Konrad Lukasz KOZLOWSKI (POL)
Vasile Alexandru DOSOFTEI (ROU)
Sergei STEPANOV (RUS)
Mohamed SESAY (SLE)
Elmaz HASANOVIC (SRB)
Rasmus Lilleman AASTROEM (SWE)
Daler REZA ZADE (TJK)
Ismail GUN (TUR)
Ihor BYCHKOV (UKR)
Tyler Adam EISCHENS (USA)
Alijon KHUSEYNOV (UZB)
77kg
Vahe POGHOSYAN (ARM)
Nasir HASANOV (AZE)
Mikita KAZAKOU (BLR)
Teodor Chavdarov DOMOZINOV (BUL)
Bahetijiang KELAN (CHN)
Peter Nkisi MUNDONGA (COD)
Jan CYMOREK (CZE)
Ranet KALJOLA (EST)
Nika SHERBAKOVI (GEO)
Tamas LEVAI (HUN)
Sajan SAJAN (IND)
Mohammad Aziz NAGHOUSI (IRI)
David ZHYTOMYRSKY (ISR)
Amane SHIMOYAMADA (JPN)
Leonid PROSKUROVICH (KAZ)
Azamat ZHAMGYRCHY UULU (KGZ)
Hyeonjin KANG (KOR)
Arminas LYGNUGARIS (LTU)
Exauce MUKUBU (NOR)
Patryk Adam BEDNARZ (POL)
Damir RAKHIMOV (RUS)
Foday KARGBO (SLE)
Andrija Luka MALETIN (SRB)
Mats Ola Lukas AHLGREN (SWE)
Bing Hong LIN (TPE)
Abdurrahman KALKAN (TUR)
Dmytro VASETSKYI (UKR)
Jack Butch ERVIEN (USA)
Dilshod OMONGELDIYEV (UZB)

82kg
Fadi ROUABAH (ALG)
Karen KHACHATRYAN (ARM)
Maksim BANDARENKA (BLR)
Zahari Rosenov ZASHEV (BUL)
Fabian Patricio CASTILLO PAVEZ (CHI)
Talimubieke AYIDINGBIEKE (CHN)
Tony Bahati AROKA (COD)
Karlo KODRIC (CRO)
Hans Uku LEITHAM (EST)
Otto Eemeli KETONEN (FIN)
Beka GURULI (GEO)
Lucas Alexandros LAZOGIANIS (GER)
Ilias PAGKALIDIS (GRE)
Istvan TAKACS (HUN)
Sanjeet SANJEET (IND)
Hosein Jahanbakhsh FOROUZANDEH GHOJEHBEIGLOU (IRI)
Satoki MUKAI (JPN)
Stanislav RYLSKIY (KAZ)
Jihyeok SONG (KOR)
Szymon SZYMONOWICZ (POL)
Nicolae POPA (ROU)
Aues GONIBOV (RUS)
Klemen PODGORELEC (SLO)
Toyly ORAZOV (TKM)
Dogan KAYA (TUR)
Vitalii ANDRIIOVYCH (UKR)
Zachary Kyle BRAUNAGEL (USA)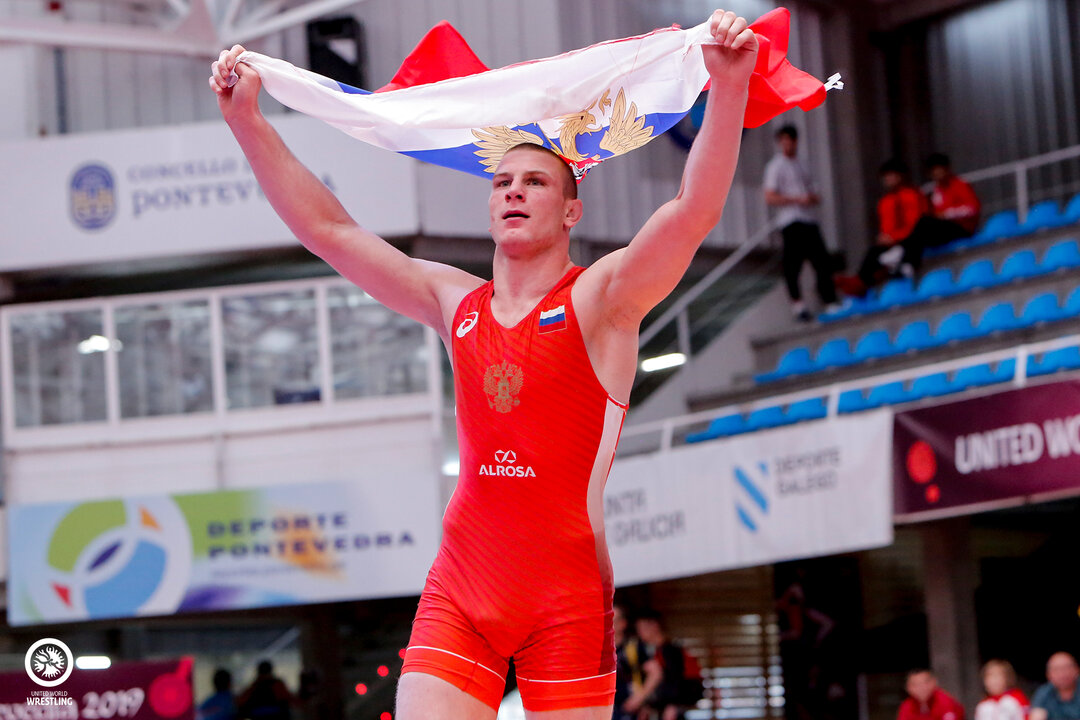 Ilia ERMOLENKO (RUS), a 2018 junior world bronze medalist, is the lone returning world medalist entered at 87kg. (Photo: Gabor Martin)
87kg
Hakob BAGHDASARYAN (ARM)
Lachin VALIYEV (AZE)
Ihar YARASHEVICH (BLR)
Mariyan Iliyanov MARINOV (BUL)
Han LEI (CHN)
Stallone Wadiayako SIBU (COD)
Filip SMETKO (CRO)
Andreas VAELIS (EST)
Juho Matias PAHIKAINEN (FIN)
Giorgi KATSANASHVILI (GEO)
Nikolaos PAPADOPOULOS (GER)
David LOSONCZI (HUN)
Kumar SUNIL (IND)
Hasan Jahanbakhsh FOROUZANDEH GHOJEHBEIGLOU (IRI)
Ryohta NASUKAWA (JPN)
Meirbek KORDABAY (KAZ)
Meder ABYKEEV (KGZ)
Temirlan SHERALI UULU (KGZ)
Hyeonsu KANG (KOR)
Piotr CHUDZIK (POL)
Ilia ERMOLENKO (RUS)
Christian Max ZEMP (SUI)
Jacob Edward LOGAARD (SWE)
Dovran DOVLETGELDIYEV (TKM)
Bedirhan TAN (TUR)
Valentyn SHKLIARENKO (UKR)
Cameron Andrew CAFFEY (USA)

97kg
Markus RAGGINGER (AUT)
Khayal MEHTIYEV (AZE)
Uladzislau PUSTASHYLAU (BLR)
Houzhi HAO (CHN)
Aron Isomi MBO (COD)
Gabriel Alejandro ROSILLO KINDELAN (CUB)
Richard KARELSON (EST)
Lasha TVILDIANI (GEO)
Patrick NEUMAIER (GER)
Apostolos Panagiotis TSIOVOLOS (GRE)
Alex Gergo SZOKE (HUN)
Deepanshu DEEPANSHU (IND)
Abolfazl Naser SEYEDMAHDAVI (IRI)
Yuri NAKAZATO (JPN)
Islam UMAYEV (KAZ)
Jeongyul KWON (KOR)
Ibrahim Mohammed M FALLATAH (KSA)
Arnoldas BARANOVAS (LTU)
Gerard Cyprian KURNICZAK (POL)
Karen TATEVOSOV (RUS)
Beytullah KAYISDAG (TUR)
Oleksandr YEVDOKIMOV (UKR)
Nicholas Allen BOYKIN (USA)
Ismail ASANOV (UZB)

130kg
Sarkhan MAMMADOV (AZE)
Mikita KAVALSKI (BLR)
Diego Jesus ALMENDRAS RODRIGUEZ (CHI)
Lu ZHANG (CHN)
Marcel ALBINI (CZE)
Youssef Ahmed Hamdy Aly ISSA (EGY)
Uku LAIK (EST)
Robinzon ESADZE (GEO)
Nikolaos NTOUNIAS (GRE)
Dariusz Attila VITEK (HUN)
Aawesh AAWESH (IND)
Aliakbar Hossein YOUSOFIAHMADCHALI (IRI)
Shoma SUZUKI (JPN)
Konstantin RAKHIMOV( KAZ)
Minjoon KIM (KOR)
Nikola MILATOVIC (NOR)
Tomasz Jacek WAWRZYNCZYK (POL)
Ciprian Ilie TRUFAN (ROU)
Marat KAMPAROV (RUS)
Muhammet Hamza BAKIR (TUR)
Vladyslav KOVALENKO (UKR)
Cohlton Michael SCHULTZ (USA)
Ilyosbek GULOMJONOV (UZB)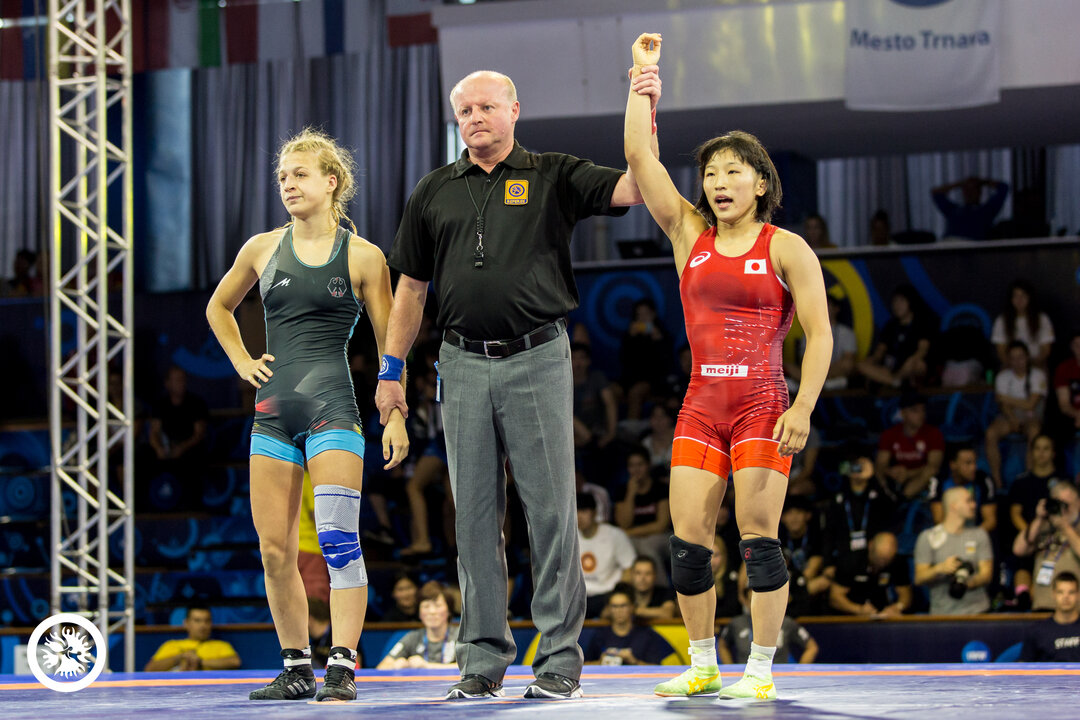 Yui SUSAKI (JPN) enters the Junior World Championships searching for her seventh world title since 2014. She'll wrestle at 50kg. (Photo: Max Rose-Fyne) 
Women's Wrestling 
50kg
Shahana NAZAROVA (AZE)
Natallia VARAKINA (BLR)
Alexia Adeline Devalmont SEAL (CAN)
Yuhong ZHONG (CHN)
Lucia Yamileth YEPEZ GUZMAN (ECU)
Hala Wael Imbabi AHMED (EGY)
Polina SAHNO (EST)
Taru Marketta VAINIONPAEAE (FIN)
Lisa ERSEL (GER)
Neelam NEELAM (IND)
Emanuela LIUZZI (ITA)
Yui SUSAKI (JPN)
Ayaulym TUGANBAYEVA (KAZ)
Jinhee KIM (KOR)
Maria LEORDA (MDA)
Otgontuya CHINBOLD (MGL)
Amanda TOMCZYK (POL)
Stefania Claudia PRICEPUTU (ROU)
Daria KHVOSTOVA (RUS)
Meng Hsuan HSIEH (TPE)
Sarra HAMDI (TUN)
Zehra DEMIRHAN (TUR)
Mariia VYNNYK (UKR)
Alleida MARTINEZ (USA)
Jasmina IMMAEVA (UZB)

53kg
Yuliya ZHAUNERYK (BLR)
Mariela Zhelyazkova ZHELYAZKOVA (BUL)
Meiduolaji MEIDUOLAJI (CHN)
Pooja POOJA (IND)
Haruna OKUNO (JPN)
Assylzat SAGYMBAY (KAZ)
Yeji MIN (KOR)
Anudari NANDINTSETSEG (MGL)
Andreea Beatrice ANA (ROU)
Mariia TIUMEREKOVA (RUS)
Angelica Mingyue ZETTERVALL (SWE)
Rahime ARI (TUR)
Liliia MALANCHUK (UKR)
Gracie Marie FIGUEROA (USA)
Shokhida AKHMEDOVA (UZB)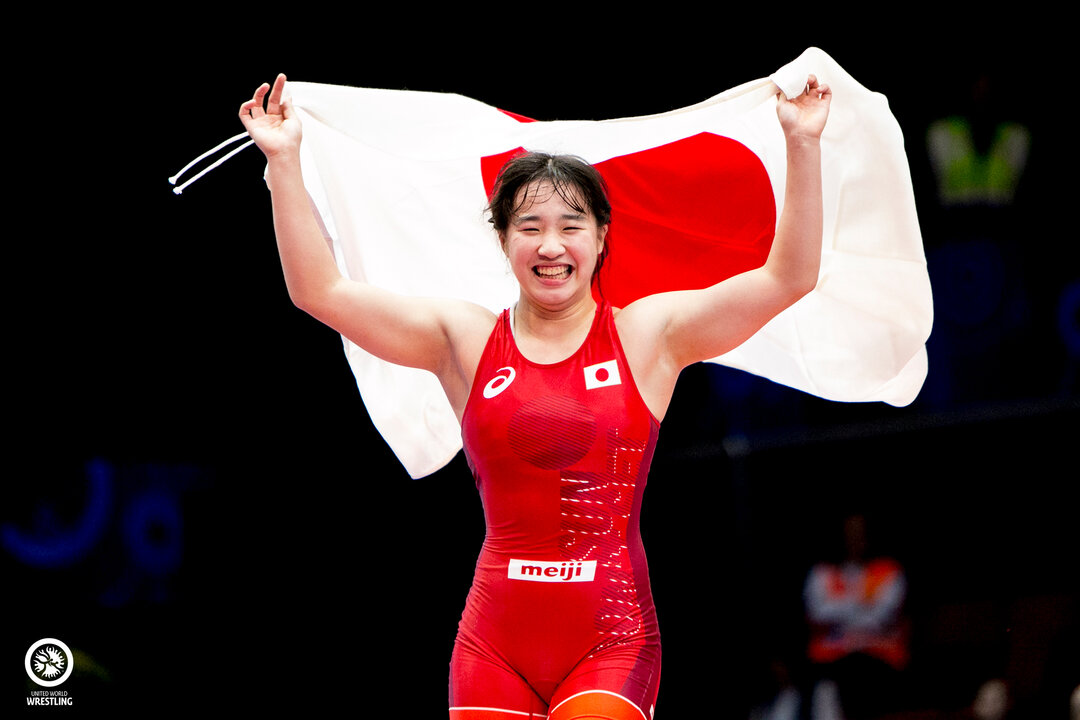 Saki IGARASHI (JPN) is one of two Japanese wrestlers looking to win back-to-back junior world golds. (Photo: Gabor Martin) 
55kg
Darya SINKAVETS (BLR)
Sezen Behchetova BELBEROVA (BUL)
Virginie KAZE GASCON (CAN)
Antonia Alejandra VALDEZ ARRIAGADA (CHI)
Silangwangmu SILANGWANGMU (CHN)
Anastasia BLAYVAS (GER)
Anna Hella SZEL (HUN)
Anju ANJU (IND)
Saki IGARASHI (JPN)
Sandugash DYUSSENGALIYEVA (KAZ)
Eunyoung PARK (KOR)
Mariana DRAGUTAN (MDA)
Enkhtsetseg BATBAATAR (MGL)
Patrycja GIL (POL)
Ekaterina VERBINA (RUS)
Ya Ling PENG (TPE)
Elvira KAMALOGLU (TUR)
Veronika RYABOVOLOVA (UKR)
Alexandra Wray HEDRICK (USA)

57kg
Maryia HULIDA (BLR)
Ana Luiza PEREIRA FRANCA (BRA)
Tanya Dobromirova TENEVA (BUL)
Jolie Donna Elizabeth BRISCO (CAN)
Youmei WU (CHN)
Bharti BAGHEL (IND)
Akie HANAI (JPN)
Laura ALMAGANBETOVA (KAZ)
Nuraida ANARKULOVA (KGZ)
Magdalena Urszula GLODEK (POL)
Anastasiia SIDELNIKOVA (RUS)
Ozge FINDIKCI (TUR)
Alina AKOBIIA (UKR)
Cameron Jaylynn GUERIN (USA)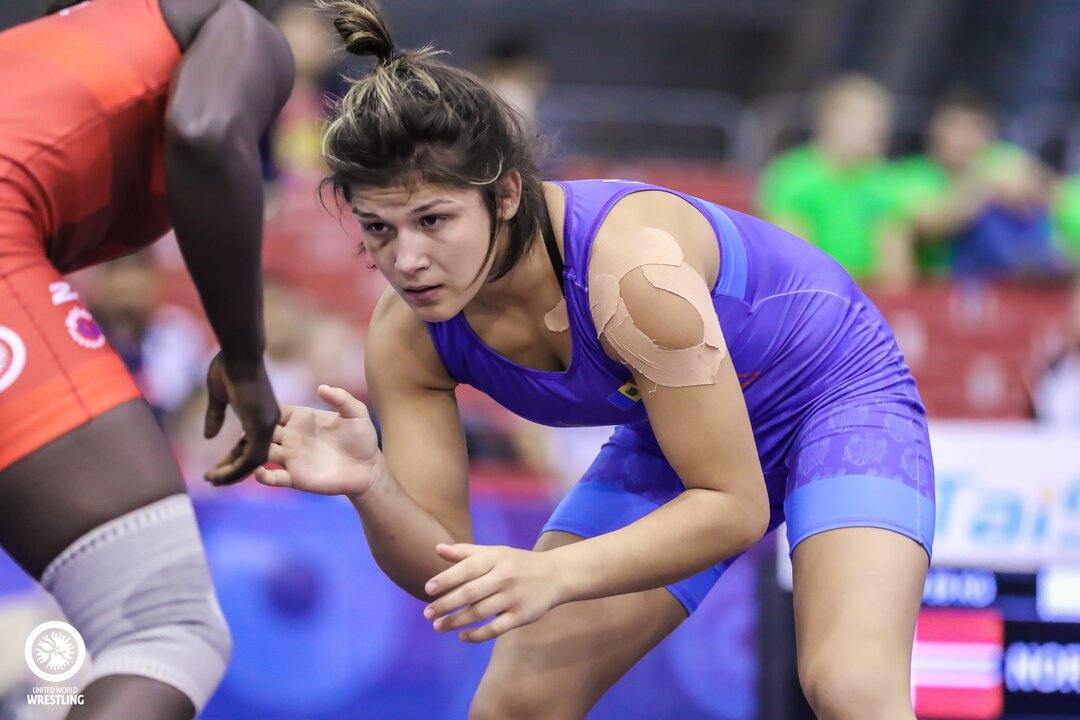 Anastasia NICHITA (MDA) is searching for her second world title. She'll wrestle at 59kg. (Photo: Marion Stein)
59kg
Krystsina SAZYKINA (BLR)
Emma Janelle PARKER (CAN)
Zhuomalaga ZHUOMALAGA (CHN)
Maria Victoria BAEZ DILONE (ESP)
Anne Beatrice NUERNBERGER (GER)
Erika BOGNAR (HUN)
Anshu ANSHU (IND)
Morena DE VITA (ITA)
Sae NANJO (JPN)
Dariga ABEN (KAZ)
Nazira MARSBEK KYZY (KGZ)
Hwa Young SUNG (KOR)
Anastasia NICHITA (MDA)
Angelika Agnieszka MYTKOWSKA (POL)
Kristina MIKHNEVA (RUS)
Elmas CELIK (TUR)
Kateryna ZELENYKH (UKR)
Michaela Hope BECK (USA)

62kg
Zhala ALIYEVA (AZE)
Tatsiana PAULAVA (BLR)
Ana Paula GODINEZ GONZALEZ (CAN)
Yaru WU (CHN)
Tiia Triin TOMSON (EST)
Radhika RADHIKA (IND)
Yuzuka INAGAKI (JPN)
Irina KUZNETSOVA (KAZ)
Haeyeong IM (KOR)
Alina Aleksandra ANTIPOVA (LAT)
Irina RINGACI (MDA)
Purevsuren ULZIISAIKHAN (MGL)
Magdalena Weronika KISIELINSKA (POL)
Mariia LACHUGINA (RUS)
Cansu AKSOY (TUR)
Antonyna KULAHINA (UKR)
Alara Lea BOYD (USA)
Ariukhan JUMABAEVA (UZB)

65kg
Jeyla NAGHIZADE (AZE)
Hanna SADCHANKA (BLR)
Katie Nichole MULKAY (CAN)
Yue ZHANG (CHN)
Nerea PAMPIN BLANCO (ESP)
Viktoria VESSO (EST)
Noémi SZABADOS (HUN)
Tina TINA (IND)
Elena ESPOSITO (ITA)
Miwa MORIKAWA (JPN)
Diana KAYUMOVA (KAZ)
Chaewon LEE (KOR)
Wiktoria CHOLUJ (POL)
Amina Roxana CAPEZAN (ROU)
Daria BOBRULKO (RUS)
Hsin Ping PAI (TPE)
Yagmur CAKMAK (TUR)
Oksana CHUDYK (UKR)
Macey Ellen KILTY (USA)
Dinora RUSTAMOVA (UZB)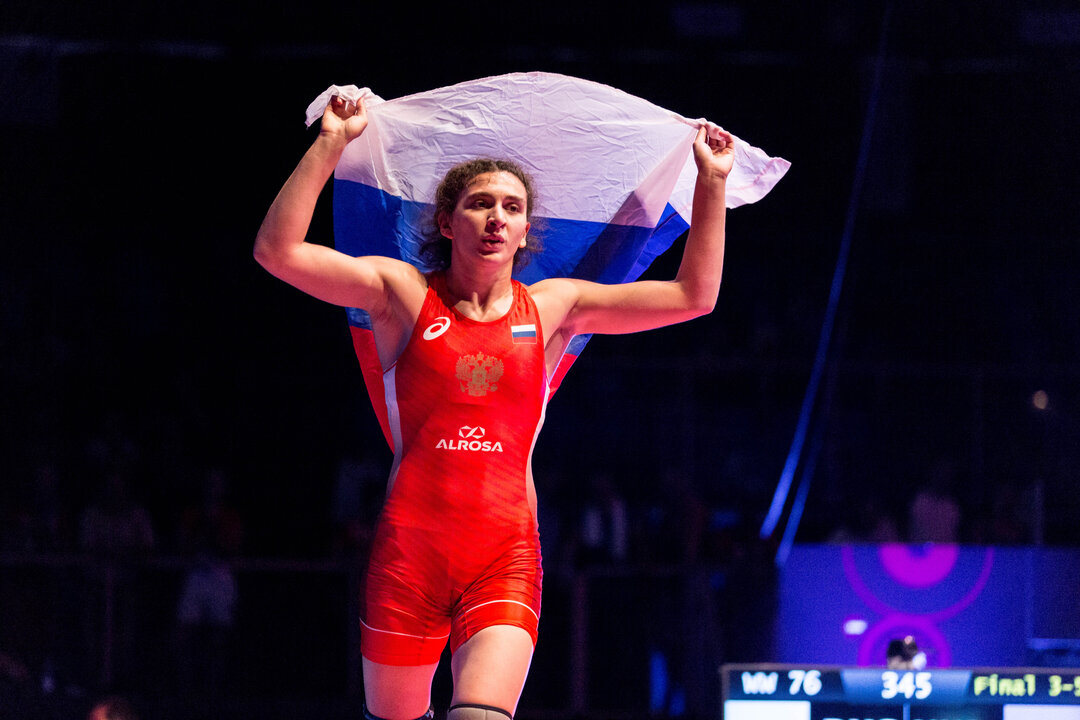 Khanum VELIEVA(RUS) has a shot at winning her third consecutive junior world title. She'll compete at 68kg. (Photo: Max Rose-Fyne)
68kg
Natallia BELSKAYA (BLR)
Thamires MARTINS MACHADO (BRA)
Siyka Todorova IVANOVA (BUL)
Berit Ilise Musey JOHNSON (CAN)
Xin LI (CHN)
Marta PAJULA (EST)
Tuende Emese ELEKES (HUN)
Priyanka PRIYANKA (IND)
Naruha MATSUYUKI (JPN)
Gulsezim BUKHAYEVA (KAZ)
Meerim ZHUMANAZAROVA (KGZ)
Jisu KIM (KOR)
Delgermaa ENKHSAIKHAN (MGL)
Ewelina Weronika CIUNEK (POL)
Khanum VELIEVA (RUS)
Tindra Linnea SJOEBERG (SWE)
Kadriye AKSOY (TUR)
Khrystyna MALIAVKA (UKR)
Jayden Leigh LAURENT (USA)

72kg
Anastasiya ZIMIANKOVA (BLR)
Shuiyan CHENG (CHN)
Johanna MEIER (GER)
Anshu GUJJAR (IND)
Yuka KAGAMI (JPN)
Gulnaz ZHAPPAROVA (KAZ)
Dokyung (Hyerim) YUN (KOR)
Khulan TSERMAA (MGL)
Kamila Czeslawa KULWICKA (POL)
Maria larisa NITU (ROU)
Evgeniia ZAKHARCHENKO (RUS)
Zsuzsanna MOLNAR (SVK)
Merve PUL (TUR)
Anastasiya ALPYEYEVA (UKR)
Alyvia Nicole FISKE (USA)
Svetlana OKNAZAROVA (UZB)

76kg
Kseniya DZIBUK (BLR)
Dejah Aniela SLATER (CAN)
Qian JIANG (CHN)
Milaimys de la Caridad MARIN POTRILLE (CUB)
Lilly SCHNEIDER (GER)
Bernadett NAGY (HUN)
Karuna KARUNA (IND)
Eleni PJOLLAJ (ITA)
Yasuha MATSUYUKI (JPN)
Alexandra ZAITSEVA (KAZ)
Soeun KIM (KOR)
Raivita TIMOFEJEVA (LAT)
Kamile GAUCAITE (LTU)
Marina SUROVTSEVA (RUS)
Hui Tsz CHANG (TPE)
Mehtap GULTEKIN (TUR)
Romana VOVCHAK (UKR)
Korinahe Jacquia BULLOCK (USA)
Mukhlisa NORMUMINOVA (UZB)
Click HERE for the full 2019 Junior World Championships schedule.