Susaki Aims to Gain Olympic Spot with Golden Performance
Thursday, April 8, 2021 - 14:15 By Ken Marantz
ALMATY, Kazakhstan (April 8) --- Two-time world champion Yui SUSAKI (JPN) can see a silver lining in the year-long postponement of the Asian qualifying tournament for the Tokyo Olympics.
And while a silver medal in Almaty would be good enough to earn her a first trip to Olympics, the 21-year-old star has no intention of coming home with anything but the gold.
"When the Asian qualifying and Tokyo Olympics were postponed for a year, I felt I was given that amount of time to get stronger and I kept practicing," Susaki said in an online press conference earlier this week.
"As for not having matches, it gave me time to address the little issues that I couldn't do up to now. I was able to work on fine points and from that standpoint, I feel like I've grown in the past year."
Susaki will be aiming to secure a berth for Japan at 50kg, the only one of the six women's weight classes in which the Asian powerhouse did not clinch a spot at the 2019 world championships.
The women's tournament will be on the second day of the three-day tournament April 9-11, which will start with Greco-Roman and end with freestyle.
"It's good and I'm ready for matches," Susaki said of her current condition. "From the start of the year, I've had good practices in preparation as the tournament gets closer."
The tournament will mark her first international event since the 2019 World Cup, and first overall since the All-Japan Championships in December 2019, where she defeated rival Yuki IRIE (JPN) to earn the right to enter the Olympic qualifier.
"It's my first tournament in awhile, so I'm really looking forward to it," Susaki said. "The Olympics are on the line, so everyone is putting everything into this tournament. I will concentrate on each match as it comes and work my way to the title.
"I'm grateful to be able to make the challenge for the Tokyo Olympics. I want to definitely win and gain an Olympic berth, and come home with a smile."
Susaki will certainly be favored to grab one of the two spots available for Asia at the qualifying tournament. She will not contend with opponents from host Kazakhstan or China, as both of those countries qualified at the Nursultan worlds.
Regardless of the competition, and notwithstanding the fact that she does not need to do it, going for the gold has been her mantra since she started the sport, and has many more times than not also been the result. Since junior high school, she has lost only three times --- all to compatriot Irie. She is undefeated against the rest of humanity.
"To have come this far, no matter how it's done, I want to win the title and make the Olympic team," Susaki said. "From the time that the Tokyo Olympics were decided, I've regarded it as an event I definitely want to participate in and win the gold medal."
Susaki's main competition looks to come from 2020 Yarygin Grand Prix champion Namuuntsetseg TSOGT OCHIR (MGL) and 2019 Yasur Dogu winner Seema SEEMA (IND).
Following the postponement, Susaki tried to stay focused on the task at hand, even though it was difficult as the Tokyo region went through two states of emergency and there were limited opportunities for match experience, as no Japanese wrestlers made trips abroad for competition.
"Over this past year, so many things happened, like there was a state of emergency declared and I had to go back home," Susaki said. "Would the Olympics be held or not? The situation was changing all the time. So it was a hectic year.
"But I could see my family and meet my friends, so as long as there was this 'support', I could stay strong through now. A lot happened, but because of those around me, I realized that they made me what I am today. As such, I want to repay them even in a small way by making it to the Olympics."
Without getting ahead of herself, Susaki is already looking forward to what awaits her after the tournament.
"When the Asian qualifying is over, I want to come back to Japan and eat all kinds of goodies, like sushi, pizza, cake. After I secure the Olympic spot, I think that everything will taste great."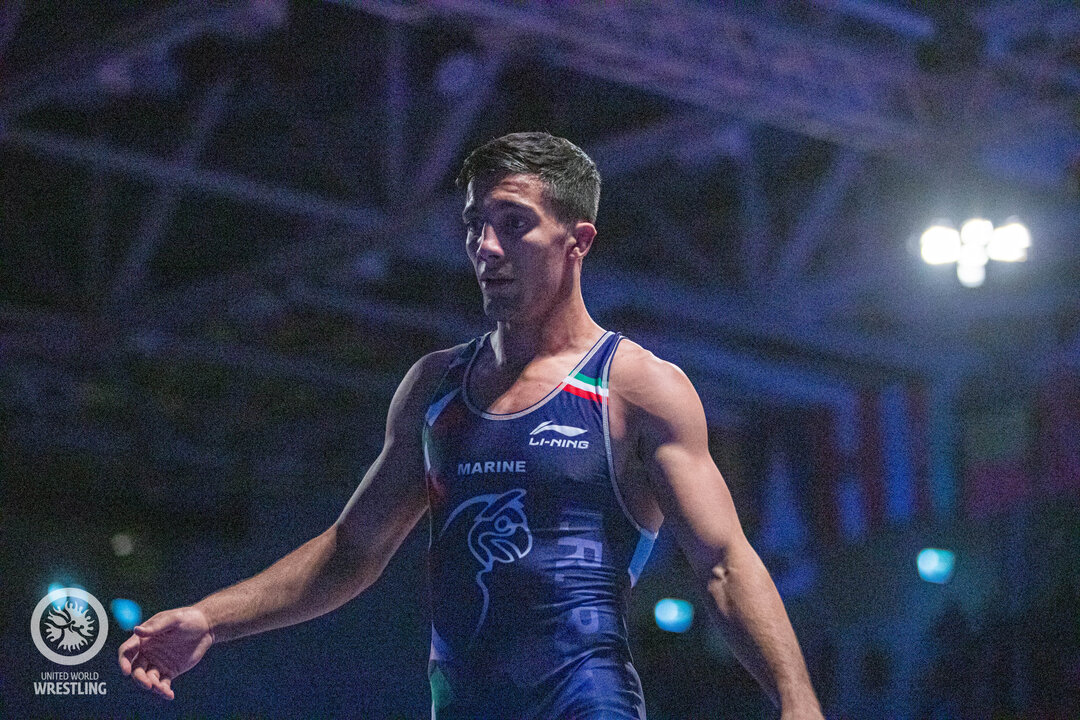 U23 Asian and world champion Mohammad Reza GERAEI (IRI) will compete at 67kg. (Photo: Sachiko Hotaka)
Paths to Olympic spots varies
Of the Asian nations, host Kazakhstan and Japan secured the most Olympic berths at the world championships with eight each. Iran has sewn up six places, followed by China (5), India (4), Uzbekistan (3) and Mongolia, Kyrgyzstan and the People's Republic of Korea (2).
For some hopefuls in Almaty, the path to the Olympics will be somewhat easier. There is one weight class in each style in which Asian nations have already secured four spots---freestyle 65kg, Greco 60kg and women 53kg.
Conversely, the Greco 67kg and 97kg divisions had no qualifiers, meaning all nations will be vying for the coveted spots, while there was only one qualifier each at freestyle 97kg and Greco 130kg.
Greco 67kg will feature veteran RYU Hansoo, the 2013 world champion at 66kg who has won a combined five titles at the Asian Games and Asian Championships, most recently in 2020 in New Delhi. Now 33, he is looking for one more trip to the Olympics, having finished fifth at Rio 2016.
Also entered in that weight class is Mohammad Reza GERAEI (IRI), the 2019 world U-23 and Asian champion at 72kg, and Meirzhan SHERMAKHANBET (KAZ), who finished second to Ryu at the 2019 Asian Championships, as well as 2020 Asian bronze medalist Ashu ASHU (IND) and 2019 world 72kg silver medalist Aram VARDANYAN (UZB).
Shogo TAKAHASHI (JPN), a 2019 Asian bronze medalist, has the added incentive of attempting to qualify for an Olympics on home soil.
Along with Rio 2016 silver medalist Rei HIGUCHI (JPN), who is aiming to qualify at freestyle 57kg, another Japanese wrestler in the spotlight is Sosuke TAKATANI (JPN), the 2014 world silver medalist at freestyle 74kg who will try to make it to a third Olympics, this time at 86kg.
Like Susaki, his goal is to not only to qualify, but to win the tournament. His reasoning is that he took second the two previous times, but failed to medal at the Olympics. "It is bad luck," he said. "Now I'm going to be in 1st place and go to the Olympics."
Among those standing in his way are Azamat DAULETBEKOV (KAZ), a 2018 Asian bronze medalist who was fifth last year, and Gankhuyag GANBAATAR (MGL), an Asian bronze medalist in 2019.
Also worth watching will be American-born Domenic ABOU NADER (LBN), a silver medalist at the 2018 Asian Games. The former All-American at Michigan University will aim to become the first wrestler from Lebanon to qualify for the Olympics since 1980 and seventh in history.
In women's wrestling, it will be interesting to see how up-and-coming Sonam MALIK (IND) fares at 62kg. The 2019 world cadet champion at 65kg knocked off Rio 2016 silver medalist Sakshi MALIK (IND) 8-7 at the Indian national trials in Lucknow.
"Sakshi Malik is our role model, she won the medal at the Olympics," Sonam told Indian media. "My coach said, 'You have nothing to lose' and give your best in the match. It was in my mind that I want to qualify for the Tokyo Olympics."
In Almaty, she can expect tough competition from Ayaulym KASSYMOVA (KAZ), the silver medalist at last year's Asian Championships, and Nabira ESENBAEVA (UZB), a 2019 Asian bronze medalist along with Sakshi.