Surkov Dominates Stefanek to Win Gold, Basar Repeats
Saturday, October 27, 2018 - 18:08 By Andrew Hipps
BUDAPEST, Hungary (October 27) -- Artem SURKOV (RUS) capped off a strong year by winning his first Greco-Roman world title with dominating victory over Olympic champion Davor STEFANEK (SRB) on Saturday at the World Championships in Budapest, Hungary. 
The 25-year-old Russian scored his first two points off passivity calls -- one in each period -- before executing a side lift throw for points in the second period. A failed challenge would give Surkov his seventh point for a 7-0 shutout victory over Stefanek.
This year, Surkov claimed gold medals at several events, including the European Championships, Ljubomir Ivanovic Gedza International, Kristjan Palusalu Memorial and Ivan Poddubny Tournament. 
Surkov was one of two gold medalists for Russia on Saturday. The other Russian to win gold in Greco-Roman on Saturday was Sergey EMELIN (RUS) at 60kg.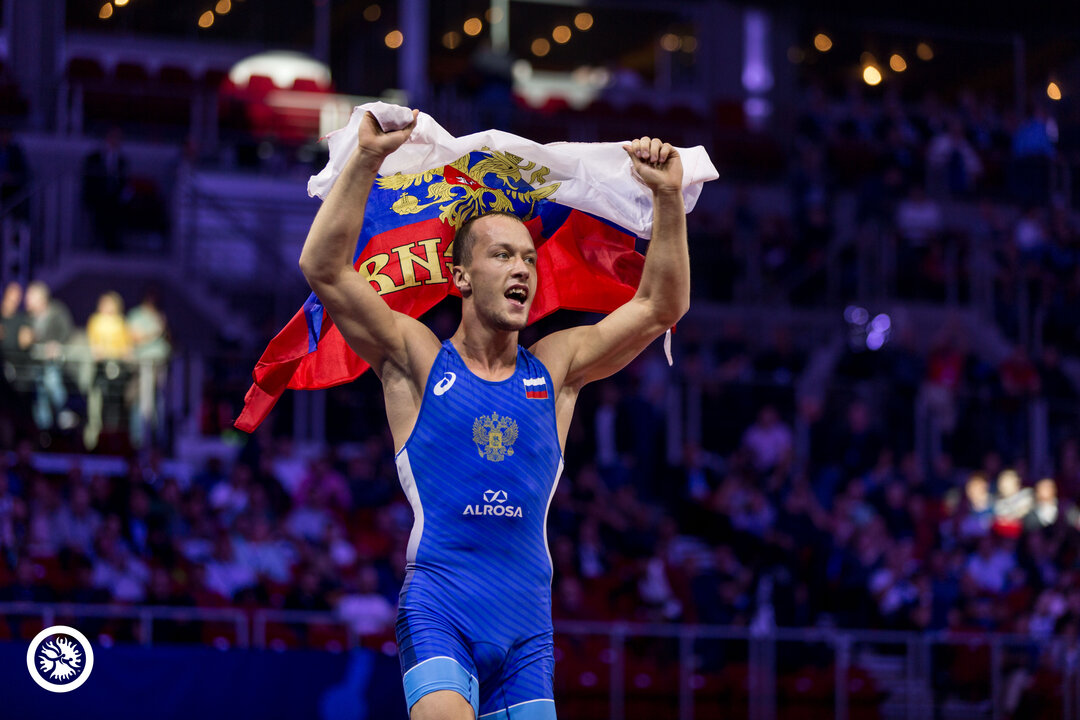 Emelin, like Surkov, was dominant in the finals. He used two four point moves on his way to a 10-1 technical fall over Victor CIOBANU (MDA) in the gold-medal match at 60kg. 
The Russian threw Ciobanu for four points just 15 seconds into the match to grab an early 4-0 lead. In the second period, after the Moldovan scored with a step out, Emelin used a pinch headlock to score four more points. He then ended the match with a gut wrench. 
Emelin was unchallenged throughout the competition, outscoring his opposition 44-1 in five matches.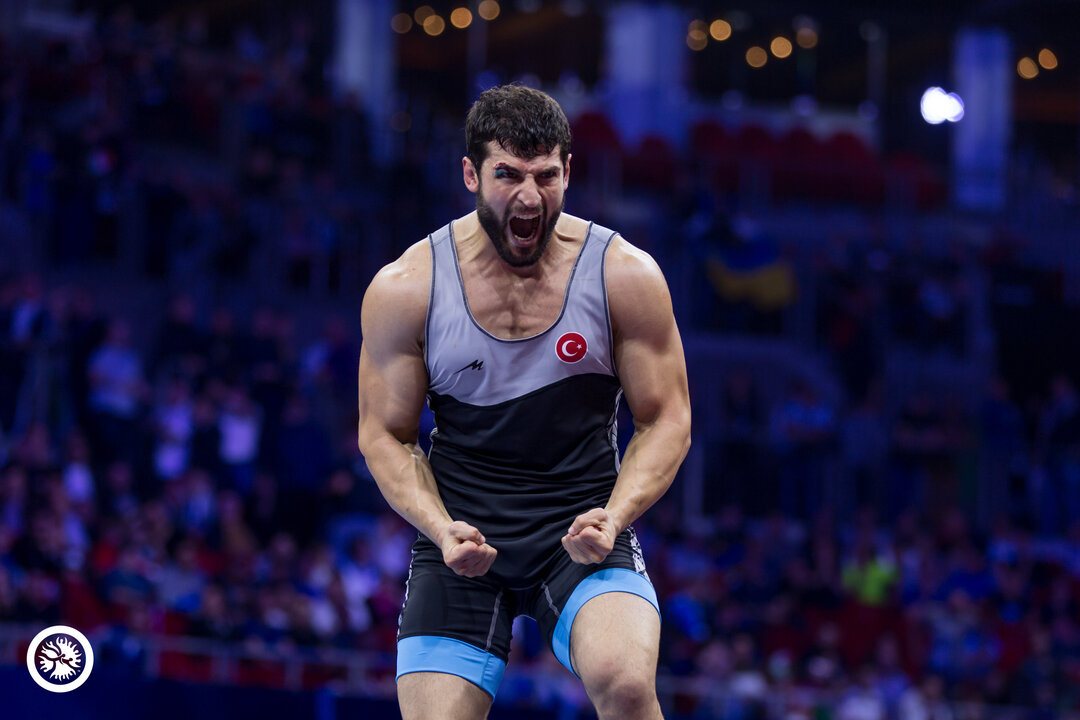 Metehan BASAR (TUR) repeated as a world champion by defeating 2016 Olympic silver medalist Zhan BELENIUK (UKR) 2-1 at 87kg in the final gold-medal match on Saturday. 
All three points scored in the 87kg gold-medal match came from passivity calls. Beleniuk scored the first point and led 1-0 at the break. But Basar controlled the action in the final period, scoring two passivity points to take the victory. 
Bronze medals at 60kg were won by Sailike WALIHAN (CHN) and Aidos SULTANGALI (KAZ). Walihan rolled to a 9-0 technical fall over Kristian FRIS (SRB) After a scoreless first minute, Walihan finished the match with a five-point throw. Sultangali edged Se Ung RI (PRK) 1-1.
Meiirzhan SHERMAKHANBET (KAZ) showcased a strong par terre game as he cruised to a 9-0 technical fall in the first bronze-medal match at 67kg. Gevorg SAHAKYAN (POL) blanked Danijel JANECIC (CRO) 7-0 for the other bronze medal at 67kg. 
At 87kg, Roberti KOBLIASHVILI (GEO) won his second straight world bronze medal by topping Bekkhan OZDOEV (RUS). Artur SHAHINYAN (ARM) pulled away late to defeat Islam ABBASOV (AZE) 7-1 for the other bronze medal at 87kg. 

Russia leads in the Greco-Roman team standings with 103 points, while Turkey sits in second place with 75 points. Azerbaijan (54), Hungary (53) and Armenia (46) round out the top five teams.
Finals Results
Greco-Roman
60kg
GOLD: Sergey EMELIN (RUS) df. Victor CIOBANU (MDA) by VSU1, 10-1
BRONZE: Aidos SULTANGALI (KAZ) df. Se Ung RI (PRK) by VPO1, 1-1
BRONZE: Sailike WALIHAN (CHN) df. Kristian FRIS (SRB) by VSU, 9-0
67kg
GOLD: Artem SURKOV (RUS) df. Davor STEFANEK (SRB) by VPO, 7-0
BRONZE: Gevorg SAHAKYAN (POL) df. Danijel JANECIC (CRO) by VPO, 7-0
BRONZE: Meiirzhan SHERMAKHANBET (KAZ) df. Mamadassa SYLLA (FRA) by VSU, 9-0
87kg
GOLD: Metehan BASAR (TUR) df. Zhan BELENIUK (UKR) by VPO1, 2-1
BRONZE: Roberti KOBLIASHVILI (GEO) df. Bekkhan OZDOEV (RUS) by VPO1, 4-2
BRONZE: Artur SHAHINYAN (ARM) df. Islam ABBASOV (AZE) by VPO1, 6-1