Sunil Rallies to Give Host India a Finalist on Opening Day of Asian Championships
Tuesday, February 18, 2020 - 10:31 By Ken Marantz
NEW DELHI (Feb. 18)---Kumar SUNIL (IND) took losing in the final at last year's Asian Championships personally. With a furious comeback in the semifinals, he put himself into position to make amends in front of home crowd.
Sunil stormed back from an 8-2 deficit to defeat Azamat KUSTUBAYEV (KAZ), 12-8 to make the final of Greco-Roman 87kg on the opening day of action at this year's Asian Championships in New Delhi.
In the medal round in the night session at K.D. Jadhav Wrestling Stadium, Sunil will face Azat SALIDINOV (KGZ), who became a beneficiary of a late injury suffered by Behrooz HEDAYAT (IRI) in their semifinal. Hedayat was leading 7-0 when an apparent knee injury forced him to stop with just seven seconds left in the match. 
Even with Hedayat's misfortune, a second-string Iranian squad had the most wrestlers make the five finals with three. Korea and Uzbekistan had two each, with host India, Kazakhstan and Kyrgyzstan having one each. 
Sunil, who lost to Hossein NOURI (IRI) in the Asian final last year in Xi'an, China, fell behind in the semifinal when Kustubayev stopped the Indian's back suplex attempt twice, each giving him four points.
Sunil, started his comeback with a takedown and two rolls to tie the score, although it left him trailing on criteria. With 1:13 left, he went ahead with a stepout, then added two more (the second a 2-point fleeing) for the 12-8 win.
"I'm feeling really good," Sunil said. "I thought the opponent had less endurance."
Coach Bhusan Prasad SHASHI (IND) said Sunil was still feeling the sting of last year's loss in the final 
"It is more personal that he should win," Shashi said. "We have prepared to get the gold medal."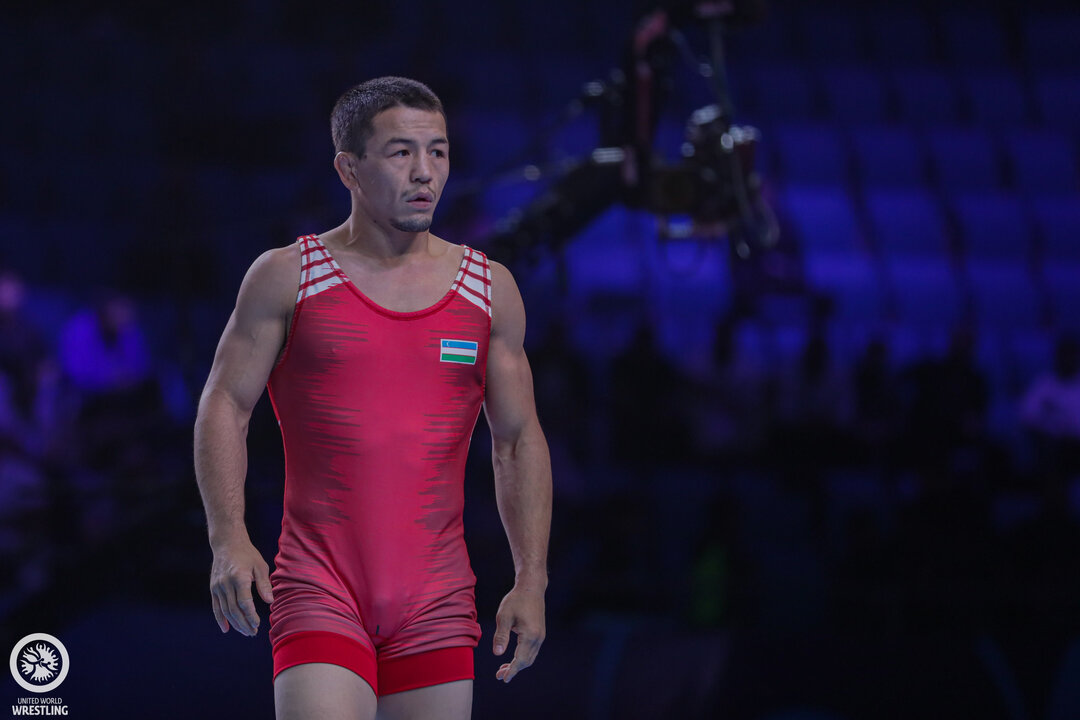 Elmurat TASMURADOV (UZB) will square off against SONG Jinseub (KOR) in the 63kg finals. (Photo: Kadir Caliskan)
Meanwhile, Elmurat TASMURADOV (UZB) showed he is feeling more at home at his usual weight of Greco-Roman 63kg, and just how dominant he remains on his home continent.
Tasmuradov, a Rio 2018 Olympic bronze medalist aiming for his fifth career Asian gold and first since 2018, stormed by world U-23 champion Meysam DALKHANI (IRI) by 10-1 technical fall in the semifinals.
Tasmuradov, who dropped to the Olympic weight class of 60kg at the World Championships and secured an spot at Tokyo 2020 by placing fifth, will face SONG Jinseub (KOR) in the finals.
Song emerged from the lighter bracket by beating Mohammad ALAJMI (KUW), 8-1 in his semifinal. In his opening match in the quarterfinals, Song rallied from a 7-0 deficit against Mubinhon AKMEDOV (TJK) to go ahead 8-7 in the first period, then held on to win by that score.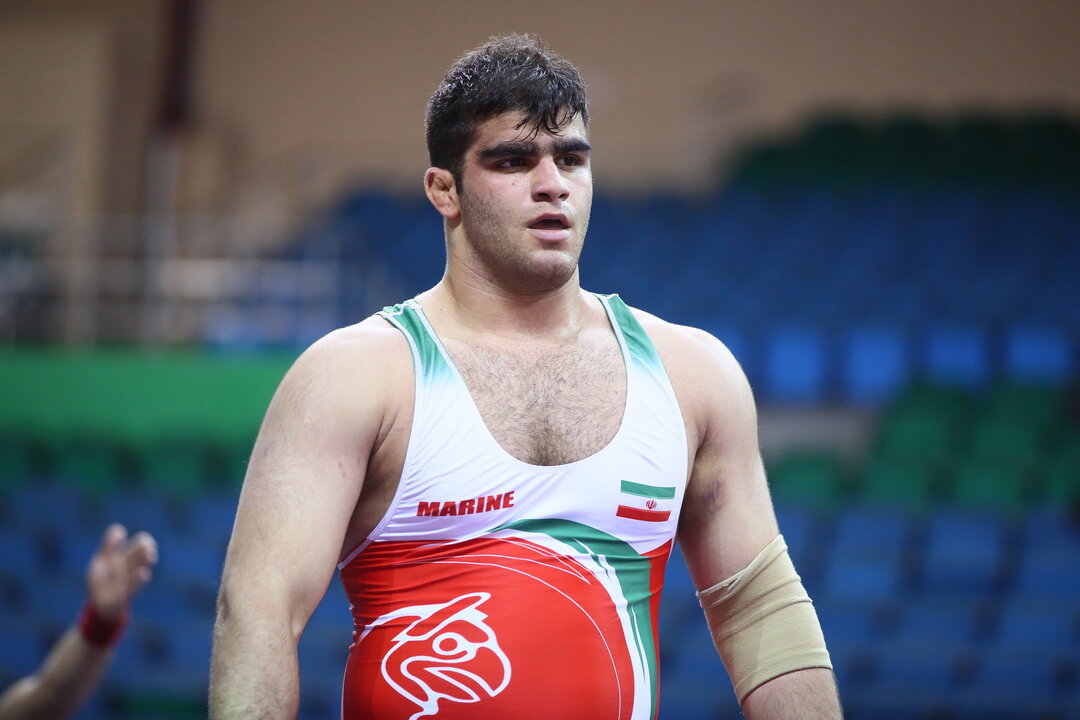 Amin MIRZAZADEH (IRI) is one of three Iranian finalists. He'll wrestle KIM Minseok (KOR) in the 130kg finals. (Photo: Sachiko Hotaka)
The Iranian finalists are Pouya NASERPOUR (IRI) at 55kg, Pejman POSHTAM (IRI) at 77kg and Amin MIRZAZADEH (IRI).
Naserpour, a 2018 world junior champion, survived a scare in his semifinal victory over Arjun HALAKURKI (IND), rallying for a 8-7 victory, after which he appeared to lose consciousness. After remaining prone of the mat and being checked by a doctory, he woozily got to his feet to have his hand raised, then was helped off the mat. 
In the final, Naserpour will face Jasurbek ORTIKBOEV (UZB), who grinded up 2019 bronze medalist Khorlan ZHAKANSHA (KAZ) by 8-0 technical fall. 
Last year's runner-up, Hiromu KATAGIRI (JPN), fell in the qualification round to Sardarbek KONUSHBAEV (KGZ), who subsequently lost in the quarterfinals to Zhakansha.
Postham defeated Renat ILIAZ UULU (KGZ) 5-0 in the semifinals to set up a showdown in the final with Tamerlan SHADUKAYEV (KAZ), who has already improved on his bronze medal from 2019 after sweeping aside Sultan Ali EID (JOR) by 8-0 technical fall.
Mirzazedah, a 2018 world junior champion, will face KIM Minseok (KOR) for the gold. Mirzadedeh topped Arata SONODA (JPN), 6-1, while Kim scored a 9-1 technical fall over Singh MEHAR (IND)
The tournament is missing teams from China, the Democratic People's Republic of Korea and Turkmenistan, due to circumstances related the new coronavirus outbreak mainly in China.

Greco-Roman
55kg (9 entries)
SEMIFINAL - Pouya NASERPOUR (IRI) df. Arjun HALAKURKI (IND), 8-7
SEMIFINAL - Jasurbek ORTIKBOEV (UZB) df. Khorlan ZHAKANSHA (KAZ) by TF, 8-0 (1:40)
63kg (10 entries)
SEMIFINAL - SONG Jinseub (KOR) df. Mohammad ALAJMI (KUW), 8-1
SEMIFINAL - Elmurat TASMURADOV (UZB) df. Meysam DALKHANI (IRI) by TF, 10-1, 5:13
77kg (13 entries)
SEMIFINAL - Tamerlan SHADUKAYEV (KAZ) df. Sultan Ali EID (JOR) by TF, 8-0, 1:52
SEMIFINAL - Pejman POSHTAM (IRI) df. Renat ILIAZ UULU (KGZ), 5-0
87kg (9 entries)
SEMIFINAL - Kumar SUNIL (IND) df. Azamat KUSTUBAYEV (KAZ), 12-8
SEMIFINAL - Azat SALIDINOV (KGZ) df. Behrooz HEDAYAT (IRI) by Inj. Def., 5:53 (0-7)
130kg (8 entries)
SEMIFINAL - KIM Minseok (KOR) df. Singh MEHAR (IND) by TF, 9-1, 2:17
SEMIFINAL - Amin MIRZAZADEH (IRI) df. Arata SONODA (JPN), 6-1