Staebler Tops Korpasi to Claim No.3, Bacsi Wins No.2 in Home Country
Friday, October 26, 2018 - 18:48 By Andrew Hipps
BUDAPEST, Hungary (October 26) -- Frank STAEBLER (GER) came from behind late to claim his third world title on Friday night at the World Championships in Budapest, Hungary. 
The 29-year-old Staebler faced crowd favorite Balint KORPASI (HUN), a 2016 world champion, in the gold-medal match at 72kg. The German star scored the first point of the match off a passivity, but Korpasi took the lead in the second period with a passivity point of his own.
Trailing on criteria late, Staebler scored a step out with less than a minute remaining to take a 2-1 lead and held on for the victory.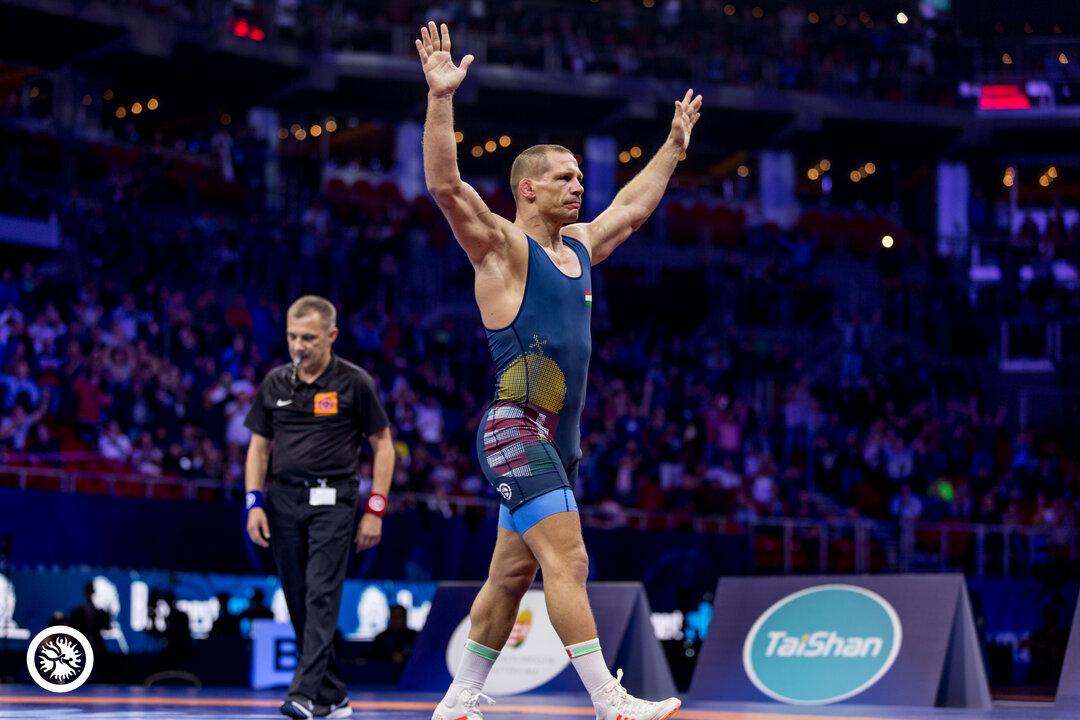 Wrestling in his home country, Peter BACSI (HUN) came back to win his second world title, beating Emrah KUS (TUR) 4-3 in the finals at 82kg. Kus controlled the early part of the match and took a 3-0 lead into the second period. The 35-year-old Bacsi rallied in the second period, scoring a passivity point before locking up a gut wrench and turning Kus. He then added a step out with a minute and half remaining to grab a 4-3 lead, which proved to be the difference.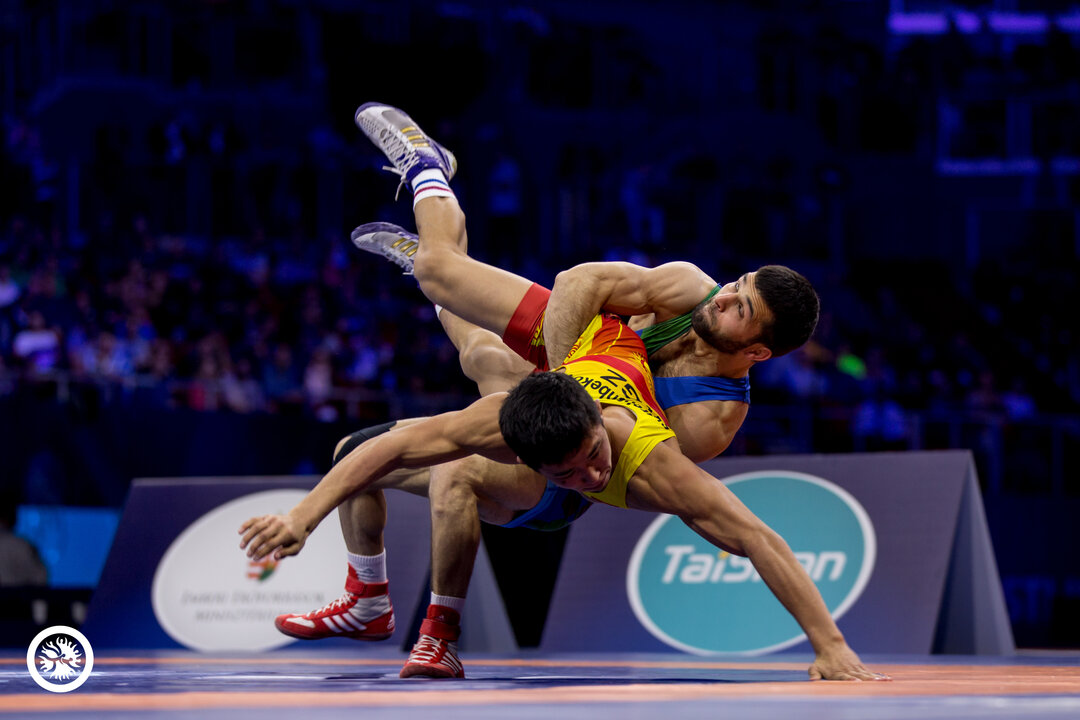 Two-time junior world champion Eldaniz AZIZLI (AZE) captured his first senior world title with a dominant 10-0 technical fall over Zholaman SHARSHENBEKOV (KGZ) in less than a minute in the gold-medal match at 55kg. 
Azizli wasted little time putting points on the scoreboard, using a front headlock to secure a four-point throw and adding an additional two points off a leg foul. The match ended a short time later as Azizli lifted Sharshenbekov and scored a four-point throw for the technical fall.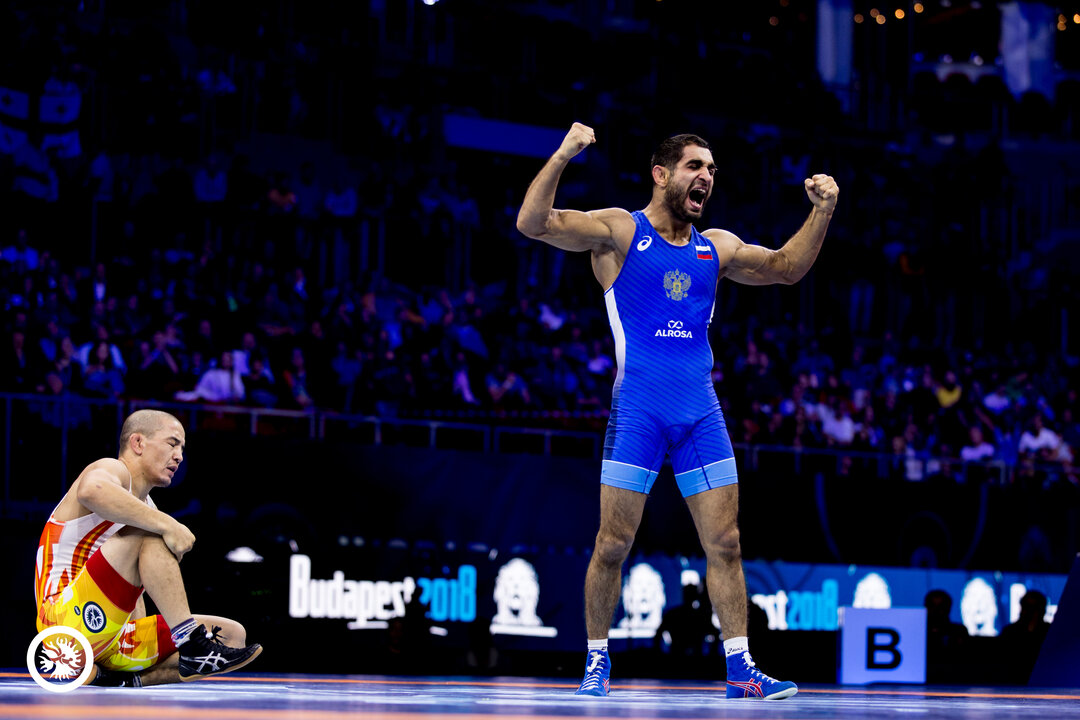 After winning a world bronze last year, Stepan MARYANYAN (RUS) upgraded his world medal by claiming a gold medal at 63kg with a 6-3 win over Olympic bronze medalist Elmurat TASMURADOV (UZB). 
Maryanyan picked up a takedown 40 seconds into the match and added a passivity point to lead 3-0 at the break. Tasmuradov scored a passivity point in the second period and then used a gut wrench to score another two. However, a flurry ensued and Maryanyan received two exposure points. After a failed challenge by Uzbekistan, the Russian led by three and held on to win.
Bronze medals at 55kg went to Nugzari TSURTSUMIA (GEO) and Ekrem OZTURK (TUR). Tsurtsumia used a pair of arm throws to roll to an 11-0 technical fall over Liguo CAO (CHN). It's the Georgian's first senior world medal after winning two junior world medals. Ozturk, a university world champion, shut out Norayr HAKHOYAN (ARM) 4-0. 
Lenur TEMIROV (UKR) topped Erbatu TUO (CHN) 3-1 in the first bronze-medal match at 63kg. Temirov, a 2010 junior world bronze medalist, used a late first-period takedown to pace him to the victory. Rahman BILICI (TUR) defeated Hassan MOHAMED (EGY) 6-1 for the other bronze medal at 63kg. The 28-year-old Bilici broke open a close match in the second period with a headlock to go up 4-1. He would add a takedown to win by five.
Aik MNATSAKANIAN (BUL) used a gut wrench to cruise to a 9-0 first-period technical fall over Tarek BENAISSA (ALG) in the first bronze-medal match at 72kg. Rasul CHUNAYEV (AZE), a 2015 world champion, added his fourth world-level medal with a 4-3 win over Abuiazid MANTSIGOV (RUS).
In a battle of returning world medalists, 2017 world champion Maksim MANUKYAN (ARM) defeated Saeid ABDVALI (IRI) 4-1 in the first bronze-medal match at 82kg. Abdvali led 1-1 on criteria in the second period before Manukyan scored two points from the front headlock position and held on to win by three after a failed challenge by Iran. Viktar SASUNOUSKI (BLR) used two second-period turns to defeat Atabek AZISBEKOV (KGZ) 5-1 in the other bronze-medal match at 82kg. It's Azisbekov's second world medal after winning a silver in 2015. 
Finals Results
Greco-Roman
55kg
GOLD: Eldaniz AZIZLI (AZE) df. Zholaman SHARSHENBEKOV (KGZ) by VSU, 10-0
BRONZE: Nugzari TSURTSUMIA (GEO) df. Liguo CAO (CHN) by VSU, 11-0
BRONZE: Ekrem OZTURK (TUR) df. Norayr HAKHOYAN (ARM) by VPO, 4-0
63kg
GOLD: Stepan MARYANYAN (RUS) df. Elmurat TASMURADOV (UZB) by VPO1, 6-3
BRONZE: Rahman BILICI (TUR) df. Hassan MOHAMED (EGY) by VPO1, 6-1
BRONZE: Lenur TEMIROV (UKR) df. Erbatu TUO (CHN) by VPO1, 3-1
72kg
GOLD: Frank STAEBLER (GER) df. Balint KORPASI (HUN) by VPO1, 2-1
BRONZE: Rasul CHUNAYEV (AZE) df. Abuiazid MANTSIGOV (RUS) by VPO1, 4-3
BRONZE: Aik MNATSAKANIAN (BUL) df. Tarek BENAISSA (ALG) by VSU, 9-0
82kg
GOLD: Peter BACSI (HUN) df. Emrah KUS (TUR) by VPO1, 4-3
BRONZE: Viktar SASUNOUSKI (BLR) df. Atabek AZISBEKOV (KGZ) by VPO1, 5-1
BRONZE: Maksim MANUKYAN (ARM) df. Saeid Morad ABDVALI (IRI) by VPO1, 4-1