Staebler Comes Back to Defeat Zhadrayev in 2017 World Finals Rematch
Thursday, October 25, 2018 - 13:01 By Andrew Hipps
BUDAPEST, Hungary (October 25) -- Two-time world champion Frank STAEBLER (GER) came from behind late to defeat Demeu ZHADRAYEV (KAZ) in the quarterfinals at 72kg in a rematch from last year's world finals match at 71kg in Paris. It was one of the highlight matches in Thursday's opening session of Greco-Roman at the 2018 World Championships in Budapest, Hungary. 
Zhadrayev led 6-0 in the second period, but Staebler worked his way back into the match. He used a four-point throw with just over a minute left to take the lead and help complete the comeback.
Staebler will now face 2015 world champion Rasul CHUNAYEV (AZE), a 6-4 winner over Mohammadali GERAEI (IRI) in the quarterfinals.
Another world champion at 72kg, Balint KORPASI (HUN), a local favorite, was impressive in Thursday's opening session, picking up two technical falls without surrendering a point. In the quarterfinals he defeated Joilson DE BRITO RAMOS JUNIOR (BRA) 8-0. He meets Aik MNATSAKANIAN (BUL) in the semifinals.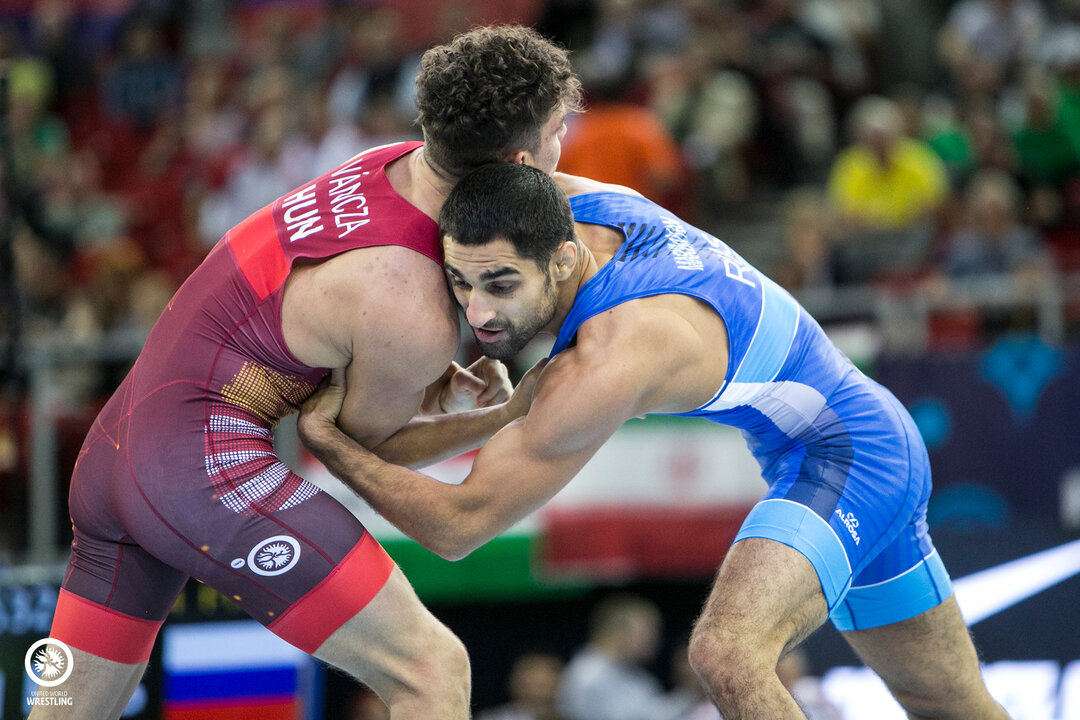 Returning world bronze medalist Stepan MARYANYAN (RUS) made quick work of Krisztian VANCZA (HUN) in the quarterfinals at 63kg, picking up an 8-0 technical fall midway through the first period. Maryanyan now faces Hassan MOHAMED (EGY).
Olympic bronze medalist Elmurat TASMURADOV (UZB) cruised into the semifinals at 63kg with a 9-0 technical fall over Donior ISLAMOV (MDA). His opponent in the semifinals will be 2010 junior world bronze medalist. Lenur TEMIROV (UKR).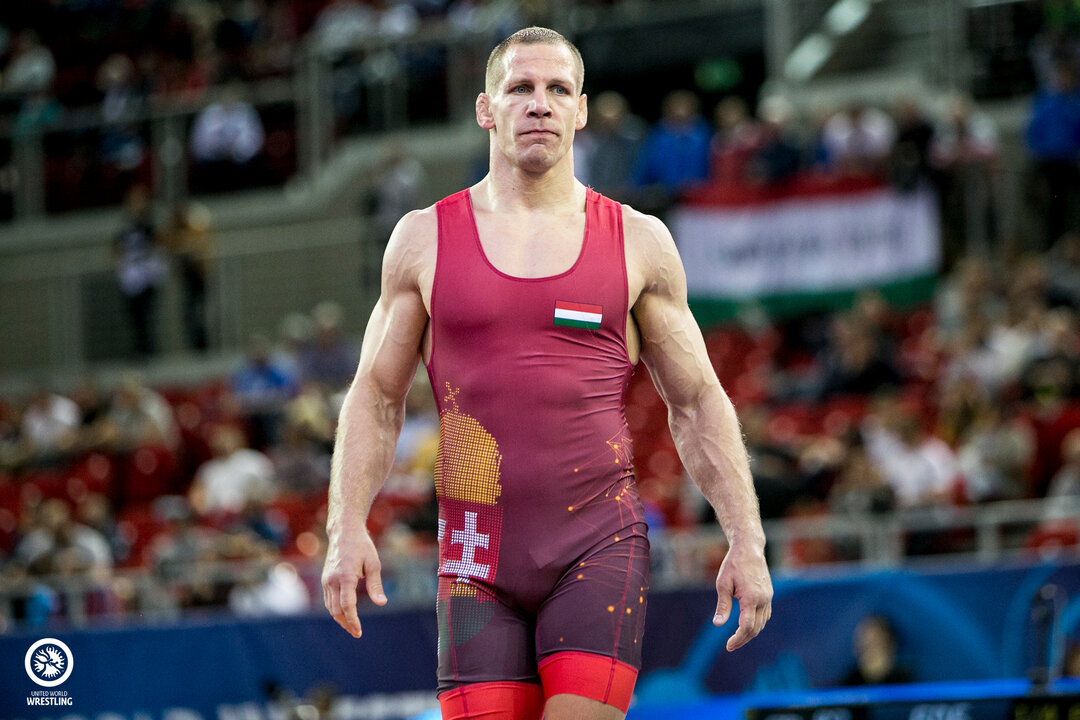 At 82kg, a pair of world champions advanced to the semifinals at 82kg, Saeid ABDVALI (IRI) and Peter BACSI (HUN), while another Maksim MANUKYAN (ARM) fell in the quarterfinals. 
2013 world bronze medalist Emrah KUS (TUR) edged the returning champion Manukyan 2-1. 
Abdavali, a 2011 world champion and returning world bronze medalist, shut out Rafig HUSEYNOV (AZE) 3-0 in the quarterfinals. Bacsi held on to defeat Maxat YEREZHEPOV (KAZ) 2-1. Yerezhepov cut the deficit to one point late in the match but was unable to score again. 
Abdavali will face Kus in the semifinals, while Bacsi will meet Atabek AZISBEKOV (KGZ).
Nineteen-year-old Zholaman SHARSHENBEKOV (KGZ), a junior world finalist in 2017, shined in the opening session at 55kg, picking up two technical falls without surrendering a point to reach the semifinals. He will meet top-seeded Ekrem OZTURK (TUR), a world university champion who had fall and 7-0 victory. 
On the bottom side of the bracket at 55kg, two-time junior world champion Eldaniz AZIZLI (AZE) rolled to the semifinals with three dominant victories. He will face multiple-time junior world medalist Nugzari TSURTSUMIA (GEO) in the semifinals. Tsurtsumia was pushed in his second match by VasilII TOPOEV (RUS) but prevailed 11-9. 
The semifinals are scheduled to begin at 4:45 p.m. local time.
Semifinal Matchups
Greco-Roman 
55kg
Ekrem OZTURK (TUR) vs. Zholaman SHARSHENBEKOV (KGZ)
Nugzari TSURTSUMIA (GEO) vs. Eldaniz AZIZLI (AZE) 
63kg
Lenur TEMIROV (UKR) vs. Elmurat TASMURADOV (UZB) 
Stepan MARYANYAN (RUS) vs. Hassan MOHAMED (EGY) 
72kg
Balint KORPASI (HUN) vs. Aik MNATSAKANIAN (BUL) 
Rasul CHUNAYEV (AZE) vs. Frank STAEBLER (GER)
82kg
Saeid Morad ABDVALI (IRI) vs. Emrah KUS (TUR
Peter BACSI (HUN) vs. Atabek AZISBEKOV (KGZ)